Features
The Best and Worst Moments of MCU Phase 4
As we look back at the mixed bag that was Phase 4 of the Marvel Cinematic Universe, these were some of the best and worst moments the TV shows and movies had to offer.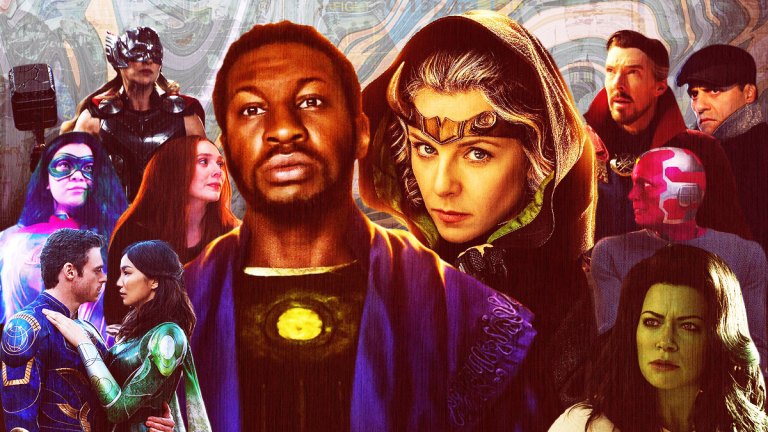 This article contains major MCU spoilers
It's been a wild ride in a post-Thanos world, and in the aftermath of the Blip, it's a very different Marvel Cinematic Universe. We can't believe it's been three years since Avengers: Endgame dusted the Mad Titan, but since then we've had everything from multiple Spider-Men to the Multiverse, a black Captain America to a female Thor, Egyptian gods to Celestials, and everything in between.
Without a typical Avengers movie to tie everything together, critics feel Phase 4 of the MCU missed the mark on some levels. Still, we've got to hand it to Kevin Feige, he packed a lot in. Now that Ryan Coogler has had the honor of closing this chapter with Black Panther: Wakanda Forever, it's time to look back at the best and worst moments of the MCU Phase 4.
Best: Vision's Speech (WandaVision)
There are any number of "best" Phase 4 moments in Jac Schaeffer's WandaVision, and while Kathryn Hahn deserves an honourable mention for "Agatha All Along," it doesn't quite pack the emotional punch of Vision's musings.
Despite Wanda Maximoff's (Elizabeth Olsen) world crashing down when she realized she was the enemy, Vision (Paul Bettany) has always had her back. During a flashback to the aftermath of Avengers: Age of Ultron, Vision consoles Wanda over her brother's death and delivers his now-iconic speech on the hardships of love.
Vis (Paul Bettany) can be a bit too clever for his own good at times – we're looking at you "Ship of Theseus." However, few lines quite hit home like, "What is grief, if not love persevering." If it doesn't make a return in the rumored Vision Quest series, the writers have missed a trick.
Worst: The Power Broker Reveal (The Falcon and the Winter Soldier)
Let's be honest, Emily VanCamp is fighting a losing battle with her Sharon Carter critics. While Peggy Carter (Hayley Atwell) is supposed to be Steve Rogers' (Chris Evans) ultimate beau, there's something off about the fact he hooks up with her great-niece.
Following Sharon's introduction in the beloved Captain America: The Winter Soldier, she's struggled to find her fans. One way not to redeem an already disliked character is to unveil them as the big bad of The Falcon and the Winter Soldier. Gender-flipping the villainous Power Broker should've kept things under wraps, but giving us sneaky villain vibes, many clocked Sharon would be an underwhelming endgame for the divisive series.
More than this, it was a clear setup for a future storyline instead of just containing it to The Falcon and the Winter Soldier. The reaction to the Power Broker reveal was so hated, That Hashtag Show claims the writers have reduced Carter's role in Captain America: New World Order. Yikes!
Best: Mutants In The MCU (Ms. Marvel)
Returning to the fun of the Spider-Man movies, Ms. Marvel showed us the lighter side of the MCU. At the core, Iman Vellani is the loveable Kamala Khan, who looks poised to be part of the inevitable Young Avengers team.
More than just being a box tick for diversity as the MCU's first Muslim hero, Ms. Marvel gave us one of the franchise's most shocking reveals in its finale. Kamala Khan is also the MCU's first mutant, which is a massive revamp of her comic book backstory.
If mutants in the MCU weren't enough, there was a rousing orchestral cue of the theme from X-Men: The Animated Series. Now that the gloves are off, mutants are everywhere thanks to She-Hulk boasting Mr Immortal and Black Panther: Wakanda Forever having Namor.
Worst: Eat My Hammer (Thor: Love and Thunder)
After nearly a decade away from the MCU, some thought we'd never see Natalie Portman return as Jane Foster. That all changed with Thor: Love and Thunder, and while Foster stepping up as the Mighty Thor swung a Mjolnir at misogyny, not everything landed.
Storylines like Jane's cancer and her costume were pulled directly from the comics, but one thing that wasn't was the comedic tone of Taika Waititi's adventure. There was the running joke that Foster needs her own catchphrase, which is weird in itself because no one in the MCU really has one.
Ultimately, a climactic battle with Gorr the God Butcher (Christian Bale) led to the toe-curling line of, "Eat my hammer." Much like the childish humor that Thor is intimate with Mjolnir, cue a collective groan from audiences everywhere. We guess MC Hammer still owns "Hammer Time."
Best: Sylvie Opens The Multiverse (Loki)
Meddling with the Sacred Timeline in Loki was always going to have some widespread effects, and as soon as we met Jonathan Majors' He Who Remains at the Citadel at the End of Time, we knew there'd be trouble.
Sophia Di Martino's Sylvie quickly became more than just a female Loki variant – turning the series into something of a buddy comedy. Things came to a head when Loki (Tom Hiddleston) and Sylvie confronted the series' puppet master and were given the chance to rule over the Multiverse.
Whereas our Loki stopped short of slaying He Who Remains, Sylvie wasted no time in sending Hiddleston's God of Mischief back to the TVA and promptly stabbed the Kang variant to death. More than just a shock character death, Sylvie inadvertently kickstarted the events of Loki season two, Phase 5, and beyond.
Worst: Smells Like Teen Spirit (Black Widow)
Covers of songs can work well for Wakanda Forever's "No Woman No Cry," but trying to give us a t.A.T.u-inspired rendition of Nirvana's "Smells Like Teen Spirit" isn't one of them in Black Widow. Also, it's nowhere near as good as Captain Marvel using the band's "Come as You Are."
Even though Cate Shortland put a lot into the opening, we question why it wasn't explained in the actual plot of the movie. Heaven forbid if you popped to the toilet to skip out on the title sequence. The cover is from Malia J and produced by Think Up Anger, with some of her songs appearing in everything from Gotham to The Handmaid's Tale.
We guess that this dark and dramatic musical number is supposed to establish the period setting of Black Widow's opening, but instead, it comes across as a lackluster opening to a James Bond movie.
Best: Spider-Men (Spider-Man: No Way Home)
It was one of Phase 4's worst-kept secrets, but that didn't detract from Andrew Garfield and Tobey Maguire reprising their roles as Peter Parker in Spider-Man: No Way Home.
Giving us the ultimate trifecta of nostalgia, three generations of the Wall-Crawling hero popped through Doctor Strange's portals to lend a hand in fighting the Sinister Not-Quite Six.
Remembering Maguire's run got cut short before Spider-Man 4, and how heartbroken Garfield was that he was replaced by Holland in the Sony deal, these were more than just some big-name cameos. The return of the Spider-Men was so popular, it reignited talks about whether their canned sequels could be brought back to life. Make it happen!
Worst: Robo-sex (Eternals)
You could probably compile a whole listicle on the worst Phase 4 moments using Eternals alone. Despite Chloé Zhao's ensemble boasting one of the best MCU casts to date, it's a shame that it couldn't save this convoluted trip through time.
Of all the dud moments, an awkward sex scene between Ikaris (Richard Madden) and Sersi (Gemma Chan) easily takes the crown. These star-crossed lovers might've shared most of history, but that didn't stop us from rooting for Kit Harington's Dane Whitman.
If there had been an ounce of chemistry between the leads, it might've worked better, but instead, it's sadly ironic that we watched a pair of pseudo-robots have sex with all the passion of actual robots. Thankfully, the square-jawed Ikaris lived up to his name and managed to heat things up by flying into the Sun.
Best: The Illuminati Massacre (Doctor Strange in the Multiverse of Madness)
There were too many standout moments from Doctor Strange in the Multiverse of Madness' Illuminati massacre, and from shredding Reed Richards (John Krasinski) like courgetti to Captain Carter being sliced in half by her shield, Sam Raimi definitely lived up to his horror credentials.
Even though many guessed Wanda Maximoff was going to break bad, that didn't make her role as the movie's de facto villain any less emotional. What made the Illuminati massacre even more harrowing is that she did it while puppeteering her alternate self from Earth-838.
A particular highlight was the red and white imagery of Patrick Stewart's Charles Xavier (sporting a turtle neck), being taken out by the Scarlet Witch in one of the MCU's biggest jump scares.
Worst: Twerking (She-Hulk)
While Jessica Gao's She-Hulk stuck its middle finger up to the haters, it also threw fuel on the fire with THAT out-there cameo and by putting twerking in the MCU dictionary.
Jennifer Walters (Tatiana Maslany) joked about it being a cameo-of-the-week show, but it proved that when Megan Thee Stallion stopped by in episode 3. We're used to seeing the likes of David Hasselhoff and Joan Rivers playing themselves in the MCU, but having the "WAP" artist appear really took us out of the action.
Even if She-Hulk is supposed to break the fourth wall, the behind-the-scenes shot of Maslany twerking in her mo-cap suit is an image burned into our retinas.
Best: Meeting K.E.V.I.N. (She-Hulk)
Let's give She-Hulk some credit, though. At points, it was a genuinely pioneering outing of the MCU – not least in its fourth wall-breaking finale.
Giving us one of the most batshit things we've ever seen on television, Jen literally broke the fourth wall and kicked her way into the Disney+ menu while addressing the audience. It echoed a comic book moment where Jen Hulk-smashed her way into the writer's room.
The cherry on the top was Walters meeting Kevin. Not franchise overlord Kevin Feige, but the Knowledge Enhanced Visual Interconnectivity Nexus. Alongside a tease of season 2 or another Hulk movie, the haters were reminded that Daredevil definitely does smash.
Worst: Enter Jake Lockley (Moon Knight)
They say three's a crowd, and when (not if) we see Moon Knight again, that will likely be the case. Cue questionable accents when Oscar Isaac pulls triple duty as Marc Spector, Steven Grant, and now Jake Lockley.
Anyone who knows the comics was well aware a third alter was on the horizon, but why save such an obvious reveal for the Moon Knight post-credits? It's Power Broker all again, so it's no surprise Moon Knight was as divisive as The Falcon and the Winter Soldier.
If Jake had arrived earlier in the season – like when he was teased in the lauded asylum episode – it might've worked. Instead, we were left with another of Isaac's dodgy accents and a frustrating tease of Moon Knight season two… if it ever happens.
Best: Killmonger's Return (Black Panther: Wakanda Forever)
The writing was already on the wall over whether Michael B. Jordan would return to the MCU in live-action after What If…, but safe to say, popping up in Black Panther: Wakanda Forever was quite the shocker.
After Shuri consumed the synthetic Heart-Shaped Herb, she expected to land in the Ancestral Plane to see her brother or mother. Instead of some sage words of advice from Angela Bassett's Queen Ramonda, she comes face-to-face with her treacherous cousin. As Erik Killmonger taunted Shuri to be more like him and kill Namor in a feat of rage, the symbolism of a flaming throne room was apt.
The throne room got a lot of action in Ryan Coogler's sequel, and it's a close call on whether Killmonger's return or Ramonda's "Have I not given everything?" speech lands on the list. Still, in terms of covert cameos, Killmonger just clinches it. It's unclear whether this is the end of the road for Killmonger, but with the Multiverse still running rife, we hope to see more of Jordan in the inevitable Black Panther 3 or beyond.