News
How Kang the Conqueror and He Who Remains Are Different in the MCU
Loki and Ant-Man and the Wasp: Quantumania star Jonathan Majors has revealed just how different the two iterations of his Kang the Conqueror will be.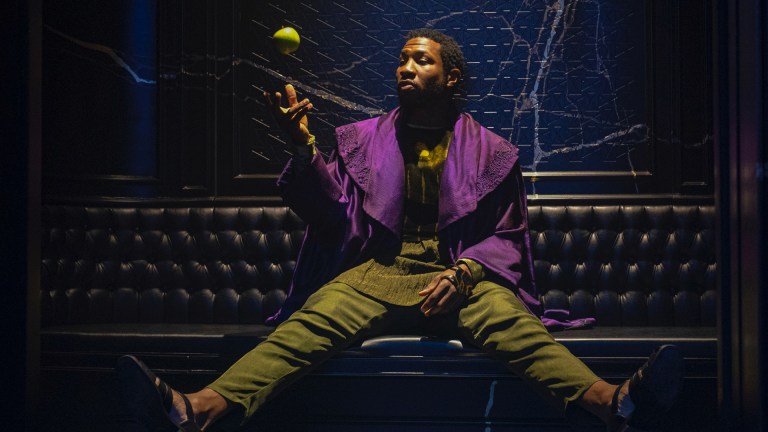 This article contains Loki spoilers.
"See you soon."
Those were the last words spoken by He Who Remains (Jonathan Majors) as he died from a stab wound at the end of Loki season 1. He Who Remains made it quite clear to Loki (Tom Hiddleston) and variant Sylvie (Sophia Di Martino) that killing him would unleash an infinite number of variants of himself, creating a true Multiverse of Madness.
One variant in particular, however, is a force to be feared: Kang the Conqueror. Jonathan Majors will be returning to the Marvel Cinematic Universe as the mighty Kang in Ant-Man and the Wasp: Quantumania. Producers of both Loki and the third Ant-Man film have repeatedly clarified that, while He Who Remains and Kang the Conqueror are variants of the same person, their experiences have made them entirely different characters. Now Majors has offered up his own interpretation, hammering home that Kang really is a unique beast.
"The character is different so you move a different way; my psychology has shifted because of the character," Majors told GamesRadar+. "He's just a different guy. He Who Remains is not in Ant-Man. It's Kang. This is a movie, not a TV show. I've been here since the beginning and I came in at the end on Loki."
One actor playing two characters who are the same person but not really is a bit of a hard concept to explain, so it's understandable why Majors and the Marvel folks have gone out of their way to repeatedly try to explain it. The finale of Loki season 1 does a good job of doing so but here is our own explanation if it helps.
Imagine the template of a person. For simplicity's sake let's call him "Nathaniel Richards" because that is Kang the Conqueror's original name in Marvel Comics' continuity. If we accept that there are infinite universes (something that Loki postulates), then there would be infinite Nathaniel Richards as well. Some of these "variants" would be subtly different like being left-handed rather than right-handed, while others would be immensely different.
The entity known as "He Who Remains" on Loki will be different enough from the entity known as "Kang the Conqueror" in Ant-Man and the Wasp: Quantumania to be considered entirely different characters. They will likely appear similar due to both being played by Majors, but their, uh…temperaments will diverge. While He Who Remains is a goofy Wizard of Oz kind of guy, seemingly affected by countless years of solitude, Kang will be an outright villain of literal universal proportions.
It makes sense then that Majors would describe Kang as a "different guy" because he fundamentally is. Though they share the same DNA, He Who Remains and Kang the Conqueror come from wildly different universes. All of Kang's "Variants" are likely intelligent in one way or another, but some are truly dangerous. When He Who Remains told Sylvie "see you soon," it was undoubtedly the terrifying Kang the Conqueror that he was referring to.
How can Scott Lang and Hope Pym triumph against such a mighty foe? Our guess is that they won't and Kang the Conqueror will be a major problem within the MCU for many films to come.