Features
Super Mario Bros. Hype Could Make Video Game Movies the New Superheroes
The Super Mario Bros. Movie is the kind of wild success Hollywood hasn't seen in a while: one that comes with a repeatable formula and no superhero capes.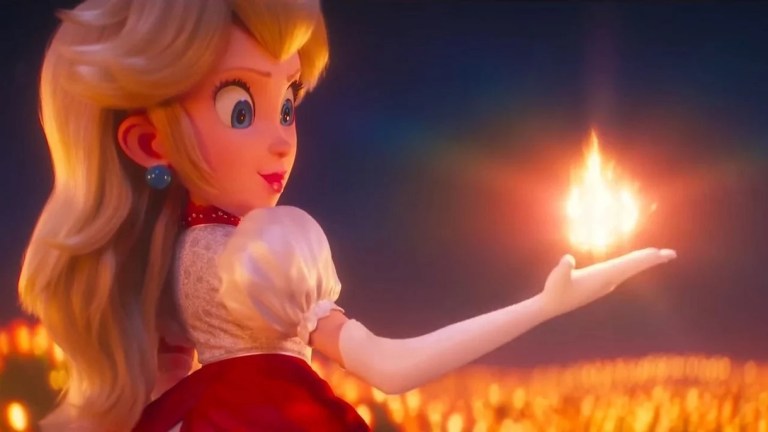 There was nary a soul in Hollywood who didn't expect The Super Mario Bros. Movie to be number one at the box office during its second weekend. The long anticipated animated flick is an adaptation of the most popular video game franchise in the world, it's been building hype for months, and as we've previously noted, it was also the first new family film released by a studio in four months. Mario was primed to power up in weekend two.
Still, even for that Italian plumber, the meager 40.6 percent drop between first and second weekends is close to astonishing. In fact, one could argue it's something we haven't seen since before the pandemic in 2019: a blockbuster movie with long legs at the box office and a clearcut formula that's possible to replicate.
To be sure, there have been box office megastars in the last few years, especially from old reliables like Marvel Studios which saw gargantuan openings just last year with Doctor Strange in the Multiverse of Madness and Spider-Man: No Way Home before that. And yet, both of those films dropped like stones in their second weekends, falling 67 and 67.5 percent in their second weeks, respectively. At the time, conventional wisdom among the industry (or at least their most persuasive PR teams) suggested this was the new normal post-COVID. Even the biggest gorilla on the block, the MCU, could no longer replicate the leggy box office runs of 2019's Captain Marvel and Avengers: Endgame, which dropped 55.7 percent and 57.8 percent, respectively. Those healthy holdovers paved the way to runs north of $1 billion each.
That new normal has turned out to be true… for Marvel so far. However, last year also saw Top Gun: Maverick enjoy a $1.5 billion run after falling an absurdly small 28.9 percent in its second weekend. It became the movie of summer 2022, and had Steven Spielberg now famously telling Tom Cruise he "saved Hollywood's ass." Yet even then Top Gun wasn't the biggest movie of the year. How could it be when James Cameron finally released Avatar: The Way of Water at the end of the year, where it began its gross of $2.3 billion by enjoying a second weekend drop of 52.8 percent—before more impressively growing its audience by 6.4 percent in the third weekend.
All of which is to say that there have been major hits in what we're calling the post-pandemic times, and the kind which recalled the type of months-long box office runs we were seeing in the 2010s. Yet those films were arguably auteur pieces which each spent close to a decade in development. Neither of them offered a clear replicable formula.
The Super Mario Bros. Movie just changed that. And it seems to ask if Hollywood is on the precipice of another paradigm shift?
Video Games as A-Movie Entertainment
This is not the only time a Mario movie was at the vanguard of a genre trend in Hollywood. Back in 1993, the Bob Hoskins and John Leguizamo-led Super Mario Bros. was essentially the first major video game adaptation. That movie's general wretchedness also set the tone of what audiences and producers quickly came to associate with video game movie adaptations: hastily thrown together junk. While the film was viewed as a potential A-picture while in pre-production with the likes of Dustin Hoffman, Arnold Schwarzenegger, and Tom Hanks circling the movie (and it ultimately landing Hoskins and Dennis Hopper), the subsequent disaster led to a lot less ambitious live-action video game movies: Street Fighter (1994), Mortal Kombat (1995, which we admittedly have a soft spot for), and Resident Evil (2002).
There have been attempts to make more faithful adaptations of these games and others over the years, including recent 2020s takes on Resident Evil and Mortal Kombat reboots, however the end result has often been tacky and at best mediocre studio programmers.
Thirty years later, Mario and Luigi seem to be leading the pack for yet another paradigm-shift in industry thinking. The transition perhaps already began before this last week, with HBO's superb adaptation of The Last of Us being widely recognized as one of the best television shows of the last several years. It's a hit in the zeitgeist and a frontrunner for Emmy nominations later this year. However, that very adult-oriented show's potential impact on the culture seems even larger when paired with The Super Mario Bros Movie.
Say what you will about the quality of Mario 2023 (and believe me, we have), but the film was the most ambitious project Universal's animation house Illumination Entertainment has attempted in years, with the effort receiving the type of intricate and loving animation we tend to associate with rivals at Disney. The project was also the white-glove treatment in terms of servicing multiple generations of fandom nostalgia, with the movie offering countless easter eggs and winks to the audience. We haven't seen this level of fan service since Phase Three of Marvel Studios.
It might be a somewhat hollow viewing experience, but it's still painstakingly eager to remind adults and children alike about something they've likely always loved… and never seen presented on the big screen before. And that might be the real missing ingredient from a lot of Hollywood blockbusters these days: novelty. The Super Mario Bros. Movie is something audiences have never seen done so well and dazzlingly, and family audiences are responding with massive repeat business.
Of course not all video game brands can be as beloved as Mario, or as richly animated as this film. However, while perhaps not the breakthrough of Mario and The Last of Us, Paramount Pictures' much humbler adaptations of Sonic the Hedgehog, released in two installments (and counting) between 2020 and 2022, hint that there is a vast untapped market that Mario's finally found the main vein of. Both of those blue hedgehog movies were closer to older Hollywood conventions toward video game movies—awkwardly placing a popular media IP in a studio formula, in this case the real world crossover/ "fish out of water" setup utilized in previous kids entertainments like The Smurfs (2011) and Alvin and the Chipmunks (2007). But both of those Sonic movies made bank, with the second grossing $405 million worldwide.
Given Mario numbers, we wouldn't be shocked if Paramount isn't considering making a Sonic film set entirely in a video game world with more easter eggs than a White House bunny roll.
How Video Game Movies Could Be the New Superheroes
We should stress that at the moment it is difficult to measure if "superhero fatigue" actually exists in the current market. The aforementioned Doctor Strange sequel opened 55 percent higher than its 2016 predecessor, and Thor: Love and Thunder also opened with $22 million more than Thor: Ragnarok (2017). Nonetheless, it's impossible to ignore that most of Marvel's post-2019 output has endured debilitating 65 percent or greater box office drops in their second weekends, and the only one to cross $1 billion worldwide has been Spider-Man: No Way Home, aka the one with all the Spider-Mans in it.
Meanwhile, the competition across the street saw healthy success with The Batman, which rebooted the Dark Knight character yet again after his brand was tarnished by the Justice League fiasco of 2017. Even so, The Batman's $770 million worldwide total isn't pulling in what the character did at the height of his big screen popularity during the Christopher Nolan years where The Dark Knight (2008) and its immediate 2012 sequel earned $1 billion each at a time when tickets cost a lot less. (Of course WarnerMedia's brief insistence on limited theatrical windows undoubtedly played a role.) Conversely, DC Studios' The Suicide Squad (2021), Black Adam (2022), and Shazam! Fury of the Gods (2023) all flopped at the box office, with Shazam 2 being particularly embarrassed since, as of press time and at the virtual end of its domestic run, the sequel has only earned $57.1 million in North America… not quite $4 million above the first 2019 movie's opening weekend.
This spring has also been rough on Marvel with Ant-Man and the Wasp: Quantumania. While the threequel actually opened above 2018's Ant-Man 2 by about 29 percent, the film then endured the second worst drop in Marvel Studios history, falling 69.9 percent in its second weekend. The film is winding down its global run with currently $474 million, nearly $50 million below 2015's Ant-Man, never mind Ant-Man and the Wasp's 2018 cume of $623 million.
Superhero fatigue may not (yet) be real, but the genre is hitting a dry spell where just because the new release is a superhero movie does not mean it's guaranteed to be a hit. Or in the case of Marvel, it isn't guaranteed to dominate the fiscal quarter, if not year, of its release. In some ways this has been a good thing for the industry. As we've previously noted it's allowed a greater variety of genres to flourish. But anyone betting against James Gunn's Guardians of the Galaxy Vol. 3 next month is likely on a fool's errand.
Still, it seems audiences are restless for new sights. Superhero movies have dominated the industry for a full 15 years at this point, and they've been flourishing in Hollywood for more than 20. There are teenagers today who cannot remember a time when superheroes weren't cool—or perhaps a time when their parents didn't also enjoy watching them. Generational turnover had an impact on Westerns and musicals in a different era, too.
While we can't say for certain that popular video game movies could become as ubiquitous as superheroes are now, The Super Mario Bros. Movie, The Last of Us, and even Sonic the Hedgehog suggest there is now an adult audience with nostalgia for the games of their youth. Also unlike superhero movies, this IP is not mostly controlled by two media companies (Disney's Marvel and Warner Bros. Discovery's DC). Surely, Universal and Nintendo should be taking a long look at the video game company's larger library of characters, but The Last of Us might also prove that there are entirely different genres of games that can appeal to vastly different audiences… and win awards.
Superhero movies are king of the hill at the moment, but the starting bell for a whole new gold rush of IP acquisitions and adaptations may have just been rung.