Features
Marvel and DC Could Be Headed for a Reckoning with The Marvels and Aquaman 2
The two superhero franchises are on shaky ground with their year-end offerings.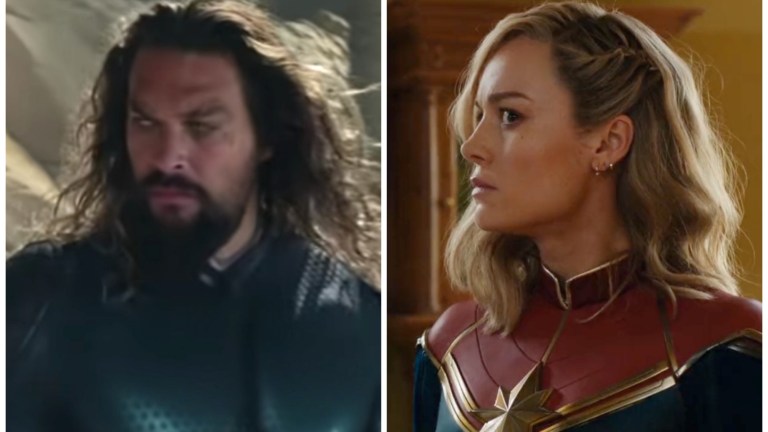 Marvel's latest foray into television, the Disney+ limited series Secret Invasion, has finally been put out of our misery after six episodes that were probably six too many. Meanwhile DC Studios and its parent company, Warner Bros. Discovery, are still nursing their wounds after an unprecedented streak of box office losers that included Black Adam, Shazam! Fury of the Gods, and most spectacularly, The Flash, which may end up soaking the studio for hundreds of millions of dollars—all the while DC Studios is anxious to begin its new slate/timeline in earnest in 2025 with James Gunn's Superman: Legacy.
But both brands may face their biggest challenges yet with the two tentpoles that they have scheduled for the end of the year. November, as of press time, will bring us The Marvels, a sequel to not just 2019's billion-dollar-grossing Captain Marvel but also the WandaVision and Ms. Marvel TV series. A month later, in December, DC will unveil Aquaman and the Lost Kingdom, a follow-up to 2018's billion-dollar club member Aquaman, and the last film to emerge from the now-expired DC Extended Universe.
We should also mention that there are still-ongoing strikes by the WGA and SAG-AFTRA guilds, and these may well inspire the studios to move the release dates of several movies this fall if talent is still unavailable to promote them. The Marvels is still sitting for now on its Nov. 10 berth while Aquaman 2 is perched at Dec. 20, although there have been rumors of the latter moving. Yet even if the strikes are resolved tomorrow and their release dates remain unchanged, The Marvels and Aquaman 2 still face significant challenges that could extend both studios' bad luck streaks and continue to support the idea that superhero movies are on the wane. Let's address each separately.
The Marvels
Originally announced as a July 2022 release, The Marvels has had its premiere moved several times, from November 2022 to February 2023 to July 2023, and finally now to November 2023. Directed by Nia DaCosta (Candyman), the film will feature the big screen debuts of Kamala Khan/Ms. Marvel (Iman Vellani) and the adult version of Monica Rambeau, seen as a child in Captain Marvel but played as an adult by Teyonah Parris in the 2021 series, WandaVision.
We all know the criticism that the MCU has come under during its rollout of Phases Four and Five. While the movies have been uneven in the past two years in terms of both box office and critical/audience reception—this year, the high-profile failure of Ant-Man and the Wasp: Quantumania was followed by the buoyant success of Guardians of the Galaxy Vol. 3—the Disney+ offerings have seen a consistent slide in interest and viewership, culminating in very low numbers for Ms. Marvel and Secret Invasion.
Which kind of sucks for The Marvels since it's related to both of those shows, as well as WandaVision and the first Captain Marvel film. The trailers heavily highlight the coming together of Carol Danvers (Brie Larson), Rambeau, and Khan as a new superhero team, which is a big risk considering that many people watching those trailers have probably never even seen Ms. Marvel and may not remember Monica Rambeau from her supporting role in WandaVision more than two and a half years ago.
That makes The Marvels perhaps even more dependent than usual on the diehard MCU fans coming out to see the movie, but it's doubtful they can push it to the billion-dollar heights of Captain Marvel in 2019…. the problem comes in if they cannot push the sequel to even half that though. Captain Marvel had the benefit of being Marvel's first female-led superhero movie, produced in the wake of Wonder Woman's success two years earlier for Warner Bros., as well as arriving right between Avengers: Infinity War and Avengers: Endgame. So interest in the MCU was at an all-time high.
The Marvels, by contrast, is following the disastrous Secret Invasion, which fans have decried as one of the MCU's worst small-screen offerings to date, as well as Ms. Marvel, which few viewers watched even if those who did embraced it far more enthusiastically. There have also reportedly been more extensive than usual reshoots on the film (which began shooting back in late summer 2021), and the toxic, miserable incels who had their tiny knives out for Brie Larson the last time around may return in an effort to inflict some perceived PR damage on social media as well.
Could The Marvels be the MCU's first outright flop? We doubt that's the case, and we'd never bet against this juggernaut snatching a hit from the jaws of defeat, even in its recent weakened state. But it's safe to say that The Marvels does not have the wind at its back, which will make going higher, further, and faster a considerable challenge this time. The question thus becomes not if it will see a smaller box office gross than Captain Marvel, but by how much will audience interest fall off between films.
Aquaman and the Lost Kingdom
Like The Marvels, Aquaman and the Lost Kingdom is following up a billion-dollar hit in 2018's Aquaman. In contrast to most of the previous entries in the grimdark DCEU/Snyderverse canon, James Wan's blockbuster was colorful, goofy, funny, and buoyed by the huge charisma of Jason Momoa, even if the movie was also noisy, bloated, and largely nonsensical from a narrative standpoint.
Wan, Momoa, and many other principal cast members returned for the sequel, which began filming in June 2021 after COVID delays, completing principal photography in January 2022. Like The Marvels, Aquaman 2 has seen its release date change multiple times, shifting from December 2022 to March 2023, to finally its current position at the end of this year.
At one point, Aquaman 2 flipped release dates with The Flash, which was originally going to come out at the end of 2023 and put a pin in the entire DCEU, using its multiverse storyline as a sort of reset and conclusion before the arrival of the new DC regime under James Gunn and Peter Safran. That caused confusion within the production of Aquaman and the Lost Kingdom itself, which shot scenes with both Ben Affleck's Batman and Michael Keaton's Caped Crusader (as of now, there are reportedly no scenes with either in the film).
Meanwhile, according to the Hollywood Reporter, the film has undergone a slew of test screenings and three rounds of reshoots (with the budget climbing to $205 million) as Wan, WB film chiefs Michael De Luca and Pamela Abdy, and finally Gunn and Safran have tried to make the picture work. The results at press time were said to be pointing in the right direction.
But as we write this in late July, a first trailer has yet to be released for the film, which is due out in just under five months. Some footage was shown last April at CinemaCon, but even a usually enthusiastic online cheerleader for a major ticket website could only muster up a "looks good" when posting about it on social media. It's also worth noting that James Wan is merging his production company with Blumhouse Productions and moving over to Universal Pictures after a decade of churning out hits for WB.
As noted earlier, Aquaman 2 is following a string of DC flops (the much smaller Blue Beetle, due out in August, is also likely to sink based on early tracking). It's unclear whether DC's recent misfortune is a result of "superhero fatigue" in general, a sense that this last group of DC movies doesn't matter because of the impending Gunn reboot, or both. But two $200 million flops in one year, from what's supposed to be one of its crown jewel brands, could put severe strain on Warner Bros. Pictures.
Undoubtedly, some internal logic at WBD would reason that the 2023 slate of superhero films are an obligation and maybe even a write-off; something to endure until Gunn and Safran start fresh in a few years. However, audiences are less likely to view the brand in such "before" and "after" terms, and potentially four flops in a row (or five if you count Black Adam) could create a strong perception of failure or disinterest in the public's mind. WBD CEO David Zaslav claimed he shelved Batgirl for less.
We're fans of superhero movies around here, of course, and don't like seeing any of them crash and burn. The MCU has taken its hits in the past couple of years but has soldiered on while the DC universe of the past decade has been stripped for parts and left for dead. If The Marvels and Aquaman and the Lost Kingdom turn out to represent the bottom for both, the genre could have finally reached a turning point—one you might hope they could turn upwards from.