Features
Has the Marvel Cinematic Universe Finally Reached a Tipping Point?
Marvel's sprawling cinematic universe is getting messy. What would it take to get the MCU back on track?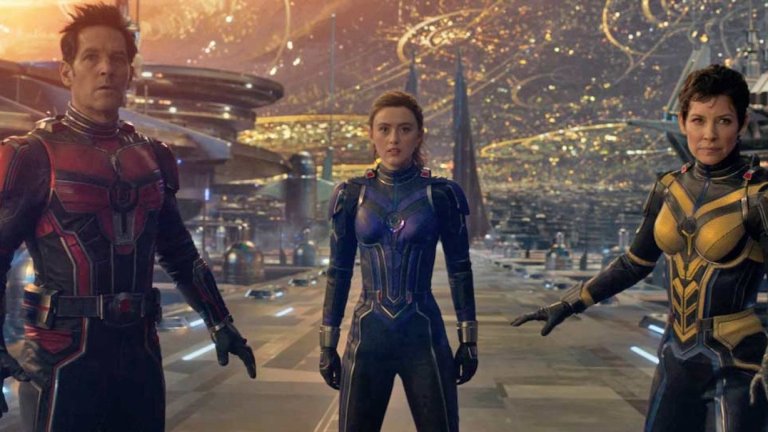 The Marvel Cinematic Universe is setting up a new "dynasty," and after 11 years of the Infinity Saga we've tossed aside Thanos like a drawer full of Infinity Stones at the TVA. MCU overlord Kevin Feige is back in the driver's seat as we move at breakneck speed into the Multiverse Saga of Phase 4, 5, and 6.
This chapter sees the rise of Jonathan Majors' Kang the Conqueror, but barely before things have begun, this sordid saga will be bowing out with Secret Wars in 2026. While some of us are looking beyond that to the arrival of the X-Men and potential big bads like Galactus, we've still got the Fantastic Four, Blade, and the timeline-shattering events of The Kang Dynasty to get through. The question is, are we reaching MCU saturation?
The MCU Is Reaching Critical Mass
In 2023 we've got three MCU movies and a currently unknown slate of shows in store. Only Loki and Secret Invasion are locked in, but at one point, we had everything from Agatha: Coven of Chaos to X-Men '97 pencilled in for this year, and it stands to reason that the more movies and shows we have, the more divisive moments like screaming goats, twerking with Megan Thee Stallion, and MODOK's ass we have to contend with.
It's a far cry from the Avengers assembling to Alan Silvestri's rousing score in 2012, and we've certainly come a long way from the humble roots of worrying about Thor's hammer landing in the New Mexico desert. Back in Phase 1, there were only six movies to worry about, with the final being the crossover ensemble of The Avengers. Jump forward to Phase 5, we can barely keep track of what's coming out and when.
Arguably, we're not off to a great start in Phase 5, with Ant-Man and the Wasp: Quantumania earning the unfortunate honor of having the biggest week-on-week drop for any MCU movie ever. Among the many complaints and excuses, a report from Vulture says the Ant-Man threequel blames its shoddy VFX on being rushed due to priority for Black Panther: Wakanda Forever. If the MCU is turning on itself, what hope do the fans have?
Crisis talks are presumably underway, but Feige and co. are already taking notice. The Marvels has been pushed back by four months to allow for a more polished release. It's unclear whether this will affect the connective tissue between the WandaVision post-credits scene and Secret Invasion, meaning we could have an awkward situation like when The Falcon and the Winter Soldier had to rework its scenes because Black Widow was delayed.
There Will Be Casualties
For all its faults, the DC Universe isn't afraid to cut off the foot to save the leg. It's disappointing we'll never get to see Batgirl, but with outliers including Ava DuVernay's New Gods and Deathstroke being given the boot, Warner Bros. won't make movies just for the sake of making them. Even though it's hard to imagine the MCU going full Gunn and axing something on the scale of Wonder Woman 3, it could be time to thin the herd. 
We've already seen Armor Wars get reworked from a series to a movie, but with Don Cheadle's War Machine being a D-tier Avenger (sorry, Rhodey), who's really asking for it? The same can be said for the Alaqua Cox-led Echo, which could've worked as a standalone episode of Daredevil: Born Again. Instead, it's another show you must tune into for fear of missing something important.
It's near-impossible to be a casual MCU fan because missing pieces of the puzzle often means you're banished to a Quantum Realm of continuity conundrums. Ms. Marvel was important for mutants and The Marvels, while She-Hulk set up World War Hulk. Meanwhile, Young Avengers teases have been popping up like incursions, and it's a safe bet that a lot of Phase 5's post-credits scenes will likely include Kang variants appearing everywhere.
It's still rare that an MCU project will be its own entity, with Shang-Chi and the Legend of the Ten Rings giving us a "James Bond will return" tease that the Ten Rings will be back. Tim Blake Nelson reprising his role as Samuel Sterns for Captain America 4 proves no one is left behind, and as the MCU cast list grows, we reflexively wince at what the Secret Wars budget will be. That's before you even get to rumours that the Jackman-era X-Men could be back for more.
A Return To Form
It's not all a logistical nightmare. Werewolf By Night struck out on its own as a Marvel Studios Special Presentation and wasn't shackled to the wider MCU. Director Michael Giacchino told ComicBook.com that the special actively swerved the idea of Blade and Moon Knight cameos. There was similar love for The Guardians of the Galaxy Holiday Special, and although no more Special Presentations are confirmed, there are hopes we could get more of these standalone stories.
Phase 4 also had some outstanding moments, including Angela Bassett's Oscar-worthy Wakanda Forever speech, Vision's thoughts on grief utterly sold by Paul Bettany, Richard E. Grant's joyful Classic Loki, and more. Similarly, Quantumania wasn't all bad, as we had the incredible Majors to carry us through the next era. It's also hard to argue that the MCU hasn't become the master of world-building. The DC Extended Universe and Universal's Dark Universe crumbled in the shadow of the MCU, and more recently, Gunn has applied this winning formula to the DCU when The Suicide Squad set up Peacemaker.
But it could be time to take a breather. Feige promises things are changing, telling Entertainment Weekly, "People will see that as we get further into Phase 5 and 6. The pace at which we're putting out the Disney+ shows will change so they can each get a chance to shine." Still, it remains to be seen whether this can improve quality.
We're all for planning ahead, but when you're already talking about Ant-Man 4 while Quantumania breaks unwanted franchise records, the MCU yet again falls into the "quantity over quality" trap. Even though nothing is quite in Morbius territory yet, Daniel Espinosa's blood-sucking blunder remains an extension of the MCU. Here's hoping Quantumania is just a bump in the road before Feige wrangles these branching timelines heading toward a multiversal war of criticism and box office problems, by putting the MCU back on track of its own Sacred Timeline.