Features
Hamilton Movie: Meet the Original Cast
The Hamilton movie on Disney Plus has arrived. To help get you caught up, here is a brief meet and greet with the principals in the original Hamilton Broadway cast.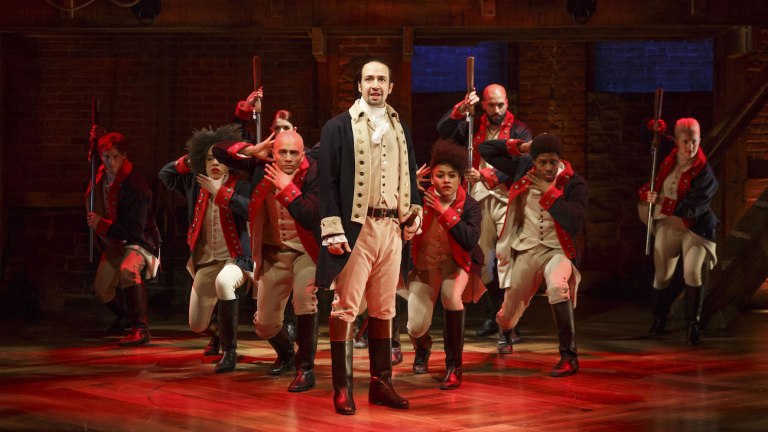 Wait For It. More than just one of the best songs in Hamilton—that Aaron Burr has soul!—those words signify how long fans around the world have waited to see Hamilton performed. Not everyone could afford a ticket at the height of the musical's popularity or lived near a city where the touring show has visited. Yet now, in times when the lights across Broadway are out, we all can be in the room where it happens.
Thanks to Disney+, and the $75 million the Walt Disney Company shelled out for the rights, a filmed performance with the original Broadway cast of Hamilton is here. For the diehards who've listened to the original Broadway cast recording hundreds of times, it's like seeing old friends when Anthony Ramos as John Laurens, Daveed Diggs as Marquis de Lafayette, and Okieriete Onaodowan as Hercules Mulligan walk into a bar. But for those who may not have the soundtrack memorized by heart, and painful memories of standing outside the Richard Rodgers Theatre for the original Hamilton lottery, here's a rundown of who's who.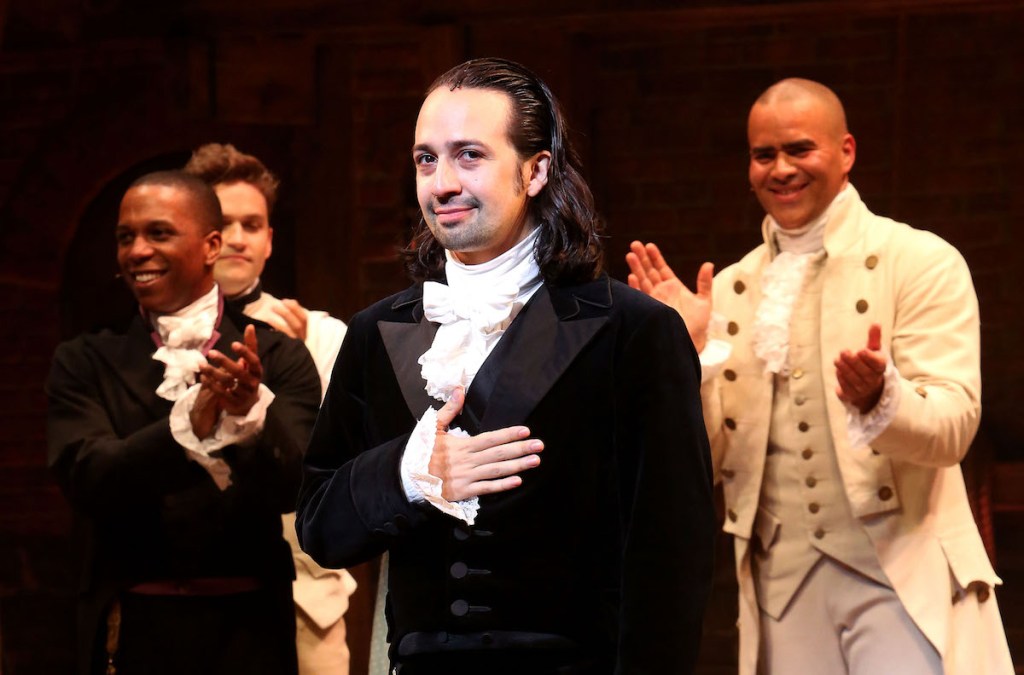 Lin-Manuel Miranda – Alexander Hamilton
A multi-hyphenate talent long before he stepped into Alexander Hamilton's wool stockings, Lin-Manuel Miranda has had one of the most impressive careers of his generation in theater. The son of Dr. Luz Towns-Miranda and Luis A. Miranda Jr., the latter of whom arrived in New York as a Puerto Rico transplant and went on to become an advisor in Mayor Ed Koch's administration, Lin-Manuel came from an impressive background. He arguably began his professional career at Wesleyan University by writing a one-act musical his sophomore year: In the Heights. Born and bred in New York, Lin strove to write a musical that infused the freestyle rap and salsa rhythm that he loved growing up in Washington Heights with the American musical tradition.
It impressed enough contemporaries and eventually professional producers that Miranda was able to spend years retooling it alongside playwright Quiara Alegría Hudes for Connecticut theater, Off-Broadway, and finally Broadway. All the while Miranda played protagonist Usnavi de la Vega in addition to having written the music and lyrics. It went on to win the Tony for Best Original Musical and Best Original Score, paving the way for Hamilton. Indeed, it was during an invitation to the Obama White House in 2009 as the In the Heights wunderkind where Miranda announced he was writing a hip hop album about Alexander Hamilton… and then shocked everyone with a stunning version of the show's opening song.
Hamilton of course became a generation-defining musical that Miranda wrote the music, lyrics, and book for, in addition to playing the titular U.S. Treasury Secretary. Both as an Off-Broadway production at the Public Theater and Broadway behemoth, Hamilton made headlines and sold out performances. The musical won its creator international acclaim, numerous Tonys, Drama Desk Awards, and a Pulitzer Prize for Drama. It also paved the way for Miranda to have a career in Hollywood.
Starring in Disney's Mary Poppins Returns (2018), Miranda has developed a close relationship with the Mouse House where he's also written and co-written songs for Moana (2016), which he received an Oscar nomination for, and the upcoming The Little Mermaid remake. He is also an outspoken advocate for Puerto Rico where he spent summers with his grandparents growing up. After hurricanes Irma and María in 2017, Miranda has raised funds for rescue efforts and rebuilding, including by reprising the role of Alexander Hamilton in a touring production that began with performances in San Juan, Puerto Rico. In advance of the tour, his family donated $1 million to the University of Puerto Rico. And just for the record, he plays the voice of Gizmoduck on the new DuckTales.
Leslie Odom Jr. – Aaron Burr
Likely still best known for playing Aaron Burr both off and on Broadway, Leslie Odom Jr.'s theater career began well before Hamilton. Getting his start by playing the significant supporting part of Paul on Broadway in Rent in 1998 (Odom was aged 17 at the time), the actor moved into a stage career quickly while also pursuing a BFA at Carnegie Mellon University. Born in Queens and growing up in Philadelphia, Odom had a lifelong love of the theater, which led to him rising up through the wings where he played ensemble roles in Jersey Boys, Being Alive, and a concert version of Dreamgirls.
Odom's first major starring role was as Isaiah Sturdevant in a musical version of Leap of Faith, both during its out of town tryout in Los Angeles and its Broadway debut in 2012. But he began his significant professional relationship with Lin-Manuel Miranda with an Encores! Concert performance of Tick, Tick… Boom!, a musical written by Rent composer Jonathan Larson that was not performed in his lifetime. It paved the way for Odom to land the second starring role of Hamilton when the musical premiered at the Public Theater in 2015 and on Broadway later that year. Odom would go on to win a Tony for Best Actor in a Musical by playing the trigger-happy vice president.
Beyond theater, Odom enjoys a successful recording career, releasing his first of two solo jazz albums, Leslie Odom Jr., in 2014 well-before playing Burr. He also has transitioned to Hollywood. Already having played smaller guest roles on network television shows like CSI: Miami and Smash, after Hamilton he had a starring role in Kenneth Branagh's Murder on the Orient Express (2017) and played abolitionist William Still in 2019's Harriet Tubman biopic, Harriet.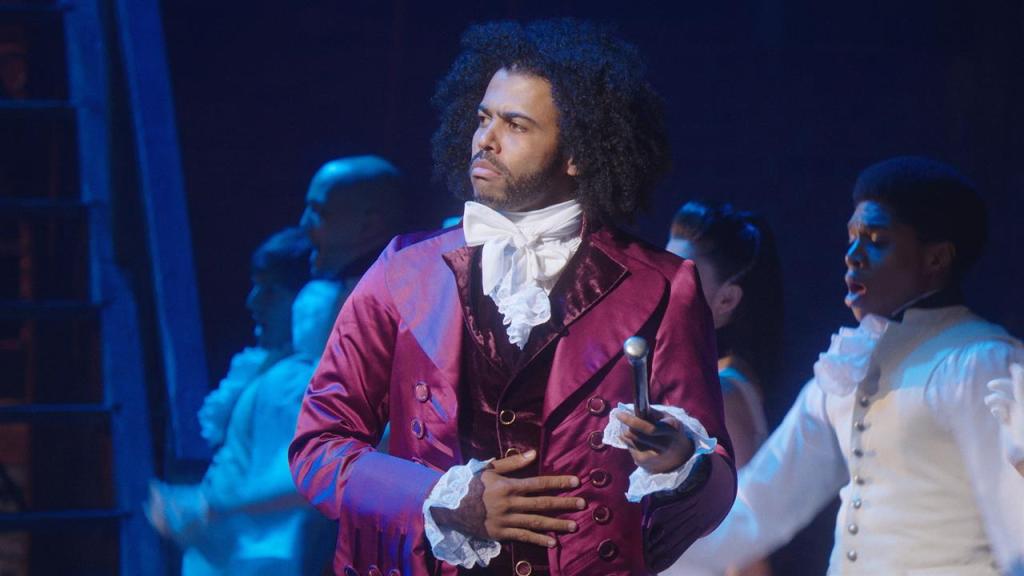 Daveed Diggs – Marquis de Lafayette / Thomas Jefferson
A musician, rapper, and writer as renowned for his musical career as his theatrical one before Hamilton, Daveed Diggs' hip hop ability earned him the distinction of "fastest rapper on Broadway" with the ability to speed through 19 words in three seconds during Layfette's solo in "Guns and Ships"—though he jokes in the rap world that is only "medium fast." Still, it was that ability that led Lin-Manuel Miranda to invite Daveed Diggs to early Hamilton workshops in 2012.
Before that Diggs had developed notoriety for being the lead vocalist and writer for experimental hip hop and rap group, Clipping. Joining William Huston and Jonathan Snipes in 2010 on the west coast scene, the group released their first mixtape album, midcity, in 2013. Diggs also enjoyed a theatrical career before either Clipping or Hamilton. In fact, after growing up in Oakland, he attended Brown University where he earned a bachelor's degree in Theatre Arts. He then initially pursued work in experimental theater, including on the national tour for Marc Bamuthi Joseph's Word Becomes Flesh, as well as work in regional Shakespeare productions, including playing Caliban in a San Francisco production of The Tempest.
Since playing Lafayette and Jefferson in Hamilton both at the Public Theater and on Broadway, winning a Tony for the latter, Diggs has pursued a multimedia career that includes the vastly underrated Blindspotting, an indie film that includes poetic verse interludes that Diggs co-wrote and produced. He earned a Spirit Award nomination for Best Male Lead for his performance. He also did a major stint on ABC's Black-ish before starring in The Get Down and now Snowpiercer on TV. He also appeared in the movies Wonder, Velvet Buzzsaw, and Pixar's upcoming Soul.
Christopher Jackson – George Washington
Before Hamilton for Christopher Jackson and Lin-Manuel Miranda, there was In the Heights. Indeed, Jackson played the supporting role of Benny opposite Miranda in that show during both its Off-Broadway and on Broadway runs in New York City. Yet even by that point, Jackson had already developed an impressive theatrical career, starring in his first Broadway musical at the age of 21 in the original cast of The Lion King.
After attending American Musical and Dramatic Academy, the Illinois-born Jackson broke into theater with Time and the Wind Off-Broadway and then as part of the ensemble in Disney's groundbreaking The Lion King in 1997. He would go on to play the lead role of Simba in the show several years later. Afterward, he starred in a number of major productions that include Memphis, Cotton Club Parade for the Encores! Concert series, and Bronx Bombers, in which he played a singing and dancing version of Derek Jeter. He left that production though to work again with his playwright pal on Hamilton. In addition to starring in the off and on Broadway productions of the show, Jackson is the only Hamilton cast member besides Miranda who was with the musical since the beginning, playing the rapping-on-metronome American president in the show's 2014 Vassar Workshop.
Since Hamilton, Jackson has added to his TV credits by appearing in Ava DuVernay's When They See Us and Apple TV's Central Park. He also confirmed to Den of Geek earlier this year he has a cameo in the In the Heights movie and will be appearing in Miranda's upcoming film version of Jonathan Larson's Tick, Tick… Boom!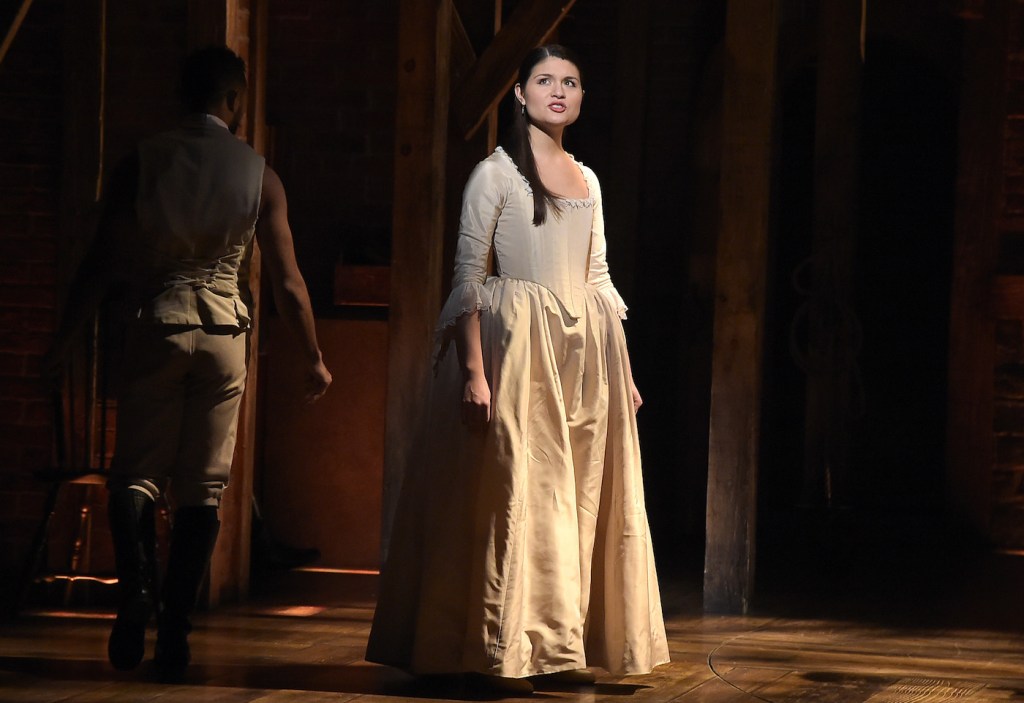 Phillipa Soo – Eliza Schuyler Hamilton
The daughter of a Chinese-American father and European-American mother, Phillipa Soo was fresh out of Juiliard when she landed her first major starring role in a musical. That production, Natasha, Pierre & The Great Comet of 1812, was Dave Malloy's ambitious adaptation of a 70-page segment of Leo Tolstoy's War and Peace. Soo originated the role of Natasha Rostova in the musical's three original Off-Broadway runs between 2012 and 2013. And it was during one of these performances that Hamilton director Thomas Kail and Lin-Manuel Miranda were in attendance. Afterward they asked her to read for the lead role of Eliza, the Schuyler Sister who would become Alexander Hamilton's wife.
Soo originated the role of Eliza both at the Public Theater and on Broadway, earning a Tony nomination for Best Actress in a Musical. Soo would go on to star in the eponymous role of the Broadway adaptation of Amélie in 2017, being nominated again for a Tony. Later that same year, she starred in The Parisian Woman, an original play by Beau Willimon, for a limited run between November 2017 and March 2018. She also starred in CBS' short-lived military legal drama series, The Code.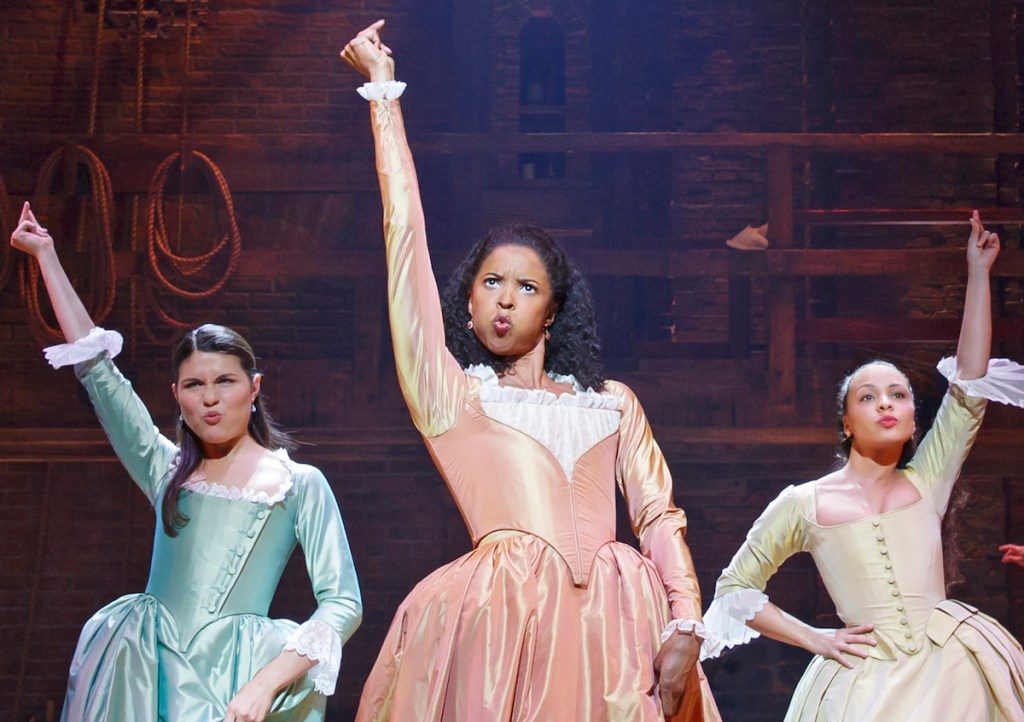 Renée Elise Goldsberry – Angelica Schuyler
Winning the Tony for Best Featured Actress in a Musical for her rendition of Angelica, Renée Elise Goldsberry was another of the breakout stars of the original Hamilton cast. Born in San Jose, California before growing up in Texas and Michigan, Goldsberry began her career in equal parts television and theater. After graduating with a BFA from Carnegie Mellon University, and then earning a Master of Music in Jazz Studies at the University of Southern California's Thornton School of Music, Goldsberry went on to appear in a national tour of Dreamgirls and make her first appearance on Ally McBeal in the same year, 1997. Appearing as one of the backup singers behind Vonda Shepard on the Fox drama, Goldsberry appeared in 43 episodes between '97 and 2002. On Broadway she'd go on to star as Nala in The Lion King, as Mimi in Rent, and originate the role of Nettie Harris in the original Broadway cast of The Color Purple in 2005.
In television, her credits include a 272-episode stint on One Life to Live, guest spots on Star Trek: Enterprise, Royal Pains, Masters of Sex, Documentary Now!, and The Following, and a major recurring role as Geneva Pine on The Good Wife. More recently she is among the stars of Netflix's Altered Carbon and featured in a supporting role in Trey Edward Shults and A24's Waves.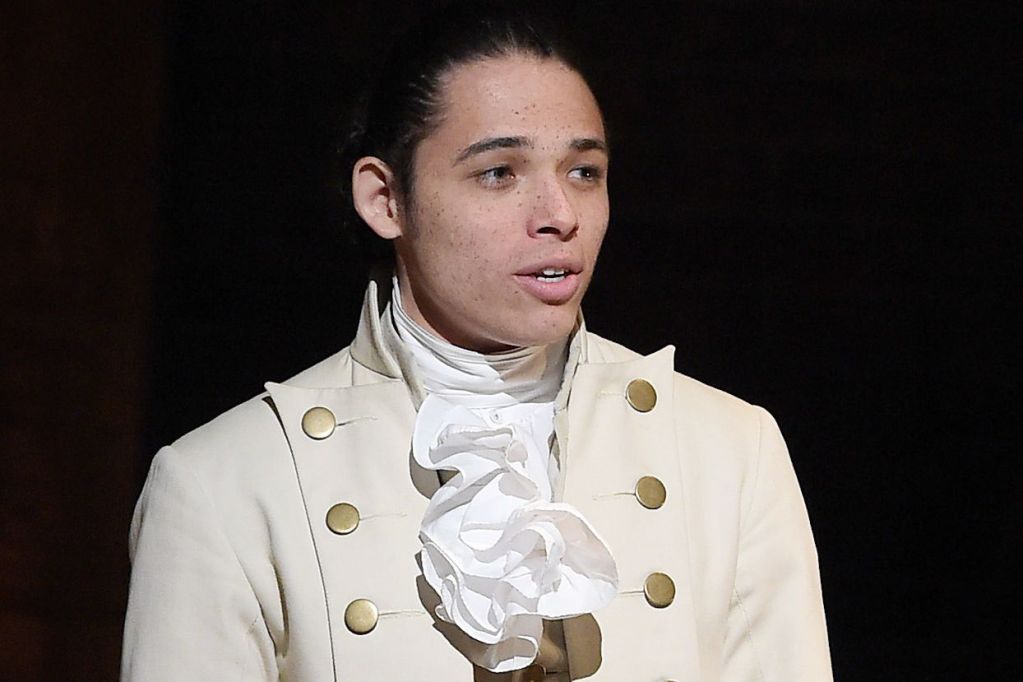 Anthony Ramos – John Laurens / Philip Hamilton
The upcoming star of the In the Heights movie, where Ramos plays a role that Lin-Manuel Miranda originated and wrote, Ramos' life has turned out quite a bit different than he initially planned. How could it not when in high school he intended to pursue NCAA Division III Basketball and then a career in basketball coaching? Instead the Brooklyn born Ramos got a full scholarship to the American Musical and Dramatic Academy, a conservatory for the performing arts, and graduated from its musical theatre program in 2011. A year later he appeared in a supporting role of In the Heights' touring production before starring in Radio City Music Hall's short-lived Heart and Lights. Seriously, it was cancelled during previews.
That turned out to be a blessing though, as it led Ramos to audition for Hamilton, securing him the dual role of Hamilton's doomed BFF John Laurens and then Hamilton's doomed firstborn son, Philip, in both the Public Theater and Broadway productions of the show. Miranda clearly thinks Ramos is looking for a breakout role, particularly after starring in a memorable supporting role in Bradley Cooper's A Star is Born remake, as Lady Gaga's bestie Ramon, and featuring in supporting roles in Godzilla: King of the Monsters and Trolls World Tour. In the Heights should be it.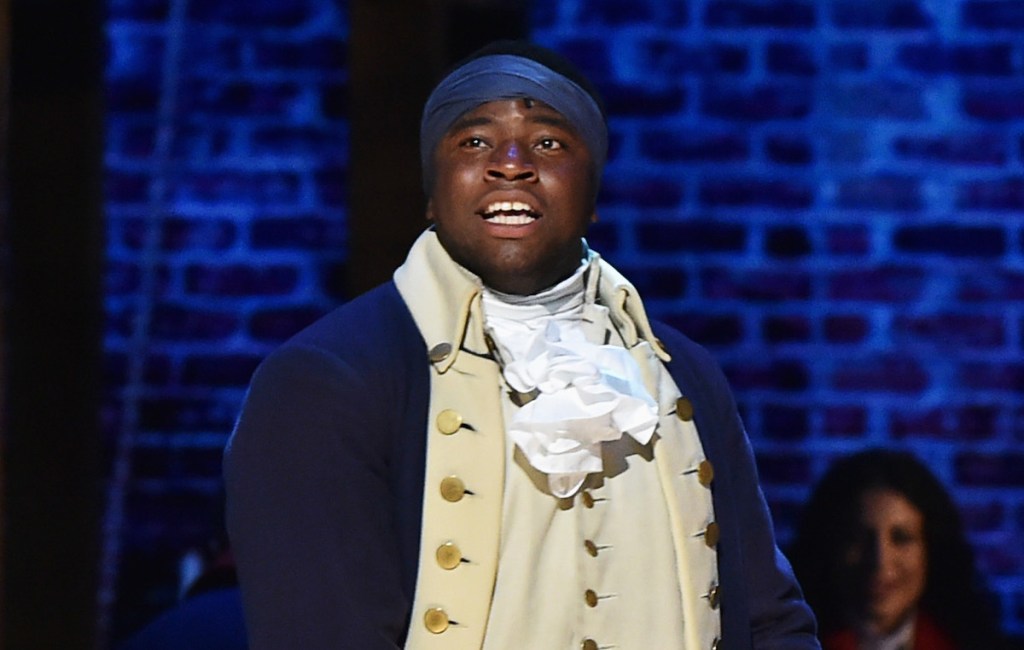 Okieriete Onaodowan – Hercules Mulligan / James Madison
The cast member to stay the longest on Hamilton, Okieriete Onaodowan played the wildly different roles of Hercules Mulligan, an American spy on the British Army in New York, and founding father and future U.S. president, James Madison. The son of Nigerian immigrants, Onaodowan was born in Newark, New Jersey where he began pursuing professional theater after high school. Appearing in numerous off and off-off-Broadway productions, Onaodowan eventually broke through by appearing as "Rock & Roll Boyfriend" in the national tour of Green Day's American Idiot musical. Afterward he appeared in a 2012 Broadway production of Cyrano de Bergerac.
In 2014 he was the understudy for the role of Apollo Creed in the short-lived Broadway musical version of Rocky but then achieved stardom with Hamilton, both at the Public and on Broadway. He also took over the leading role of Pierre Bezukhov from Josh Groban in the Broadway version of The Comet of 1812. He also has numerous TV credits that include Blue Bloods, Ballers, Girls, The Get Down, Grey's Anatomy, and an episode of BoJack Horseman.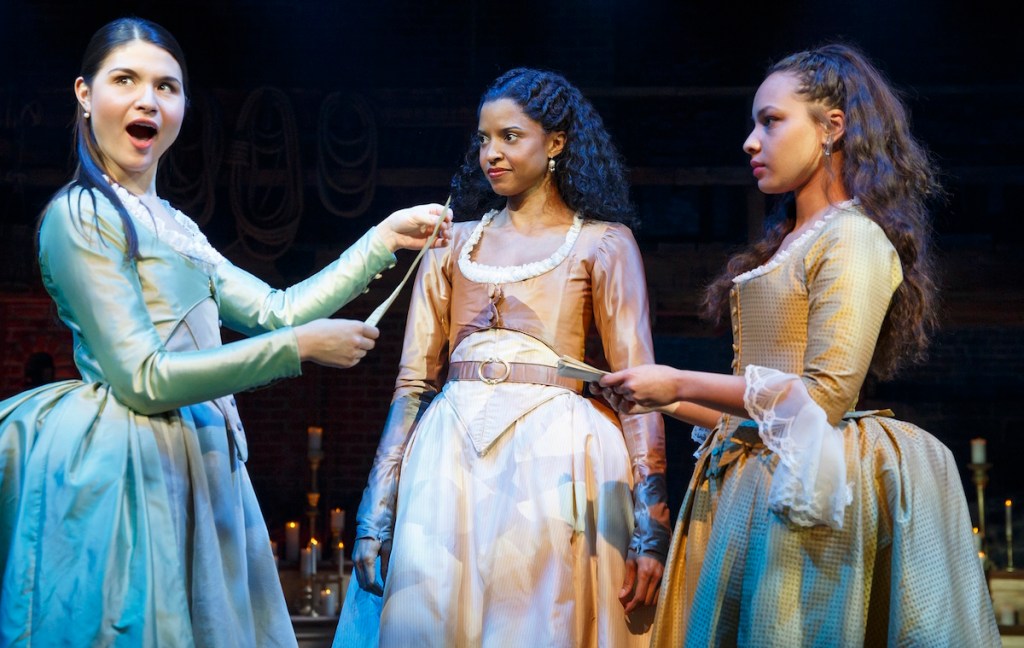 Jasmine Cephas Jones – Peggy Schuyler / Maria Reynolds
Before she played the relentlessly insistent Peggy, Brooklyn born Jasmine Cephas Jones had already begun a film and television career that included supporting roles in Blue Bloods and Noah Baumbach's Mistress America. A graduate of the Neighborhood Playhouse School of Theatre, Hamilton was only her second stage credit, and first one on Broadway. Since then she's also played Roxanne opposite Peter Dinklage in a musical version of Cyrano de Bergerac, and appeared in Baumbach's Marriage Story as well as Stella Meghie's The Photograph.
Jones has also pursued a musical career with her debut album Blue Bird. And in a little bit of Hamilton trivia, she is married in real-life to Anthony Ramos, whom she met in the Public Theater production of the musical.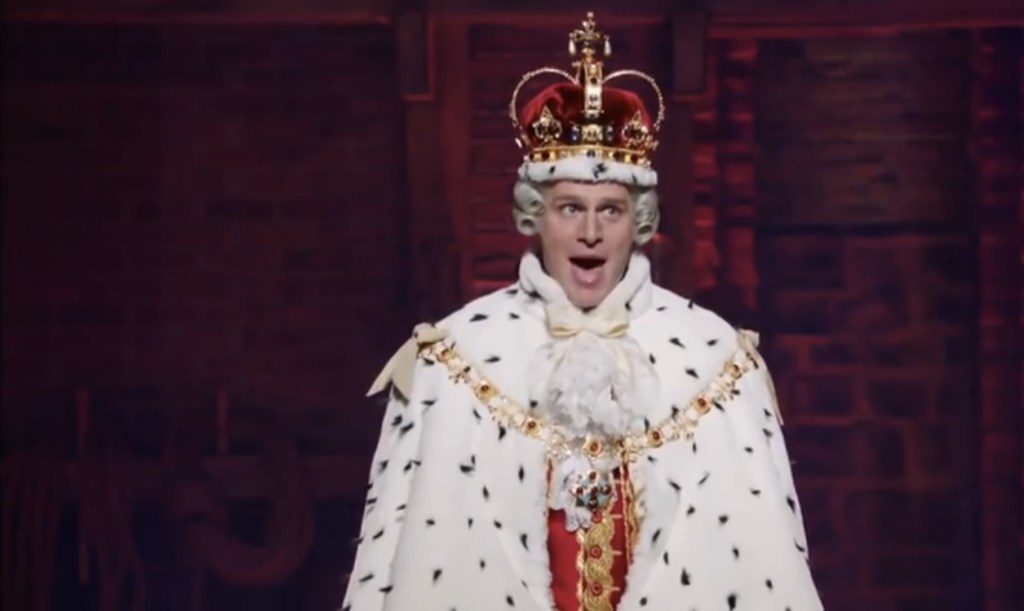 Jonathan Groff – King George III
Wow, from Kristoff to Mad King George, Jonathan Groff is really showing his range on Disney+ these days! Yep, one of the most well-known mainstream actors pre-Hamilton, Groff made himself a household name, at least with musical theater and animation geeks, by playing Kristoff in Walt Disney Animation Studios' Frozen (which he reprised in last year's Frozen II). He also played the recurring villainous and then redeemed (I guess) Jesse St. James on Fox's now infamous Glee.
Prior to any of that though, Groff came from the theater, beginning his career straight out of high school and breaking through with the starring role of Melchior Gabor in Spring Awakening. Originating the role both Off and then on Broadway in 2006, he received a Tony nomination for Best Actor in a Musical for the performance. He followed that up with a Shakespeare in the Park production of Hair in 2007.
Groff went on to be nominated for a Tony for his show-stealing mugging as foppish, Top 40-listening King George–a nice feat since he was the only Original Broadway cast member who did not appear in the Public Theater production. And most recently he starred on stage as Seymour to rave reviews in an Off-Broadway production of Little Shop of Horrors. But he's probably best known to many now as Holden Ford, the FBI special agent with a very peculiar fascination with serial killers in the David Fincher-produced Netflix series, Mindhunter.