Features
Best 11 Classic Movie Musicals
With Mary Poppins Returns putting the movie musical back in style, we decided to rank 10 of the best toe-tappers old Hollywood.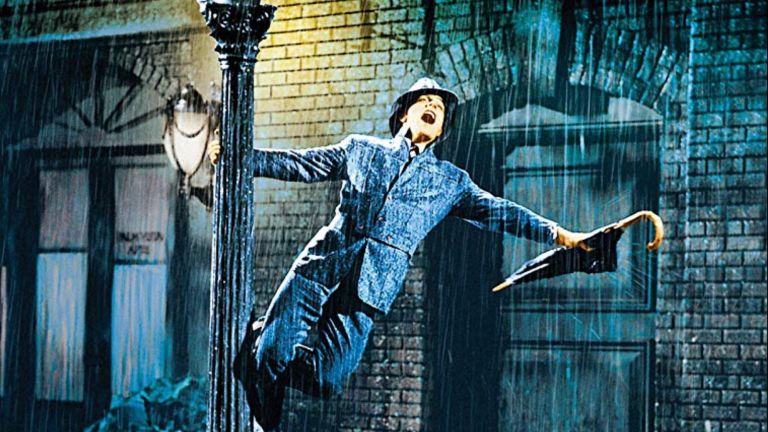 The musical is back!
… Well, in actuality, it's been here for a while. Ever since the one-two punch of Moulin Rouge! in 2001 and Best Picture winner Chicago the year after that, we've had a toe-tapper almost every December. Yet with the exception of Rouge!, there hadn't been an original Hollywood musical written for the screen during this century until very recently. And if you also exclude those without original songs, it's been over 20 years since the last time we've had a live-action, unapologetically song-and-dance fantasy in that classic movie musical vein.
Yet even that is changing. In the past few years, we got La La Land and then The Greatest Showman, and this holiday season has brought us both Mary Poppins Returns and Anna and the Apocalypse. One was distinctly jazz-influenced, and far more melancholy and nuanced than anything on this list from yesteryear, and The Greatest Showman tapped into that same classic escapism with a modern pop sensibility. Mary Poppins is unsurprisingly a return to classic Disney, but we're now also getting zombie-musical goodness. (That's new!) And all enjoy the desire to enteretain, thrill, and drift away on the kind of starry-eyed fantasia that has vanished like a forgotten art-form since the mid-20th century.
Hence we've decided to give you a glimpse into the past by diving into what was pop culture's favorite genre for escapism during the decades when Superman fought fascists in Ben-Day dots, and Spider-Man was only a glimmer in Stan Lee and Steve Ditko's eyes. These are, in our estimation, the very best of the original movie musical form that dominated Hollywood entertainment from the moment sound could be synched to the moving image with The Jazz Singer (1927) and until the whole studio system of yore came crashing down in fire with Hello Dolly (1969).
So care to dance?
*Special Note: We are not including wholly animated musicals or those based on Broadway shows. Arbitrary? Sure, but this gets to a specific kind of classic movie musical. Sorry, The Sound of Music, My Fair Lady, Show Boat, and The King and I. We're fans of those too.
11. An American in Paris (1951)
Literally a film that had a title before anything else, An American in Paris became a major priority for MGM when its legendary musical producer Arthur Freed purchased the rights to its name—and incidentally stunning jazz-infused symphony—from Ira Gershwin in the 1940s. Even though the name "An American in Paris" was attached to a wordless orchestra-piece from 1928, you have to see Freed's point: It already sounded like an iconic musical in search of a vessel.
The music by George Gershwin (who passed away in 1937) was sumptuously reinvented in this film, as were a number of classic ballads from the earlier decades by George and Ira Gershwin, including "I've Got Rhythm" and "Stairway to Paradise." But what truly elevates the film as an all-time classic was the collaborative efforts by director Vincente Minnelli and star/choreographer Gene Kelly to put infectious dance and elegant charm to the Gershwin sounds, and an admittedly standard storyline about a starving American artist (Kelly) in Paris long enough to fall in love with a teenager (Leslie Caron in her first role).
The film is hardly flawless when Kelly and Caron's characters spend the whole film lying to each other as perfect strangers, nor do they even solve their own middling conflicts. But when they dance? It's perfection. And luckily, the climax of the piece is a wordless 17-minute ballet between the two on a soundstage fever dream to what most Americans likely still believe the City of Lights to be.
10. Mary Poppins (1964)
After Jack Warner infamously decided that Julie Andrews was not photogenic enough to star in the movie version of My Fair Lady (in which, to her defense, Audrey Hepburn gave a fine performance despite being dubbed during most of her songs), Walt Disney should have sent him a thank you note. Because what would Mary Poppins be without Ms. Andrews' spoonful of sugar?
further reading: One Way Mary Poppins Returns Surpasses the Original
A liberal adaptation of P. L. Travers' magical nanny getting up to all sorts of mischief in Edwardian London, Mary Poppins is a film beloved by countless generations for its family friendly message, its delightful cast, and of course Andrews belting it out with her flying umbrella, or Dick Van Dyke turning chimney sweeping into a childhood vocation. Disney certainly considered the movie to be the masterpiece of his years in moviemaking, and there is something quite magical about the picture. We can even bend our own rule a bit about non-animated films, because the actors are always keeping the most sentimentalist of Disney affectations genuinely alive.
9. Meet Me in St. Louis (1944)
Another Vincente Minnelli success, this is also the film that proved Judy Garland could transition into adult roles, as well as into a marriage with Minnelli. But most importantly, it still stands 70 years later as a timelessly entertaining daydream about the challenges of domesticity and growing up in any era.
Broken up into vignettes over seasonal holidays across the calendar of 1903, Meet Me in St. Louis follows the Smiths, a pleasant and happy upper-middle class clan that is thrown into turmoil when the father (Leon Ames) decides his family is going to leave Missouri and move to New York. But before all that stress, we spend time with daughters Esther (Garland) and Tootie (Margaret O'Brien) singing "Under the Bamboo Tree," "The Trolley Song," and most famously, "Have Yourself a Merry Little Christmas."
Before it became a radio staple for countless covers, "Merry Little Christmas" was a song about despair and a family breaking apart in this film, which was the softer version of the lyrics since it was originally penned for the film to have morbid insights like this:
Have yourself a merry little Christmas

It may be your last

Next year, we may all be living in the past.
Tony Bennett would've had to work that much harder to record this a few dozen times and still sound excited about it.
Watch Meet Me in St. Louis on Amazon
8. Gigi (1958)
This is the one where a young girl is raised by her grandmother and great-aunt to become a Parisian courtesan, and she only evades that fate because she unintentionally charms a much-older, wealthy benefactor into falling in love with her, thus rising in high society through marriage. In other words, they would never make this movie today. Even on Broadway, they have muted the je ne sais quoi French-ness of the piece when adapting it to the stage in 2015.
Still, this original film is a classic that fully embraced its Belle Époque subject matter. It is also another case of us bending our own rules to include it since it is technically adapted from a 1944 novella of the same name by Colette, but is likely influenced by a 1951 Broadway play adaptation of the same name (it had no songs) that starred Audrey Hepburn. And unlike Eliza Dolittle, the songs written for Gigi in this '58 film by Alan Jay Lerner and Frederick Lowe were in Hepburn's range, unfortunately for the Sabrina actress, she narrowly lost out on the part for the film to Leslie Caron. Ironic, oui?
further reading: The Best Movie Musicals of the 21st Century
Luckily for us, Caron is effervescently precocious here, mapping the maturing of a girl to womanhood in a way that plays mostly as carefree and spirited, despite the subtext being that everyone around her is using her. Among them is an excellent Louis Jourdan as the French playboy who gives it all up for Gigi, and a very memorable Maurice Chevalier as Jourdan's uncle, an aged libertine who walks a precarious line between amusing and creepily lecherous. The film, directed by Vincente Minnelli, is as lavishly colorful and decadent as the period it's set in, creating a classic movie musical that is actually shadier and more nuanced than stage versions that came afterward. That's worth drinking some more champagne over.
7. The Band Wagon (1953)
When this list was first published in 2016, we left off The Band Wagon due largely to the mistake of simply having not seen it in a long time. Upon revisit, it's clear The Band Wagon is one of the crowning achievements of the Arthur Freed Unit at MGM and likely the best Fred Astaire picture absent Ginger Rogers. A high-energy and highly entertaining frollic into what we all secretly wish putting on a show is like, the picture is a bit of MGM, Astaire, and director Vincent Minnelli's high-handed apprehension to the popularizing of "method acting" in Hollywood, and the desire to make film more of an art (there are plenty of digs at Marlon Brando and Lee Strasberg's Actors Studio). Instead The Band Wagon muses artifice is better when "That's Entertainment!" Perhaps not so coincidentally, this became MGM's mantra too.
Luckily it backs that up in a story about another not-Fred Astaire named Tony Hunter (played by Astaire) returning to Broadway in his middle-age after one flop too many in the movies. Amusingly, no one on his train even recognizes him when Ava Gardner is onhand. Soon he finds himself roped into director Jeffrey Cordova's (Jack Buchanan) ill-conceived Faust musical. It is clearly a too-grim affair for 1953 Broadway (wait until these folks get a load of Sondheim…), but Astaire and the other stars save the show while it's touring by turning it into a luscious and ridiculous musical revue that includes cowpoke Southern caricatures, singing babies, and a gangster ballet.
It's all a little ridiculous, but endearingly so. This is in no small part due to Astaire's chemistry with Cyd Charisse as his leading lady. There is the typical off-on-a-bad-foot plotting with him being a song-and-dance man, and she a serious ballerina, but there is nothing affected about their steaming chemistry during a dance in Central Park, which is a wordless flirtation that finds echoes all the way in today's La La Land. When accompanied by an endless barrage of Arthur Schwartz and Howard Dietz songs, including "By Myself," "That's Entertainment!," and "I Love Louisa," and it becomes impossible not to jump on.
Watch The Band Wagon on Amazon
6. White Christmas (1954)
If the best musicals of the 1930s made folks forget the present, the song "White Christmas" made them remember the past. Attached to another classic movie musical that almost made this list, the song was one of several memorable Irving Berlin earworms in Holiday Inn (1942). That Bing Crosby-Fred Astaire two-hander is a standard that's "White Christmas" ballad, sung by Crosby, became an instant favorite of American servicemen in the Second World War, desperate to have some fleeting memory of home and happier, peaceful days while awaiting that carnage that would come later on D-Day, or in Saipan, or at the Battle of the Bulge…
In fact, Holiday Inn's historic impact likely would've put it on this list if not for the small fact that it has one of the most egregious black face scenes in memory. Whereas White Christmas reconfigured a whole movie around the Berlin song, and made something arguably stronger (and certainly more palatable to 21st century eyes). In this film, Crosby plays a World War II vet who was already a showman when he went to Europe back in the '40s. In fact, the film opens with its strongest moment by preserving the sense of solace his highest-selling standard offered G.I.s. The scene also ends with Danny Kaye saving Crosby's life from a German shell.
As a result, Crosby begrudgingly lets Kaye into his act, and by the time the movie picks up with them, they're as happy as white American males can be, at the apex of their powers: the 1950s. Still, when they realize their general from the war has opened a Vermont lodge with no customers for Christmas due to a lack of snow, they get their entire platoon back together to put on a show, all while romancing a sister-act played by Rosemary Clooney and Vera-Ellen via some very eye-popping sequences filmed in VistaVision. This movie, directed by genre chameleon Michael Curtiz (Casablanca, The Adventures of Robin Hood, Mildred Pierce) is warm, sincere in its sentiments when focused on the vets, and has everything else you'd need in a Christmas movie. Even, in the end, snow.
Watch White Christmas on Amazon
5. Swing Time (1936)
While there were plenty of musicals before Fred Astaire was cast in a small role in 1933's Dancing Lady, the genre didn't really begin until Fred got the chance to turn his vaudeville moves into American release and mass cultural therapy during the Depression. And further, it wasn't perfected until Ginger Rogers proved herself to be his onscreen equal and partner.
Swing Time, directed by George Stevens, might be the best structured and plotted pairing the two ever enjoyed in their 10 movies together—which is to say that it offered a slightly better pretense for their always dazzling ballroom taps. In this particular case, Fred plays a gambler named Lucky who is set to marry another woman, but to earn her father's approval he needs to raise $25,000 in the Depression. So he heads to New York, penniless and intending to win a bounty when he runs into a dancing instructor played by Ginger Rogers, whose talents are being wasted, and…
Who am I kidding? The point is that when they dance, boy do they dance! The above number, choreographed to "Pick Yourself Up" is the sweetest hustle in movie history where Astaire pretends to be her student with two left feet, and then when her job is on the line, turns out to be the best dancer cinema has ever seen. The film also marks the origin of the song "The Way You Look Tonight," that time when Fred and Ginger sing "A Fine Romance" in the snow, and also what some have argued to be the greatest dance scene in history—their three-minute long goodbye "Never Gonna' Dance," filmed like most of their work in a one-take. This might also be the sweetest movie breakup, too.
It's certainly so flawless, you'd never know that Ginger's feet were dripping blood across the floor by the final, 48th take.
4. Top Hat (1935)
Honestly, you could flip a coin in order to pick a better film between Top Hat and Swing Time. Either way, you'd be right. Still, I personally give the edge to the one with the hat, white tie, and tails. Here, at last, is the definitive '30s musical diversion. The one that folks imagine all old school musicals are like, with its lavishly extravagant and cavernous art deco sets—compliments of art director Van Nest Polglase—and pure flights of fancy storytelling where New Yorkers sail on whims to London and then Venice for the weekend (which both also look like vast art deco sets, funnily enough). It's got a screwball aesthetic, too, being released only one-year after Frank Capra's It Happened One Night.
But this is also just a pure joy, a picture filled with ballroom fairy dust and the best tap dancer ever to step foot in front of the camera. There is barely any story to speak of, just a series of coincidences and misunderstandings that unwittingly set the blueprint for all network sitcoms to come afterward. But unlike those, this is accompanied by luscious cinematography, a sea of extras to get in on the madcap mayhem, a collection of instant Irving Berlin standards, and most of all Fred and Ginger dancing. Swing Time might feature their most accomplished number in its third act, but there is none as iconic as "Cheek to Cheek," Ms. Rogers' feather dress and all. For this kind of 1930s escapism, it's perfection.
3. The Wizard of Oz (1939)
It is hard to find too much to say about The Wizard of Oz that isn't hyperbole. One of the many great Hollywood triumphs from the studio system's storied best year, 1939, The Wizard of Oz was not exactly a massive success upon its release. Yet, it has lived on from one generation to the next, inspiring awe and childlike joy—and I'm still talk about the adults watching it now!
Unforgettably offering one of the most transcendent uses of early technicolor (along with Gone with the Wind, released the same year), the movie opens in a sepia-toned and deceptively faded black-and-white film print. But long before Instagram wore off the novelty of this trick, this visual simplicity and homeliness is cast off for grandiose, primary color jewels. Emerald City lives up to its name, as does the Yellow Brick Road, the ruby slippers (which pop a lot more onscreen than L. Frank Baum's literary silver ones), and every other indulgence upon which your eyes shall feast. Of course, Baum fans will never be satisfied that his story was simplified into an MGM fairy tale, but that's their loss. There will never be another movie, TV show, or stage adaptation of Baum's work that can compare.
further reading: How Disney Saved Musicals for a New Generation
It also features songs so synonymous with pop culture that it's almost redundant to name "Over the Rainbow," "If I Only Had a Brain," and "We're Off to See the Wizard." Additionally, it made a star out of Judy Garland (for better or worse to her health) and caused children everywhere to fear the color green. Plus, chances are anyone you've ever met has seen it. Multiple times.
Watch The Wizard of Oz on Amazon
2. Seven Brides for Seven Brothers (1954)
Life has a funny way of playing out. When venerated musical director Stanley Donen reluctantly took this job, uncomfortable with the idea of making 19th century Oregon Trail pioneers into songbirds, he insisted that, at the very least, there shall be no dancing. Then he goes ahead and films the best dance scene in movie history. Go figure.
While I've included films on this list that have been argued to feature the best dance sequence, there is none quite as impressive as that time Donen used CinemaScope to dazzling effect in a seven-minute display of alpha male bravado, rivalry, increasingly violent one-upmanship… and woodsmen acrobats?! Hey, if it works, it works. And it works really well when it turns an 1850 barn-raising social into a contact sport. This is just one of the superb musical moments from the film, which also features Howard Keel's blustering "Bless Your Beautiful Hide" and Jane Powell's fiddle-burning "Goin' Courting."
This picture is understandably wide-open to the reading of its male characters as being chauvinistic, misogynistic, and selfish. And they are. But the movie (mostly) is aware of their numerous flaws, even if it downplays them for the regrettably rushed third act. But before that moment, it enjoys a lively story structure and galloping plot momentum that is missing in most of the classic movie musicals, but is acting like a chugging riverboat motor in Seven Brides.
Even MGM was unaware of what a refreshing alternative they had to their ballroom or balletic fantasies with Astaire and Kelly. That same year, MGM was convinced Brigadoon—a fine Broadway adaptation starring Gene Kelly and Cyd Charisse that was filmed on actual locations—would be their biggest hit of the year. Instead, it was the one done on soundstages about backwoods farmers with a penchant for kidnapping and Stockholm Syndrome inducement. In the end, it must've really been blessed.
Watch Seven Brides for Seven Brothers on Amazon
1. Singin' in the Rain (1952)
Hollywood is usually at its best when it's partaking in its own mythmaking. And no film has with greater warmth and joy (or as some would read: delusion) embraced its own soundstage folklore like Singin' in the Rain. A film that to this day is the equivalent of a big cinematic hug for millions of movie-lovers, Singin' in the Rain can be enjoyed by even those who'd attempt to fold their arms at any other entry here.
Directed by Stanley Donen, produced by the Arthur Freed Unit, and choreographed by its star Gene Kelly, Singin' in the Rain remains the purest sip from MGM's dream-making reservoir. It even mines most of its tunes from the studio's songbook of the 1920s and '30s, including the titular ballad that was once written by a much younger Freed and now was exuberantly being sung by Kelly (supposedly while he had a cold) on a rainy stage in Hollywood. But that is just one of the many moments of good-natured cheer the film shares with audiences year after year. I enjoy just as much Donald O'Connor's "Make 'Em Laugh." Purists will point out the song is probably a knockoff of Cole Porter's "Be a Clown," but O'Connor does far more with it than Porter's The Pirate ever could, showcasing a series of pratfalls that are as gleeful as they are destructive.
Debbie Reynolds, only 18-years-old in the film, also kept up with the athletic Kelly while providing a splendid contrast of skepticism to all the Tinseltown grandstanding. Of course, she can't help but join in on the fun of a shockingly benign and jovial studio environment, where even the film's in-story 1920s mogul (Millard Mitchell) loves a good prank at one of his most prized stars' expense. The movie also delivers with a ballet sequence between Kelly and Cyd Charisse, and perhaps most importantly, Jean Hagen as Lina Lamont.
Dear Lina is amongst the best of comedic villains. She might have a voice that will cause your ears to bleed, but be wary if you'd think she's dumb or something. Lina provides an actual threat and, like Seven Brides, helps give the musical she is in some actual narrative momentum and tension, all the way to its grand finale. And this one doesn't sputter at the end, either.
As a result, Singin' in the Rain is the kind of musical that gets under the skin and causes any viewer, even going on 65 years later, to want to jump into the next big rain puddle they see. Preferably while splashing a cop in the process.
Watch Singin' in the Rain on Amazon
So there's our list. Agree with the rankings? Disagree? Let us know in the comment section below!
*This article was originally published on Dec. 12, 2016.
David Crow is the Film Section Editor at Den of Geek. He's also a member of the Online Film Critics Society. Read more of his work here. You can follow him on Twitter @DCrowsNest.