Reviews
Central Park Review (Spoiler-Free)
Central Park, Apple TV+'s animated offering from Loren Bouchard, should be a delight to both Bob's Burgers and musical fans.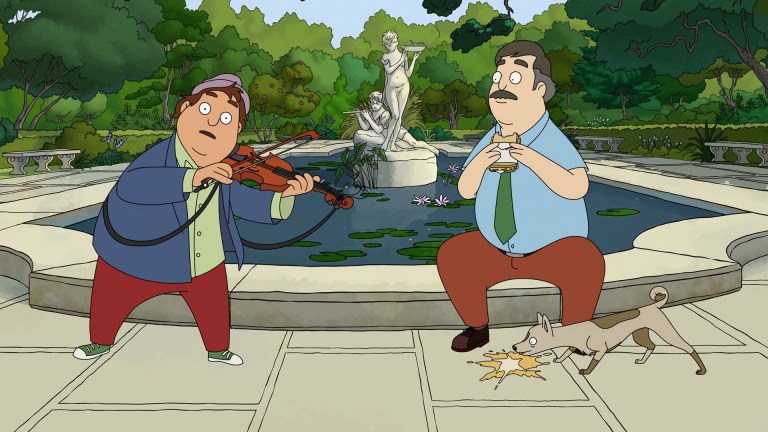 Apple TV+'s Central Park has a lot going on. 
The show is the next animated comedy from Bob's Burgers creator Loren Bouchard, whose animation style could probably best be described as "genial worm people." It features an impressive voice cast of Josh Gad, Stanley Tucci, Kathryn Hahn, Tituss Burgess, Leslie Odom Jr., Kristen Bell, Daveed Diggs, and more. It boasts a carefully researched story about New York's Central Park that examines the imbalanced interactions between public and private life. 
It's also a musical.
And the most noteworthy thing about the show and all of its ambitious features is how much that last musical bit takes prominence over just about everything else. Central Park isn't just an animated comedy musical. It's a full on Broadway musical in the guise of a 25-minute animated comedy.
Musicals and television have had a long, tortured history. Dating back to the '90s and unintentionally hilarious Cop Rock, the two genres have never exactly meshed. Central Park, however, is able to pull off the formula pretty handily on its first try. And there's really no secret to how it achieves that musical success. Bouchard and the show have put Apple's money to great use here, bringing in tons of modern musical talent into the fray.
Central Park follows the Tillerman family, who live in Evendell Castle in Central Park where paterfamilias Owen (Odom Jr.) serves as the park's caretaker. Sadly both the castle and the role of live-in Central Park caretaker are fictional but the show makes a pretty compelling case for the New York City government to get rolling on both. Owen is joined by his wife Paige (Kathryn Hahn), daughter Molly (Kristen Bell), and son Cole (Tituss Burgess). Odom Jr., Bell, and Burgess all have extensive musical history with Odom embodying Aaron Burr in the original Broadway cast of Hamilton, Bell being an integral part of the Frozen franchise, and Burgess just having the loveliest, most natural sing-songy voice in pop culture. Hahn is not well known for her musical prowess but holds her own as the journalist Paige. 
The Tillerman family represents only the beginning of Central Park's commitment to vocal talent. Josh Gad (who also produces the series and is best known for Frozen and The Book of Mormon) portrays a local transient named Birdie who serves as a sort of narrator and stage manager for the series. Stanley Tucci plays diminutive and scheming rich lady Bitsy Brandenhamm and musical Jack-of-all-trade's Daveed Diggs portrays her assistant Helen.
The voice talent assembled along with the commitment to a true Broadway sound, really creates an unexpectedly authentic and exciting musical endeavor. Each installment of Central Park is guaranteed to contain one absolute banger of a musical number that viewers won't help but be able to hum to themselves long after the episode concludes. It's here where Apple TV+'s traditional release strategy helps the show as well. Unlike Netflix, which releases all episodes at once, Apple's streamer has thus far dropped three episodes on week one before following up with a traditional weekly release schedule. Central Park premieres with two episodes on May 29 before continuing with its season weekly. If all episodes were to arrive at once, some of the songs would blend the risk of running together. Now each can be given proper due.
While Central Park's approach to music is the key to its success, it's also one of its few drawbacks. When viewers become conditioned to expect a jaunty earworm of a song several times an episode, the moments without music can become somewhat inert and frustrating. Modern musicals like Hamilton have solved this problem by simply never stopping the music. Central Park is unable to do so and instead has some plot it occasionally feels like it's trudging through.
The show is good at subtly asking some big questions about the relationships between public and private spaces in our culture, but when these intelligent social issues are placed up against big song and dance numbers, the song and dance numbers are going to win out every time. The plot of the first episode is simply about flowers. Another episode gets in the weeds on the practicality of trash pickup in Central Park. That's interesting enough stuff when sung about, but when not, things can drag.
Ultimately, however, the parts of Central Park that work, work quite nicely. Successfully presenting a serialized musical on television is a minor miracle (remember how invigorating early seasons of Glee were?). Doing so with a topic as broad as "Central Park" and within an animated format is just showing off. Central Park is the show that theater kids and Bob's Burgers fans have been waiting for. And the Venn diagram of those two groups just might be a concentric circle.