News
From Fantastic Four to Deadpool: The Unanswered Marvel and MCU Questions of D23
Marvel Studios brought footage, a few big MCU announcements and more to Disney's D23 Expo. But there are still lots of unanswered questions.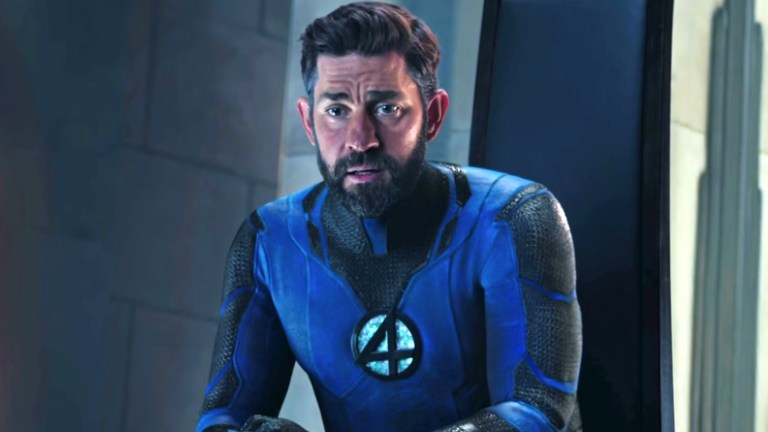 Coming less than two months after its blowout panel/spectacle at 2022's San Diego Comic-Con, Marvel Studios' presentation at parent company Disney's own D23 Expo was preceded by massive expectations out in fandom and the Twitterverse.
The reasoning was that Marvel – even after laying out all of Phase 5 and parts of Phase 6 in Hall H – was going to spring even more mind-melting announcements on the fans at D23 (cue the "Henry Cavill for Doctor Doom" tweets).
The truth is, there was quite a bit of excitement at Marvel's D23 throwdown. The full lineup of Thunderbolts was unveiled, new trailers for Secret Invasion and Werewolf by Night were released, and the audience in the room got to see new, exclusive footage from Black Panther: Wakanda Forever, Ant-Man and the Wasp: Quantumania, The Marvels, and Season 2 of Loki.
(Plus Tim Blake Nelson was confirmed to return as The Leader for Captain America: New World Order, which pretty much made our day on its own.)
And yet…there was a lot that was missing from the Marvel D23 dog-and-pony show, and a lot of questions still to be answered about the full scope of Phases 5 and 6. Let's take a look:
Fantastic Four
This was perhaps the biggest, most heavily rumored non-starter of the day. Speculation was flying thick and fast that the cast of Fantastic Four would be unveiled, with rumors offering everyone from Jodie Comer as Sue Storm to Seth Rogen as the voice of The Thing to, yes, Henry Cavill as Doctor Doom.
Instead, all we got was basically a "no news" from Marvel head Kevin Feige and confirmation that WandaVision director Matt Shakman was taking the reins from the departed Jon Watts. With Shakman presumably just closing his deal, let's be realistic: there's no way a cast would be in place yet. But we can expect the casting speculation to heat up in the months ahead.
Deadpool 3
On the morning of D23 a whole bunch of tweeters were sure that the title of Deadpool 3 was going to be announced by Ryan Reynolds himself. Well, that didn't happen, and in fact, there was no mention of the Merc with a Mouth at all.
Marvel has said very little about the film, not even officially confirming that Shawn Levy was on board to direct. Screenwriters Rhett Reese and Paul Wernick did confirm to us that they were working on the script, but other than that, there's been more or less silence. With all those open slots on the Phase 6 calendar, it seems likely that Deadpool 3 will slide into one of those, but the continued lack of information on the movie is…curious.
Blade
We did finally get a release date (Nov. 3, 2023) for Marvel's Blade reboot at Comic-Con, there is a director (Bassim Tariq) and partial cast (Mahershala Ali, Delroy Lindo, and Aaron Pierre) in place, and the movie is slated to begin shooting in October. So perhaps until there is enough footage for a teaser or sizzle reel, it was unrealistic to assume anything new would be unveiled at D23. Some concept art might have been nice though.
Wonder Man
This new Marvel series for Disney+ was only just revealed this past summer, so while an official confirmation that it even exists might have been nice, again, it's not surprising that Feige didn't mention it at all. Variety reported that Ben Kingsley would return as Trevor Slattery on the show, but we still don't even know who's playing Wonder Man/Simon Williams yet. So it's early days.
What we do know is that Shang-Chi director Destin Daniel Cretton is executive producing this one as part of his new overall deal with Marvel that will also find him directing Avengers: The Kang Dynasty. But another seemingly inevitable project from Cretton was missing at D23 too…
Shang-Chi 2
While Deadline confirmed in late 2021 that Cretton would return to write and direct Shang-Chi 2, Marvel has yet to officially announce that the sequel is coming. A Phase 6 release slot would make the most sense, but that means Cretton is going to be awfully busy if he directs both Shang-Chi 2 and The Kang Dynasty.
Fleeting reports online have said that Marvel trademarked Shang-Chi and the Wreckage of Time earlier this year (along with a bunch of other titles, some quite wild), which sounds like a movie we definitely want to see. Plus it makes a whole lot of sense considering the time-and-multiverse-destroying antics we expect big bad Kang to get up to in short order.
Agatha: Coven of Chaos
The series starring WandaVision villain Agatha Harkness got a title change (from House of Harkness) and a tentative premiere date (winter 2023) at Comic-Con, with Kathryn Hahn returning of course as the title witch and WandaVision head writer Jac Schaeffer taking on the same duties for this one. Unconfirmed reports have production beginning in January 2023, so as with other titles on this list, it's no surprise that there's no further news yet. Look for casting updates to come, though.
X-Men, etc….
Fortunately, no social media clowns were pushing the arrival of a non-existent Marvel movie called The Mutants ahead of D23, and unsurprisingly there was no further information shared during the Marvel presentation about the actual emergence of said mutants and their leaders in the MCU.
With all that open real estate still to be filled in Phase 6, we imagine that something X-related will show up in the calendar, but remember, Phase 6 is mostly coming in 2024 and 2025, so Marvel has lots of time to fill in those blanks .
At the same time, we'd sure love to know who's directing Avengers: Secret Wars, and when Doctor Strange 3, Thor 5, Young Avengers, and more are coming. But it wasn't today. Now go get some air, will ya?