Features
Delaying Dune 2 (and the Rest of the Fall Movie Release Schedule) Is a Terrible Idea
Rumor has it that Warner Bros. might abandon its holiday film slate, which would likely trigger a mass studio exodus. In a theatrical business still reeling from COVID this would be a mistake.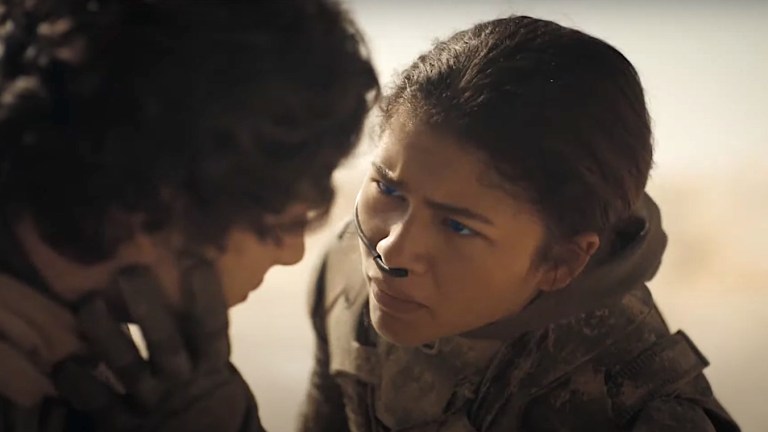 Are you going to the movies this weekend? Box office tracking suggests you probably are. If so, you've got options. Whether it's basking in Greta Gerwig's pink Barbie fantasia (released by Warner Bros. Pictures), getting lost in what may be Christopher Nolan's greatest brooding masterpiece, Oppenheimer (courtesy of Universal Pictures), or experiencing both on the same day, it's a good time to be a cinephile. And if you happened to be at a cinema Thursday night, you could tell all this from the antiquated sight of long lines queuing outside a theater. There's genuine excitement for two new releases, and neither is a sequel, prequel, reboot, or "reset."
In what's been an anemic summer for the box office, this weekend is giving hope to the movie industry. It also makes the latest report out of Variety about the internal thinking at Barbie's WB all the more baffling. Because as per the trade, the studio is strongly considering delaying November's hotly anticipated Dune: Part Two to 2024, as well as reshuffle Oscar hopeful The Color Purple and the apparently quite troubled Aquaman and the Lost Kingdom into next year. While none of this is confirmed (and WB has declined to officially comment on the calculations), sources leaked to the paper that these moves would be due to the duration of the "union battles" being completely unpredictable.
If this decision comes to pass, it would be a magnificently shortsighted decision from a larger parent corporation of Warner Bros. Discovery, which has already spent a year burning through plenty of bad publicity. More severe, however, is how damaging it would be for an industry that is still struggling to its feet on a Tom Cruise-shaped cane after the COVID-19 pandemic. To manufacture yet another mass theatrical shutdown would be needlessly devastating to the business that WBD and other members of the studios and streamers' bargaining arm, the AMPTP, claim they want to protect.
Should Warner Bros. go through with the decision, it would likely trigger a land rush for new real estate on the movie release calendar. Other studios would also feel compelled to move their biggest hopes for fall and the holiday season of 2023 to 2024. With only so many weekends available next year, and the chance of building a hype train like "Barbenheimer" again being remote, it's easy to imagine a desire to move films like Disney's The Marvels, Apple and Sony's Napoleon, and Lionsgate's The Hunger Games: The Ballad of Songbirds and Snakes (to name but a few) to greener pastures, so stars like Brie Larson, Joaquin Phoenix, and Timothée Chalamet can do the press rounds and promote these event releases.
Which makes sense if there was an existential threat that the studios needed to avoid like, say, a global pandemic which caused theaters to shut down for essentially a year between March 2020 and March 2021. However, the threat to Hollywood's ability to effectively market and publicize their fall line-up isn't existential; it's internal.
The "union battles," as so carefully worded in the Variety piece, are actually the result of the studios' bargaining organization in the AMPTP refusing to budge on real existential disruptions in the lives of writers at the WGA and actors in the SAG-AFTRA. Demands to be fairly compensated where regular working writers and actors can make a successful living off streaming shows, or actually see some residual benefit from a successful streaming series that nets a company tens of millions in subscriptions (if not more), is not unreasonable for an industry that once knew how to nurture talent one generation to the next. And actors haven't been on strike in 43 years, and the last time was because of the advent of home media. That they feel compelled to do so again on the eve of an AI revolution speaks to the severity of a situation where, according to SAG negotiators, the AMPTP is arguing background actors should have their face scanned for one day of work so that studios can then use their likeness forever.
Obviously if the strikes drag into mid or late October, it would be devastating for the studios' holiday release schedule. However, to immediately delay that entire film slate in July, and potentially less than two weeks after the SAG-AFTRA strike went into effect, is dangerously shortsighted, not to mention also revealing a deeply cynical streak of intending to let the strike drag on into the actual holiday season—echoing the strategy of another misjudged studio leak about trying to get writers evicted from their homes in time for Christmas.
Delaying the November and December releases this early might guarantee the strike would carry on into November or beyond; it could very easily create a sunken cost mentality. Meanwhile hotly anticipated movies like Dune: Part Two—which Warners has already spent a lot of money letting audiences know is coming later this year—would vanish in a theatrical release climate that is still reeling.
If 2023 has taught us anything, it's that assumptions about what audiences want have become skewed. Many of the big hits of the spring season were low or medium-budgeted gambles that turned out to play remarkably well. Meanwhile the franchises and brand awareness the studios counted on for familiarity in the 2010s—Transformers, Batman in The Flash, Pixar, and even Fast & Furious to a noticeable degree—are struggling while a once sure thing like Indiana Jones failed to justify its nearly $300 million price tag.
Audiences have still not returned to the moviegoing habit they practiced in 2019, but this weekend appears to signal perhaps they are ready for something new—be it in shades of hot pink or radioactive gray. It's taken several years for the industry to make up so much lost ground since 2020 and remind audiences that going to the movies is a fun event. Another makeshift shutdown could be disastrous for moviegoers who barely need a reason to be apathetic and pivot back toward streaming—a model that to the studios' chagrin is not nearly as profitable for them as it is for Netflix.
To unleash such self-inflicted havoc in order to exploit talent with AI down the road is a dubious choice.