News
Jonah Hill Takes Gold for Most Swearing on Film
Jonah Hill is crowned the King of Cursing in a new study on swearing in the movies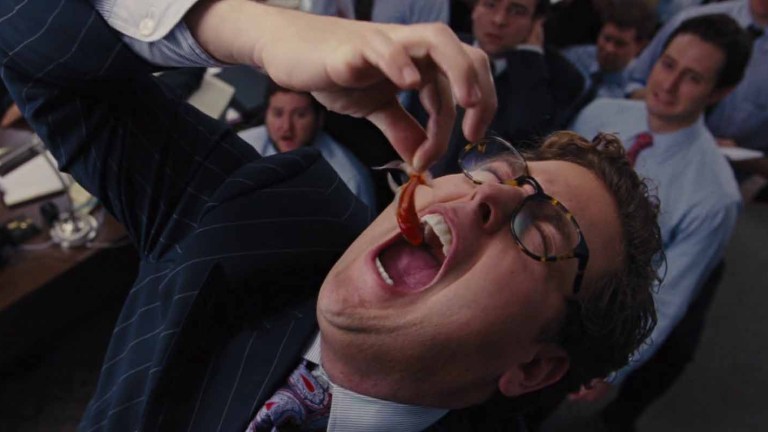 Ask people what they remember about Martin Scorsese's The Wolf of Wall Street and they'll usually tell you about moments from the biopic where the cast utterly committed to their parts, whether it's Matthew McConaughey endlessly punching his chest over brunch as Mark Hanna, or Leonardo DiCaprio's Jordan Belfort crawling along the floor after taking expired Quaaludes. Somehow on another plane of existence, however, is Jonah Hill's version of Donnie Azoff aka former stockbroker Danny Porush. If it seemed at the time as though no one quite pushed the envelope in terms of swearing like DiCaprio and Hill in The Wolf of Wall Street, you weren't imagining it.
A new study from BuzzBingo (uh) examined 3,500 movie scripts to find out which actor curses the most on the big screen, and Hill ended up taking the crown, boosted by his performance in The Wolf of Wall Street. The 2013 film led the pack with 715 swear words in 180 minutes. In terms of 'proportional representation', Gary Oldman's Nil By Mouth stole the swearing show, with 41.3 curses for every 1,000 words.
Hill took to his Instagram to make comments about the study in a sort of mini acceptance speech:
"So many people to thank. Martin Scorsese thanks for pushing me over the edge. And of course the great Samuel L. Jackson. Humbled. (Also "new report"? Lol what team of scientists cracked this one?). Lots of love."
Hill famously took on the role of Donnie Azoff in The Wolf of Wall Street for "minimum wage" – SAG's low rent agreement 'only' netted him $60,000 for a seven-month shoot with Scorsese, who he was desperate to work with, although it wasn't completely clear at the time if he'd agreed to a backend deal in exchange for cutting his paycheck right down. He did end up with another Oscar nomination for his troubles, though, so even if he didn't come away with the big bucks, he got a whole lot of recognition for The Wolf of Wall Street just a year or so after stealing scenes in Moneyball, which also snagged him an Oscar nom.
Cruising behind Hill in BuzzBingo's study is his Wolf of Wall Street co-star DiCaprio, followed by Samuel L. Jackson, Adam Sandler and Al Pacino. Sandler's balls-out performance in the anxiety nightmare that is Uncut Gems boosted him to fourth place there. Other notable foul-mouthed movies smashing the swear jar include Jay And Silent Bob Strike Back with 509 naughty words, Fury with 489 words and Beavis And Butt-Head Do America with 414 words. The study discovered that swearing in the movies hit a high watermark in around 1993-1994, dipped a little from there and hasn't experienced a massive rise since.
My mum once turned off The Big Lebowski in a rage because she was appalled at the amount of swearing from Jeff Bridges' character The Dude in Joel and Ethan Coen's 1998 crime comedy. I can now matter-of-factly inform her that she probably only sat through around 50% of The Dude's 158 curses. Thanks, BuzzBingo.