Reviews
Lady Bird Review
Greta Gerwig's Lady Bird is a directorial triumph that tells a familiar coming of age saga in a way wholly unique to its setting.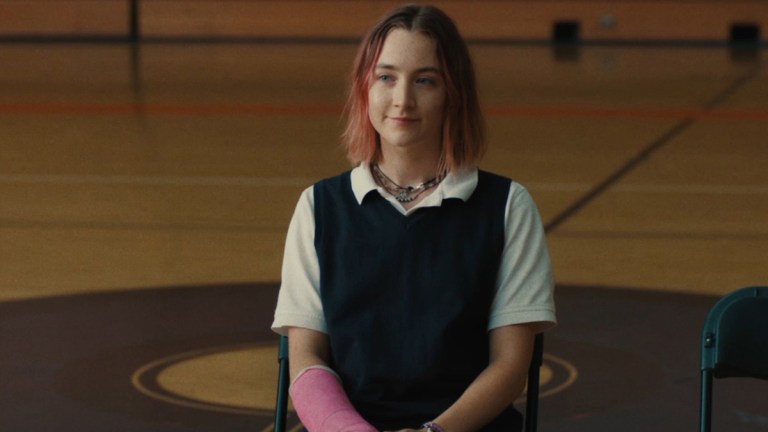 When actors transition to directing, the trip behind the camera can sometimes be a short and bumpy ride, often because it is still in service of staying in front of that ever perceptive lens. Seeking the ability to craft films around entire performances—their performances—the effect can frequently be left wanting. But that's not the case for Greta Gerwig's sweetly warm and uncannily astute Lady Bird. While the picture is certainly built around two superb performances, those turns belong to Saoirse Ronan and Laurie Metcalf. Gerwig, meanwhile, proves that in addition to being a wonderful actor and screenwriter, she is also emerging as one of the sharpest cinematic voices of her generation, bar none.
This is no doubt in large part due to Lady Bird being a deeply personal film, one that like her revelatory Noah Baumbach collaborations—Frances Ha and Mistress America—provides an intimate and exceedingly rare snapshot of the age-group the press has sneeringly dubbed "millennials."
Turning back time to before her more well-known New York stories, Gerwig captures here a unique moment: that awkward breath between 9/11 and the War on Terror; the mainstreaming of cell phones before the advent of social media; and the difference between living in the 20th and 21st century. With her first solo directorial effort, Gerwig presents a familiar and universal tale about coming of age and leaving home, as well as the often forgotten aspect of those we leave behind. And she has done so in a way wholly unique to her still-growing onscreen voice, and the era that continuously shapes it.
Set over the course of a school year between 2002 and 2003, Lady Bird finds itself focusing on the final days of childhood for its namesake. Well, technically speaking "Lady Bird" is actually named Christine, but Saorise Ronan's high school senior heroine is as disenchanted with her forename as she is with her hometown of Sacramento… as well as else anything her mother (Metcalf) might try to pass on.
A story of a daughter desperate to shake off the dust of a community she views as beneath her, and the parent who absolutely cannot fathom why her child would even consider applying to liberal arts schools in New York City, Lady Bird is just as much a battle of passive aggressive wills as it is about Lady Bird discovering her first boyfriend at the dubious venue of high school musical theater, or learning that her best friend Julie (Beanie Feldstein) might be a cooler pal to have than the most popular girl at her high school, Jenna (Odeya Rush).
There are dances and holidays, shocking revelations and betrayals, and all the while a backdrop of television screens constantly announcing that life as you know it is in constant upheaval. The world slowly changes around them yet as with much else in life, this is impossible to see until it's already past. That applies to decisions about whether to stay close to home or go to the east coast, or to become engaged with or ambivalent toward the United States slowly embarking on a decade-long debacle in Iraq. Either way, it echoes long after a disastrous prom night has ended.
A film that openly deals in classical coming of age narrative beats, Lady Bird achieves an effervescent quality not due to its story. Nay, it soars because of the truthful humanity that underlies its launch. As Gerwig's second credited movie as a director—and her first one flying solo and with no onscreen character to divide her attention—she focuses on a life that is entirely recognizable to her own journey from Sacramento to New York, and the love for a childhood crib that only comes into view after it's been left behind.
Informing these details is a measured and meticulously paced screenplay filled with more than a few uproarious gags and pointed line readings, such as when Lady Bird dismisses pleas to avoid New York after the terrorist attack of 9/11 with, "Don't be such a Republican." And in this center stage of tumultuous change about this group of teenagers who don't even know what texting is yet, Saoirse Ronan proves again adept at finding compelling roles that let her play toward complicated ambiguity. Albeit with a lot more humor here.
Announcing her pretensions with her very name, Lady Bird could easily be an unlikable character, and with every Sondheim song she sings, Gerwig might be inviting some audiences to think just that. But in spite of any petulant or misguided outbursts that drives her father (Tracy Letts) deeper into his unspoken depression—and her mother closer to declaring war—Ronan still keeps the character grounded and incredibly present. After all, she like her mother wishes to be the best version of herself, she's just also knows how to ask, "What if this is the best version?"
The look of deflated defeat on Metcalf's face at such a confession is also a special kind of achievement. As the disapproving maternal figure of the story, Metcalf gets the best film work of her career and gives a scene-stealing performance as a mom who cannot communicate with her daughter except via verbal combat. And yet, never without justification in her critiques for Lady Bird, Metcalf's character is likely the movie's most sympathetic and long-suffering soul.
The rest of the players are also strong, with all the supporting parts being well cast and informing a story that is always moving toward an inevitable conclusion. Children leave, parents eventually release, and one day we'll all end up with a damned cellular phone in our pocket. Yet these foregone eventualities can still be achieved with surprising hilarity and complete deftness, even if the latter is an aspect that does not apply to either of its central protagonists.
A narrow but deeply affectionate portrait, Lady Bird has a very captivating song all its own.