Reviews
Booksmart Review: Olivia Wilde's Directorial Debut is Relentlessly Funny
Booksmart is a refreshing take on the raunchy high school party movie, as well as a hilarious debut for director Olivia Wilde.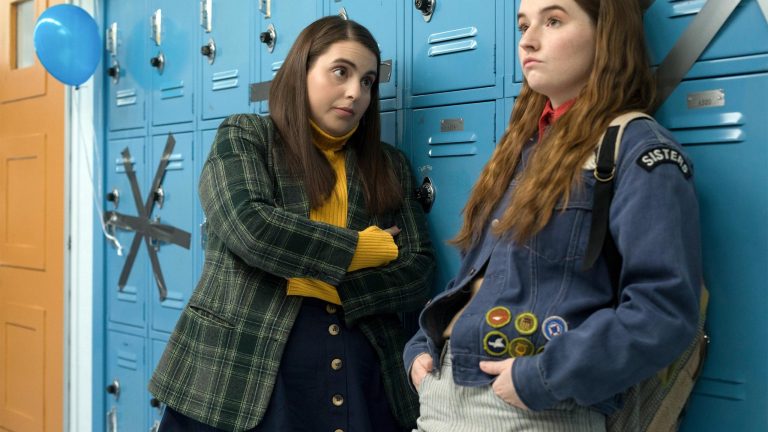 Friendship is often the glue of high school movies. More so than the hijinks of heavy drinking or thirsty mistakes, the best adolescent adventures understand that the party matters less than who's at it. And not since Superbad, a raunchy, sex-obsessed bro-fest, has a coming-of-age film internalized that so astutely as Booksmart. While also owing quite a bit to that 2007 picture, Booksmart brings an invigorating breath of fresh air to well-worn tropes by realizing young women go to high school and have life-defining friendships too. The kind that make for an instant crowdpleaser in the right hands.
As a winning directorial debut for actress Olivia Wilde, Booksmart reinvents the youth-party movie with a deft hand. Exhibiting a raucous sense of humor that has no qualms with shifting gears from the gross-out to the surreal, the filmmaker hints we've only seen a fraction of her talent (or sense of humor). And by presenting the story of two high school seniors who attempt to have their first evening of debauchery on the last night of school, she's zeroed in on a central relationship so intoxicating (even before they get to the alcohol) that it can anchor an entire sea of gags and potentially unwieldy ideas. Demented, but not desperate, clever, yet never quite crass, Booksmart is ahead of the curve as a modern R-rated comedy.
Following the studious over-achievers you either knew or were in days gone by, the film is the story of Amy (Kaitlyn Dever) and Molly (Beanie Feldstein). A buttoned-up pair whose most scandalous teenage experience is that Amy's super-supportive parents mistakenly think they're lesbians—Amy's gay but Molly just trolls her BFF by speaking to Mom and Dad in complete innuendo—they've never even been to a party. Yet that changes when Molly, the half of the duo with posters of Ruth Bader Ginsberg and and Michelle Obama on her bedroom walls, realizes the snotty popular kids are also going to be joining her in Yale and the Ivy League bubble. As one mean girl coldly explains, "It's not that we don't care about school; it's just school isn't all we care about."
Suddenly determined to have a night of epic shenanigans, not least of all because Amy is about to spend their last summer before college in Africa, the two embark on an odyssey to find the same shindig as all their peers—a daunting feat since they don't know anyone who'll even give them the address. Along the way, they wind up on gonzo detours, bounce off other students who range from the bizarre (Billie Lourd by way of the Maharishi) to the kind destined for the New Yorker Theatre section (a perfectly prissy Noah Galvin as the top theater kid), and discover what a bad trip really is. It's a conventional party film told with an unconventional sharpness.
It would be fair to say that Booksmart is a reworking of the Superbad plot, but it's one that nevertheless works really well. By leaning into the type of friendships that are intimately recognizable between Amy and Molly, Wilde reminds you how rare such dynamics are on screen. While Paul Feig's better movies have explored similar conflicts that come from feminine connections—or just the social pressures placed on what's perceived to be feminine—young women in coming-of-age films often remain either isolated in journeys of profound self-discovery or are merely a fraction of an otherwise male ensemble. That or prizes waiting for the likes of Jonah Hill and Michael Cera to win by being marginally solid dudes.
The way that Dever and Feldstein communicate here, however, is not only natural but hilarious. Despite being Type-A personalities, each character has a rolodex of quirks and R-rated regrets that they're about to scatter to the wind. Feldstein particularly shines with a lightning-quick wit that can thread the needle between charmingly confident on screen while gratingly arrogant for the surrounding characters. The spontaneity between the two goes a long way, as does a supporting cast packed with memorable goofs and oddballs.
read more: Sword of Trust Review
This includes a number of recognizable surprise cameos by the friends of Wilde, as well as one nonsurprise. Showing up for a small but pivotal role as the high school principal, Jason Sudeikis has a devastating scene-stealer moment of such distinct 2019 specificity that it really could not have been done before. It's one of several glorious bows for the adults, but the free-wheeling nature of their introductions and exits amounts at a certain point to a type of fan-service for comedy aficionados, and underscores a noticeable looseness to the material, with Jessica Williams as the girls' favorite teacher particularly seeing an intriguing subplot almost entirely dropped.
Indeed, several of the narrative threads in the first act tangle as much as weave together, and intriguingly original elements like main character Amy's object of desire being a non-heteronormative choice can feel underserviced, thereby showing some of the strains of a first-time filmmaker. Yet taken on the whole, Wilde maintains a vicelike grasp of the material and this kind of youthful, post-millennial experience, in which she smooths out any rough edges by sandblasting them with relentless laughs. From the way she shrewdly frames a moment of high-stakes drama in a shallow-focused handheld shot that's lit by the blur of a sea of igniting cellphone cameras around the girls, to the vicious deconstruction of the male gaze during a drug sequence that happily flirts with Harold and Kumar territory, Wilde and her several screenwriters (including notable filmmakers Susanna Fogel and Katie Silberman) are exacting in not leaving a single giggle on the table.
Harnessing these potentially disparate elements, the filmmakers and cast have built a coming-of-age yarn that isn't afraid to let its hair down or simply shave it off if it proves necessary to get every last bit of snark out before the first ending titles credit. Favoring gregariousness over traditional senior year sentimentality, Wilde has announced herself with a buoyant, genuinely wild film—one that with any luck should become a surprise multiplex hot spot this summer.