Features
Our Flag Means Death Makes a Gentleman Pirate of Rhys Darby
Our Flag Means Death star Rhys Darby discusses being a swashbuckler with mate Taika Waititi and his other, more paranormal interests.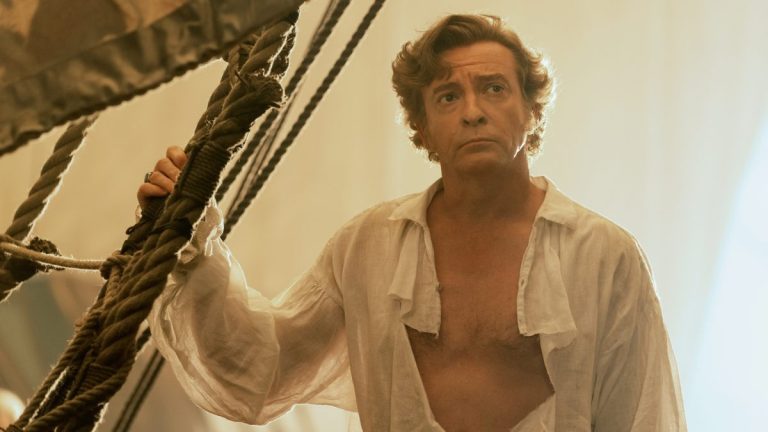 "Who doesn't want to be a pirate?"
Rhys Darby certainly does, but not just any pirate. In the new HBO Max series Our Flag Means Death, the comedian immediately recognizable from Jumanji: The Next Level, What We Do in the Shadows, Flight of the Conchords, and so many more roles, assumes the mantle of real-life "gentleman pirate" Stede Bonnet.
Premiering March 3 with three episodes, Our Flag Means Death was created by David Jenkins (People of Earth), and co-created by Taika Waititi (Thor: Ragnarok, What We Do in the Shadows), who also co-stars as the dread pirate Blackbeard. More Muppets Treasure Island than Black Sails, the 10-episode first season is about a pirate out of his depth — something Darby says is like some of his other characters, such as Murray from Conchords.
And although the New Zealand actor says he isn't fancy like the 18th-Century Stede was, he does think there is a relatability to the gentleman pirate. In the latest episode of the paranormal pop culture video series and podcast Talking Strange, part of the Den of Geek network, Darby — who also co-hosts the long-running paranormal podcast The Cryptid Factor — says Stede was a dreamer who read too much during the golden age of piracy, and was going through a midlife crisis.
"There was no effort to his life. He was a wealthy landowner, forced to marry someone he didn't really love," he says. "He's just deeply unhappy, and reading stuff, and wishing he could be part of this adventure. I think he wanted to feel something."
In reality, Bonnet bought his own pirate ship, the Revenge, and employed his crew with a salary, which kept them from mutiny. He had a library installed on the ship, which is a set piece and punchline on the show, and knew nothing about seafaring. Especially in the early days of his pirating career, in 1717, he was a bit of a dud. But he eventually became frenemies with Edward "Blackbeard" Teach. He ultimately did make a name for himself before ending up on the wrong side of a hangman's rope less than two years after entering piracy.
Viewers will have to watch the show to see how the fictional versions of the characters compare to the historical figures, but Darby describes his Stede as "the light, foolish, naïve little angel" compared to Waititi's "brooding, dark villain type" who is over his life, and nothing challenges him any longer.
"It's just a complete chance meeting," he says about how they come together. "It's two characters who didn't realize they needed each other until it happened … it makes sense when Edward Teach meets Stede, someone who shouldn't be in this pirate world, he's excited by this lunatic with all his fancy, lavish trappings."
Meanwhile, Darby says Stede is, "going through the romantic side of escapism" but the realism does hit him.

"He's a pirate and there's blood and gore and killing, and it hits him in the first episode." And amongst the two pirates, "They start to connect, and begin a friendship."
Speaking of friendship, although Darby has worked with the Thor: Love and Thunder director multiple times — including in Hunt for the Wilderpeople and the upcoming Next Goal Wins — this is the first time the two have acted this much together. And the experience was a joy for them both, he says.
"When you're just in front of the camera with one of your best mates, you can actually have fun, have a good laugh, and pretend to be pirates," he says. "It's like we're kids again. We both look at each other on the set, and say, 'Hang on, aren't we both in our forties and playing with swords? What are we doing?' I'll tell you what we're doing: We're having a bloody laugh."
Along with Waititi, another of Darby's close friends was present for Our Flag Means Death, at least in spirit. Since 2013, Darby has co-hosted the cryptozoology and paranormal-themed The Cryptid Factor radio show, then podcast, with David Farrier then Dan Schreiber, as well as with his longtime friend Leon "Buttons" Kirkbeck. As it happens, the character of Stede's salty old-school pirate first mate on the show is played by Trainspotting actor Ewen Bremner, and is named "Buttons."
"David Jenkins said, by the way, your first mate is Mr. Buttons, and I said, 'Hang on, in real life my first mate is Buttons. It is one of these weird synchronicity moments where things come together. I did ask him, 'Have you listened to The Cryptid Factor?' … I look at it as a sign for sure because I have that paranormal mind."
On the topic of the unexplained, Darby says he and his Cryptid crew have been discussing the "UFO crisis" quite a bit. He says after the lead up to the declassified version of the congressional UFO report last June, nothing really came of it, and now wonders what the next step is.
"We're still being drip-fed little information, but it feels like things have run a little dry. Even when we're looking at cryptid stories, there isn't much. I felt like, it's weird, because during the first year of the pandemic, there were quite a lot of cryptid stories, but the last show we did, it was a struggle to find stuff."
Regarding "disclosure," and the truth of what governments know about unidentified aerial phenomena, Darby thinks the door has been cracked open but there is more to be revealed.
"They did open the door and said, this is all real [but] the door hasn't shut. You can look through but you're only seeing what they're revealing. I don't think it has shut. The dialogue has strengthened."
"To that end, disclosure is happening but it's going to take time to pull that door further apart…"
Of course, for the moment, his mind is more in the world of pirates than aliens. And while Rhys Darby still records The Cryptid Factor, he's also hoping for further seasons of Our Flag Means Death.
"It's such great escapism … I can't wait for people to see it, and see where else we can go with it."
Our Flag Means Death premieres March 3 on HBO Max with three episodes, three more episodes drop March 10, with two episodes on March 17, and two episodes on March 24. To listen to more of Rhys Darby talking about pirates, pirate wardrobe, as well as aliens, and what might provoke "them" to make an appearance, watch the video interview on YouTube, and listen in on Apple Podcasts and Spotify.