Features
Best Superhero Movies of the Last 15 Years
Den of Geek staff and readers determine the best superhero movies to have come out since the year of Spider-Man 3…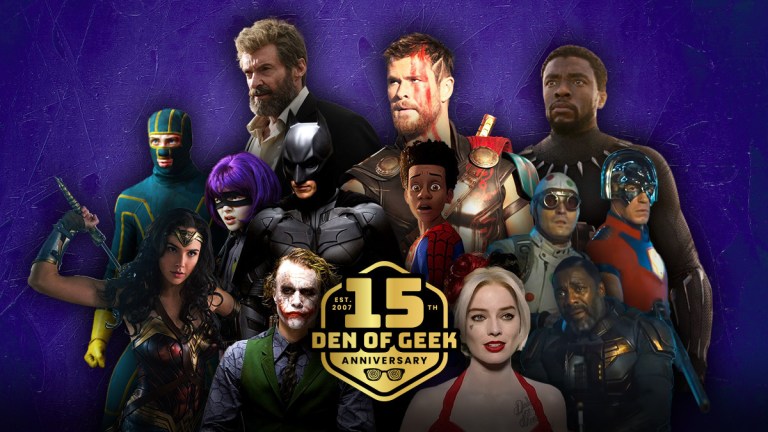 Superhero movies have existed as a genre since at least Richard Donner's Superman: The Movie. Which means it's been nearly 45 years since moviegoers started to believe a man could fly—and more importantly wished to see it again and again. Even so, it feels like our modern understanding of the superhero flick didn't come of age until 2008. That was the year of The Dark Knight, Iron Man, and the MCU. The industry would never be the same.
Almost serendipitously, Den of Geek was there to see this inflection point after launching in 2007, as well as every step of the genre's rapid expansion since. Over the years, capes and cowls have graduated from the fitful highs and lows of the mid-2000s to near total market dominance by the end of the last decade. And for that reason, everyone has their favorites—the movies we deem to be a cut above what's come before or since.
Hence the beauty of this list. Rather than letting one single opinion shine, we polled our entire staff and thousands of you dear readers to determine what is the best superhero movie of the last 15 years, and which have stood the test of time. There are some obvious favorites and a few surprises, including in what's omitted. But we hope you agree that this has been a time like no other for masked avengers. Enjoy.
25. The Lego Batman Movie (2017)
There are quite a few gleeful Batman fans around the world who would argue that Chris McKay's The Lego Batman Movie is the GBFOAT, and what my entry into this superhero listicle presupposes is: maybe they're right? The computer-animated superhero comedy certainly came out of left field in 2017 to continue the adventures of the Will Arnett-voiced cowl-botherer from The Lego Movie, and it rinsed the box office to the tune of $312 million. Despite its success, there has sadly been no direct sequel to The Lego Batman Movie in the ensuing years, likely due to Universal acquiring the Lego franchise rights in the meantime. But what a ride we had with this one regardless!
Often described by the older generation as the only cinematic outing for the Dark Knight that has actively given them a migraine, McKay's dizzying, frenetic comedy is packed with myriad references to Batman history, along with the kind of non-stop action and gags that will leave you feeling utterly exhausted in the best way. It's not for everybody, but it's the surprisingly large heart beating at the center of all the movie's chaos that ends up making The Lego Batman Movie a standout moment in superhero franchise history. – Kirsten Howard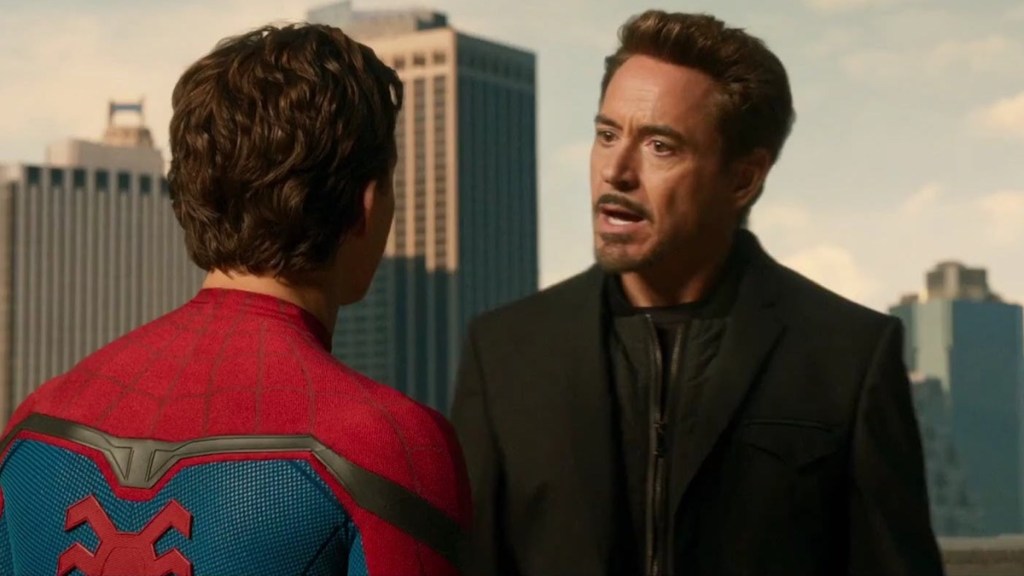 24. Spider-Man: Homecoming (2017)
Spider-Man: Homecoming is in virtually every way the movie the character has always needed. It's a perfect exploration of what makes Spidey special in a world full of multiple franchises worth of superheroes, and all without ever losing the "friendly neighborhood" vibes. Homecoming is a genuinely funny light comedy that surrounds Tom Holland's Peter Parker with an absolutely brilliant cast of young talent (who are actually convincing as high schoolers), balanced by one of the most genuinely menacing villains in MCU history: Michael Keaton's Vulture.
Sure, it's pretty darn cool watching Robert Downey Jr.'s Tony Stark reluctantly mentor Peter. But it's even cooler when Peter is left to fend for himself, and his old, homemade Spidey "costume" reminds everyone that the heart of the character is what makes him a hero, not his gear. It's also the first Spidey movie to make Peter, Aunt May, MJ, and friends authentic New Yorkers, a detail so baked into the DNA of these characters but that nobody had managed to successfully capture onscreen. It's a little thing, but it perfectly completes the vibe. – Mike Cecchini
23. Deadpool (2016)
Despite being perfectly funny, talented, and handsome, true movie star status seemed to elude Ryan Reynolds for much of his career. That all changed with the release of 2016's meta superhero satire, Deadpool. "The Merc with a Mouth" as he's come to be known in Marvel continuity is in many ways Reynolds' movie character soulmate. Though blessed with all the physical gifts of your typical superhero, all the artist formerly known as Wade Wilson really wants to do is break the fourth wall and crack jokes with the audience.
Reynolds' first attempt at the character was in 2009's X-Men Origins: Wolverine. That iteration bizarrely turned the charming Marvel super mutant into a generic (and mute) super soldier. Thankfully, Reynolds lobbied for the beloved comic antihero to get a second chance, and what a second chance Deadpool is! Directed by visual effects artist Tim Miller, this is a highly kinetic film featuring action comparable to flicks with twice its budget and all the meta superhero commentary you could ever want. Plus a love story that ends with a Wham! – Alec Bojalad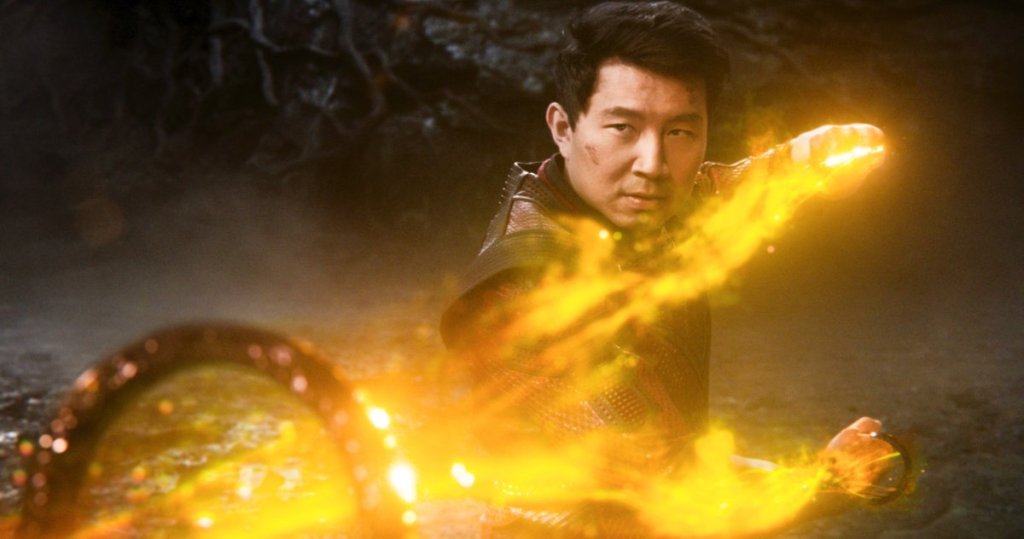 22. Shang-Chi and the Legend of the Ten Rings (2021)
Marvel Studios has a habit of taking characters that nobody ever expected to become household names and turning them into exactly that. Shang-Chi and the Legend of the Ten Rings is only the latest example. Arguably the first true Phase Four movie (Spider-Man: Far From Home was technically a post-script to Phase Three and Black Widow was a prequel), Shang-Chi plays like the kind of classic origin story Marvel has been pretty shy about giving folks in recent years. But it's just what the character, whose history and lore are so completely reinvented from the comics, needs.
Spectacular action sequences and fight choreography, world-building so meticulous that it would be engrossing even if it weren't part of the larger MCU tapestry, and a cast that lights up every frame of the film all help make Shang-Chi feel like a special flick at times. Sure, Simu Liu looks as ready to anchor future Marvel event films as Chris Evans and Chris Hemsworth did when we met them in their respective origin films, but then you also have Michelle Yeoh's appearance to look forward to. And then there's Tony Leung's Wenwu, one of the most compelling screen villains of recent years, and a perfect reinvention/repudiation of an otherwise problematic Marvel Comics character. Just like the incredible fighting prowess of its title character, Legend of the Ten Rings makes it all look effortless in its best moments. – MC
21. Kick-Ass (2010)
In retrospect, Matthew Vaughn's Kick-Ass was ahead of the curve. Leaning into the then only dawning awareness that superheroes were taking over pop culture, Vaughn and Jane Goldman's thoroughly subversive screenplay deconstructed and satirized the tropes of the genre years before Deadpool (and did it better too). Just as impressive though is how that same script was able to take Mark Millar and John Romita Jr.'s hopelessly bleak source material and turn it into something exciting and mirthful.
The result is a movie that came maybe a few years too soon yet remains a pitch perfect blend of meta-humor and Vaughn's kinetic sense of action, particularly when aided by the late great stunt coordinator Brad Allan. It's a one of a kind spectacle that is also memorable a decade later for embracing the idea of a sidekick in live-action via two go-for-broke performances by Nicolas Cage (by way of Adam West) and Chloë Grace Moretz. The latter became a star at only 10 years old for a turn that was both hilarious and terrifying as she kicked more ass than an entire Avengers roster while also showing why actual Batman and Marvel movies shy away from the gonzo idea of child sidekicks on-screen. – David Crow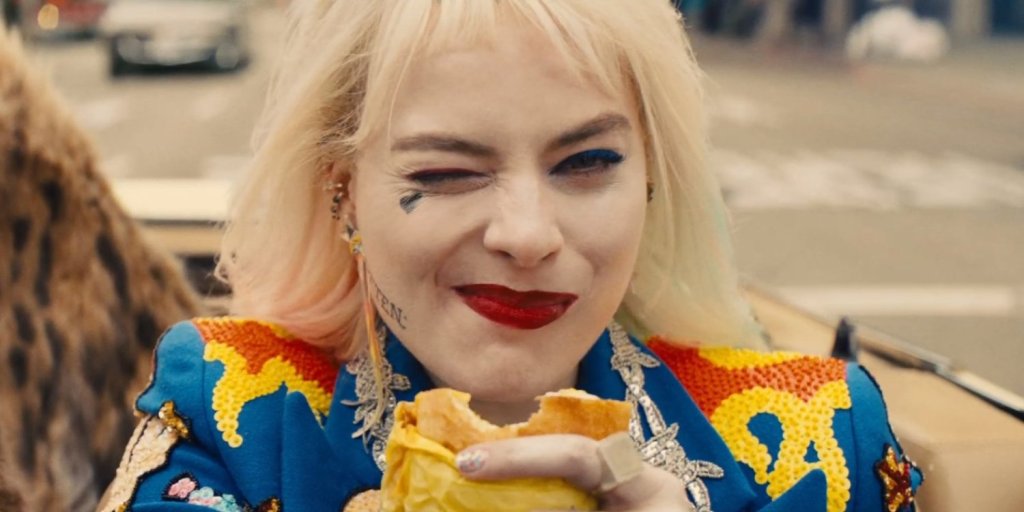 20. Birds of Prey (2020)
Like Lady Flash and Supergirl before her, Harley Quinn debuted in Batman: The Animated Series as another incarnation of the "male hero (or villain), but a girl" trope. Even worse, Harley was a figure of abuse, a woman who lost her identity when her boyfriend, the Joker, molded her into a mirror of himself. But as its too-long title indicates, Birds of Prey (and the Fantabulous Emancipation of One Harley Quinn) establishes the former Dr. Harleen Quinzel as more than just the Joker Lass.
Superhero Savings start today at PUMA with up to 50% OFF Select Justice League styles with code: PUMAXJL Valid 4/7 – 4/10
Employing mixed-media visuals and visceral fight choreography, director Cathy Yan redefines Harley Quinn as a woman with her own identity. Although unconventional in structure, Christina Hodson's script organically teams Margot Robbie's increasingly iconic Harley with Det. Renee Montoya (Rosie Perez), Dinah Lance aka Black Canary (Jurnee Smollett-Bell), teen pickpocket Cass Cain (Ella Jay Basco), and vigilante Huntress (Mary Elizabeth Winstead).
Forced together when they become the target of deeply insecure rich boy Roman Sionis (Ewan McGregor) and his right-hand man Victor Szasz (Chris Messina, in a truly demented performance), the Birds of Prey refuse to remain reflections of the men around them. Instead they smash out a path of their own, with unflinchingly violent and candy-colored glee. – Joe George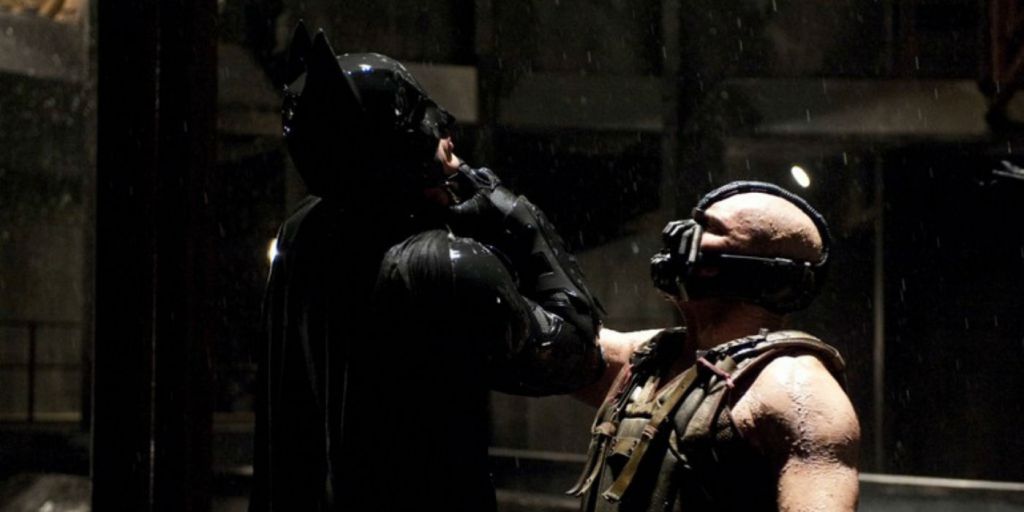 19. The Dark Knight Rises (2012)
Christopher Nolan's The Dark Knight Rises is great, actually. It feels like this needs to be said again and often as the movie's legacy has always been overshadowed by the far superior The Dark Knight, and because it gave fans something they didn't want: a Batman who knew when to let go of his pain and move on with his life. Yet the sight of seeing Bruce be able to hang up the cowl and find something resembling happiness makes this a refreshing subversion of the darkness that permeates almost all other "Old Man Bruce" narratives.
Additionally, The Dark Knight Rises is just a really satisfying action movie that has the ambition to reach for something more akin to David Lean than Dick Donner as Tom Hardy's now iconic Bane overwhelms even the largest IMAX screens. The emergence of this eminently quotable villain also triggers some of the best chase scenes in the last 10 years and a third act spectacle of insurrectionists storming government buildings that plays differently today. Add in a terrific and underrated turn by Anne Hathaway as Catwoman and some genuinely strong performances by Christian Bale and Michael Caine, and you have one of the most original superhero movies ever made, even if the whole cops in the sewers thing is nonsense. -DC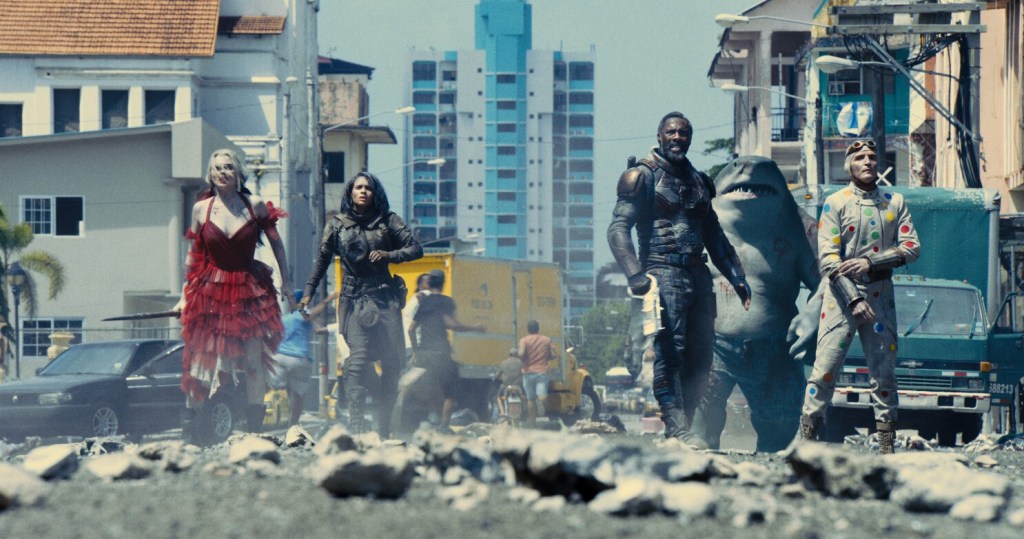 18. The Suicide Squad (2021)
2016's David Ayer-directed Suicide Squad is widely seen as one of the DC Extended Universe's worst films and perhaps one of the worst superhero movies ever. So what does one do when they don't succeed? Well, you try, try again, of course. 2021's The Suicide Squad is not a sequel nor a reboot of the film from five years prior. It kind of just operates like the original never existed (even while using a quarter of its cast) and the world is all the better for it.
The Suicide Squad takes all the team-building charm of its writer-director James Gunn's first Marvel effort, Guardians of the Galaxy, and grafts it onto a gritter, R-rated DC model. Just about every moment of Gunn's 132-minute film is bursting with pure love of comic book violence. The Suicide Squad didn't quite catch fire at the box office but its fresh approach toward comic book mayhem is sure to be felt for years to come. Hell, it's already given us the excellent HBO Max spinoff series, Peacemaker! – AB
17. Iron Man (2008)
How does one build the foundation of the most successful franchise in movie history? In a cave with a box of scraps! The legacy of 2008's Iron Man will always be tied to the incredible behemoth MCU franchise it helped spawn. But put that all aside for a moment and examine Jon Favreau's film on its own merits.
Iron Man was and remains a supremely enjoyable experience. Armed with only a relatively modest budget and the preternatural movie star charm of Robert Downey Jr., Iron Man is the platonic ideal of a superhero origin story. The film introduces a larger-than-life billionaire character, cuts him down to his very core, and then quite literally rebuilds him back up all in a breezy 126-minute running time. We love it 3,000. – AB
16. Shazam! (2019)
Boiling Shazam! down to a high-concept elevator pitch like "it's Big but with a superhero!" undersells just how impressive a movie it actually is and the needle this had to thread. Sure, it's a story about an orphaned boy who gains unimaginable power by uttering one magic word. But it also knows that with magic there must always come a little hint of terror, and director David F. Sandberg (Lights Out, Annabelle: Creation) knew exactly how to push the envelope, adding just the right amount of family-friendly '80s-style scary to go with its almost Amblin-esque superhero tale.
Warm, funny, and with an almost timeless sensibility, Shazam! is a little like its title character, who once outsold Superman in his 1940s heyday but has since been mostly confined to the margins of the comics world for the last 50-plus years. The jokes land, the superheroic action is thrilling, and the Christmas season setting adds a perfect dash of coziness to make this movie feel appropriately smaller and more intimate than its DCEU cousins. – MC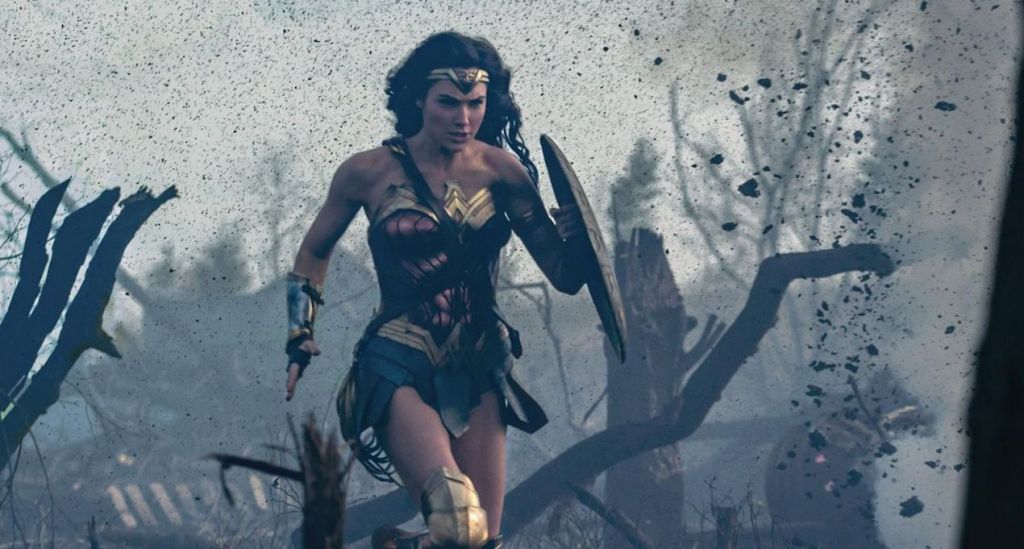 15. Wonder Woman (2017)
Christopher Reeve catching Margot Kidder and then a helicopter; Michael Keaton telling some punk, "I'm Batman." As ubiquitous as modern superhero movies are, few reach for the same level of mythic grandeur that permeated the best ones of the 20th century. Patty Jenkins' Wonder Woman does not have that problem. When Gal Gadot's Diana finally throws away the constraints of man and crosses a literal No Man's Land battlefield in World War I, it's like watching a star being born and a classic hero claiming a movie moment worthy of her legendary status.
This is just one amazing scene in Jenkins' Wonder Woman, however. Working from the then already crumbling ruins of the DCEU, Jenkins found something elemental and classically grand in her origin story, which at times played as much like a 1940s war melodrama and adventure flick as it did a modern IP movie. She and Gadot also embraced the femininity of their eponymous character, savoring the power of compassion and empathy as opposed to only action and violence. Although there's plenty of that too, and rarely has it looked better than when Gadot's Diana and Chris Pine's scene-stealing Steve Trevor empty out the German forces of an occupied town. – DC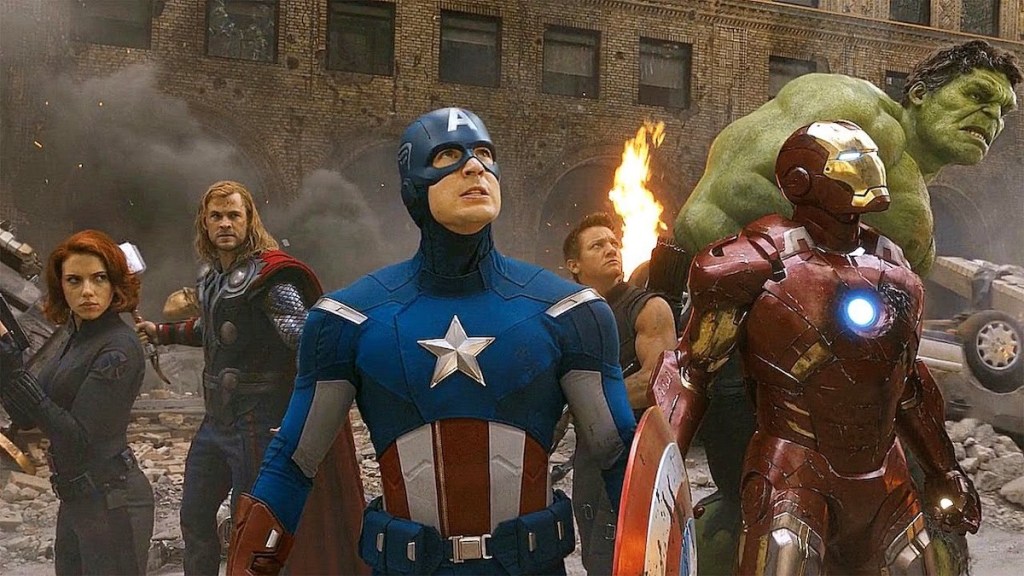 14. The Avengers (2012)
When Marvel Studios president Kevin Feige hinted back in 2006 that the studio's collection of characters and proposed movies could very well lead to the first live-action, on-screen appearance of Earth's Mightiest Heroes, aka the Avengers, no one (not even Feige) was sure it would happen. Make a bunch of movies about some B-listers—which heroes like Iron Man and Thor were considered at the time—and then bring them together in their own adventure? Sure. Keep dreaming.
Six years and $1.5 billion at the box office later, Feige's dream came true. With Joss Whedon (we know, we know, but that was then) writing, directing, and drawing on his own vast knowledge of the Marvel canon, and Robert Downey Jr. already as a fan favorite in the Iron Man role, plus Chris Evans, Chris Hemsworth, Scarlett Johansson, Jeremy Renner and Mark Ruffalo establishing themselves in the public eye as the rest of the team, Marvel pulled it off in stylish, thrilling, you-had-to-be-there fashion. The Marvel Cinematic Universe truly came into its own and made tentpole filmmaking exciting again. – Don Kaye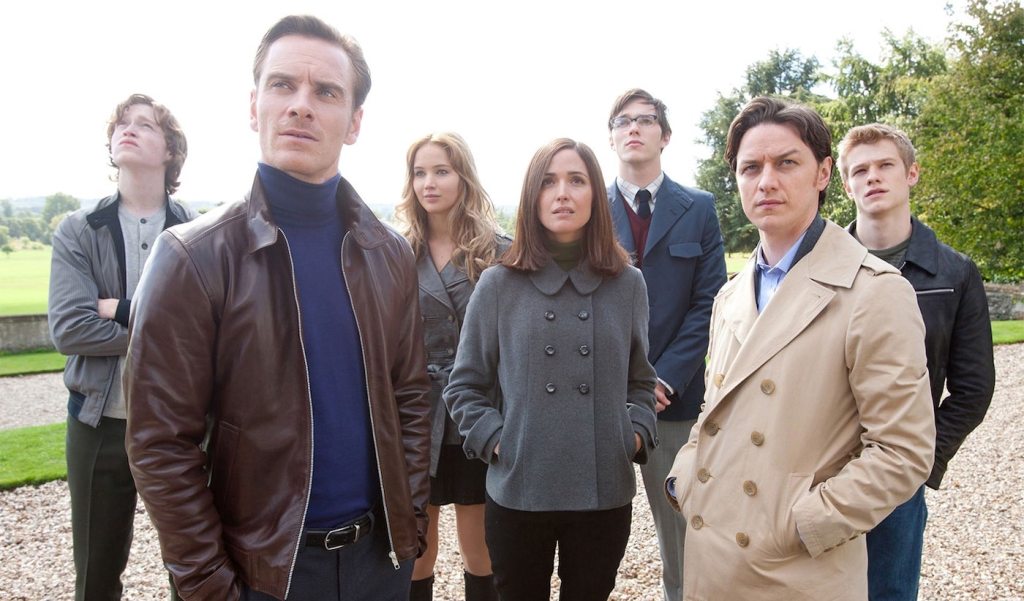 13. X-Men: First Class (2011)
Before the MCU or the Avengers, there was the X-Men, Marvel's once most popular team and the first franchise to transfer such a concept to screen. Two decades and seven mainline films later, Matthew Vaughn's X-Men: First Class might be the best of that series, which even in 2011 was looking a little removed from the modern superhero movie zeitgeist. And in the case of this groovy madcap adventure, that was a good thing.
Unlike certain other period-set superhero movies (even from the same year), Vaughn embraced his '60s aesthetic and tone by channeling the go-go Bondmania energy of this setting, all while providing the best cinematic representation of Charles Xavier and Magneto's frenemy relationship via the delightful pairing of James McAvoy and Michael Fassbender. Both are terrific here, as is the overall good vibes of a cast with barely a Wolverine in sight (including a pre-Katniss Jennifer Lawrence). The movie is both darker and more earnest than most MCU movies, and more grounded in our world. It's also unafraid to throw its elbows around. There are other great X-Men movies, including the follow-up Days of Future Past which some of us might argue deserves to be on this list. But First Class really deserves its top marks. – DC
12. Spider-Man: No Way Home (2021)
When The Avengers hit the big screen in 2012, it felt like the geekiest of dreams coming to fruition; here was a mash-up of some of the biggest comic book characters of the past five decades sharing the silver screen together in a big budget studio property, taken completely seriously, and embracing the most comic book-y aspects of the source material. Since then Marvel has continuously upped the ante of what comic book fans deemed possible in live-action adaptations. However, no comic book movie moment has felt more surreal than seeing three Spider-Men ostensibly recreate the "Spider-Man pointing" meme.
Spider-Man: No Way Home is simultaneously a celebration of the character's history on the big screen, an unprecedented truce between two enormous Hollywood studios, a wild embrace of comic books' multiverse approach, and a potentially fitting conclusion for Tom Holland's interpretation of the character. The fact that it pulls off one of the biggest movie spectacles of the past 20 years—pairing Holland's Spider-Man with Tobey Maguire and Andrew Garfield's past iterations of the character—and also competently tells a full emotional story about Holland's Peter Parker coming of age is a magic trick that only Doctor Strange should be capable of handling.
It feels like a small miracle that it exists at all. The film even retroactively redeems Sony's ill-fated reboot of the character with Garfield, so much so that fans are clamoring that he return in Sony's Spidey Villain-focused cinematic universe. Just when you think the novelty of seeing big screen stories that used to be contained to five panel pages has run dry, Marvel does it again. – Nick Harley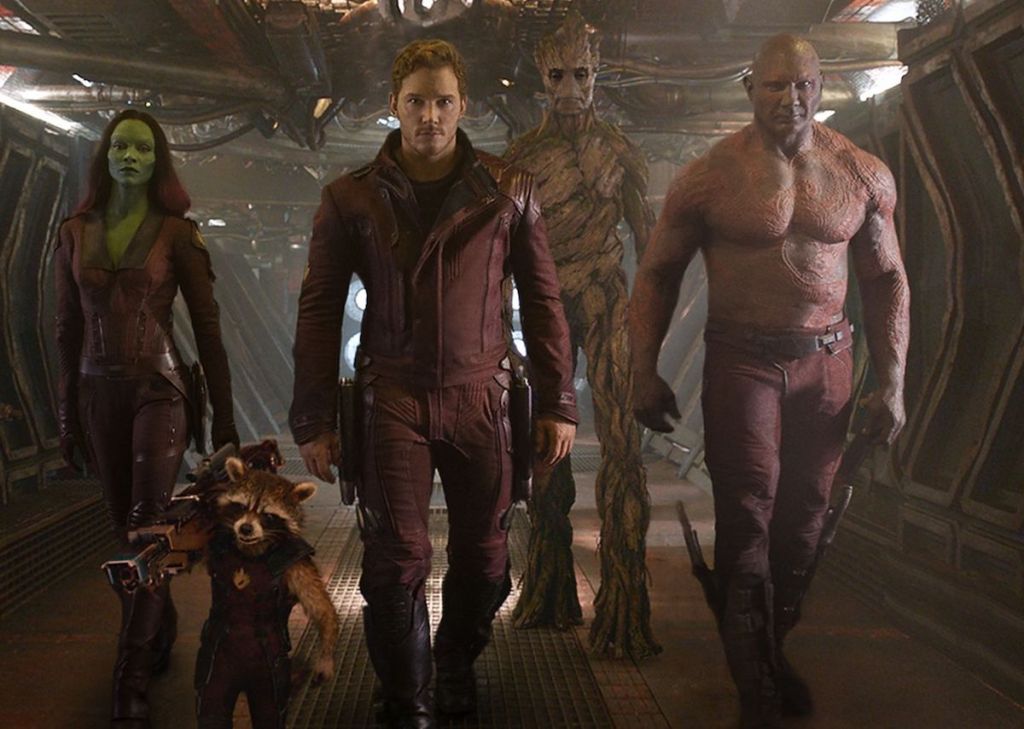 11. Guardians of the Galaxy (2014)
This was the MCU's first major risk post-Avengers: Could they take a group of C-list comic book characters and still make bank at the box office, and thereby keep the MCU machine chugging along? With James Gunn at the helm, the answer was a resounding "yes." The former Troma bad boy tapped into his outsider energy to infuse Marvel's space opera with genuine soul and a killer soundtrack to boot. It didn't matter that audiences weren't familiar with Peter Quill or that they were asked to buy-in on the friendship between a talking raccoon and a talking tree; as long as the characters were given inner lives, with vulnerabilities and flaws that people could relate to, folks would follow them to the farthest corner of the universe.
Taking the scope of Star Wars, the team-up aspect of The Dirty Dozen, and injecting it with his own twisted humor, Gunn was able to cement the Guardians of the Galaxy as a fresh franchise within the sprawling MCU. His eclectic '70s-set needle drops also didn't hurt, bringing the movie a style and energy that felt unlike other films in the Marvel Universe. Guardians of the Galaxy was the film that proved that the MCU could tweak the formula and that audiences would follow. We arguably don't get time heists, multiverses, or Eternals without Gunn daring to be different. – NH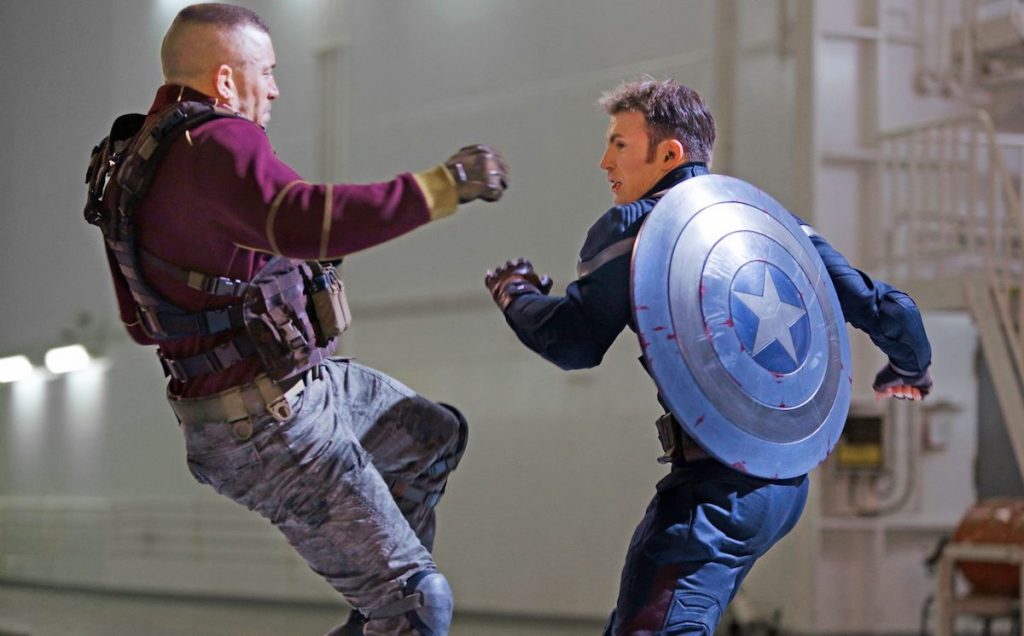 10. Captain America: The Winter Soldier (2014)
The Marvel Cinematic Universe learned fairly early on that it couldn't just saturate the marketplace with carbon copy superhero origin stories forever. The first indication that the studio was prepared to do something different came in the form of Captain America: The Winter Soldier. Every bit a paranoid political thriller as it is a superhero film, this First Avenger sequel puts Steve Rogers in the center of a grand sociopolitical conspiracy generating right from S.H.I.E.L.D.'s dark heart.
The first MCU effort from directing duo the Russo Brothers is a masterclass in action filmmaking, featuring no fewer than three huge action set pieces and one intimate elevator melee that is sure to stand the test of time as one of Marvel's finest moments.
Chris Evans is once again superb as Cap but The Winter Soldier understands he works best as a team player with Scarlett Johansson's Natasha Romanoff, Samuel L. Jackson's Nick Fury, Sebastian Stan's Bucky Barnes, and even a baddie played by ROBERT FREAKING REDFORD filling out a wonderful ensemble cast. – AB
9. The Batman (2022)
Who needs another Batman movie, let alone yet another movie set in the early days of the Dark Knight's career, right? Well, with Matt Reeves at the helm, it turns out that we all needed exactly that. Who knew that a movie as bleak and brooding as this could be so much fun?
And there's a reason for that! For as much as The Batman tries to delve into the unpleasant psychological realities of Bruce Wayne's existence, and treats Gotham as the ultimate city that can't be saved, it also embraces all of the colorful, weird aspects of the character's DC Comics roots in unexpected and unabashed ways. Boasting the kind of all-star cast you might associate with a Hollywood epic of days gone by and a neo-noir vibe that wouldn't have been out of place in the 1970s, The Batman still manages to find room for some genuinely eye-popping action and a superheroic heart underneath its kevlar armor and dark eye makeup. Bring on the sequels! – MC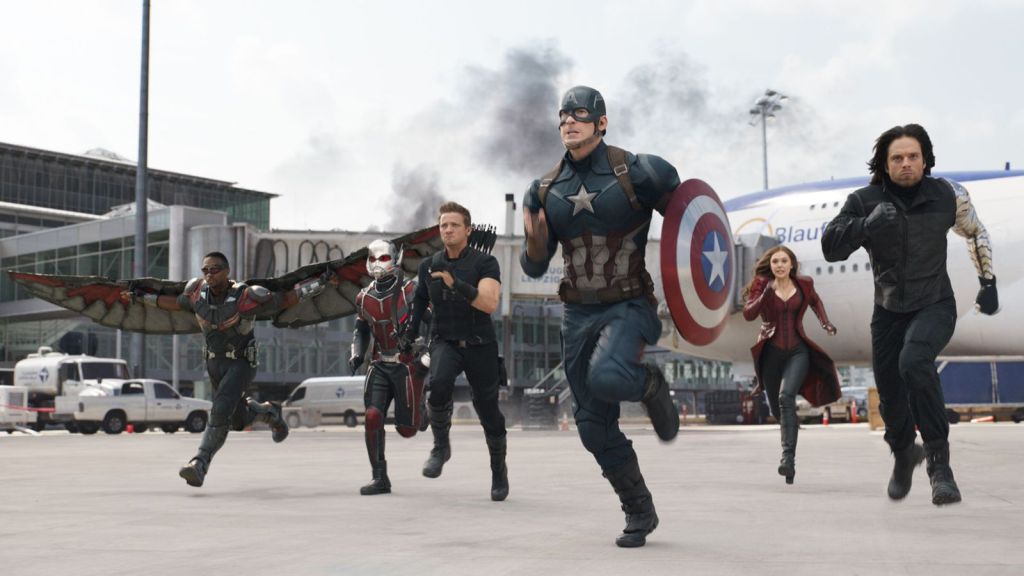 8. Captain America: Civil War (2016)
When Francis Coppola made The Godfather, Part II, he said his objective was to take the Corleone family at the height of its power and tear it down. With the Avengers at a somewhat wobbly peak of their own powers and profile in the MCU, that's seemingly what Marvel Studios also aimed to do with Captain America: Civil War: rip the team to shreds and raise the stakes for what was to come.
Having proved themselves with the outstanding Captain America: The Winter Soldier two years earlier, directors Anthony and Joe Russo created a spectacle that was essentially Avengers 2.5 in all but name. Somehow, they and writers Christopher Markus and Stephen McFeely managed to weave together a complicated plot featuring a dozen characters, plus the introduction of Spider-Man (Tom Holland) and Black Panther (Chadwick Boseman).
Team Cap vs. Team Iron Man at Leipzig Airport was as thrilling as it gets, and the more personal climax—Steve vs. Tony—was so compelling because we don't want to see these guys fight, yet they are almost helpless to stop it. Civil War is top-tier Marvel because it shows our heroes at their most vulnerable, and yet still trying to do what's right. – DK
7. Black Panther (2018)
For all the ways in which Marvel Studios has broken new ground, there is perhaps no better and more truly paradigm-shifting example of that than Ryan Coogler's Black Panther. The movie was not just a riveting, globe-hopping espionage adventure on its own, but it firmly brought the superhero genre, and tentpole-style movies in general, into the 21st century by breaking the boundaries of race both in front of and behind the camera, and giving a new, unconditional hero to millions of fans who could at last see themselves represented on the biggest screen.
The late Chadwick Boseman established himself so well as T'Challa with his debut appearance in Civil War, and then leading this film, that Marvel has (for now) rejected the idea of even recasting the role. But Michael B. Jordan's Killmonger was the other part of the equation, presenting a righteous, multi-layered antagonist whose aims were just even if his means were twisted. With geopolitics, Afro-futurism, and a deep dive into Black culture all part of the mix, Black Panther was an eye-opening, wondrous glimpse into what could be when films are open to the world around them. – DK
6. Avengers: Infinity War (2018)
Avengers: Infinity War was an epic in every sense of the word—a cosmos-spanning saga with dazzling scope, a massive cast, a glorious space opera design (it's still the Russo Brothers' most beautiful movie to date), and an elegantly written story in which the stakes were clearly laid out and truly momentous. Having torn the Avengers apart in Civil War, the Russos had to put them back together again, only in combinations that were fresh and often funny, providing relief from the apocalyptic scenario.
Making the villain of the piece, Thanos (an outstanding, complex Josh Brolin), into the protagonist was a brilliant conceit, but it was also affecting to see the heroes we had come to know and love over the previous decade put to their greatest test yet… and fail. All the little character arcs, such as Thor's journey from grief and defeat to nobility and rage, the way Doctor Strange and Tony Stark's mutual contempt turned into respect and friendship, Wanda and Vision's sacrifice, added emotion and resonance to a film that could have been a train wreck. As with The Avengers six years earlier, no one imagined that all the strands of the MCU's "Infinity Saga" could come together so masterfully. But they did. – DK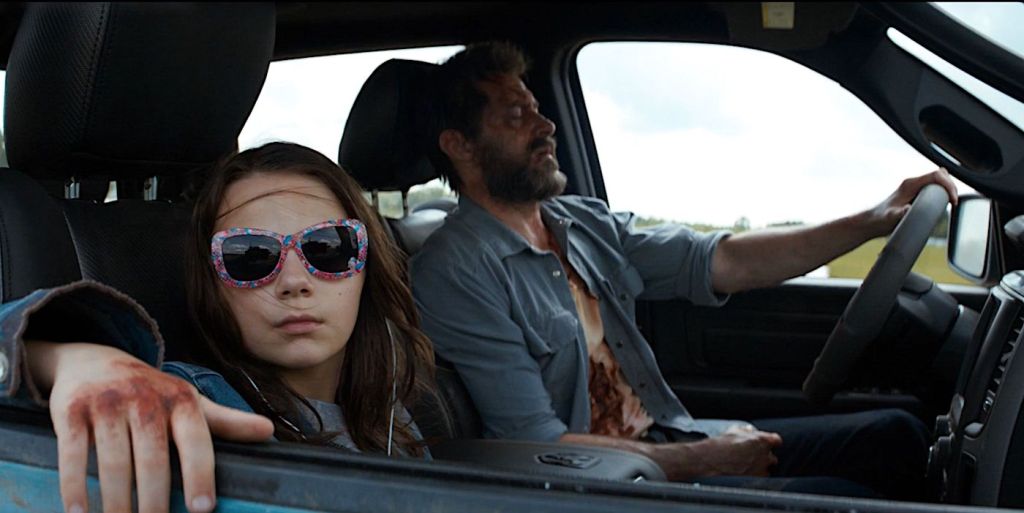 5. Logan (2017)
Hugh Jackman spent 17 years trying to make a Wolverine movie as meaningful as the character was to him. He and writer-director James Mangold even came close in the first half of the underrated The Wolverine (2013), but they truly found their classic with Logan, an elegiac swan song for a great star and a great star performance in the Unforgiven mold. Yes, because of the R-rating Logan was finally able to indulge in the grisly side of its antihero's claws. But the rating also freed the movie to take a deliberate pace and really ponder the legacy of this character, this genre, and this dying breed of adult-oriented mainstream moviemaking.
As much a lyrical drama as a gritty action movie—and a modern Western too—Logan has the grace to use the modern quirk of franchise and "universe" storytelling to really consider questions of mortality and faded celebrity. It also gives Jackman and Patrick Stewart a hell of a wake by revealing new dimensions to both of their decades-long performances via the introduction of fatherhood and old age.
Also, the movie remains the most vital X-Men story depicted in any medium during the 21st century with the social allegory aspect of mutants given visceral new context through the arrival of Laura (Dafne Keen), Logan's ferocious Mexican daughter who along with her other young friends is fleeing to the Canadian border to escape American authorities. They are fleeing cages. Released during the beginning of the Trump presidency, it still has queasy resonance now. – DC
4. Thor: Ragnarok (2017)
After continuing the search for hot indie talent to helm their big superhero blockbusters in the latter half of the 2010s, Marvel Studios must have realized they'd hit the jackpot after they hired What We Do in the Shadows and Eagle vs Shark director Taika Waititi to helm the third entry in their flailing Thor franchise. Thor: Ragnarok turned out to be an unexpected treat, not only for those who had grown up watching movies from Waititi's bespoke bag of influences, like Big Trouble in Little China and Flash Gordon, but for frustrated Thor fans who had been waiting years for Marvel to truly make the God of Thunder just work as the star of his own movies!
Well, he certainly does now, and he's about to become the only Avenger with three sequels to his name thanks in large part to this breathless 2017 franchise entry. Harnessing Chris Hemsworth's natural comedic talent, Marvel finally found a way to balance Thor's fantasy elements with his MCU journey in Thor: Ragnarok by killing his father, taking away his hammer, muddying his notion of what his family legacy is, annihilating Asgard, and even ripping out one of his eyes. All of which begs the question "who is Thor without all the things that make him Thor?" – KH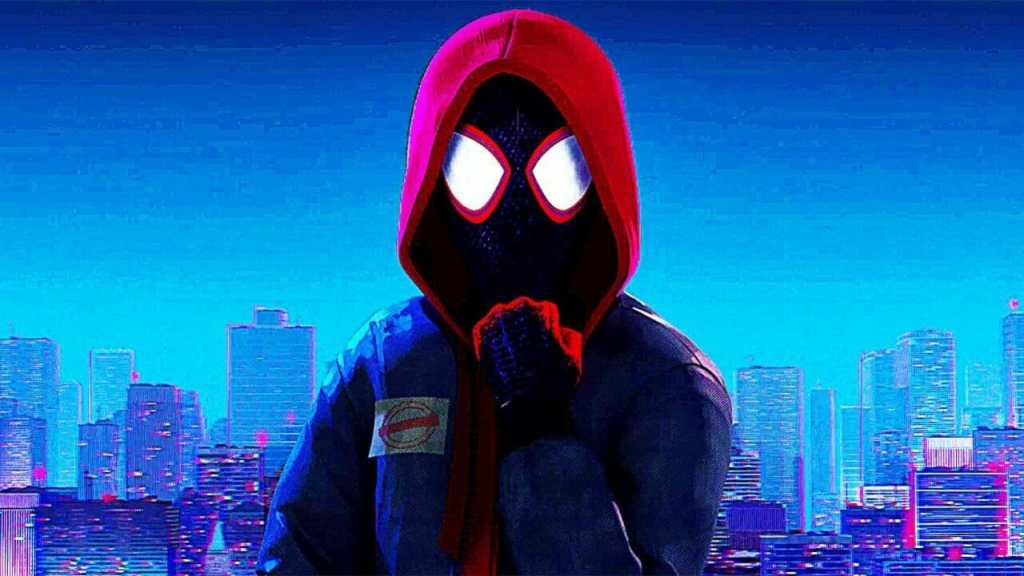 3. Spider-Man: Into the Spider-Verse (2018)
Directed by the powerhouse team of Bob Persichetti, Peter Ramsey, and Rodney Rothman, this sublime animated feature film arguably did more to create a whole new generation of Spider-Fans in 117 joy-packed minutes than all the live-action movies put together. Complete with a knockout voice cast that included the likes of Shameik Moore, Mahershala Ali, and Brian Tyree Henry, Spider-Man: Into the Spider-Verse is an origin story for Miles Morales, who gets bitten by a radioactive spider, tumbles into the multiverse, and has to team up with superheroes from other dimensions to take down mad scientist Olivia Octavius (and the Kingpin).
Who knew that a Spider-Man movie focusing on Miles would turn out to be the best Spider-Man movie of all time? Well, those of us who were already following the ongoing adventures of Marvel's web-slinger, for starters! Luckily, 21 Jump Street directors Phil Lord and Christopher Miller also happened to be huge fans, because when they signed on to shepherd Spider-Man: Into the Spider-Verse into existence for Sony, it was on the condition that Mr. Morales be front and center. The result? A perfect cinematic superhero experience. – KH
2. Avengers: Endgame (2019)
In this era where it seems most franchises, especially superhero ones, are increasingly reliant on fan service, it's easy (sometimes even appropriate) to ask yourself when it's being deployed wisely. But make no mistake, Avengers: Endgame is the very best kind of fan service.
And why is that?
Because every franchise callback, every cheer-worthy moment, every Marvel Comics easter egg was not only effortlessly executed, it was thoroughly earned, and it was all done with an eye on neatly wrapping up some of the franchise's most important storylines. Marvel Studios delivered a 181-minute (!) reward for every single audience member who made it through the 21 films that led up to it. Far more than just a franchise novelty, Endgame is the ultimate apotheosis of Marvel Studios' blockbuster formula, packed to the rafters with genuine emotional stakes to match its cosmic scope and timeline-bending plot. It's so successful that one wonders if Marvel, or any studio, will ever be able to deliver a capstone this ambitious ever again. Or if they should even try. – MC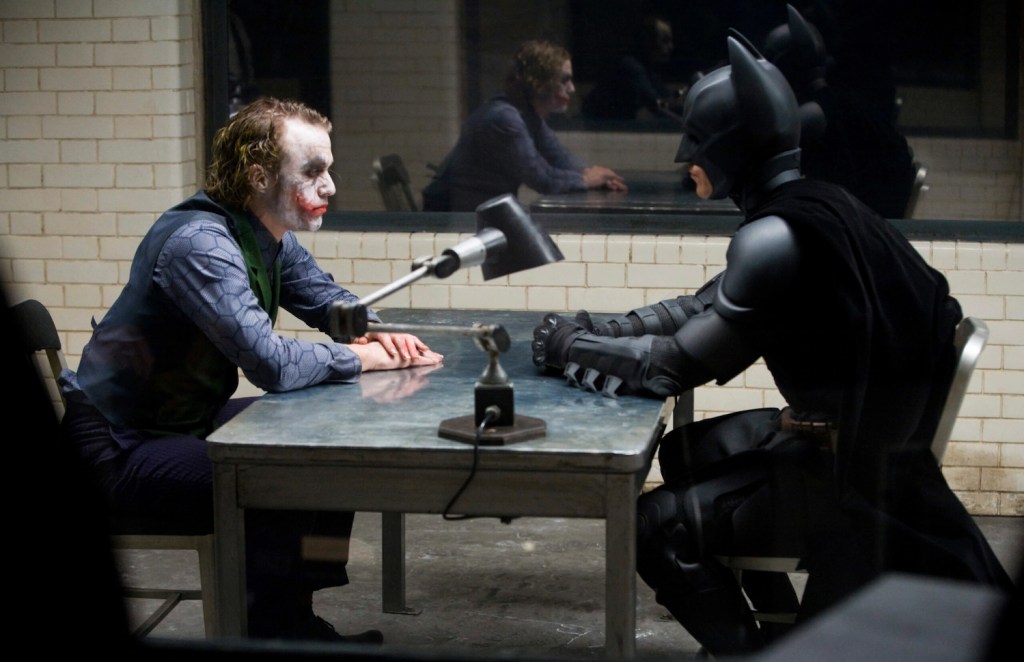 1. The Dark Knight (2008)
READERS' CHOICE
Yes, the top of this list is The Dark Knight. Could it be anything else? Whether fair or not, before The Dark Knight's release the superhero genre was largely seen by the industry as "kids table" stuff. Movies made to sell tickets and nothing more. Christopher Nolan obliterated those limited expectations and produced a crime epic as sweeping and searing as any in its decade, and one which did a better job of talking about the anxieties of the Bush Years than actual movies based on the War on Terror. And it did all this with a man dressed up like a bat punching a "terrorist" in clown makeup.
What unforgettable makeup it was, too, that Heath Ledger smeared across his own face in a turn which remains electrifying to witness 14 years later. Barely recognizable beneath the scars and that Tom Waits drawl, Ledger blends rock star swagger with genuine nihilistic chill. Yet the movie is more than just his mythologized performance. The reason the movie towers over the genre is because of how Nolan uses that iconic Joker as a Rorschach test for his protagonists, his Gotham, and even his audience to project all their fears of the abyss into.
In that way, The Dark Knight is perhaps the one truly great American film on this list, in which a stacked ensemble—including a character-defining second go at the Batman by Christian Bale, Gary Oldman, Michael Caine, and the film's tragic soul, Aaron Eckhart as Harvey Dent—stare into the dark and find something both grim and exhilarating climbing out. The Dark Knight remains a transcendent experience, drifting between the aspirations we invest in the superhero fantasy and the nightmares we'd like them to banish, all captured with some of the most stunning IMAX photography ever committed to celluloid. – DC
Also receiving significant votes in descending order: Chronicle, X-Men: Days of Future Past, Power Rangers, Iron Man 3, Man of Steel, The Incredible Hulk, Ant-Man, Big Hero 6, Deadpool 2, Hellboy II: The Golden Army, Spider-Man: Far From Home, Zack Snyder's Justice League, Black Widow, Teen Titans Go!, Teenage Mutant Ninja Turtles, Batman v Superman: Dawn of Justice, Wonder Woman 1984