Features
Barbie 2 Could Return Creative Power to Stars Like Margot Robbie and Ryan Gosling
Barbie 2 seems like a very distant proposition at the moment…here's why.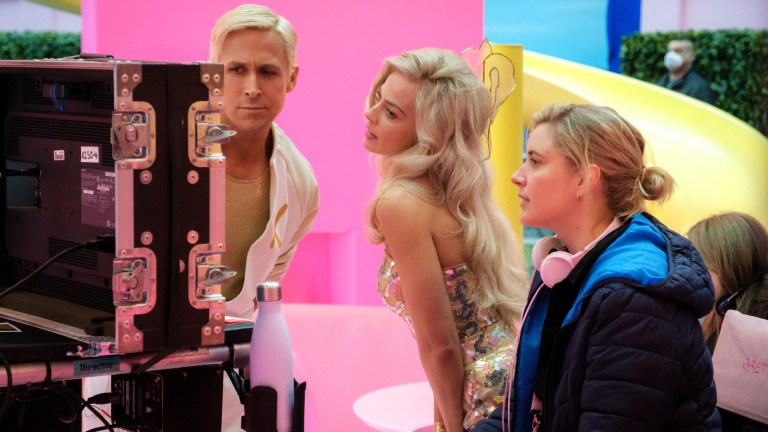 It opened less than three weeks ago as we write this, but Barbie has already crossed the threshold at the entrance to the billionaire's club—that short list of films which have grossed more than one billion bucks at the box office. As Greta Gerwig's fantasy/social satire/weirdo musical shows no signs of slowing down (it's headed for $500 million in North America alone), no doubt the champagne corks are popping all over the Warner Bros. Pictures studio lot and offices, and plans for a sequel are being developed as we speak.
Or maybe not. While just about every other movie that has achieved this kind of success and become a legitimate pop culture phenomenon would already have announced a sequel, there are no such emanations coming from Warner Bros.—nor are they likely to in the immediate future.
One reason could be the ongoing SAG-AFTRA and WGA strikes, which prohibit writers and actors from making any deals for the duration of the walkouts. While back channel conversations probably occur between studios and agents (not the actors or creatives themselves), nothing can be formalized and any real development of a follow-up is likely to be slowed down along with everything else. More importantly, however, The Hollywood Reporter revealed earlier this week that there has been no official talk about Barbie 2 because none of the principals involved in the first film—star/producer Margot Robbie, co-star Ryan Gosling, director/co-writer Greta Gerwig, and co-writer Noah Baumbach—have deals in place to return for a second outing. In this way, WB could be steering toward interesting and uncharted waters.
A Cure for Sequelitis?
This is, of course, highly unusual in Tinseltown, which is driven (and largely bankrolled) by the ongoing need for juggernaut franchises. And since those franchises need recognizable stars to put on the poster most of the time, the studios want to make sure that they lock those stars in should the property take off and audiences want more.
Look at one of the more famous cases: Marvel Studios. The company initially signed Robert Downey Jr. to a five-picture deal to play Tony Stark/Iron Man, although his deal was later revamped—to great financial gain for RDJ—to include more films. Samuel L. Jackson and Sebastian Stan inked nine-picture deals to play Nick Fury and Bucky Barnes respectively while Marvel tied Chris Evans up for six movies as Steve Rogers/Captain America (later adding a seventh).
Any major franchise—Star Wars, DC, James Bond—will do the same thing. It's practically unheard of for the creatives involved in bringing a major intellectual property to the screen to not sign multi-picture deals. And while those deals often include pay raises, bonuses, and the like, they may not always be commensurate with the amount of money a film ends up making.
Did Robbie, Gerwig, and the boys decline to sign deals because they were not interested in returning at all or because they wanted to see how the movie opened first and use that as leverage? That's unknown. Both are risky propositions, but the latter gamble could certainly pay off now. With Barbie successful on a level that no one quite saw coming, the principal talent could hold out for massive sums to reunite for Barbie 2.
This could change the way such deals are made in Hollywood, giving studios another issue to grapple with (in addition to their own greed and disrespect for talent prolonging these strikes unnecessarily). Sure, lesser-known or up-and-coming actors—think Tom Holland when he signed as Spider-Man—may not have the power to turn down multi-picture options, but it's possible that more established actors and outright stars could hold out on multi-picture deals in order to dictate terms one movie at a time.
This arrangement could also create the opportunity for in-demand directors and stars, like the pairing of Gerwig and Robbie, to have increased creative control over sequels. Consider how much harder it would be now for WB to dictate what is off limits in the plot of Barbie 2 after how the first film played.
Does Making Barbie 2 Even Make Sense Though?
If Warner Bros. could entice Robbie, Gerwig, and Gosling back that brings up another issue: What would a Barbie 2 look like? In our view, perhaps the creatives don't want to necessarily return because they told a complete story in the first film. As Barbie ends, Robbie's Stereotypical Barbie has gone on a journey of self-discovery and decided to become human and live in the real world while everyone back in Barbieland has begun their own mission to improve life for Barbies, Kens, and other dolls alike.
No doubt, Barbie 2 would force Barbie to return to Barbieland, perhaps to help her friends there face some new threat (a rogue Barbie? An invasion of G.I. Joes?). Barbieland would go through some kind of upheaval, there might be an incursion of the real world into Barbieland, and Barbie herself would have to confront whether becoming human was the right decision (we're just going by conventional sequel tropes here—people like Gerwig are paid a lot more than us to come up with better ideas).
In the end, however, any Barbie 2 is going to look vastly different if Margot Robbie is not playing the title role, Ryan Gosling is not flexing his abs as Ken, and Gerwig is not getting it all on film (or any variation of those three elements). Right now, none of these folks are obligated to do any of those things, and this fact could portend another sea change in an increasingly creaky Hollywood system.
Barbie is in theaters now, as if you didn't know.