Features
Sugar Daddy, Midge, Allan and the Barbie Movie Dolls That Were Once Discontinued By Mattel
The real life controversies behind some of the Barbie and Ken dolls in Greta Gerwig's smash hit Barbie movie are as strange as they come.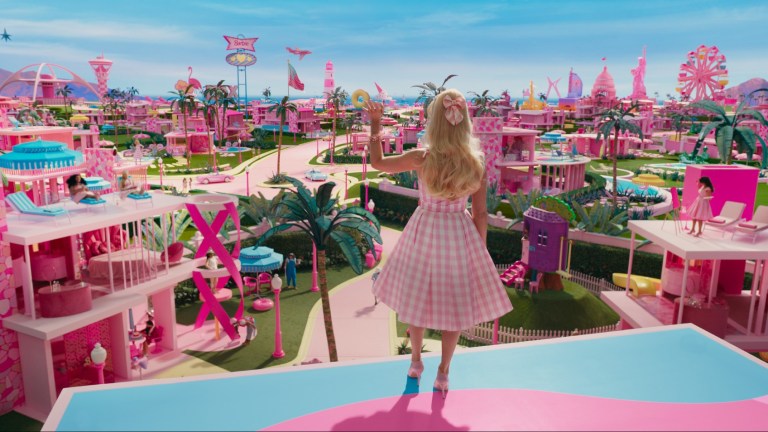 This Barbie article contains spoilers.
We're looking at cinema through a pair of pink-tinted glasses because Greta Gerwig's Barbie is everywhere right now. The Margot Robbie-led caper is defying all expectations and looks poised to kickstart a Mattel Cinematic Universe that includes an upcoming Barney movie with Daniel Kaluuya.
This is far from the first Barbie movie we've had, but as well as being the first live-action outing, its meta take on the IP is grabbing headlines. With some 64 years of Barbie history to pull from, the script has gotten away with weaving in some of the toy line's many controversies.
Barbie has faced controversies of its own since its box office-smashing debut, such as an enraged minority of audience members calling out the movie "anti-men" propaganda. While Gerwig's film continues to enjoy box office success, here are the real-life Barbie doll controversies that the Barbie movie pokes fun at.
Allan
Michael Cera plays Ken's lesser known BFF, Allan, who was first introduced in 1964. The original Allan came with the slogan of "All of Ken's clothes fit him," which led to raised eyebrows that Mattel was suggesting the pair be more than just friends, which would have certainly been a taboo backstory for the doll at the time. Ken's best bud was quickly phased out, although Allan eventually returned (rebranded as Alan) to marry Midge in 1991. Allan's sexual orientation has never been confirmed by Mattel, but Barbie also hints that Allan wants to share more than his clothes with Ken.
Midge
Emerald Fennell plays Midge in Barbie, but as Helen Mirren's narrator reminds us, we don't talk about Midge. Although Midge arrived on the scene as Barbie's gal pal in 1963, her controversy came in 2003. That year's "Happy Family" line featured a pregnant Midge carrying a removable magnetic womb with a tiny baby inside named Nikki. Mattel was quickly accused of promoting teen pregnancy through the doll, leading to Walmart removing the doll from shelves. Mattel later repackaged the doll without her baby bump and put an Allan cutout by her side in the packaging.
Growing Up Skipper
Barbie's younger sister features twice in Barbie. Emma Ford plays Skipper, but it's Hannah Khalique-Brown's Growing Up Skipper that is confined to Weird Barbie's (Kate McKinnon) house of outcasts. 1975 saw the release of Growing Up Skipper to teach girls about puberty. When you cranked her left arm, she grew an inch. In a bizarre twist, it also expanded her breasts. Needless to say, the doll was deemed inappropriate for children by some. Mattel discontinued Growing Up Skipper in 1977, making her a collector's item on eBay.
Tanner
Weird Barbie owns the nightmarish Tanner, a vacant-looking Golden Retriever who leaves "presents" around her house. Animal lovers were gifted Tanner in 2007, but he was quickly subject to a product recall. If the gross fact Tanner left magnetic feces everywhere wasn't enough, the magnet in Barbie's pooper scooper wasn't strong enough and his deposits became a choking hazard.
Video Girl Barbie doll! 😘📱 pic.twitter.com/syYYeYxpOO

— DANIEL (@kudanielz) March 28, 2022
Barbie Video Girl
Barbie Video Girl (played by Mette Narrative in Barbie) was supposed to win big with tech-savvy consumers. Instead, she looked like a Frankenstein's Monster with a TV lodged in her back. The doll landed in 2010 and fed footage to the screen from a camera in her front. This caught the attention of the FBI and led to a warning she could be a privacy risk, especially for the children being recorded by the doll. Mattel clapped back by saying safety is its number one concern, but this didn't stop Barbie Video Girl from quietly being shelved in 2012.
Sugar Daddy Ken
British actor Rob Brydon has a brief cameo as Sugar Daddy Ken or is that "Sugar's Daddy Ken?" Although he might certainly be a very stylish Ken, with his satin paisley blazer, a pair of white pants, and a small dog on a pink leash, the sexual implications of Palm Beach Sugar Daddy Ken's name rubbed some folks the wrong way. Mattel later confirmed it was an accidental misnaming, with the Ken doll only supposed to be the "daddy" of Sugar the dog.
Share-a-Smile Becky was our first Barbie to use a wheelchair in 1997, but sadly didn't fit in the Dreamhouse with her chair. This has also been course corrected. pic.twitter.com/KeylIAyYLA

— BJ Colangelo (STRIKE FIRST! STRIKE HARD!) (@bjcolangelo) July 23, 2023
Share a Smile Becky
Gerwig has been vocal about featuring diverse cast of sexualities, genders, and body types in Barbie. During the Dua Lipa dance scene at Barbie's Dreamhouse, one of the Barbies performs the routine from a wheelchair. Mattel introduced a disabled doll called Share a Smile Becky in 1997. Unfortunately, she didn't fit in the elevator of the Dreamhouse, which drew criticism from consumers, leading to later models of Barbie's abode being modified to be disabled-accessible.
Teen Talk Barbie
Going against Barbie's supposedly empowering image, 1992's Teen Talk Barbie wasn't the role model Mattel hoped she'd be. Marisa Abela briefly appears in Barbie as Teen Talk Barbie, who grabbed headlines because of the catchphrase, "Math class is tough," which some felt discouraged young girls to pursue interests in STEM. The American Association of University Women led a campaign against the doll, with a rerelease having an alternate catchphrase. The controversy was even parodied in The Simpsons' "Lisa vs. Malibu Stacy."
Earring Magic Ken
Tom Stourton plays the most infamous Ken doll of 1993, homaging his outfit of purple mesh and a sleeveless leather jacket. But missing in the movie is Earring Magic Ken's necklace that drew so much outrage in the '90s: a necklace that looks a bit like a particular sex toy. This attempt to modernize the Ken for a new generation growing up in the MTV era drew the ire of even some in the press who accused Mattel of "gender-bending" the classic doll. But despite the outrage, the doll sold incredibly well, especially among gay men. Earring Magic Ken went on to become a gay icon and there are claims he's the best-selling Ken doll of all time.
Barbie is out in theaters now.