Features
Barbie Soundtrack: Every Song from the Movie
With songs from Dua Lipa, Charli XCX, Lizzo, Billie Eilish, and Ryan Gosling, the Barbie soundtrack is full of bops.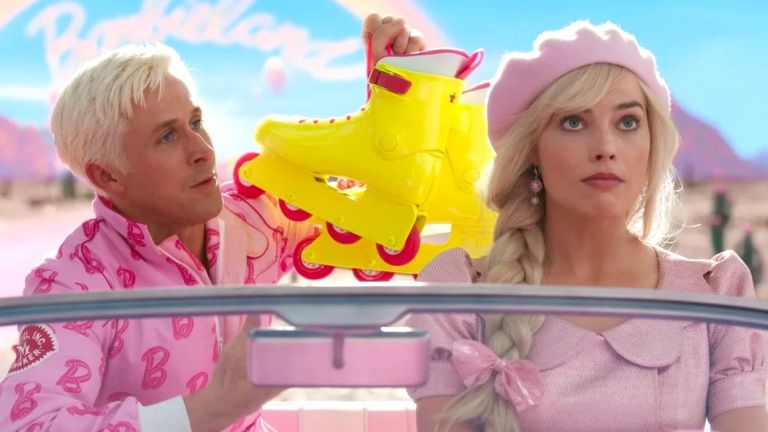 With artists like Dua Lipa, Sam Smith, Billie Eilish, Nicki Minaj, and Ice Spice, the Mark Ronson produced Barbie movie soundtrack is poised to be almost as iconic as the movie itself. From danceable pop hits to more melancholic tunes and ballads, the soundtrack is full of songs for a variety of Barbies and Kens.
While Aqua's classic song "Barbie Girl" unfortunately isn't on the soundtrack, there are plenty of other bops that make Greta Gerwig's Barbie Land come to life. Here are all of the songs you can expect to hear on the Barbie soundtrack, including a few words on some of the big standouts:
"Dance the Night" – Dua Lipa
Dua Lipa not only brings her pop disco sound to the first single on the Barbie soundtrack, she also stars in the movie as Mermaid Barbie. Dua Lipa's "Dance the Night" is a fun disco romp that epitomizes the carefree energy of Barbie Land while also hiding a deep existential pain within its lyrics. It's about maintaining a perfect appearance even when you don't feel perfect on the inside and is a great song to kick off the soundtrack of Barbie's existential journey.
"Barbie World" – Nicki Minaj and Ice Spice with Aqua
Fans were disappointed when it was first announced that Aqua's hit song "Barbie Girl" wouldn't be featured in Barbie due to bad blood between the Danish pop band and Mattel. But even though the song won't be featured in its entirety, Mark Ronson found a way to include the song with the help of Nicki Minaj and Ice Spice. Their song "Barbie World" samples the popular Aqua song while adding their own flare.
"What Was I Made For?" – Billie Eilish
"What Was I Made For?" is the epitome of Barbie's journey into the Real World and her struggle to find her purpose. Billie Eilish is well-known for exploring difficult topics like depression and anxiety through her music, so she's the perfect choice for a song meant to explore Barbie's inner turmoil and sadness. This song may not make you want to dance like many of the other songs on the soundtrack, but it's a fitting addition to Barbie's story.
"I'm Just Ken" – Ryan Gosling
The himbo ballad to end all himbo ballads, "I'm Just Ken" tells the story of Ken's existential crisis as he wonders what his place in the world could be without Barbie, and if Barbie will ever see him as more than "just Ken." Ryan Gosling absolutely sells Ken's angst and the addition of legendary guitarist Slash on the track is just icing on the cake at this point. If there was ever an argument for a Barbie musical sequel, this song is it.
Barbie Movie Full Soundtrack List
Below is the full track list and if you scroll all the way down, you can also have a listen at the soundtrack!
"Pink" – Lizzo
"Dance the Night" – Dua Lipa
"Barbie World (with Aqua)" – Nicki Minaj and Ice Spice
"Speed Drive" – Charli XCX
"Watati" – Karol G feat. Aldo Ranks
"What Was I Made For" – Billie Eilish
"Journey to the Real World" – Tame Impala
"I'm Just Ken" – Ryan Gosling
"Hey Blondie" – Dominic Fike
"Home" – Haim
"Man I Am" – Sam Smith
"Forever & Again" – The Kid Laroi
"Silver Platter" – Khalid
"Angel" – Pink Pantheress
"Butterflies" – Gayle
"Choose Your Fighter" – Ava Max
"Barbie Dreams" – Fifty Fifty feat. Kaliii
You can listen to the full Barbie soundtrack below:
Barbie Movie Song Playlist
On top of the official Barbie album, Warner Bros. Pictures has assembled an additional playlist of songs, some of which actually do also appear in the movie, that keeps the vibe alive, even after the album has ended. Here are three highlights from the playlist:
"Push" – Matchbox Twenty
Both the original version of "Push" by Matchbox Twenty and a cover done by Ryan Gosling and the other Kens can be heard in Barbie after Patriarchy is brought to Barbie Land. The song perfectly captures Ken's feelings of being taken for granted by Barbie (Margot Robbie) and wanting to act like he's too cool to care about what she thinks about him. It's also just really fun to hear Ryan Gosling emulate the sound of Matchbox Twenty frontman Rob Thomas while singing.
"Closer to Fine" – Indigo Girls
Before Ken's takeover of Barbie Land makes the radio exclusively play "Push" by Matchbox Twenty, Indigo Girls' "Closer to Fine" serves as the soundtrack for Barbie's journey to and from the Real World. Barbie and Gloria (America Ferrera) both sing along to the song's lyrics of self-discovery and trying to find where you fit in the world. While the original version of the song can be heard in the movie, the soundtrack features a cover of the song by Brandi Carlile and her wife Catherine Carlile.
"Spice Up Your Life" – The Spice Girls
With upbeat original songs filling the Barbie soundtrack, it's no surprise that the Spice Girl's song "Spice Up Your Life" from their hit movie Spice World can be found within the movie. Though this song isn't on the soundtrack in original or cover form, it's still a fun bop that fits right in with the vibes of Barbie Land.
You can listen to the official Barbie playlist below: