News
Xbox and Bethesda Game Announcements Recap: Starfield, Diablo 4, Persona, Hollow Knight Silksong, and More Trailers
Plus, Redfall, Overwatch 2, Hideo Kojima, Minecraft Legends, a new Obsidian game, Valorant, and League of Legends.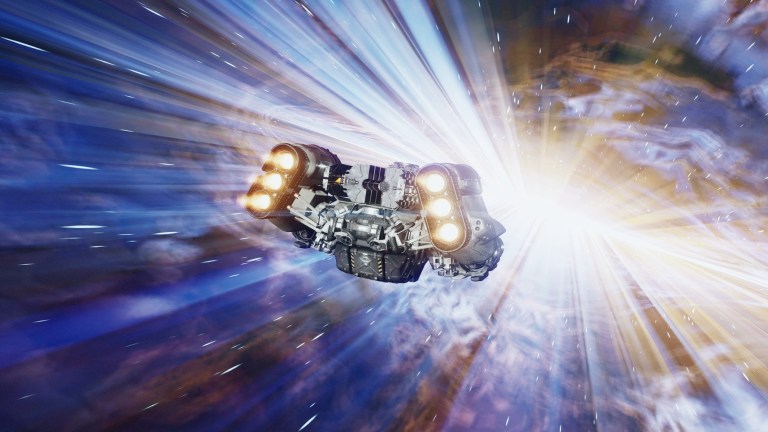 Gamers will have to live through another summer without E3, but that doesn't mean they'll be starved for new announcements, trailers, and surprise reveals. In fact, Xbox and Bethesda took the stage this weekend to announce all of the big projects they have in the pipeline for the Xbox Series X, PC, and the Game Pass a la carte subscription service. This year's showcase boasted tons of gameplay footage, giving us deeper looks at many of Xbox Game Studios' most anticipated releases. Best of all, everything showcased at the conference was confirmed to be slated for release in the next 12 months, meaning we'll likely get to play many of the games below very soon! (Expect others to be inevitably delayed.)
Unsurprisingly, highlighting this press conference were long-awaited projects from Bethesda Softworks and Activision Blizzard, which is currently in the process of being acquired by Xbox. In fact, this showcase was a good primer for how Xbox is seriously boosting its offerings now that Blizzard is joining the collection of studios under the platform's banner. Diablo 4 and Overwatch 2 were heavily featured, with the latter even getting a confirmed free-to-play early access this fall.
But the main event was undoubtedly our first look at gameplay from Bethesda Game Studios' highly-anticipated new sci-fi RPG Starfield, a mix of all the role-playing you've come to expect from the makers of The Elder Scrolls and the later Fallout games, but with a few new tricks thrown in, such as ship building and piloting. Starfield will feature over 1,000 planets to explore as well as plenty of galactic mysteries to discover. And it looks like it's coming sometime in early 2023 after being delayed out of its original Nov. 2022 release date. You just have to wait a little bit longer, Xbox fans!
Fortunately, there's no shortage of new games to play in the meantime, including a few smaller indies coming to Game Pass on day one. Just look at this graphic revealed by Xbox head Phil Spencer during the show:
Below, you'll find all the biggest announcements, reveals, and trailers from the Xbox and Bethesda (and Blizzard) Games Showcase:
Starfield
The first real deep dive into the worlds of Starfield not only featured the type of action RPG gameplay players can expect when they step foot into this new galaxy from Bethesda Game Studios but also the skill trees, abilities, and locations you'll be able to access during the journey. While the game doesn't have a firm release date, BGS head Todd Howard did confirm the game is coming in 2023.
Diablo 4 Coming in 2023 with Necromancer Class
Blizzard hit the stage to show us the first footage of Diablo 4 running on Xbox. So far, it looks most impressive. While the game will also be available for PlayStation and PC, there's no doubt Xbox is rolling out the red carpet for this one now that Activision Blizzard is being acquired by Microsoft.
Blizzard also revealed the final starter class coming to the game at launch: Necromancer, which can command the spirits of the dead and unleash powerful spells against opponents. This trademark Diablo class joins the Barbarian, Druid, Rogue, and Sorceress classes. There's still no confirmed release date, but Blizzard said this one's definitely coming out in 2023. We hope so.
Persona Hits Xbox
The fan-favorite Persona franchise is finally coming to Xbox and PC this year! You can expect Persona 5 Royal to hit both platforms on Oct. 21. Persona 4 Golden and Persona 3 Portable will follow "at a later date," according to a press release.
Hideo Kojima Is Making an Xbox Game!
The long-rumored Xbox cloud game from Kojima Productions has been officially announced! Video game auteur Hideo Kojima himself made an appearance at the conference to speak briefly about the mysterious project, which doesn't have a title or release date yet.
"There is a game I have always wanted to make," Kojima said during the presentation. "It's a completely new game, one that no one has ever experienced or seen before. I've waited very long for the day when I could finally start to create it.
"With Microsoft's cutting edge cloud technology and the change in the industry's trend, it has now become possible to challenge myself to to make this never-before-seen concept," he continued. "It may take some time, but I'm looking forward to teaming up with Xbox Game Studios and hope to bring you some exciting news in the future."
If Metal Gear Solid and Death Stranding have shown us anything, it's that this new Kojima game should at the very least be unlike anything we've played before.
Redfall
Arkane's co-op FPS Redfall was first shown off at last year's Xbox/Bethesda conference. While it was given the main event treatment at that show, things had gone a bit quiet since then. Originally slated for release this summer, the game was eventually delayed to 2023.
Fortunately, the game made its return to the showcase this year, and while we didn't get a proper launch date, we did get to see quite a bit of gameplay footage, showing several elements of this horror-tinged shooter, including the many weapons you'll be able to unleash on your vampire enemies. This day one Game Pass title is coming exclusively to Xbox consoles and PC.
Overwatch 2 Goes Free-to-Play in October
Overwatch fans' patience will be rewarded this fall! The sequel to the hit hero shooter will get a PvP early access release on Xbox consoles and PC on Oct. 4. Best of all, the game will be free-to-play, meaning you will be able to jump in as soon as it drops for no additional cost.
While only the PvP will be available in October, with the new PvE story mode coming down the line, players will also get a new Tank character to try: Junker Queen, who was first teased in a Junkrat animated short. The Junker Queen footage shown so far definitely teases the big Mad Max energy she'll bring to the game later this year.
Hollow Knight: Silksong
It seems like this sequel to the 2017 Metroidvania indie darling was announced ages ago. Three years later, we finally have a new trailer for Hollow Knight: Silksong that shows off the epic battles and obstacles our little hero will have to overcome when this game hits Xbox consoles, PC, and Game Pass on day one. Unfortunately, the game still doesn't have a release date…
Wo Long: Fallen Dynasty from Team Ninja
Fumihiko Yasuda (Nioh) and Masaaki Yamagiwa (Bloodborne) are partnering up for the latest action game from Team Ninja. While it's unclear if this will be another entry in the Soulslike genre, the Xbox Wire blog teases that "players will fight off deadly creatures and enemy soldiers using swordplay based on the Chinese martial arts, attempting to overcome the odds by awakening the true power from within."
The game tells the story of a "nameless militia soldier" fighting his way through a "dark fantasy version" of the Later Han Dynasty period from Chinese history. This one's out in early 2023 for Xbox consoles and PC, as well as a day one release on Game Pass.
League of Legends, Valorant, Legends of Runeterra, and Teamfight Tactics Join Game Pass
If you're still wondering why Xbox Game Pass is still the mythical "best deal in gaming" for some, look no further than to the platform's new deal with Riot Games, which is bringing its suite of free-to-play games to the service. League of Legends, Legends of Runeterra, Teamfight Tactics, and Valorant are all coming to the service for PC and mobile via cloud.
A Plague Tale: Requiem
The grim, atmospheric A Plague Tale series is back with Requiem, the sequel to the fan-favorite action-adventure game from Asobo Studio and Focus Home Interactive. Players once again step into the shoes of Amicia de Rune and her little brother Hugo as they navigate the dangers of Black Plague-ravaged 14th-century France. This game is out sometime in 2022 and will release on Xbox, PC, and on day one on Game Pass.
Forza Motorsport
Xbox's premier racing sim is back, this time on Series X/S consoles and PC with overhauled graphics fit for next-gen GPUs. Forza Motorsport's developers at Turn 10 promise "our overhauled physics, the beauty of our cars and tracks, our new dynamic time of day, advanced car damage, and real time ray tracing on track lead to a generational leap in immersion." The game will hit Xbox Series X/S and PC, as well as day one Game Pass, in Spring 2023.
Minecraft Legends RTS Confirmed
Minecraft fans are getting a brand-new spin-off to feast on. This one's a strategy game developed by Mojang and Blackbird Interactive. Many of the classic elements of the RTS genre can be found here, but with the unique pixelated art style and lighthearted tone that has brought the series so much success over the years. Minecraft Legends is out on Xbox consoles, PC, and day one on Game Pass in 2023.
Halo Infinite Pelican Hits Microsoft Flight Simulator
Ever wanted to fly the Pelican from Halo in Microsoft Flight Simulator? Now's your chance, thanks to this new DLC, which is out today!
High on Life with Rick and Morty Creators
Only Rick and Morty creator Justin Roiland could have imagined the trippy futuristic setting of High on Life, a shooter where your weapons talk back to you throughout a monster-filled adventure. So what exactly is this game about besides 420 jokes?
"After a cartel of aliens invades Earth, a freshly minted high-school graduate grabs the nearest talking gun and becomes the deadliest intergalactic bounty hunter across the cosmos," reads a press release. "The alien invaders in High On Life are on a mission to dominate Earth, but with a particularly sinister twist: Garmantuous and his cartel goons are intent on enslaving humanity and using them as a new drug."
This game will release on Xbox consoles as well as PC later this year. It's also a day one release on Game Pass.
Vin Diesel and Auli'i Cravalho in Ark 2
Ark 2 is a sequel to the dino-filled 2017 survival game, and it promises to be bigger and much more star-studded than the original. This one boasts Vin Diesel and Auli'i Cravalho as a father and daughter duo who must navigate the dangers of a distant planet. You can catch this one on Xbox, PC, and Game Pass in 2023.
Scorn Is Finally Releasing This October
Serbian studio Ebb Software first announced this grotesque survival horror FPS all the way back in 2014, and Scorn has had a very long journey since then. At one point it was going to release only for PC in two parts. Then things went silent until 2020 when the project was revealed to now be an Xbox console exclusive boasting 4K and 60 fps graphics. Originally set for a fall 2021 release, this nightmare inspired by legendary artists H.R. Giger and Zdzisław Beksiński will finally see the light of day on Oct. 21 for Xbox Series X/S and PC.
Ara: History Untold
This turn-based strategy game comes from Ashes of the Singularity dev Oxide Games. It looks a bit like Civilization mixed with the deeper character-based role-playing of Crusader Kings and will allow players to "build and lead a nation throughout history as they explore new lands, develop arts and culture, conduct diplomacy, and go head-to-head with rivals to prove they are the greatest leader ever known." This ones coming for PC, PC Game Pass, and Steam, but no release date was given.
As Dusk Falls
Billed as an "original interactive drama," Interior/Night's As Dusk Falls brings a beautiful art style inspired by comic books to an "uncompromising tale of family, resilience and sacrifice." While this seems like your classic indie single-player title at first, the game intriguingly features up to 8-player local/online co-op, allowing you and your friends to experience the story together. We're definitely interested to see how that's going to work. This one's out on Xbox, PC, and Game Pass on July 19, making it one of the few games from this showcase you can actually play in just a few short weeks.
Naraka: Bladepoint Comes to Xbox
This battle royale title from NetEase Games Montreal first wowed PC gamers last year with its blend of last-man-standing gameplay and fast-paced martial arts melee combat. Now Naraka: Bladepoint is finally coming to consoles, but exclusively to Xbox Series/S as well as Game Pass.
Pentiment from Obsidian Entertainment
It's always very nice to see a new project from The Outer Worlds and Fallout: New Vegas developer Obsidian Entertainment. The decidedly more indie-looking Pentiment is set in 16th century Bavaria and follows "journeyman artist" Andreas Maler, who "becomes entangled in a series of murders that span over 25 years." As you might expect, it'll be up to you to investigate and solve these crimes, and your choices "will impact the town for years to come." This one's out on Xbox consoles and PC, as well as Game Pass, in November.
Cocoon
The showcase brought something really special for fans of top-down indie adventures: the very intriguing Cocoon, which we know very little about except that it features a little hero with wings. "Master the world-leaping mechanics to unravel a cosmic mystery," the press release reads.
This one doesn't have a release date but when it does arrive, it'll hit Xbox consoles and PC, as well as day one on Game Pass.
All the Other Xbox Games from the Showcase
Below are the rest of the games that were featured at the show. You can find all the trailers here.
Ravenlok
Ereban: Shadow Legacy
The Last Case of Benedict Fox
Gunfire Reborn
Lightyear Frontier
Flintlock: The Siege of Dawn
Fallout 76: The Pitt
Forza Horizon 5: Hot Wheels DLC