News
Xbox Game Pass: New Games for February 2021 Revealed
Dirt 5 and Elite Dangerous join the Xbox Game Pass lineup in February!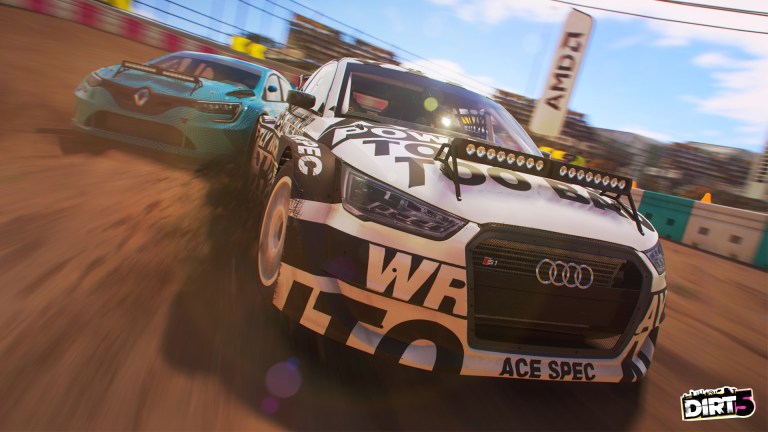 Xbox Game Pass is Microsoft's subscription service for Xbox One owners. It's designed to be like a "Netflix for games," where you pay a simple monthly rate and get access to loads of games for download. It's not to be confused with the Xbox Live Gold membership, which gives users a selection of free games each month.
There was a huge surge in popularity and profile for Xbox Game Pass in 2018, mainly due to Microsoft unveiling a strategy that puts brand new games on the service. Sea of Thieves was the first example of this, followed by State of Decay 2. Crackdown 3 launched on Feb. 15. Since then, the service has seen the Day 1 launch of several Xbox exclusives, including Gears 5, The Outer Worlds, and Halo: Reach on the Halo: The Master Chief Collection.
Membership to Xbox Game Pass will set you back $9.99 per month. You can now also get an Xbox Game Pass Ultimate subscription for $1 for the first month and $14.99 a month after that. The subscription includes an Xbox Live Gold membership as well as all of the games offered on Xbox Game Pass and Xbox Game Pass for PC. Plus, with cloud support, you can play a selection of Xbox Game Pass titles on your Android phone!
New games are added each month to Xbox Game Pass. Here are the games coming in Ferbuary (with descriptions courtesy of the Xbox team):
Xbox Game Pass: Games for February 2021
Ghost of a Tale (PC) ID@Xbox – February 4
Ghost of a Tale is an action RPG game in which you play as Tilo, a mouse and minstrel thrown into a perilous adventure. Set in a medieval world populated only by animals, the game puts an emphasis on immersion and exploration. It features stealth elements, disguises, conversations with allies and enemies, and quests.
Project Winter (Android, Console, and PC) – February 4
The perfect game to back-stab your friends. Project Winter is an 8-person multiplayer game focusing on social deception and survival. Communication and teamwork are essential to the survivors' goal of escape. Gather resources, repair structures, and brave the wilderness together.
The Falconeer (Android, Console, and PC) – February 4
Become the Falconeer and soar through the skies aboard a devastatingly powerful warbird in this open-world air combat game. Uncover secrets lost to the sea as you join or oppose different factions and clans scattered throughout the mysterious world of The Great Ursee.
Final Fantasy XII The Zodiac Age (Console and PC) – February 11
We're excited to continue bringing Final Fantasy games to Xbox Game Pass in 2021 and beyond! This remaster is based on the smash-hit 12th installment of the Final Fantasy series. With graphical and audio upgrades, the core game design has been tweaked to produce an evolution of the original Final Fantasy XII fitting for the current generation. Return to the World of Ivalice and enjoy a classic adventure reborn!
Jurassic World Evolution (Android and Console) – February 11
Place yourself at the heart of the Jurassic Park franchise and build your own Jurassic World. Bioengineer dinosaurs that think, feel, and react intelligently to the world around them and face threats posed by espionage, breakouts, and devastating tropical storms in an uncertain world where life always finds a way.
Stealth Inc. 2: A Game of Clones (Android and Console) – February 11
In Stealth Inc 2, you play the role of a clone escaping a sinister and high-tech testing facility, testing both your brain and your reflexes over 60 varied levels linked together in a sprawling overworld. Death is never more than a few moments away, but one of the few advantages of being a clone is that death isn't all that permanent.
Wolfenstein: Youngblood (Android) – February 11
Set 19 years after the events of Wolfenstein II, BJ Blazkowicz's twin daughters, Jess and Soph Blazkowicz — after years of training from their battle-hardened father — are forced into action. Team up with a friend to level up, explore, and complete missions to unlock abilities that compliment your playstyle.
Code Vein (PC) – February 18
In the not-too-distant future, a mysterious disaster has collapsed the world as we know it. At the center of the destruction lies a hidden society of Revenants called Vein. Team up with your friends and embark on a journey to the ends of hell to unlock your past and escape your living nightmare in Code Vein.
Pillars of Eternity 2: Deadfire – Ultimate Edition (Cloud and Console) ID@Xbox – February 18
The ultimate edition of the award-winning RPG from the masters at Obsidian Entertainment is coming to Xbox Game Pass, featuring all major updates and expansions. Bend the world to your will as you explore the depths of infinite possibilities, including detailed character customization, total freedom of exploration, and more meaningful choices at every turn. Pillars of Eternity II: Deadfire Ultimate Edition redefines the role-playing game experience for a new generation.
Wreckfest (Cloud, Console and PC) – February 18
Break the rules and take full-contact racing to the limit with Wreckfest! Expect epic crashes, neck-to-neck fights over the finish line, and new ways for metal to bend. These are the once-in-a-lifetime moments that can only be achieved in Wreckfest, with its true-to-life physics simulation crafted by legendary developer Bugbear, who also brought you FlatOut 1 & 2!
Killer Queen Black (Cloud and Console) ID@Xbox – February 23
Fight for your hive in this strategic team platformer! Killer Queen Black is an intense multiplayer action/strategy platformer for up to eight players. Hop on the snail, hoard berries, or wipe out the enemy's queen to claim victory. Fly solo, or team up with three of your friends as you race to complete one of three possible victory conditions.
Dirt 5 (Cloud, Console and PC) – February 25
Get behind the wheel of incredible extreme cars and tear up the most stunning global locations in Dirt 5 – the next generation of off-road racing. The award-winning racer from Codemasters delivers a story-based Career mode, the all-new Playgrounds custom arena hub, customization options galore, thrilling online party modes and more, all with a pumping official soundtrack and bold art approach.
Elite Dangerous (Console) – February 25
Take control of your own starship in a cutthroat galaxy. Elite Dangerous is the definitive massively multiplayer space epic, bringing gaming's original open-world adventure to the modern generation with a connected galaxy, evolving narrative and the entirety of the Milky Way re-created at its full galactic proportions.
Superhot: Mind Control Delete (PC) ID@Xbox – February 25
Time moves only when you move. The long-awaited third game in the groundbreaking Superhot franchise, Superhot: Mind Control Delete gives you more insight into the signature power fantasy world of Superhot with more story, more signature gameplay, more action, and more guns. Keep dancing the slow-motion ballet of destruction for so much longer than ever before.