News
High on Life: Is This Xbox FPS Secretly a Rick and Morty Game?
High on Life shares many similarities with Rick and Morty, but sometimes a talking gun is just a talking gun.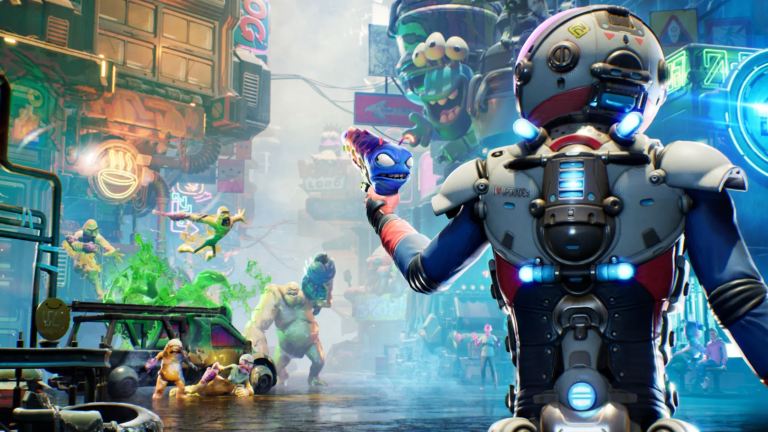 Rick and Morty is arguably the most successful and popular property to come out of Adult Swim in the past decade. Ever since the show took off, its creators have adapted the series into multiple media formats (including video games). However, most of those projects sport the hallmarks of a Rick and Morty episode without being connected to the franchise. This has resulted in the occasional bout of confusion since, given how Rick and Morty works, you never really know what is a cheeky reference and what is a thread that creates an extended universe of stories. That's one of the big reasons why some suspect that High On Life (a recently revealed Xbox FPS) might secretly be a Rick and Morty game.
Early in the 2022 Xbox and Bethesda Games Showcase, Microsoft showed off the latest offering from developer Squanch Games: High On Life. Going by the project's debut trailer, the game revolves around an alien drug cartel that is selling humans as drugs. The only person who can save innocent people is a young woman with a gun voiced by Justin Roiland (the voice of Rick and Morty themselves).
Mind you, we don't mean that the gun is like Skippy, the pistol with an onboard and interactive AI from Cyberpunk 2077. In High on Life, the protagonist's partner is a member of a race of aliens that are all shaped like guns (from pistols to grenade launchers). That is the exact kind of humor we've come to expect from Rick and Morty, and the sound of Roiland basically doing his Morty voice in the game certainly makes it that much easier to think of that show. Despite that familiar voice and even more familiar Rick and Morty concepts, though, everything we've heard about High on Life so far suggests that it's likely not directly related to Ricky and Morty in any significant way.
High on Life may look like it takes place somewhere in the massive Rick and Morty-verse, but the game really appears to be its own thing. Actually, the same is true of the rest of Squanch Games' library. That studio also created Accounting+ and Trover Saves the Universe, which also share the humor, art style, and voice cast members related to the Rick and Morty series. However, that's about where those similarities end.
In the press release for High on Life, Roiland said, "I wanted to make games that I wanted to play, and that was the spark that sort of lit the fire of Squanch Games. Then we shipped Trover, we shipped Accounting+, and now we're on this absolute dream of a game that we were kind of building towards this whole time." There's no mention of any direct connection to Rick and Morty anywhere in that statement, and the game's trailer only features elements that kind of remind us of the show rather than any especially convincing pieces of evidence that strongly suggest High On Life is some kind of elaborate spin-off.
Squanch Games studio director Mike Fridley did state that "fans of Rick and Morty's interdimensional cable are going to want to pay close attention to High On Life." That could mean that the game will feature a location that we've seen before on a Rick and Morty episode, but it seems like Fridley may have also been saying that the game's varied and creative environments may just remind people of the wild style of those particular episodes.
Now, some of you are probably asking, "If Squanch Games never made anything related to Rick and Morty, who created that Rick and Morty VR title?" The answer is Owlchemy Labs: the same studio behind Job Simulator and Dyscourse. On a side note, High on Life is the first Squanch Games title that wasn't created with VR in mind.
So really, that's the long and short of it. Despite "From the creator of Rick and Morty" being plastered all over the advertising of High on Life (as well as other Squanch Games titles), the game has absolutely nothing significant to do with Rick and Morty so far as we can tell. That doesn't mean High on Life won't feature a few Easter eggs that reference the show, but if you were hoping to find out what happened to Noob-Noob after the fall of the Vindicators, you might want to look somewhere else.