News
Is Spider-Man: Miles Morales Going to Be on PS4 and PC?
Marvel's Spider-Man: Miles Morales is one of the most anticipated PS5 games of 2020, but will it be released for PS4 and PC as well?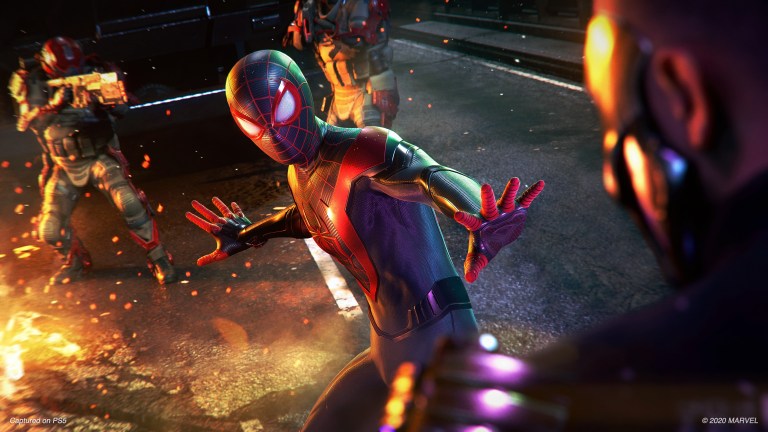 Marvel's Spider-Man: Miles Morales is being touted as an amazing follow-up to Marvel's Spider-Man as well as one of the PlayStation 5's best launch games by Sony, as we head into the next generation of console gaming. It's certainly true that a blockbuster first-party exclusive like Miles Morales could help Sony's next-gen console beat out the powerful Xbox Series X this holiday.
While Miles Morales isn't a "full" sequel to Marvel's Spider-Man but more of a next-gen expansion starring the fan-favorite Spidey in training, everything that we've seen of the game thus far suggests it feature the same brilliant open-world gameplay and developer Insomniac Games' undeniable sense of style. It will also feature a bodega cat named Spider-Man, which feels like a selling point in itself.
Regardless of how you feel about cats, Miles Morales will undoubtedly be one of the games early adopters of the PS5 will pick up at launch, but what about those PlayStation fans that won't be making the next-gen jump right away? Will Miles Morales also be released on the PS4 and PC? The answer to that question is surprisingly complicated.
Simply put, Spider-Man Miles Morales will be released on the PS4 on Nov. 12, the same day that the game launches on the PS5. But the PS4 and PS5 versions of Miles Morales are not exactly equal. The PS5 version of the game will feature enhanced graphics and other technological improvements, but its biggest prize is actually the remastered version of Marvel's Spider-Man, which is included in the Ultimate Edition of the PS5 game.
We've covered this topic in-depth elsewhere, but the short version is that there is currently no way to access the remastered version of Marvel's Spider-Man without either purchasing or upgrading to the Ultimate Edition of the PS5 version of Miles Morales. That will not affect your ability to play Spider-Man: Miles Morales on PS4, but it's worth keeping in mind if you're considering eventually upgrading the PS4 edition of the game to the PS5 version.
As for the PC version of Spider-Man: Miles Morales, the simple fact of the matter is that it currently doesn't exist and Insomniac hasn't announced any intentions to bring Miles Morales to PC. That said, it's possible that the game will hit PC eventually.
For one thing, some people have pointed out that the cover art for Miles Morales on PS4 and PS5 doesn't feature the PlayStation exclusive tag that we've seen on many PS4 games. While that's hardly proof of a future PC port, it's also true that Sony has recently released another former PlayStation console exclusives, Horizon Zero Dawn, on PC. The publisher has since indicated that it's interested in bringing more PlayStation Studios titles to PC in the future. Just recently, there was some marketing confusion on Sony's part that strongly suggested that the PS5-exclusive Demon's Souls and Final Fantasy 16 could eventually hit PC.
Whether or not Miles Morales is ever ported to PC remains to be seen, but we'll keep you updated as we learn more. For now, you can check out the PS5 and PS4 versions of the game on Nov. 12.