News
Marvel's Spider-Man Miles Morales: Spider-Cat Twitter Reactions and Memes Are Amazing
Spider-Cat has been revealed in Marvel's Spider-Man: Miles Morales for the PS5 and the internet is already losing its mind. Here are the best Spider-Cat Twitter reactions and memes so far!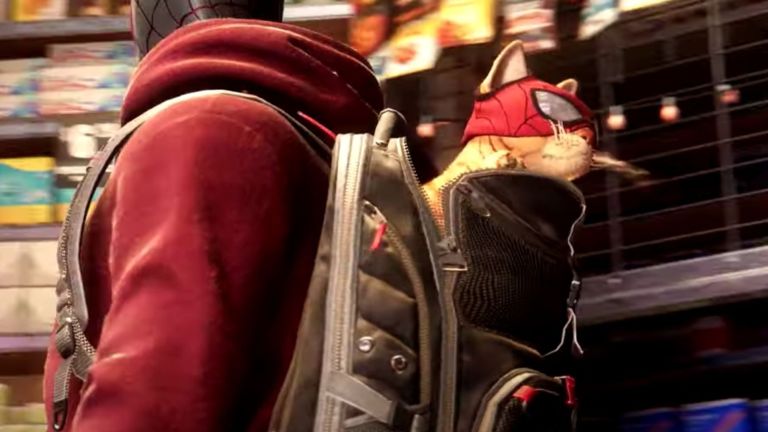 It's over, dear reader. Marvel's Spider-Man: Miles Morales just secured Game of the Year and the PlayStation 5 just won the next-gen console war with the reveal of Spider-Cat, the cute bodega cat who will help Miles fight crime in the upcoming superhero adventure. The cat's name is also Spider-Man and he rides around in Miles' backpack, ready to pounce on evildoers. No gaming news has ever mattered to this feline-obsessed writer.
If the above paragraph doesn't already make you rush to pre-order Spider-Man: Miles Morales, perhaps the gameplay video (courtesy of Game Informer) will:
I would not want to be at the wrong end of that cat's paw. If you know, you know. While we only get a very short snippet of actual combat, there's at least one combo you'll be able to activate to get your feline companion involved. Here's hoping there's a Spider-Cat solo section hidden within this game.
Unsurprisingly, there are many on the internet who agree that this is the best thing to happen to video games ever. Just look at what people on Twitter are saying:
If you're unfamiliar with the new Spider-Man game, it stars new Spidey Miles Morales, who must work to protect Harlem from bad guys, all while being caught in the middle of a war between the Roxxon Energy Corporation and the Underground, a group led by the game's main antagonist the Tinkerer. Along the way, Miles will also face with Rhino and other popular Spider-Man villains that have yet to be revealed.
While not exactly a sequel to the critically-acclaimed superhero game from 2018, it's not an expansion either. Developer Insomniac Games is pitching this adventure as more of a continuation of Miles' story, complete with a new campaign and plenty of cool costumes to unlock. In fact, this week we've learned of at least three new costumes that players will be able to sport in the game.
The first suit is called the 2020 suit, which sports a very cool jacket and a mask with headphones so that Miles can listen to some tunes while taking down bad guys. The suit is also outfitted with RGB lighting, making this one of the flashier looks you'll find in the game.
The other suit is called the Track Suit, a sort of inverted alternative to Miles' standard black and red costume. It's mostly all-white, with a big red spider symbol on the chest. The boots on this suit also look a little different than what Miles is wearing with other costumes.
Earlier this week, Insomniac Games also revealed a suit heavily inspired by Spider-Man: Into the Spider-Verse. In a very brief Instagram video, you can see as a hoodie-wearing Miles swings alongside Peter:
Marvel's Spider-Man: Miles Morales is out on PS5 and PS4 on Nov. 12.