Features
PlayStation 5 Games Confirmed So Far
From current-gen ports to next-gen exclusives, here's a look at the games coming to the PlayStation 5.
Sony looks to follow-up on the historic success of the PlayStation 4 with its next-gen console, the unsurprisingly named PlayStation 5. With the PlayStation brand stronger than ever before, many people are already predicting that Sony could be in the driver's seat heading into the next-generation of console gaming.
But it don't mean a thing if you ain't got those games. While Sony has yet to reveal its first-party PS5 games, we actually know a few intriguing third-party AAA and indie titles coming to the new console. Could these games beat out the Xbox Series X's confirmed list of titles?
Before we get to the full list of known PS5 titles, here are some of the major upcoming PS5 games that Sony has chosen to highlight thus far:
Assassin's Creed Valhalla
Unsurprisingly, Assassin's Creed Valhalla will be a cross-generation title. Ubisoft's next entry in this legendary gaming franchise promises to explore the exciting history of Vikings while building upon the RPG elements of Assassin's Creed Odyssey. You should expect this to be one of the year's biggest titles, even if you maybe shouldn't expect the PS5 and Xbox Series X versions to feature significantly improved graphics.
Astro's Playroom
Astro's Playroom is an intriguing 3D platformer which Sony says is designed to demonstrate and take advantage of the PS5's signature design elements. While it remains to be seen exactly what that means, it should be noted that this appears to take place in the same universe as the PSVR title Astro Bot Rescue Mission, but VR functionality has not been confirmed for Playroom at this time.
Chorus
While many of the finer points of Chorus remain a mystery, the fact that this game is poised to evolve the space combat shooter genre is enough to get us excited. We'll see whether Chorus can live up to the legacy of titles like the Rogue Squadron series, but everything we've seen so far from this project suggests it will be a dark, beautiful, and intense experience in its own right.
Control
Control is not just one of our favorite games in recent years. It's one of the best games in the history of developer Remedy Entertainment: the studio behind Max Payne and Alan Wake. Now confirmed to be a PlayStation 5 port, those of you that did not get to experience one of the most creative and spellbinding action-adventure games of the current generation will get a second chance to do it in the next one.
Cyberpunk 2077
Cyberpunk 2077 is still set to debut on current-gen platforms, but developer CD Projekt Red has confirmed its intentions to port the game to next-gen platforms. While we were already looking forward to the next project from the team behind The Witcher 3, Cyberpunk 2077's action-based gameplay, incredible sci-fi world, promising narrative, and celebrity star power make it one of the most ambitious and highly-anticipated games of the next generation.
Deathloop
As a kind of grindhouse take on the Groundhog's Day concept, you can bet that Deathloop is on our radar as one of the most anticipated PS5 games on the horizon. While there's still much that we don't know about this ambitious title, the teases we've seen of it and developer Arkane's incredible history suggest that it could just be something special.
Destiny 2
We probably don't need to tell you what Destiny 2 is, but we're thrilled that Bungie has confirmed that this title will make the leap to the PS5. Destiny 2 has only gotten better since launch and Bungie's commitment to bringing the game to next-gen consoles also signals its commitment to sticking with the growth of this title rather than simply jumping to Destiny 3.
Destruction AllStars
Somewhere between Twisted Metal and Rocket League sits Destruction AllStars. This competitive destruction derby game features a variety of colorful characters, cars, and combat arenas that lend this title a distinctive identity despite the relative lack of information about the project revealed thus far. We're certainly excited to learn more about what seems to be one of the PS5's early exclusives.
Dirt 5
The Dirt series has been a surprisingly solid racing franchise for quite some time now, but the reason we're especially excited for Dirt 5 on the PS5 is that Dirt games have traditionally looked incredible. Despite being a cross-generational title, this game could be an early preview of the power of next-gen technology.
Demon's Souls Remake
As a pure remake of the 2009 original, Demon's Souls is built from the ground up to take advantage of the PlayStation 5's hardware. While the game will undoubtedly look incredible, we really wonder how developer Bluepoint Games will update Demon's Souls best (and worst) concepts. In any case, expect this remake to live up to the series' infamous legacy of difficulty.
Far Cry 6
Far Cry 6 casts players into the role of a revolutionist on the fictional island of Yara. It's the player's job to help lead the battle against a violent dictator named Anton Castillo (notably played by Breaking Bad's Giancarlo Esposito).In many ways, Far Cry 6 looks like it will stick fairly close to the formula that the franchise has established in recent years. Whether or not that's a bad thing depends on your perspective, but we're curious to discover whether this series has any surprises up its sleeve.
Fortnite
It's not exactly shocking that Fortnite is coming to the PlayStation 5. It's one of the world's most popular games after all. But it's nice to know that fans won't have to keep their PS4s around just to play the game. We imagine that Epic will remain committed to Fortnite for quite some time to come, even if the game's more humble graphics means that it probably won't benefit much from next-gen technology.
Ghostwire: Tokyo
With the surprisingly excellent Evil Within series, developer Tango Gameworks established themselves as one of the most exciting names in horror gaming. They look to further that legacy with Ghostwire: Tokyo. While much of this game remains a mystery its bizarre mix of action and supernatural storytelling leaves us wondering what weird and wonderful directions this PS5 project will explore.
Godfall
Aside from holding the unique distinction of being one of the first PS5 games confirmed before the PS5 itself was really being officially talked about, Godfall happens to be one of the most intriguing PS5 games on the horizon. Described as a "looter-slasher," Godfall is poised to be a kind of action-RPG that just may stand as one of the PS5's most desirable early exclusives.
Gods and Monsters
It's been a little while since we've heard more about Gods and Monsters, but Ubisoft plans to release the game in Holiday 2020, just in time for the PS5 and Xbox Series X. That's good news considering that Gods and Monsters is positioned to be a Legend of Zelda-like adventure from a studio that's been known to make some pretty incredible grand-scale adventures of its own over the years.
Gothic
THQ Nordic confirmed its intentions to remake Gothic for the PS5 as well as other current-gen platforms. Infamous for its ambitious ideas and compelling world, the original Gothic may have been a flawed gem that flew somewhat under the radar, but that actually makes it the perfect candidate for a remake. We're interested to see much more of this project.
Gran Turismo 7
The Gran Turismo series returns as Gran Turismo 7 looks to serve as one of the PS5's most notable visual stunners. While recent Gran Turismo titles have raised questions regarding whether or not the racing simulator's best days are behind it, we fully suspect that the GT team will bring out their biggest guns in order to get this series back on track.
Grand Theft Auto 5
Rockstar's unbelievably successful fifth entry into the Grand Theft Auto franchise will carry over into the next generation of gaming consoles. With Grand Theft Auto 6 likely on the very distant horizon, we look forward to being able to play through GTA 5's incredible campaign (and endless online mode) on the PlayStation 5.
Hitman 3
The Hitman franchise has always been one of the best action/adventure experiences in gaming history, but the recent reboot of the franchise has certainly cemented its legacy as one a truly special series. That's why we're thrilled to see Hitman return in this incredible upcoming next-gen sequel. If recent installments are any indication, this could be the best Hitman yet.
Horizon Forbidden West
Rumors have been circulating for quite some time regarding the PlayStation 5 debut of the Horizon series, but nothing could have prepared us for our first look at Horizon Forbidden West. This long-awaited sequel looks to further the epic journey that started in the original game while establishing a legacy of its own as a next-gen standout.
Madden 21
We're not exactly stunned that EA intends to release Madden 21 for the PS5, and we don't expect the PS5 version of this game to look significantly different from the current-gen model. What we're really interested in seeing, though, is whether or not this edition of Madden finds a way to separate itself from recent entries.
Marvel's Spider-Man: Miles Morales
While we certainly hoped that Insomniac would eventually make that Spider-Man game starring Miles Morales that they teased at the end of Spider-Man for PS4, we didn't quite expect that project to be one of the PS5's early standouts. As long as this game retains the incredible storytelling and quick gameplay as its predecessor, you can expect it to live up to the legacy of this legendary character.
NBA 2K21
The NBA 2K series has been the definitive name in video game basketball simulations for quite a few years now. The franchise will look to continue that legacy into the next-generation with NBA 2K21. We're still waiting to get a better glimpse of this title's gameplay, but early footage suggests that it will take full advantage of next-gen power.
Outriders
Developer People Can Fly has long been one of the most exciting action studios in the world, so you can bet that we're thrilled to see Outriders as one of the titles coming to the PS5. This co-op shooter looks a bit more ambitious than previous People Can Fly titles like Bulletstorm, but as long as it maintains the studio's brand of high-octane action, we're sure this will end up being one of the most notable early PS5 games.
Project Athia
Project Athia is certainly one of the most mysterious PS5 games on the horizon. We know it's published by Square Enix who describe it as a kind of "other-worldly adventure," but the details concerning its plot and gameplay are essentially non-existent at this time. Regardless, you should expect this to be one of the PS5's early visual standouts.
Rainbow Six Quarantine
Rainbow Six Quarantine is a somewhat odd spin-off for the military-focused Rainbow Six series. This sci-fi, co-op, PvE shooter will see teams of three do battle against mysterious monsters via a combat system that looks somewhat similar to Rainbow Six Siege. This has the potential to be an incredibly fun cooperative experience, so be sure to keep an eye on it.
Rainbow Six Siege
Speaking of Rainbow Six Siege, Ubisoft has confirmed that its team-based online shooter will be coming to PS5. Considering that Rainbow Six Siege has steadily turned into one of the best competitive shooters on the market over the last few years, it'll be fascinating to see whether or not the next-generation marks a bold new era for the Siege experience.
Ratchet & Clank: Rift Apart
The Ratchet and Clank series has long been one of the most tragically unsung series in gaming history, but we suspect that Ratchet & Clank: Rift Apart may help to change all of that. Not only does Rift Apart feature some incredible interdimensional gameplay and plot ideas, but it's primed to be one of the early premiere games for Sony's new console.
Resident Evil Village
The incredible Resident Evil 7 got this legendary franchise back on the path of true horror. Resident Evil Village looks to continue that legacy with an installment that brings to mind the somewhat intimate isolation of horror films like Midsommar. What we've seen of Resident Evil Village thus far suggests that it could end up being the scariest Resident Evil yet.
Returnal
In Returnal, you play an astronaut exploring an alien planet. As we see in the trailer, your character appears to die at some point. However, it appears that you will be revived after each death with the twist being that you'll wake up on a different planet each time. We'd love to know more about this project, but we're certainly fascinated by the potential of that premise.
Sackboy A Big Adventure
Hilarious name aside, Sackboy A Big Adventure may just prove to be the kind of cutesy 3D platformer that the PS5 could use early on. This spin-off of the Little Big Planet series reminds us of games like the recent Yoshi titles in the best way possible. Its bright, colorful, and loaded with what appears to be incredible early examples of exceptional level design.
Scarlet Nexus
Initially revealed as an Xbox Series X title, Bandai Namco has confirmed that Scarlet Nexus will also come to the PS5. This fast-paced action title sports an anime aesthetic that is not only visually striking in its own right but could really shine on the PS5. If you want to see what kind of gameplay speed next-gen consoles are capable of, this could be one of your best early bets.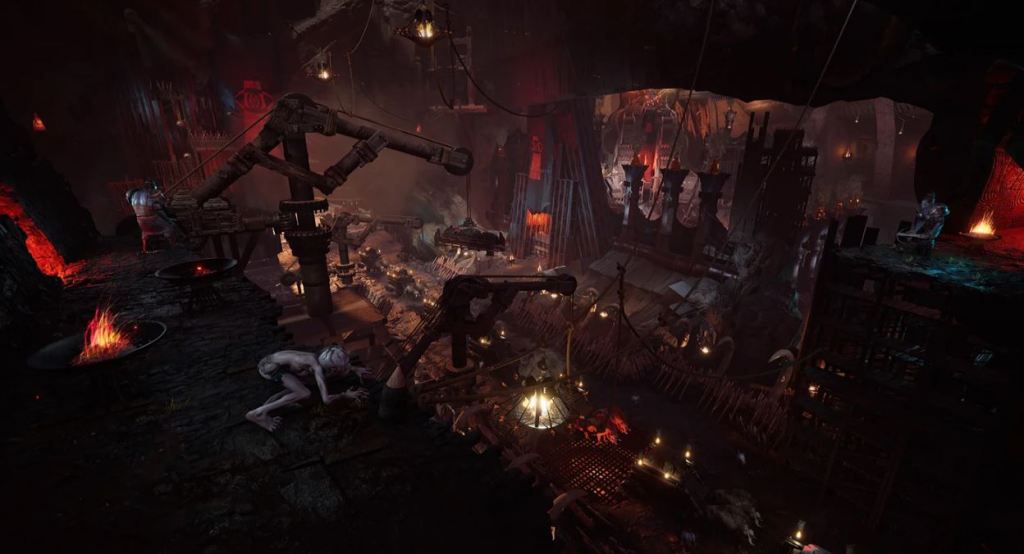 The Lord of the Rings: Gollum
A stealth-based Lord of the Rings game starring the twisted and diabolical Gollum? Yes, please. Rumors of this project have been floating around for quite some time now, and early screenshots and footage of the game suggest that this is shaping up to be one of the most promising video game titles set in the Lord of the Rings universe since Shadow of Mordor.
Vampire: The Masquerade – Bloodlines 2
We were excited to learn that the cult classic PC RPG Vampire: The Masquerade would finally get a sequel, and we're thrilled to hear that Bloodlines 2 will be making the leap to the PS5. Along with being one of the most promising RPGs on the horizon from a gameplay perspective, Bloodlines 2 has the potential to be one of the best looking early next-gen projects.
Warframe
Warframe started as a relatively simple free-to-play Destiny-like action title. It wasn't much, but it was free and it was fun. In recent years, though, Warframe has grown into one of the best-supported, most fascinating, and most ambitious free-to-play games in the world. It will be fascinating to see how this game continues to evolve over the course of the next generation.
Watch Dogs: Legion
Everything we've seen of Watch Dogs: Legion thus far suggests that it will be the most ambitious Watch Dogs title yet. This title promises the ability to take control of nearly every NPC in its open-world and enjoy the unique stories, personalities, and adventures they have to offer. A game of that scope sounds perfect for the PS5 and its promising SSD technology.
WRC 9
If the Dirt series doesn't quite do it for you and you can't wait until the next Gran Turismo game, then WRC 9 may just be the next-gen racer you're looking for. This rally racing game promises to use the PS5's incredible power to offer a fast-paced and stunning next-gen racing experience.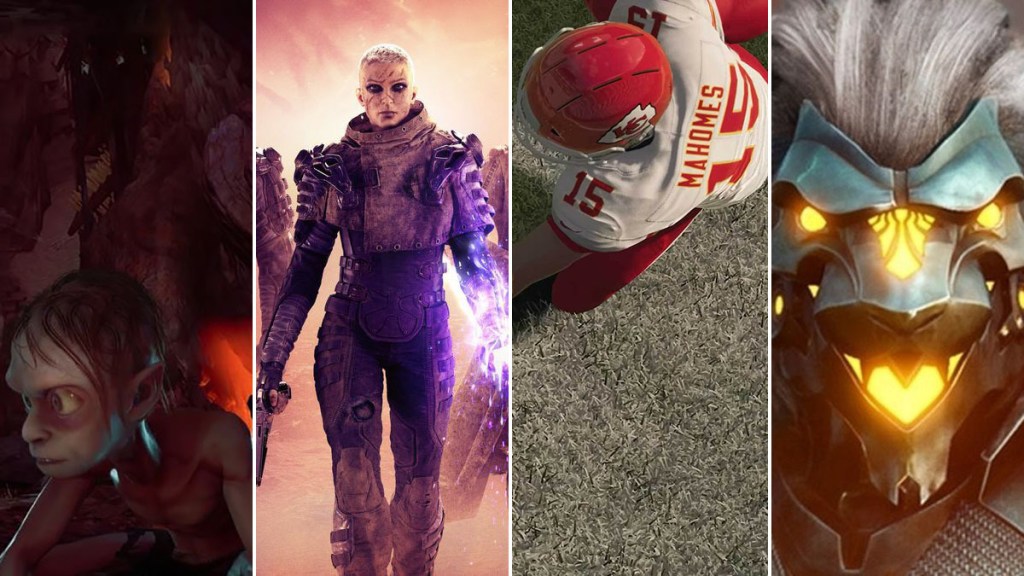 All PS5 Games Confirmed So Far
Finally, here's a complete list of the confirmed PS5 titles so far. Not all of these games have available release dates, but each has been referred to as a game that will appear on the PS5 at some point.

Assassin's Creed Valhalla
Astro's Playroom
Battlefield 6
Bugsnax
Chivalry 2
Chorus
Control
Cris Tales
Cygni: All Guns Blazing
Death Loop
Demon's Souls
Destiny 2
Destruction AllStars
DiRT 5
Dying Light 2
Far Cry 6
FIFA 21
Fortnite
Ghostwire Tokyo
Godfall
Gods and Monsters
Goodbye Volcano High
Gothic Remake
Gran Turismo 7
GTA 5
Heavenly Bodies
Hitman III
Horizon Forbidden West
Hyper Scape
In Sound Mind
Jett: The Far Shore
Kena: Bridge of Spirits
Little Devil Inside
Madden NFL 21
Marvel's Avengers
Maquette
MicroMan
Metal Hellsinger
Moonray
NBA 2K21
Nth^0 Infinity Reborn
Observer (System Redux)
Oddworld Soulstorm
Outriders
Pragmata
Project Athia
Psyhotel
Quantum Error
Rainbow Six Quarantine
Rainbow Six Siege
Ratchet and Clank: Rift Apart
Redo! Enhanced Edition
Resident Evil Village
Returnal
Sackboy: A Big Adventure
Scarlet Nexus
Solar Ash
Soulborn
Spider-Man: Miles Morales
Stray
The Lord of the Rings: Gollum
The Pathless
Tribes of Midgard
Ultimate Fishing Simulator 2
Vampire: The Masquerade – Bloodlines 2
Vampire: The Masquerade – Swansong
Warframe
Watch Dogs: Legion
Werewolf: The Apocalypse – Earthblood
Worms Rumble
WRC 9