News
Spider-Man: Miles Morales Suit Has Us Dreaming of An Into the Spider-Verse Game
Spider-Man: Miles Morales features an Into the Spider-Verse suit that will leave you wondering what Insomniac's next game should be.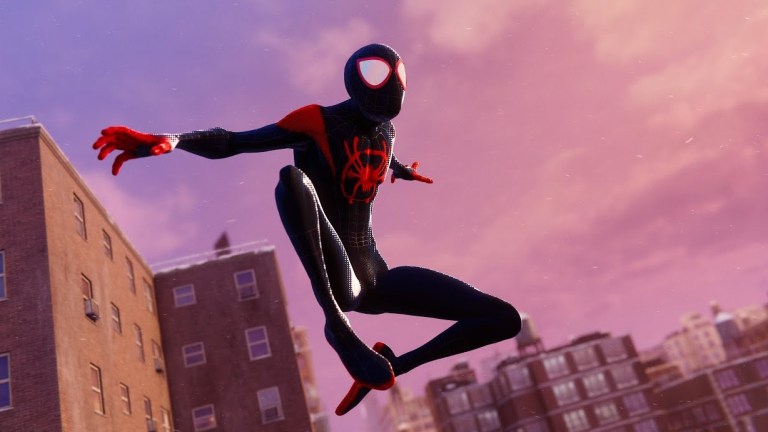 When we told you about a suit that will let Miles Morales team up with his new best friend Spider-Man (the bodega cat), we were confident we'd reported on the best unlockable suit that you'd find in Spider-Man: Miles Morales.
That is until Insomniac released this stunning gameplay preview of a Miles Morales suit based on the Into the Spider-Verse movie:
That Spider-Verse suit (which is available early to those who pre-order the game but will be unlockable for all players) is truly a work of art. Somehow, Insomniac managed to completely change Miles Morales's animations whenever he has the suit on without significantly altering the build of the world around him. They've basically slowed down the frame rate of his movements which results in that pseudo-slideshow effect that we saw expertly utilized in the Spider-Verse movie. Insomniac even threw in a few "Bang" and "Pow" word bubble effects that accompany Morales' attacks just in case they hadn't fulfilled their style quota.
For being what essentially amounts to an Easter egg, this Into the Spider-Verse suit is a legitimately impressive feat of engineering that reminds of the vintage comic suit featured in the PS4 Spider-Man game but is somehow even more impressive than that stunning work of video game artistry.
In fact, this suit is impressive enough to leave us wondering if Insomniac's next game should be an Into the Spider-Verse adaptation.
Now, we know that there are thousands of fans out there who want to see Insomniac develop a direct sequel to Marvel's Spider-Man and give us the next chapter in Peter Parker's (or at least the…new Peter Parker) story. We also know that not every great movie has to be turned into a game and that there was a stretch of about three decades where the idea that they had to be led to some truly awful adaptions.
Yet, it's difficult not to dream of the potential of this concept. In fact, it's really more than potential. Some of the best Spider-Man games ever have utilized a more comic/animation-based style that seems to have tragically been forgotten in the era of visual realism.
You may recall that we previously gushed over Neversoft's brilliant Spider-Man game for PlayStation. I went so far as to call it the most underrated superhero game ever made, and a big part of the reason for its status as such is the fact that its development team expressed their genuine love of the character through a comic book style that was tragically left aside by many other studios as more cinematic superhero games became increasingly popular.
Well, it should also be noted that two of the more underappreciated Spider-Man games (2005's Ultimate Spider-Man and 2010's Spider-Man: Shattered Dimensions) also utilized stylistic comic book animations that made them stand apart from nearly everything else out there. In fact, the latter game was the inspiration for the Spider-Verse series which would serve as the basis for the Into the Spider-Verse film.
There's a proud legacy of comic-book like Spider-Man games that has been somewhat overshadowed by the infamous Spider-Man 2 and other superhero titles like Batman: Arkham Asylum. While Insomniac has done a brilliant job with their Spider-Man projects thus far (and Miles Morales looks to continue that trend), there's a comic-book energy and style to their games that feels like it's just waiting to be unleashed.
More importantly, there are those feelings of joy, genuineness, and heart that elevated Into the Spider-Verse well above its already fascinating concept that are also present in Insomniac's best games. The direct Insomniac/Into the Spider-Verse connection may not go further than some footage of a suit at the moment, but when you break it down, you start to see why Insomniac really is the studio that's best equipped to give the world the Into the Spider-Verse game they may not even have known they needed.
So while we're all excited for Marvel's Spider-Man 2, maybe Into the Spider-Verse is the most exciting Spider-Man project that Insomniac could turn to next.