Features
Yellowstone Season 5: What to Expect
The upcoming Yellowstone Season 5 promises to be a much more streamlined and change-filled offering compared to previous years.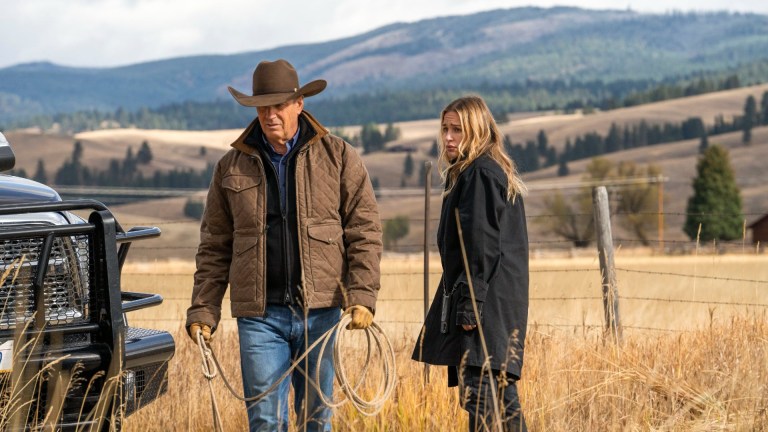 One of the issues surrounding Season 4 of the Paramount Network juggernaut Yellowstone was how often it would switch storylines and lose focus. While showrunner Taylor Sheridan may look comfortable in a cowboy hat, creatively, he may have worn too many hats this past year, working on at least three shows concurrently. Season 4 not only spent time setting up proposed spin-off 6666, but often gave flashbacks of the Dutton clan in 1883, basically using Season 4 as advertising for all his other shows (other than Paramount+'s unrelated Mayor of Kingstown). Yet, there might be hope for Yellowstone Season 5.
With the premiere seasons of 1883 and Kingstown essentially finished and under Sheridan's large-buckled belt, it seems like he can once again focus solely on the visceral story beats to which Yellowstone fans became accustomed. So once Season 5 hits, what can we expect? While there weren't any massive cliff-hangers similar to the end of Season 3, there are many hints about what might happen to the Duttons.
John
The Patriarch of the Dutton ranch, John (Kevin Costner) had a fairly tame season considering the previous promised 'all-out war' to discover who was sent to wipe out his family. John predominantly focused on his recovery and a slower life for a while. His relationship with the activist Summer (Piper Perabo) was the most interesting development he had, as it was an unexpected romance, and caused a major rift between him and his daughter, Beth (Kelly Reilly). However, with the rift closing as quickly as it opened, John became concerned with ensuring Summer didn't do any major jail time after she protested the airport Schwartz & Meyer proposes building on Dutton land.
John clashed with two relatively new players in Commander Bill Ramsey (Rob Kirkland) and Judge Mitchell Davis (Pat Skipper) who seem less eager to play ball with John than he's accustomed. Ramsey took the place of the fallen Sheriff Haskell (Hugh Dillon) who was a long-time ally of the Duttons. Does this change in cast mean that John is going to have to find a way to work with these new 'by the book' law men? Perhaps to some degree. One prediction is if John no longer has the law on his side, it will force his hand to reluctantly run for governor. So far, he's been hesitant to the idea ever since Lynelle Perry (Wendy Moniz) threw it out there.
Jamie
John's gubernatorial aspirations depend on one major thing – how will Jamie (Wes Bentley) play with the rest of his family now that he is back in their pocket?
Beth, (as always) did exactly what she set out to do; she promised she would destroy anything that tried to destroy the Duttons. That included blackmailing Jamie to kill his own biological father (Will Patton), who ordered the hit on the Duttons at the conclusion of last season. With Beth holding all the cards on Jamie, it means that the adopted son of the Duttons will likely be controlled by Beth and John in the future. This could, however, bring Jamie back into John's good graces, as John late in Season 4 even professed how much he loves Jamie despite being a massive disappointment to John. This could mean that Jamie is the replacement for governor that John finally needs him to be, and someone who will do whatever the family needs.
This probable scenario will likely cause another drift between Jamie and Christina (Katherine Cunningham) who only just returned this past season with Jamie's infant son. We have seen Jamie lose a lot throughout the show, so signs point to him possibly losing everything at some point and becoming truly desperate in the last couple of seasons. With Jamie on the outskirts of the Duttons, both literally and narratively this past season, all signs point to him playing a much larger role in what happens to the family in Season 5.
Beth & Rip
Something large that looms over Beth is what she's going to do next. She was fired from her 'inside' position at Schwartz & Meyer. We never got to see her really take them down, as promised. Yet, with her fired, and Caroline Weaver (Jacki Weaver) coming for her, we may finally see Beth meet her match. If Sheridan wanted to really surprise viewers, that could even mean jail time for Beth. John could possibly make a deal behind Beth's back with Caroline, Mitch, or the other players to keep Summer out of jail. If that happened, Rip would go off on what could be his most explosive rage-fits yet. We've never seen a major rift between John and Rip before, and that could take the story and the characters in unexpected directions.
The flip side is the newlyweds Beth and Rip actually start living a quieter life as Beth kept mentioning in the finale. She told Jamie she was prepared to 'leave this world' but also kept mentioning how she was ready to settle down and be a better person. We saw a hint of it with an emotional exchange with their surrogate son, Carter. Beth quickly fell into a trap when Carter called her 'Momma' and she didn't flinch, only to compose herself and return to the ice-queen audiences have come to adore. Knowing how Sheridan heightens the drama in his shows, this life of domestic bliss seems unlikely, but there is one other storyline that might be a major hint that Beth & Rip will be the less aggressive 'heart' of the show in Season 5.
Kayce
After an explosive start to the season, Kayce and Monica (Kelsey Asbille) moved off the ranch and the couple seemed to also take a backseat in the show. Monica even announced her pregnancy with their second child, and life certainly slowed down. The only wrench thrown into Kayve's life was in the return of Avery (Tanaya Beatty) who hadn't been seen since midway through Season 2.
Avery very quickly started making eyes for Kayce, who didn't exactly look away, so Kayce's journey was a subdued soul-searching pilgrimage. While he was largely a side story for most of Season 4, he set up one of the biggest cliff-hangers (if you want to call it that this season). When Monica (Kelsey Asbille) asked him what he saw in his 'vision quest' in the last episode, his simple response of "The end of us" was the most foreboding aspect to come out of season 4. Did this simply mean that many fans who see Monica as a hindrance will get their wish? Will he and Monica will divorce? Before you jump to conclusions thinking Avery and Kayce are a sure thing, remember that Monica and Kayce have already experienced their share of marital troubles. While it might be par for their marriage, Kayce leaving Monica would simply be returning to that storytelling well, which doesn't seem to be Sheridan's style.
Sheridan has never shied away from dark moments, so it may be that Monica instead dies in childbirth, giving a major plot point for Kayce to work with. Regardless, if that marriage were to fall, that could be why Beth and Rip step up and fill the hole of marital bliss we rarely see work out in the show.
Despite a slower season this year, hopefully Sheridan's focus will return to the show that has made him the bedrock of Paramount television. Knowing that Sheridan has said that he 'sees an end in sight' for the show, but also knowing at least two other seasons have been ordered (while still not officially announced) it's easy to imagine how much of a fight we have yet to see from the Duttons and Yellowstone ranch.