News
1883: How to Watch the Yellowstone Prequel
Don't know the difference between Paramount Network and Paramount+? Here is where you can find Yellowstone prequel 1883.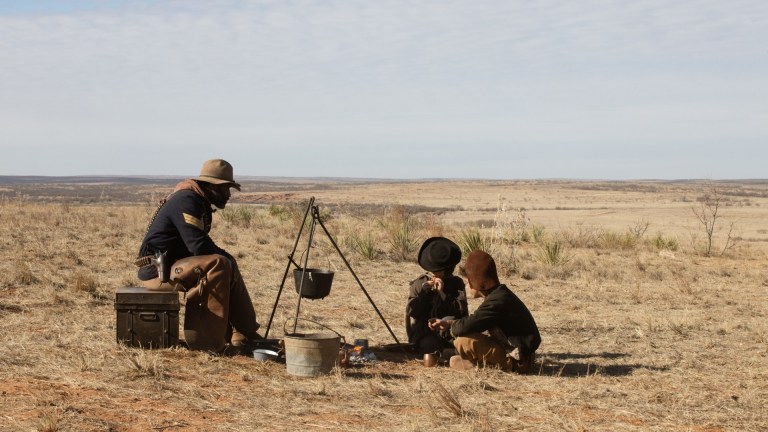 Make fun of the concept of a "how to watch" article if you must, but we're long past the days of "just flip on the TV and fire up the TV Guide channel, dummy!"
Take the beguiling case of the 1883, the Western throwback prequel to Paramount Network's megahit Yellowstone. Given that Yellowstone is one of the most-watched shows on television, one might assume that 1883 would be given a complementary time slot to its older sibling on the same network.
Well not so fast, my friend! Paramount Network is owned by ViacomCBS and ViacomCBS has a freshly-branded streaming service it needs to drive viewers to. And what better show to entice Paramount+ subscriptions than the companion piece to Yellowstone? Here is everything you need to know about how to watch 1883, including when it airs, how long it will run, and how to access Paramount+.
1883: How to Watch Yellowstone Prequel
Both Yellowstone and 1883 are available to stream on ViacomCBS streaming service Paramount+ (formerly called CBS All Access). The difference between the two, however, is that Yellowstone episodes first air on basic cable on Paramount Network while new episodes of 1883 arrive directly on Paramount+.
To get a Paramount+ subscription, visit paramountplus.com. The homepage will have two boldly labeled links to get you started on a subscription plan. Upon clicking one of them, you'll be prompted to select which plan you want: Essential or Premium. Essential costs $4.99 a month and Premium costs $9.99 a month. Both options will get you access to all available seasons of Yellowstone and 1883, but only Premium comes commercial-free and with the opportunity to download episodes to watch later.
Paramount+ can be accessed from a web browser or from a smartphone or tablet via the Paramount+ app.
1883: Yellowstone Prequel Release Date
Now that you've got your Paramount+ subscription, how do you begin watching your favorite Yellowstone content? Well, that one is pretty easy. Just navigate to the home page, click on "Shows" at the top bar and find 1883 among the options. Alternatively you could just use the site or app's search function to look up "1883." On the day that 1883 releases a new episode, it will usually occupy the top banner image of the site, meaning you can just click directly on that.
When do new episodes of 1883 arrive though? Like many other prestigious and expensive TV offerings, 1883 premieres new episodes on Sundays. Subscribers don't have to wait for Sunday evenings, however, as new episodes are available at 3:01 a.m. ET, keeping a tradition from the CBS All Access original days going.
1883 premiered on Dec. 19, 2021. The series has taken two weeks off throughout its run, so episode 6 "Boring the Devil" is set to arrive on Jan. 30.
1883: How Many Episodes
1883 has been ordered for 10 total episodes. The 10th and final episode is set to premiere Feb. 20 on Paramount+. There has been no word yet on the potential for 1883 season 2. Paramount loves working with Yellowstone creator Taylor Sheridan and has him signed to a big contract, so if he wants another season of 1883 he's likely to get one. It's possible, however, that the show is designed to be a one-season affair.
Should 1883 go only one season, there are still some other Yellowstone spinoffs in the works to look forward to. One title already announced is 6666, which will be set in the modern day.
If you want to learn more about 1883, you can read up on the cast and characters over here.