News
Yellowstone Prequel Y: 1883 in the Works at Paramount+
Y: 1883 will follow Yellowstone's Dutton family during pioneer times. And Paramount+ has already unveiled a teaser.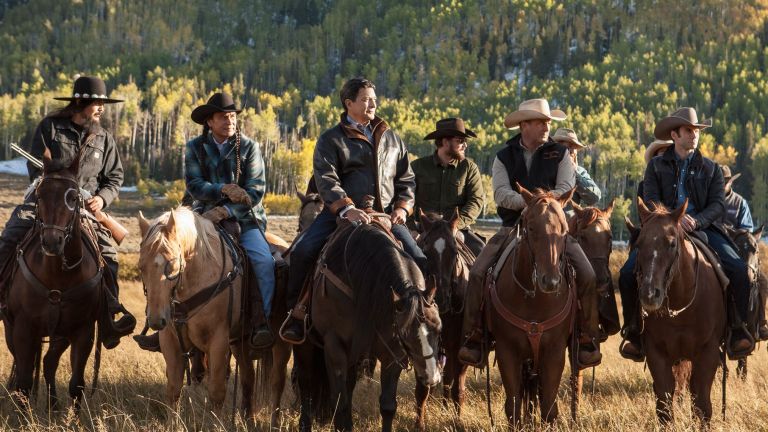 Yellowstone Caldera, the enormous crater in the center of Yellowstone National Park, was formed by a cataclysmic volcanic eruption 640,000 years ago. Suffice it to say, Yellowstone has a lot of history. For its next TV effort, ViacomCBS streaming service Paramount+ is going to capture a small slice of it…roughly 639,900 years after that eruption.
Paramount+ has ordered a Yellowstone prequel series from creator Taylor Sheridan called Y: 1883. As the date in the title suggests, the show will follow the Dutton family during the pioneer era as "they embark on a journey west through the Great Plains toward the last bastion of untamed America."
The show will be executive produced by Sheridan, John Linson, Art Linson, David Glasser, David Hutkin, and Bob Yari.
"I am excited to continue the story of Yellowstone and thank you to Chris, Keith and David for allowing me to keep on expanding the family for the fans," Sheridan said in a statement.
As part of the announcement, ViacomCBS unveiled a brief TV spot for Y: 1883 that is set to air during Super Bowl LV. Give it a look below.
Since the Super Bowl is airing on CBS, its parent network didn't have to pony up any money for that spot but it was considerate of them to make it just 10 seconds long all the same. It seems all they have at this point anyway is a name and a release year, which is really all you need. It would appear that Y: 1883 is set to arrive some time in 2021.
Yellowstone is the rare ViacomCBS property that actually already resides on the Paramount Network, so the move to streaming service Paramount+ shouldn't be too much of a branding jump. Sheridan's series is one of television's most impressive success stories in recent years. Despite premiering on a relatively obscure cable network, Yellowstone rode the strength of its premise and the star power of Kevin Costner to become one of TV's most watched scripted series.
Per ViacomCBS, the third season of Yellowstone was the most watched season premiere on cable in two years drawing record-breaking numbers of 6.5M total viewers in live +3. 
The success of the show was enough to not only greenlight this prequel but to also lead ViacomCBs to sign an overall deal with Sheridan. Y: 1883 is just the first fruit born of this partnership, and other TV projects should be soon to follow.
Yellowstone season 4 has been confirmed and is awaiting a release date for Paramount+.