Features
The Best Political TV Shows
From the White House to Parliament and beyond, here are the best TV shows that deal with the halls of power in politics.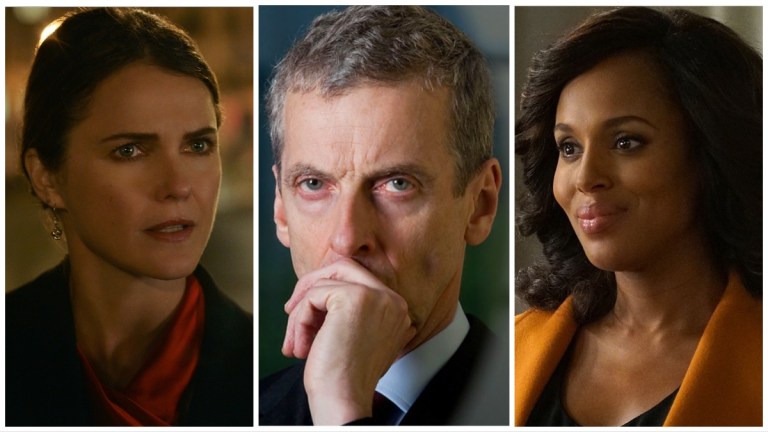 Politics shouldn't be the least bit entertaining. In a perfect democratic political system, very serious people dress up in formal wear, gather in Greco-Roman style buildings, and sincerely debate the issues of the day, coming to a perfect compromise with well-reasoned legislations. It's all very dry. Unfortunately for our society, that's obviously not the world we live in. Fortunately for our televised bemusement, however, it is.
No medium is better suited to take advantage of political dysfunction than television. Episodic dramas play with the exquisite tension produced by flawed institutions while comedies just have a blast laughing at the circus. Even the most idealistic political TV series like The West Wing implicitly understand that there's something pulpy and fun about a group of seemingly well-educated professionals trying to confront the impossible contradictions of running a free society.
What follows is a list of our favorite political TV shows ever – whether the action is set in the U.S. Capitol, 10 Downing Street, or even the National Assembly in Seoul, South Korea.
Chief of Staff
Available on: Netflix (U.S. and U.K.)
As Korean dramas continue to build a sturdy presence in the world of Western television, it's only natural that a Korean political series will eventually break through. It's probably not fair to call 2019's Chief of Staff a breakout Korean hit just yet. Or at least it doesn't yet have the crossover appeal of a Squid Game or The World of the Married, but hey – what does?
Still, Chief of Staff is a worthwhile and pulpy insight into the machinations of another democracy across the world. Chief of Staff follows the lives of South Korean lawmakers and their aides as they try to advance their careers and political ideals. Squid Game's Lee Jung-jae stars as Jang Tae-joon, a National Assembly lawmaker's assistant and a ruthless political operator. – Alec Bojalad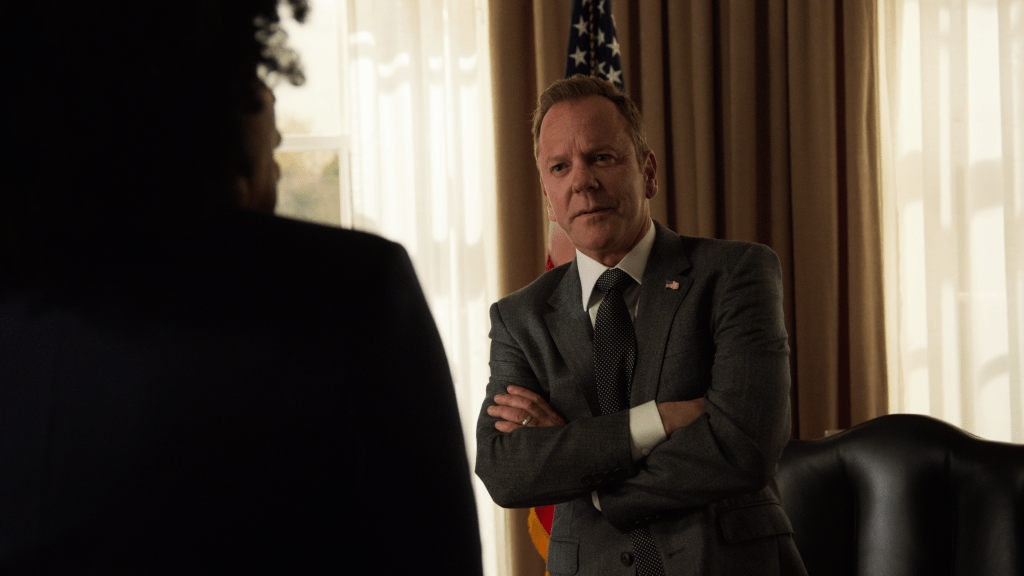 Designated Survivor
Available on: Netflix (U.S. and U.K.)
Designated Survivor borrows its premise from one of the American political system's most gnarly real life contingencies. You see, every year the President of the United States accepts Congress's constitutionally-mandated invitation to deliver a "State of the Union" address in the hallowed chamber of the U.S Capitol Building. Naturally, the entirety of the executive and legislative branches gathering in the same place at the same time seems like a national security nightmare. So to address succession concerns, the president appoints a "designated survivor" who will watch the event from an undisclosed location and safeguard the continuity of the office of the president in case the unthinkable happens.
Well, in the case of ABC's Designated Survivor, that unthinkable does happen. When an explosion destroys the U.S. Capitol Building on the night of the State of the Union, U.S. Secretary of Housing and Urban Development Thomas Kirkman (Kiefer Sutherland) is suddenly elevated to the role of president. While Designated Survivor at times has a hard time living up to that bombastic opening, its exploration of the political world through the eyes of a relative novice made for a couple of compelling seasons on ABC and one more on Netflix. – AB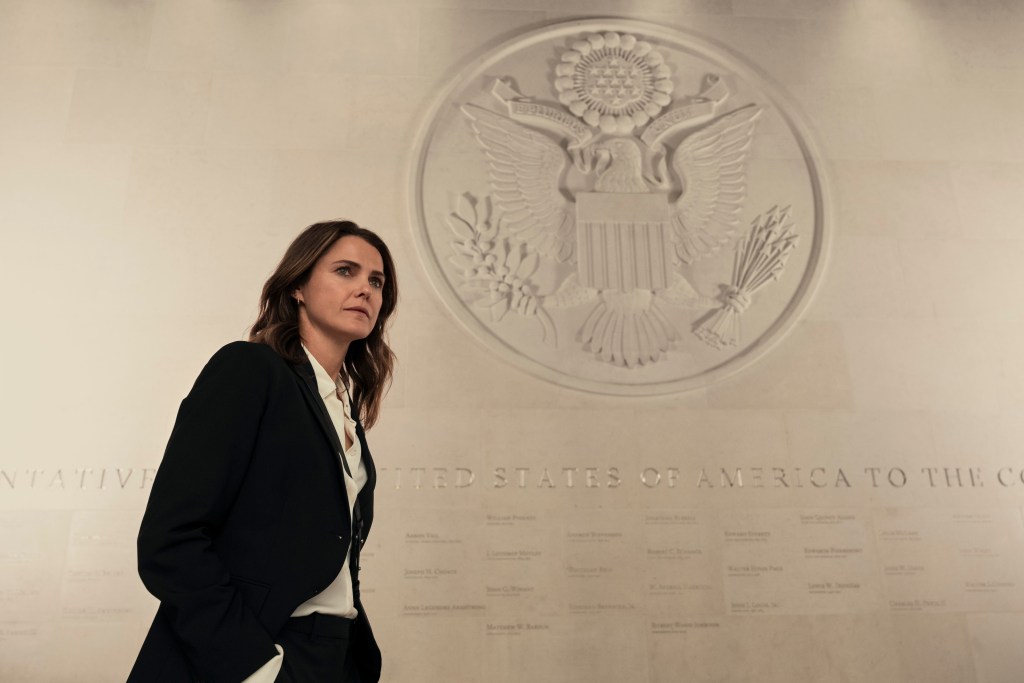 The Diplomat
Available on: Netflix (U.S. and U.K.)
While most U.S. political dramas cover the American political landscape from, well … America, some are more inclined to tackle things from an international perspective. Netflix's 2023 political thriller The Diplomat is one such series. Keri Russell stars as Kate Wyler, the newly-appointed American ambassador to the U.K. and a woman who will be quickly confronted by all manner of diplomatic crises to contend with.
Like The Americans before it, The Diplomat realizes that the key to dramatic success on television is to pay Keri Russell to engage with both political intrigue and a tortured romance with a handsome, dark-eyed gentleman from the British Isles (Rufus Sewell). – AB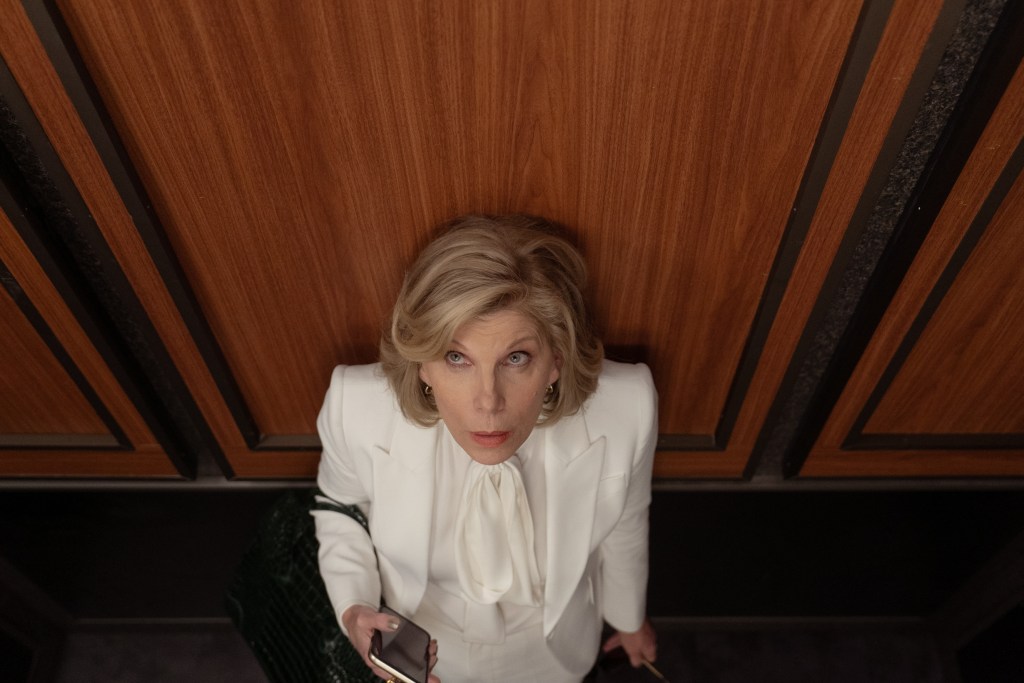 The Good Wife and The Good Fight
Available on: Paramount+ (U.S. and U.K.)
CBS drama The Good Wife and its Paramount+ spinoff The Good Fight are prime examples of how important evolution and improvisation are when it comes to television. Back in 2009 The Good Wife began its run with a compelling, if limited concept. Alicia Florrick (Julianna Margulies) is a junior litigator and the titular good wife to Cook County State's Attorney Peter Florrick (Chris Noth). Inspired by high profile cases of infidelity in the political world, the early episodes of The Good Wife follow Alicia dealing with the fallout of her husband's sex scandal. Eventually, however, the show grew past that one headline into a mature and thrilling combination of legal and political drama all its own.
The Good Fight, starring Christine Baranski as Diane Lockhart, has continued The Good Wife's storytelling journey for six seasons now. And in the process, the show's writing staff led by creators Robert and Michelle King have continued to predict just how deranged the American political landscape has become over and over again. – AB
House of Cards (UK)
Available on: BritBox (US), BBC iPlayer (UK)
The only TV show on this list created by a legit Baron (ranks higher than a life peerage but lower than a viscount, nobility fact-fans), House of Cards is still regarded as one of the finest TV dramas of all time. It's so respected that when Netflix wanted to come out of the gate with an early 'original' in 2013, they remade it for the US.
Based on the novels of former Conservative MP Michael Dobbs, this 1990 series was adapted by Andrew Davies – the writer who put Colin Firth in a lake for the BBC's 1995 Pride and Prejudice. It's the story of Tory Chief Whip Francis Urquhart, played by Ian Richardson, who plots to bring about a coup, unseat the current British prime minister, and take his place. Clever, gripping and highly entertaining, its vision of Westminster as a place of conscienceless, self-serving schemers who'd sell their grandmothers for a rung up the ladder is one that's hard to shift. All fiction, though, obviously. – Louisa Mellor
House of Cards (U.S.)
Available on: Netflix (U.S. and U.K.)
If you don't feel like revisiting House of Cards any time soon, that's perfectly understandable. Its star Kevin Spacey stands accused of some deeply upsetting sexual misconduct allegations making the first five seasons of the series he starred in (he was removed before the sixth and final season) both a tough watch and maybe a morally questionable one. Still, in recounting the history of political storytelling on television, House of Cards is impossible to leave out.
This adaptation of a British series of the same name wasn't Netflix's very first original TV series (that trivia answer goes to Lilyhammer) but it was the first one the streamer put its whole marketing weight behind. House of Cards was to be a proof of concept that the binge model of streaming could work and boy did it. Spacey stars as Democratic Congressman and House Majority whip Frank Underwood. Through five seasons the show follows the increasingly twisted lengths he will go to to achieve and maintain power. At its best House of Cards was thrilling stuff – but hopefully not too realistic. – AB
Impeachment: American Crime Story
Available on: Hulu (U.S.), Disney+ (U.K.)
TV auteur Ryan Murphy's American Crime Story anthology is kind of all over the place. Its first season The People v. O.J. Simpson is one of the best televised historical dramas of the century. Its followup, The Assassination of Gianna Versace is … fine. Somewhere in the middle of those two poles (though admittedly closer to Versace) is third and likely final effort Impeachment.
As its name suggests, Impeachment covers the Clinton-Lewisnky scandal of President Bill Clinton's first term and his subsequent impeachment trial (in which he was not convicted and therefore still able to maintain the office of the presidency). The casting is a little goofier than you'd expect – Clive Owen as Bill Clinton? Sarah Paulson as Linda Tripp? Edie Falco as Hillary Clinton? Ok, that last one is actually pretty cool – but the show's 10 episodes do a solid job of keeping exploited White House intern Monica Lewinsky (Beanie Feldstein) at the center of the story. – AB
Jack & Bobby
Available on: Lost to the sands of time. 😭
Here's a fairly obscure choice that you'll have a hard time finding online. But the hunt will be worth it if you do. Jack & Bobby is a little one-season CW (then called The WB) series that seemingly only I remember. While the names "Jack" and "Bobby" should be familiar for any observers of American politics, Jack & Bobby doesn't tell the story of John "Jack" F. Kennedy and his brother Robert "Bobby" but rather two modern age boys named Jack and Bobby McCallister … who will go on to have Kennedy-like political careers.
Most of Jack & Bobby takes place in the present day and is interspersed with interviews from the future in which scholarly talking heads chat about how the McCallisters' childhood informed one of their presidential reigns (like the Kennedys, only one of the McCallisters ascended to the highest office.). It's a weird premise to be sure ,but a fun one. The show also features a young Logan Lerman and future Mad Men actors John Slattery and Jessica Paré. – AB
John Adams
Available on: Max (U.S.), Sky and Now (U.K.)
While considered more of a historical drama than a political one, HBO's landmark miniseries John Adams covers both the life of the infamous founding father and the challenging political realities of his young country. Split into seven parts that cover its subject's life, John Adams is one of the more definitive explorations of the American revolutionary era ever captured on television. It also features a titanic Paul Giamatti performance to boot. In hindsight, HBO probably wishes it made this into a hip hop musical as well but it still works even without Rufus Sewell's Alexander Hamilton bursting into song. – AB
Parks and Recreation
Available on: Peacock (U.S.), Freevee (U.K.)
A common phrase among American election enthusiasts is that "all politics is local." While the presidential candidates debate over big, abstract policy, all John Doe in Springfield really cares about is making sure the potholes on Main Street get filled. No TV enterprise has ever depicted the highs and lows of local politics better than NBC's Parks and Recreation.
While the show begins as a simple Office-style mockumentary about local bureaucrat Leslie Knope (Amy Poehler) it quickly blossoms into a celebration of messy small town American democracy. Ever the optimist, Leslie somehow never loses her desire to serve, even as the townsfolk of Pawnee harass her over the most minute and bizarre issues. Parks and Rec is both a seven-season comfort watch and one of the more politically astute TV series ever. – AB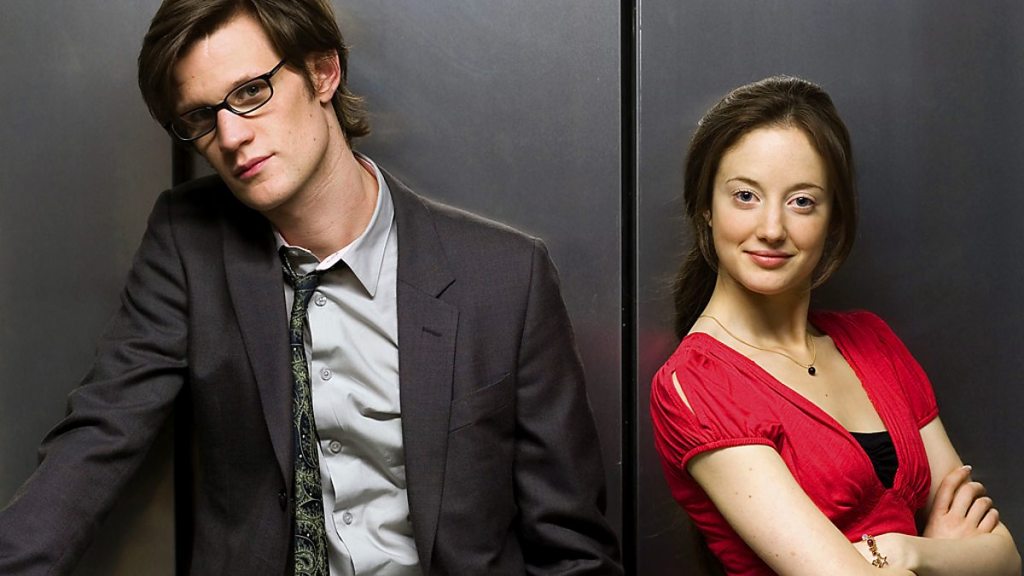 Party Animals
Available on: DVD-only in the US and UK
Hands up who wants to see a baby* Matt Smith in his first major TV role? Before Smith picked up a Sonic Screwdriver, or donned a blonde wig to ride a dragon, he played Danny in BBC Two political comedy-drama Party Animals. The idea was to look at politics through the prism of the young, energetic This Life-style crowd who occupied the lowlier positions in Whitehall. Junior aides, researchers, assistants…
It was a good idea, all-in-all, even though the show only lasted for one eight-episode series. The writing by No Angels and Spooks' Ben Richards with Robert Jones, was sharp, the characters were engaging, and the cast was strong. Smith was joined by Andrea Riseborough, Andrew Buchan, Patrick Baladi, Shelley Conn and more.
*25. He's about 25 in Party Animals. – LM
The Politician's Wife
Available on: DVD-only in the US, Channel 4.com (UK)
This three-parter was a sensation in 1995, when it won Best Drama at the Baftas and Best International Drama at the Emmys. It's a delicious revenge story about the UK Minister for Families, an MP whose adulterous relationship with an escort-turned-Westminster-researcher is exposed in the press. To begin with, his wife stands by him, until she learns more about the man to whom she's married and begins to make her own political moves… It's as much a relationship drama as it is about the political world, and meshes both together to great effect.
You could lay this drama's excellent reputation at the feet of the cast, led by Truly Madly Deeply's Juliet Stevenson, Waking the Dead's Trevor Eve, Game of Thrones' Anton Lesser and Good Will Hunting's Minnie Driver, but credit has to go to screenwriter Paula Milne and director Graham Theakston. Milne revisited the theme almost a decade later with 2013's The Politician's Husband for BBC Two, starring David Tennant and Emily Watson – LM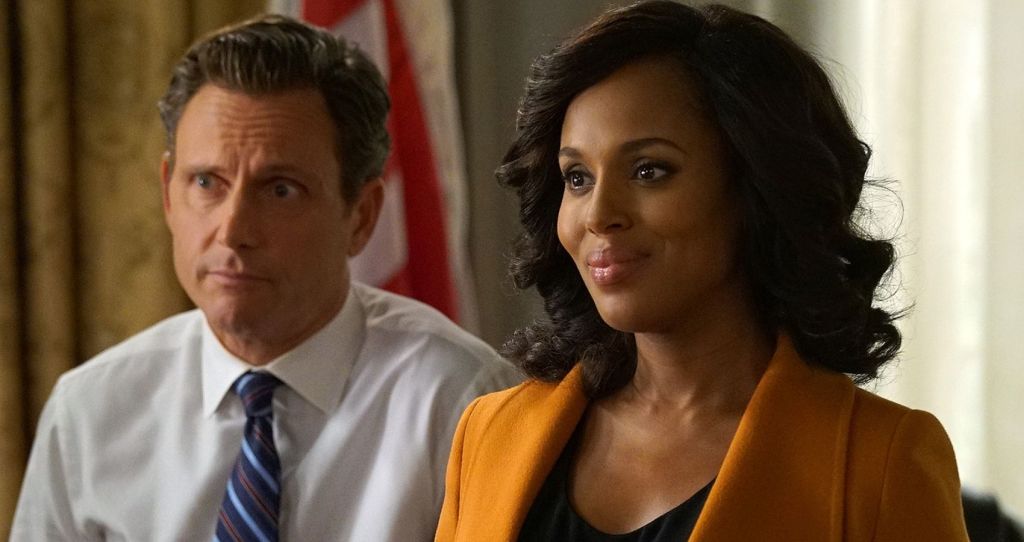 Scandal
Available on: Hulu (U.S.), Disney+ and Sky (U.K.)
If you like hearing Kerry Washington say the words "Mr. President" with near lethal sexual force then Scandal might be the show for you. Created by TV writer extraordinaire Shonda Rhimes, Scandal brings a fun soap opera energy to the world of political thrillers. The aforementioned Washington stars as Olivia Pope, a former White House Director of Communications who is widely regarded as the best "fixer" in Washington. What does Olivia "fix" exactly? Thankfully not her crackling chemistry with Mr. President Fitzgerald "Fitz" Thomas Grant III.
Scandal is not the most true-to-life depiction of politics on this list but it's also probably a bit closer than you think! The series is loosely based on George H.W. Bush administration press aide Judy Smith, who serves as an executive producer on thow. Surely she knows a thing or two about where the political bodies are buried. – AB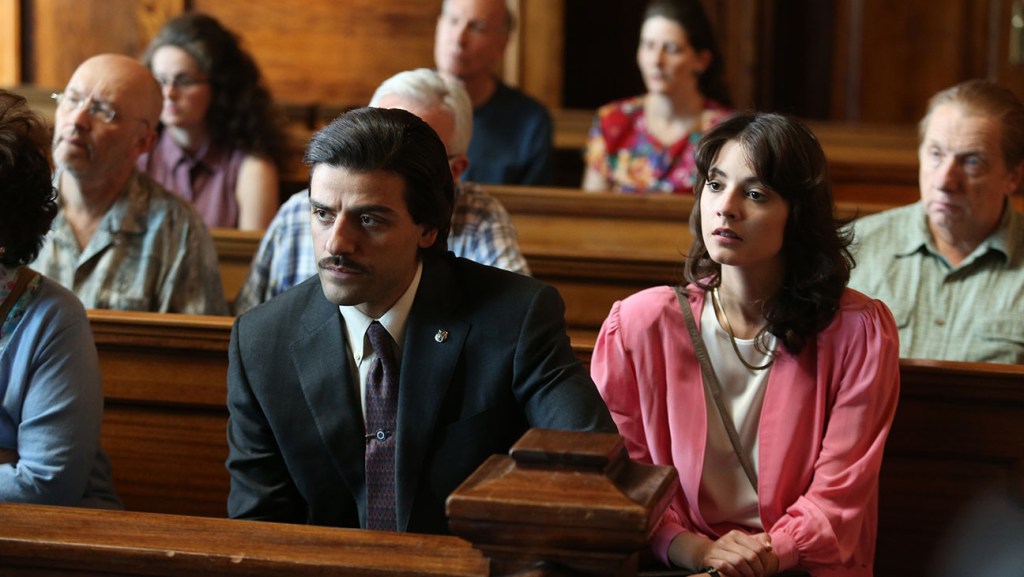 Show Me a Hero
Available on: Max (U.S.) Sky and Now (U.K.)
As both a former Baltimore Sun journalist and creator of HBO's classic drama The Wire, David Simon knows a thing or two about how politics works in the United States. With 2015 miniseries Show Me a Hero, Simon and co-creator William F. Zorzi (himself a journalist) utilize their shared expertise to unwind a truly tragic tale over six episodes.
Show Me a Hero follows the real life story of Yonkers, New York mayor Nick Wasicsko (played by Oscar Isaac) as he deals with a city on the verge of collapse. The federal government has ordered the suburb to desegregate its public housing, something that Wasicsko campaigned against. When in office, however, he comes to agree with the feds' order. And everyone is super chill about it, the end! Obviously that's not the case, but you'll have to watch this entertaining and empathetic series to see just how bad things get. – AB
State of Play
Available on: DVD-only in the US, UKTV Play (UK)
How about this for artistic integrity? Screenwriter Paul Abbott (Shameless, Touching Evil, Cracker) was commissioned by the BBC to write a follow-up series to celebrated 2003 political thriller State of Play, but didn't do it because, he says, he just couldn't make the sequel idea work. If only the creators of so many disappointing TV follow-ups would have been that honest. (Cough. Broad. Church.)
This six-part thriller is a contained story about a top level Westminster conspiracy that kicks off with the murders of a teenager and a political researcher. What connects them, and what it all has to do with a member of parliament (David Morrissey) is for journalist (John Simm) to uncover. A gripping story with an excellent cast (also including Bill Nighy, Kelly Macdonald, and James McAvoy), State of Play maintained its tension all the way to the bitter end. It was a turning point for many of those involved, not least director David Yates who moved on to Harry Potter and Fantastic Beasts fame, and BBC drama head Jane Tranter, who went on to revive Doctor Who with Russell T. Davies, with whom she's currently doing it all over again. – LM
The Thick of It
Available on: BritBox (US), Sky, ITVX, BritBox (UK)
Without The Thick of It, there'd be no Veep – a sobering thought for comedy fans – but this 2005-2012 BBC political satire is much more than just a starter kit for the US version. Created by Armando Iannucci, it's a pure-gold piss-take of the people in charge. Following a government minister and their aides behind the scenes, this faux-doc style comedy skewers hypocrisy, venality, incompetence and criminality in public office before, you know, that stuff made regular appearances on the nightly news.
Chief of The Thick of It's achievements of course is the creation of spin doctor Malcolm Tucker as played by Peter Capaldi. A one-man rage bucket with an approach to swearing so inventive he should rightly have been awarded a one-off Nobel Prize for ways to call someone a tosser, Tucker is legendary. With a gang of the UK's best comedy writers including Succession's Jesse Armstrong and Georgia Pritchett, and a cast including Rebecca Front, Roger Allam, Chris Addison and more, it's basically unbeatable. – LM
Veep
Available on: Max (U.S.), Sky and Now (U.K.)
Where even to begin with Veep? HBO's seven-season comedy that garnered star Julia Louis-Dreyfus nine trillion well-earned Emmy awards really is quite the thing. Fast, funny, furious – it's one of the most purely entertaining comedies you're ever likely to find. And as we all unfortunately expect: it's probably a devastatingly accurate depiction of freaks and clowns that run the U.S. government.
Created by Armando Iannucci, who penned U.K. political comedy The Thick of It, Veep follows U.S. Vice President Selina Meyer (Dreyfus) as she struggles to get over the indignity of being only the second most powerful person in the world. The series tracks Selina's political trials and tribulations all the while she and her staff unleash some of the most caustic insults you'll ever hear come out of human beings' mouths. It rules. – AB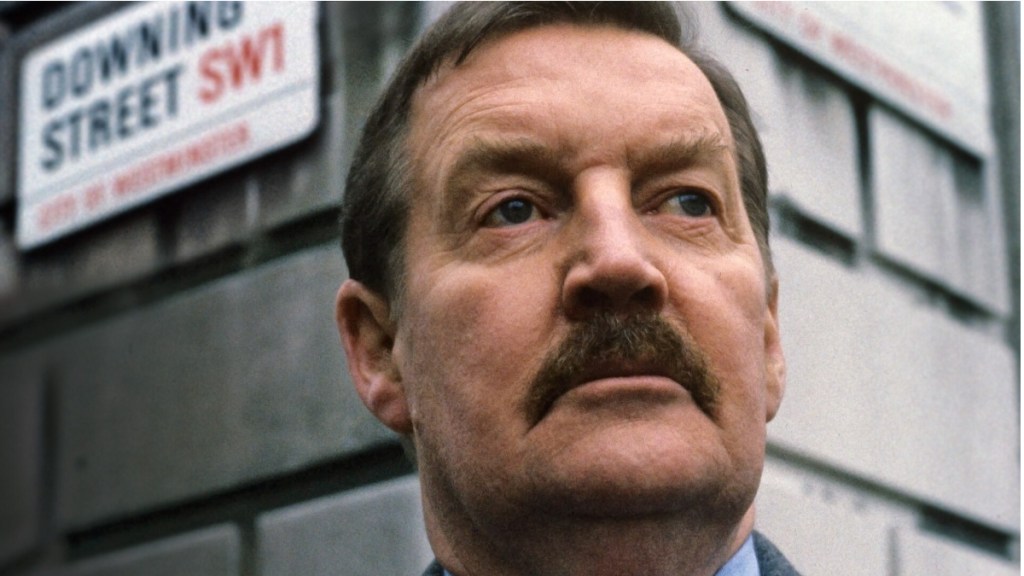 A Very British Coup
Available on: Tubi, Freevee (US), Channel 4.com (UK)
This 1988 adaptation of Chris Mullin's novel of the same name deserves to be mentioned in the same breath as the BBC's House of Cards when it comes to quality political TV dramas, but – lacking a starry US remake – it rarely is.
Neatly fitted into three episodes, A Very British Coup is a fictionalised account of a plot to unseat a newly elected left-wing Labour prime minister, with a story taking in nuclear armament, Soviet paranoia, blackmail, assassination and ruthless Westminster operators. It was festooned with awards upon release, including multiple Baftas and an International Emmy, and features early appearances from now-stalwarts Jim Carter, Tim McInnerny and Keith Allan, alongside lead Ray McAnally. – LM
A Very English Scandal
Available on: Prime Video (US), BBC iPlayer (UK)
The current Hugh-naissance period of Hugh Grant's career owes its existence largely to his playing the baddie in Paddington 2, but real-life dramatisation A Very English Scandal was a contributing factor. Grant is excellent as 1970s politician Jeremy Thorpe, a married MP who was tried for attempting to arrange the murder of his former secret lover Norman Josiffe (played brilliantly by Ben Whishaw who is, incidentally, the voice of Paddington Bear, making their sex scenes in this three-parter very strange on an intertextual level).
Adapted with characteristic style by Doctor Who showrunner Russell T Davies, from John Preston's book of the same name, it's a beautiful piece of work – fast-paced, funny, clever and yes, scandalous. Westminster will never seem the same again. – LM
The West Wing
Available on: Max (U.S.), Freevee (U.K.)
If this list was to only have one entry then The West Wing would probably have to be it. This Aaron Sorkin-created drama about the President of the United States and his West Wing staff delves deeper into the world of American politics than any other show in TV history. First premiering in 1999, The West Wing began primarily as a story about the unelected staff in government whose names casual citizens rarely know but who keep the engine of the executive branch running all the same. Somewhere along the way, however, The West Wing wisely realized that Martin Sheen turning in a perfect performance as President Jed Bartlett necessitated a stronger focus on the office of the president itself.
The West Wing is sometimes criticized for depicting an idyllic liberal world where elected officials, while flawed, still act in good faith and for the betterment of the country. Those complaints are fair (and largely justified by our current political reality) but the show still deserves credit for creating a riveting dramatic experience that also teaches the viewer a thing or two about the American halls of power. – AB
The Wire (Season 3)
Available on: Max (U.S.), Sky and Now (U.K.)
HBO's legendary series The Wire is classified primarily as a crime drama due to its central cops-and-robbers conceit about the drug lords of Baltimore and the beleaguered police department that seeks to take them down. It's also one of TV's most political series, with each of its five seasons revealing another layer of how flawed institutions and late capitalistic decay consistently hamstring otherwise capable citizens.
Nowhere is that message more apparent than in the show's third season. This season transforms the political subtext of the show into text. In addition to the usual police storyline, these 10 episodes also follow upstart city councilman Tommy Carcetti (Aidan Gillen) as he embarks on a longshot campaign for mayor. Through it all, The Wire offers its bleak assessment that the rot in American life really does go all the way to the top. – AB
Years and Years
Available on: Max (US), Disney+ (UK)
If, after the success of It's a Sin, reviving Doctor Who and being brought back years later to give it the kiss of life, Russell T Davies were ever considered too big to fail, then Years and Years is proof that he isn't. Even the mighty aren't guaranteed a hit every time. This dystopian BBC One drama failed to keep an audience, despite overflowing with ideas and great actors.
Years and Years isn't a political drama in the 'corridors of Westminster' style, but looks at politics through the stories of one Manchester family over 15 years into the(ir) future. It's about post-Brexit referendum Britain, refugees fleeing persecution, the tech revolution, financial collapse, the gig economy and the rise of the Far Right… which perhaps explains why viewers turned away – there's enough of that in the news without having to watch beloved actors like Emma Thompson and Russell Tovey get caught up in it all. – LM
Yes, Minister
Available on: BritBox (US), ITVX, BritBox (UK)
This 1980s BBC Two comedy was reportedly a favourite of former British Prime Minister Margaret Thatcher, but don't let that put you off. Set in Whitehall's (fictional) Department of Administrative Affairs, it follows government minister Jim Hacker (played by The Good Life's Paul Eddington) and his team as they generally fail to effect change or achieve anything other than political squabbling and petty one-upmanship during their time in public service.
With clever writing and comedy characters that have since become archetypal (the obfuscatory monologues of Sir Humphrey Appleby should be printed, bound and given as a gift to every civil servant and newly elected politician as a reminder of what not to do), it's the spiritual predecessor to The Thick of It, Veep and more. – LM