Features
Welcome to the Year of David Tennant!
Good Omens, Ahsoka, Staged, Doctor Who and many more… it would be easier to list what David Tennant isn't starring in this year.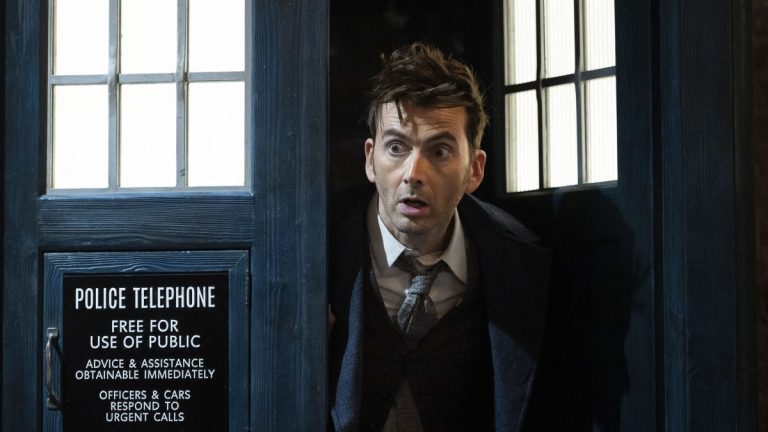 There's never been a better year to be a David Tennant fan – the man's the very definition of "booked and busy".
You could have been forgiven for thinking he'd had a pretty unbeatable year back in 2005, when (among other things) he starred in two of that year's biggest TV and film successes, both beginning his tenure as the Tenth Doctor in Doctor Who and playing Barty Crouch Jr in Harry Potter and The Goblet Of Fire.
But almost 20 years later, Tennant's demand has only continued growing, so much so that these days it's almost easier to list the blockbuster shows and franchises that don't involve David Tennant.
Add to that acting roles for Georgia Tennant, his wife, and three of their five children (so far!), and there's a whole smorgasbord of Tennant talent on offer.
Let's take a look at what's coming up:
Staged Series 3 – 14th June, BBC One, 10.40pm
We get a trio of Tennants in the third and final series of Staged: not only do David and Georgia return to star as fictionalised versions of themselves alongside Michael Sheen and his partner Anna Lundberg, their actor son Ty Tennant also makes a brief appearance.
Staged began as a lockdown comedy – presented mostly over Zoom calls – as David and Michael attempted to rehearse a play with their hapless director Simon Evans, causing lots of highly amusing bickering. The third series is a look at life after lockdown, with the families venturing out into the world again, and there are some very touching moments in amongst the laughs.
Litvinenko – 19th June, ITV1, 9pm
After premiering on streaming service ITVX in December, this gripping, often surreal true crime drama will now be aired on ITV1, telling the story of the Met Police investigation into the infamous fatal poisoning of former KGB agent Alexander Litvinenko in 2006. Tennant transforms into Litvinenko convincingly, doing an excellent job of humanising him, showing his love for his family, his fear, his dignity in death as he tries to help detectives track down his killer in his final hours. Margarita Levieva is also great as Litvinenko's wife, Marina, and the series was produced in consultation with the real Marina Litvinenko.
There She Goes – 21st June, BBC Two, 9pm
Shaun Pye and Sarah Crawford's moving autobiographically inspired comedy drama There She Goes – in which Tennant stars alongside Jessica Hynes (Years and Years) as parents to a severely learning disabled daughter, Rosie (Miley Locke) – is returning for a one-hour special about Rosie struggling to navigate puberty, and receiving a diagnosis about her chromosomal disorder which could change everything. The series has been rightly praised for how it has helped to shine an honest light on the reality of families with a learning disabled child, helping to break down taboos and showing the messy, imperfect but ultimately resilient ways of coping with such a life-changing situation. It's an emotional watch, but one that'll stay with you for a long time afterwards.
Good Omens – July 28th, Amazon Prime Video
The delightful duo that is Sheen and Tennant (or should that be Tennant and Sheen) will once again become even greater than the sum of their respective talents in the highly anticipated second series of Neil Gaiman's Good Omens. The first series was based on the fantasy comedy novel about the end of the world which Gaiman co-wrote with Terry Pratchett in 1990 – Tennant plays a demon named Crowley, the unlikely best friend/soulmate of the angel Aziraphale (Sheen), working together to prevent the coming of the Antichrist and destruction of Earth – but series two is brand-new territory, written by Gaiman and comedy writer John Finnemore. Read our breakdown of the series two trailer.
Ahsoka – August 23rd, Disney+
Tennant isn't just bringing us one long-awaited role reprisal in 2023 – fans were also delighted to discover that he will once again voice the Droid Master Huyang in the upcoming Star Wars series Ahsoka. We last saw Huyang back in the fifth series of Star Wars: The Clone Wars in 2012, in which he taught the Jedi younglings to construct their lightsabers before they helped to rescue the former Jedi Ahsoka (Rosario Dawson, Luke Cage) from pirates. Fans are already excited to see Huyang reunite with Ahsoka in this spin-off of The Mandalorian, in which she investigates an emerging threat to the galaxy following the fall of the Empire in Return of the Jedi.
Doctor Who – November, BBC One
Not content with being just the tenth Doctor, Tennant will be returning to Doctor Who as the fourteenth Doctor for the three 60th anniversary specials this November, making the dreams of several gazillion Doctor Who fans come true in the process. Not only that, but he'll be reuniting with Catherine Tate as Donna Noble, something we know should be impossible after the Doctor had to wipe her memory of him to save her life back in series four. The trailer also reveals a couple of classic Doctor Who monsters from a 1980 comic (Beep the Meep and the Wrarth Warriors) and Neil Patrick Harris playing a creepy baddie many fans believe to be The Celestial Toymaker, a Who villain we haven't seen on TV since the 1960s.
Rivals – Late 2023 or 2024, Disney+
There's already quite the buzz about the upcoming remake of Jilly Coopers' sexy and salacious 1988 novel Rivals, which depicts the fierce and cut-throat fight for control of an English television company. Tennant will star as the dastardly Lord Tony Baddingham, who goes head to head with Rupert Campbell-Black (Alex Hassell, His Dark Materials) for the prized ITV franchise, with the impressive cast also featuring Aidan Turner (Poldark), Danny Dyer (EastEnders) and Katherine Parkinson (The IT Crowd) among many other familiar faces.
But Wait, There's More…
You might have heard a familiar voice (spoiler alert: it's David Tennant) narrating Spy in the Ocean, the BBC's latest wildlife documentary which began airing on 4th June, which uses high-tech spy cams disguises as animals to capture unprecedented footage of species like manatees, sperm whales and sea lions.
You'll hear Tennant's voice in a couple of upcoming animated series too. Schitt's Creek star Dan Levy is co-creator of Standing By, a satirical animated comedy about a team of judgmental, gossip-starved guardian angels, which Tennant will star in alongside the legendary Glenn Close, Samira Wiley (Orange Is The New Black) and Levy himself. Meanwhile, ARK: The Animated Series is a sci-fi show based on the video game ARK: Survival Evolved, in which Tennant plays the antagonist, a mysterious scientist called Sir Edmund Rockwell, is due to be released later in 2023.
He'll be continuing his run of playing iconic Shakespeare characters by taking on the titular role in Macbeth at the Donmar Warehouse in London this December, and selected cinemas are also continuing to show the NT Live recording of his most recent theatre performance, Professor John Halder, in C. P Taylor's play about the rise of the Nazis, Good.
Tennant will also reprise his starring role as globetrotter Phileas Fogg in the second series of gripping period drama Around The World in 80 Days, which is expected to arrive on the BBC towards the end of the year.
And finally (at the time of writing!) we can also look forward to a double whammy of Tennanty goodness in Hide, with David and Georgia Tennant starring alongside each other in this Jekyll & Hyde-themed conspiracy thriller about a disgraced journalist on the run, who has a serious accident with an extraordinary, monstrous side-effect. The series is currently in development and will air on Peacock.
The Tennant Dynasty Is Going Strong
Georgia Tennant – already much-loved for playing the Doctor's daughter Jenny in Doctor Who – won a whole new tranche of fans thanks to her wry humour in Staged, and impressed again last year as the amusingly withering TV executive in the new sitcom from Taskmaster's Alex Horne, The Horne Section TV Show. A second series of that is already on the way.
Georgia and David's eldest son, Ty, also has an impressive acting CV, including starring roles in War of the Worlds – Fox and Canal+'s Anglo-French alien invasion sci-fi only related to HG Well's dystopian novel in the loosest of ways – as well as Channel 4's hard-hitting drama Consent, and HBO's Game of Thrones prequel House of the Dragon.
At just 11 years old, Olive Tennant won Best Newcomer at the National Film Awards last year for her portrayal of the schoolgirl Catherine in Kenneth Branagh's Oscar-winning film Belfast, and nine-year-old Wilfred Tennant made their acting debut in Casualty last summer, playing a child who brings their dead gerbil into the hospital hoping it can be saved. They also appeared alongside Olive, David and Georgia in the romcom You, Me & Him in 2017.
Staged Series 3 starts on BBC One at 10.40pm on Wednesday June 14th.