Features
The Politics of Succession: Who Are Jimenez and Mencken?
Succession has been building toward a major presidential election for the last four seasons. Here's everything you need to know about its candidates.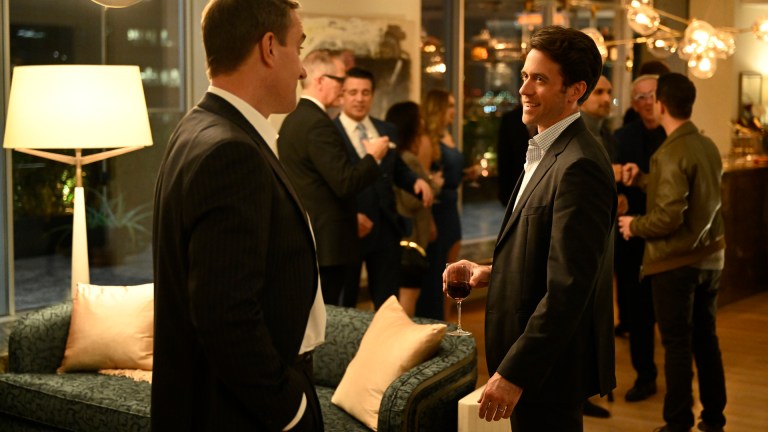 This article contains spoilers through season 4 episode 7 of Succession.
With all of the Roy family's drama, it's easy to forget that Succession has spent all four seasons building up to a major presidential election with actual stakes. Given how obscenely wealthy the Roys are, politics have always been something they can casually interact with and flip sides on to suit their own personal needs without worrying about the cascading effects on the rest of the country. Even Connor's (Alan Ruck) presidential campaign has felt more like a running joke than anything of consequence to the show. That is, until this week's episode "Tailgate Party."
Set the night before the presidential election, "Tailgate Party" showed us just how close this election is, with Jiménez ahead of Mencken by only four points. Because the race is so close, Mencken's campaign uses Roman (Kieran Culkin) to try and convince Connor to back out so that his anti-tax platform doesn't sway too many conservative voters. Connor thinks about it after Roman and the Campaign promise him various diplomatic roles in Mencken's administration, but ultimately Connor refuses to back down. With the election set to be the focus of episode 8, here are all of the major political players you need to know and how they connect to the Roy family.
Jeryd Mencken
The Republican candidate for president, Jeryd Mencken (Justin Kirk) is a far right-wing conservative who is supported by Logan (Brian Cox) and Roman as the nominee for the party in the season 3 episode "What it Takes." Shiv (Sarah Snook) is vocally against his fascist tendencies, and tries to convince them that the moderate Republican Rick Salgado (Yul Vazquez) is the better choice after he promises her support in becoming CEO of Waystar. Unfortunately, Mencken's ad dollars speak louder than Shiv's pleas for Democracy, and he becomes the official Republican nominee.
Because Mencken pays to run ads on ATN, the "news" network is incredibly favorable toward him, giving him an even larger platform to gain supporters. Though it wasn't hard to guess the ideologies of Mencken's followers before now, "Tailgate Party" revealed that not only are they being racist jerks and harassing people on the street, including Kendall's (Jeremy Strong) daughter, but they're also firebombing polling places and planning other voter-intimidation tactics.
Daniel Jiménez
We don't know much about presidential frontrunner Daniel Jiménez (Elliot Villar) yet, other than the fact that he won the Democratic nomination over Gil Eavis (Eric Bogosian) sometime between seasons 2 and 4. At the beginning of season 4, Shiv mentions that she's looking at working for the campaign as a backup plan if the Roy siblings' startup doesn't pan out, which makes sense given her background with Gil Eavis' campaign. Other than that, it doesn't seem like Jiménez has much of a connection to the Roy family other than through political strategist Nate Sofrelli (more on him later).
After "Tailgate Party," it seems safe to assume that Jiménez is against making deals with the Roy family. According to actor Ashley Zukerman in an interview with Variety, Nate was "schooled off camera" by the Jiménez campaign after talking with Kendall and Roman about pushing an antitrust investigation on GoJo in exchange for ATN not attacking Jiménez for 100 days after the election if he wins. Jiménez may not be the first choice for Waystar or some of the Roy siblings, but he seems like the best bet for the future of the country.
Nate Sofrelli
Arguably one of the most important guests of the Tailgate Party was Nate Sofrelli, a political strategist currently working for the Jiménez campaign. Nate was first introduced in season 1 as a political strategist for Gil Eavis. He worked with Shiv on Gil's campaign and stayed on through season 2, even after she was fired by Gil. Nate and Shiv working together was complicated due to their romantic history, and they had an affair up until Shiv's wedding to Tom (Matthew Macfadyen).
But Shiv isn't the only Roy sibling that Nate has history with. It's not clear exactly when this happened, but Nate and Kendall used to work together in Shanghai and seem to have once been close friends. Their conversations in "Tailgate Party" imply that they've been through a lot together, and Nate makes it clear that, despite their political differences now, they don't have to be sworn enemies like Logan and Gil were. He wants Kendall to realize that he can do something better and different with the company than his father did.
Gil Eavis
When we first meet Gil Eavis in season 1, he seems to be a frontrunner for the Democratic presidential nomination. The polling is so good, that he offers Shiv a position as his Chief of Staff in season 2. However, this is around the same time that Logan offers Shiv the role of CEO at Waystar within three years, so she quits Gil's campaign. Like Bernie Sanders, Gil is the kind of politician that strives to hold corporations accountable for their more unsavory practices. He is vocally against Waystar's acquisition of local news networks through ATN and he leads the Senate investigation into the Cruise Scandal that almost put Tom in prison. Logan considers Gil to be an enemy, which makes Shiv's working relationship with him even more complicated. While we're not quite sure how or why Jiménez ended up being the Democratic frontrunner when Gil is such a strong candidate, it does make sense the the Democratic National Convention wouldn't want to back a candidate who has such murky and volatile connections to the Roy family.
New episodes of Succession premiere Sunday nights at 9 p.m. ET on HBO