Reviews
It's a Sin Review: Russell T Davies AIDS Drama is a Soaring Tribute
Channel 4's 1980s-set AIDS drama, from former Doctor Who showrunner Russell T Davies, is a must-watch filled with vitality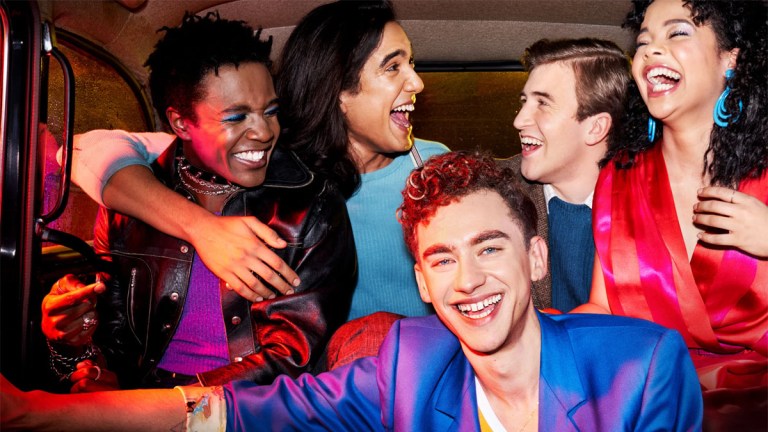 Here's a rule you can't go wrong with: when Russell T Davies writes a TV show, watch it. His dramas are full-size orchestras of the heart. They do everything: joy, agony, love, sex, sorrow, laughter, and increasingly, righteous anger. In state-of-the-nation BBC drama Years and Years, the Queer as Folk creator looked ahead to the nightmarish world of the near future. In Channel 4's It's a Sin, he looks back to the 1980s and the pall cast over gay male lives by the AIDS epidemic.
With an impeccable cast led by the luminous Olly Alexander, It's a Sin is Davies' best yet; a joyful tribute to lost lives that delivers a seething verdict on ignorance and cruelty. Over five one-hour episodes starting in 1981 and going through the decade, we meet a group of 18-year-old gay men who've escaped parochial hometowns to come to London and start their real lives.
There's Ritchie Tozer (Alexander), a closeted law student from the Isle of Wight; Roscoe Babatunde (Omari Douglas), the out, gay British son of Nigerian parents; Welsh ingénue Colin Morris-Jones (Callum Scott-Howells) and undergrad Ash Mukherjee (Nathaniel Curtis). The cast is filled with new discoveries joined by established names Keeley Hawes, Shaun Dooley, Tracy-Ann Oberman, Stephen Fry and Neil Patrick Harris.
With drama student Jill (Lydia West), the youngsters quickly form a gang, rent a scruffy flat they christen 'The Pink Palace' and dive headfirst into the the hedonistic joys London has to offer.
The joys, and the boys, are plentiful. The early episodes are a riot of sex, celebration and youthful ambition. You'd call the buzz of it all infectious, if the phrase didn't create a horrible irony in this context. Because creeping in around the edge of the fun comes this mystery disease, word of which is trickling over from America. To begin with, nobody knows what it is, what it's caused by and whether it's even real. People trying to raise warning flags are batted away, dismissed as paranoid conspiracy theorists. A virus that seems to infect only gay men? Ludicrous.
Like any virus thriller, in the first act, people start disappearing. Around the margins, men exit the lives they've built, retreating from friends, fired from jobs, wheeled to lonely hospitals or reabsorbed into the families that drove them away in the first place. Hidden away, they die secretive deaths, their lives uncelebrated, buried by people frozen with shame. Cruelty is heaped upon cruelty, all of it documented here with an eye that misses nothing.
It's painful to watch, as it should be, but not suffocating. That's because, like the old Mr Rogers quote about coping with scary things on the news by looking for the helpers because there will always be people helping, It's a Sin is also about the helpers. There's Jill, based on Davies' childhood friend and actor Jill Nalder, who really did live in a Pink Palace in 1980s London and, in a satisfying closed loop, here plays the fictional Jill's mum. There are the volunteers, the people who staff the helplines and march in the streets. There's the lawyer who frees an AIDS patient unlawfully imprisoned in a hospital ward. Later, there are the nurses and doctors who care for the dying, and there are the mothers.
It's a Sin has some wonderful mothers, women who love their sons like butter loves bread. They love them unstoppably, facing off ignorance and malice to keep on loving them until the end and beyond. There are other kinds of mothers too, the terrified and the ignorant who raised their sons without once – to paraphrase two of the drama's powerful speeches – looking to see who they really were, yet still managing to fill them with shame about it.
Because as well as being a record of these men's lives told through a prism of love and bravery, It's a Sin is a polemic. Entwined with the laughter and colour, it's white with rage. The hypocrisy of the establishment is jabbed throughout, pithily in one scene set in the Members' Dining Room at the House of Commons, where a group of gouty, married MPs who would doubtless go on to support Section 28 are accompanied by their beautiful young, male lovers. Brutish and insidious homophobia is scattered across the episodes, present without ever becoming the main story.
There are unforgettable set pieces staged cleverly by director Peter Hoar to fit inside the flow of the drama. One is a brilliant rush of a monologue on the paucity of gay representation in the literary canon. Another is a to-camera monologue denying the existence of the virus, which couldn't feel more apt in 2021. There's a silent ballet exercise lit by car headlights, and a sequence filmed in one long, continuous shot as a mother and father learn of their son's diagnosis. Each could be a distinct performance piece on stage or in a gallery installation, but instead they're here, on Channel 4, for everybody.
In another poignant speech, a character beams about his life before the virus, worrying that its vitality will be eclipsed by the shadow of illness. He grieves that only the deaths will be remembered, the beauty and the joy and the fun forgotten. Not now it won't be. Not any more.
It's a Sin starts on Friday January 22nd at 9pm on Channel 4 and All4. All five episodes will be available to stream after episode one on All4. It will air on HBO Max in the US later this year.
Subscribe to Den of Geek magazine for FREE right here!