Features
The Best British TV Series Airing Soon in the US – and How to Watch Them
Don't miss these UK TV highlights coming your way, from new sci-fi The Lazarus Project to sensational final seasons from Happy Valley and Endeavour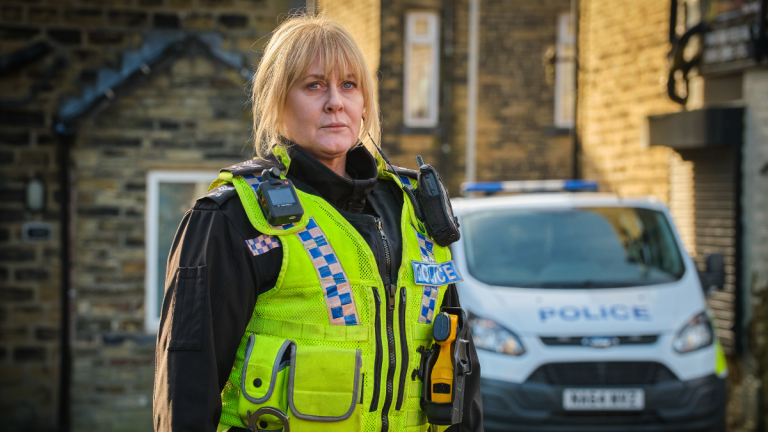 Fancy watching a no-nonsense Yorkshire cop on the brink of retirement finally taking down her nemesis? How about an Oxford scholar pitting his wits against a decades-long conspiracy? These are the premises for just two of the exciting British TV shows about to arrive in the US (the final series of Happy Valley and Endeavour, respectively) but that's not all: there's also globe-trotting sci-fi with big ideas, a fast-paced dark comedy, a remarkable depiction of marriage by two British acting stalwarts, and more besides.
From cosy crime to original comedy, here are the UK TV highlights coming to America:
Happy Valley Series 3
BBC America, Acorn TV, AMC+ – 22nd May at 10pm ET/PT
Sally Wainwright's excellent Yorkshire-based crime drama Happy Valley had been off UK screens since 2016, but returned for its highly-anticipated third and final series earlier this year.
The show centres on the straight-talking police sergeant Catherine Cawood (Sarah Lancashire, Last Tango in Halifax), and her ongoing feud with the dangerous criminal Tommy Lee Royce (James Norton, Grantchester). In series 3, the discovery of a gangland murder victim in a reservoir takes Catherine and Tommy right back to the start of their story.
Happy Valley's final season was as explosive as fans hoped it would be – and now US audiences can enjoy it on BBC America, Acorn TV and AMC+ from May 22nd at 10pm ET/PT, with new episodes released weekly on BBC America.
Marriage
PBS Masterpiece – 29th May
This quirky drama stars two of the UK's acting greats, Unforgotten's Nicola Walker and Game of Thrones' Sean Bean, as married couple Emma and Ian, whose seemingly simple life together is fraught with insecurities, family drama and unspoken grief.
Its hyper-realistic treatment of the banalities of an everyday marriage might make it seem like a slow burner, but it's a unique and fascinating production, and Walker and Bean are – unsurprisingly – breathtakingly good throughout.
The Lazarus Project
TNT – 6th June at 9pm ET
When George (Paapa Essiedu, Gangs of London) wakes up to find the last six months of his life never happened, he's understandably freaked out. Then he discovers The Lazarus Project, a top-secret sci-fi operation that operates in the shadows all around us in a morally complex attempt to prevent mass-extinction events.
What follows is a dark, clever and exhilarating eight-part sci-fi thriller – written by Giri/Haji's Joe Burton – which will leave you hungry for more. The good news is there's already a season two in the works, but for now US audiences can enjoy series one when it arrives on TNT on 6th June.
Endeavour Series 9
Masterpiece PBS – 18th June at 9pm ET
Sadly, the ninth series of Endeavour is the show's last, so it was always going to be emotional. For over ten years, fans have loved being transported to 1960s and 1970s Oxford, following the burgeoning police career of the young DS Endeavour Morse (Shaun Evans, Vigil) alongside his trusty mentor, DI Fred Thursday (Roger Allam, The Missing).
We finally learn the bittersweet truth about why Thursday never appears in Morse's later life (his character was never mentioned in the original John Thaw series, Morse, for which Endeavour serves as a prequel), and get a melancholy, sad yet fittingly generous farewell to the series.
Guilt Series 3
Masterpiece PBS – later in 2023
The final series of award-winning comedy thriller Guilt sees Mark Bonnar (Litvinenko) and Jamie Sives (Chernobyl) reprise their roles as brothers Max and Jake, whose attempts to cover up a hit-and-run accident leads to an escalating life of nightmarish chaos.
The final four episodes show the brothers going up against old and new enemies, seeking increasingly desperate solutions to their problems, while exploring their pasts to find a way out of their dangerous present.
Season 3 welcomes the return of Endeavour's Sara Vickers, and the addition of Slow Horses' Tamsin Toploski.
Rain Dogs
HBO Max – out now
Daisy May Cooper has already won hearts for her hilarious BBC comedy This Country (remade in the US as Welcome to Flatch) and comedy thriller Am I Being Unreasonable?, but Rain Dogs is a comedy drama with the emphasis far more on the drama side of things. 
Cooper plays Costello, a hopeful novelist and single parent to her daughter Iris (Fleur Tashjian), and after they're both evicted and made homeless they form a makeshift, messy and mischievous family with her privileged gay best friend Selby (Jack Farthing, Chloe).
The comedy is decidedly dark, the plot is fast-paced and the performances are impressive across the board.
Hullraisers
Sundance NOW and AMC+ – out now
Set in the Yorkshire city of Hull in the north of England, this joyous sitcom follows the lives of three hilarious, bawdy and chaotic mothers, and is a gorgeous and all-too-rare depiction of working-class British wit. Hullraisers was developed by comedian Lucy Beaumont (Meet The Richardsons) and is actually an adaptation of the Israeli comedy Little Mom, and while the accents in this female-led comedy might be unfamiliar to an American audience (and take a while to adapt to) the excellent jokes definitely won't get lost in translation.
Rye Lane
Hulu – out now
Allow us to deviate from British TV shows for a moment to tell you about Rye Lane, a fresh, feel-good British romcom about Yas (Vivian Oparah, Class) and Dom (David Jonsson, Industry), two twenty-something strangers who meet and spend an eventful day in London together, helping each other deal with nightmarish recent exes and trying to restore their faith in romance.
Rye Lane received critical acclaim after premiering at the Sundance Film Festival earlier in 2023, and is a smart, original and engaging watch with a cast you should keep your eye on.