Features
How Grantchester Defies the Cozy Mystery Label
Like Endeavour and Call the Midwife, British crime drama Grantchester offers much more than mere 'cozy' viewing.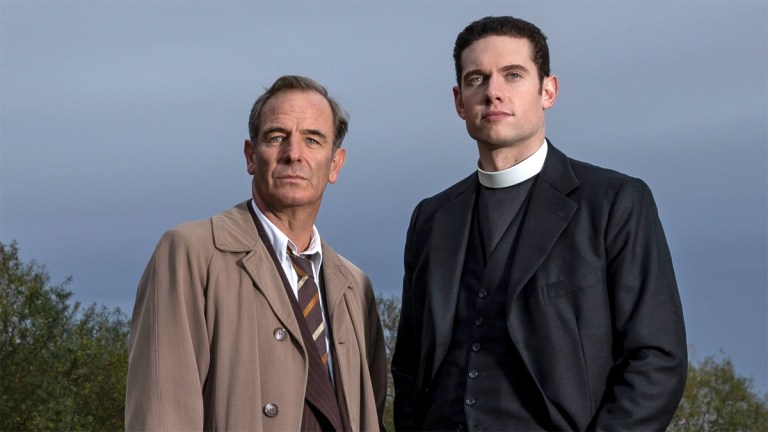 Warning: contains plot details for Grantchester seasons 1-6 and the first two episodes of season 7.
Grantchester is commonly described by critics and viewers as a "cozy mystery". This label, especially in regards to its seventh season currently airing in the US on PBS, is misleading. Although so far the season's emphasis on found family is heart-warming, there are also a number of serious social and political issues underneath the unraveling of its various mysteries.
The crime-solving vicar/priest/nun is a common cozy mystery archetype. In 1950s-set Grantchester, originally based on a series of books by James Runcie, that character started out as Sidney Chambers (James Norton), a vicar with an unusual side hobby and a good friend in police inspector Geordie Keating (Robson Green). Sidney served in WWII but many of his younger parishioners did not, which shaped his interactions. The series veered in a different direction from the books, emphasizing the cases, Sidney's love life, and his curate Leonard Finch (Al Weaver). Norton left the series during Season 4 and turned over the crime-solving to new vicar Will Davenport, played by Tom Brittney. Will did not serve in the war but he carries emotional baggage from an emotionally abusive father and a struggle to stay celibate.
Vicar Will Davenport's journey in Season 7 is more about addressing his own personal failings than meting out spiritual comfort and justice. He's been unlucky in love several times over. In past seasons, he dated a journalist who wanted a more modern life, hooked up with a fake nun, and wooed an entertainer at a vacation resort. This season, he broke off an adulterous fling and is wrestling with heartbreak as well as his continuing failure to remain celibate. Will is allowed to marry, but since Season 4 has repeatedly looked for true love with women who are definitely not the right fit for him.
Usually in cozy dramas, the religious figures are older and celibate, already married, or widowed. Will is in his late 20s and this changes the genre dynamics considerably. Will he find some semblance of emotional stability or even another shot at love with a single woman?
Geordie, Leonard and the Changing Times
Another common cozy mystery trope is the amateur detective investigating cases because the local police are incompetent or short-staffed. Grantchester's Geordie is an old-fashioned Inspector who relies on instinct and is wary of new methods. His relationship with Will is more of a father-son dynamic as Will uses his natural empathy and role as a spiritual confessor to get information from witnesses and suspects. Geordie's precinct is well staffed and he's well aware of its individual weaknesses and strengths. This season, the biggest handicap is the arrival of a new boss who is insisting on modernizing policing and playing by the rule book. Will interviewing potential suspects or collecting witness statements is definitely against protocol. Geordie has to find ways to keep Will in the loop while avoiding suspicion that he's relying on Will's investigative skills.
Will and Geordie's circle of friends also highlight issues cozy dramas rarely address, or if they do, only in a breezy fashion. Last season, Will's curate Leonard was forced to resign from the church after being blackmailed into coming out as a gay man and was sentenced to six months in jail. Downton Abbey and other dramas had queer characters face the fear of prosecution for sodomy but never depicted the reality of it.
In Season 7, Leonard is on the road to reinventing his career path while also finding a way to channel some of his former work as a curate. Mrs. Chapman (Tessa Peake-Jones) and her husband Jack (Nick Brimble) loaned Leonard money to open up his own cafe. The Cherry Orchard is not only a spot for beat poetry of questionable quality, it's also the place to discuss case updates away from prying eyes. The cafe additionally represents a distraction from Mrs. C's own personal life crisis which will unfold in later episodes this season.
Geordie is also currently facing his own family crisis as his wife Cathy (Kacey Ainsworth) kicked him out of their family home for breaking trust, past infidelity, and disrespect. Cathy has asked Bonnie (Charlotte Ritchie) to help her with childcare as she tries to hold onto her job at the department store. Will's love life crisis, plus the rest of these character plots, are drawing attention to the fact the show timeline is rapidly approaching the radical societal changes of the 1960s.
Complex Morality and Brutal Themes
Past season cases have similarly dealt with a variety of serious social issues besides Leonard's plight: pedophilia/grooming, domestic violence, racial discrimination/immigrant assimilation, and more. Season 5's major case arc was shutting down a boxing coach who used his proximity to teenage boys for sexual abuse. Will did not realize at first he was enabling the abuse by a false sense of security. This storyline clearly came out of all of the historical investigations of institutionalized sex abuse.
Domestic violence and rape is a repeated theme in cases whether physical or psychological. Several cases have featured women killing or hurting their abusers. The end of Season 6 featured a refuge for abused women. An upcoming storyline for Season 7 will once again bring sexual assault and repeated harassment to the forefront.
Occasionally a white person of interest has accused a POC in proximity to the crime even though they were innocent. Will and Geordie have undermined these racist deflections by following the evidence trail. Grantchester has occasionally taken the risk of casting a POC as a suspect of the week but these cases are usually about issues that can cause anyone to kill: revenge for wrongdoing or controlling money/inheritance.
Questioning the Limits of the Law
So far, Season 7's cases of the week are also supporting a more complex view of morality and the criminal justice season. Episode One revealed the lengths to which two sisters would go to challenge tradition that denied women inheritance rights. Episode Two portrayed sex workers caught between societal marginalization and their male client's fantasies, jealousy, and rage.
Women asserting themselves is a running theme inside the precinct as secretary Miss Smith (Melissa Johns) defines workplace boundaries and explores unionization with Cathy. Episode Two makes the best case so far for the show not being a cozy mystery, as other characters that fit Will's archetype would have said something morally judgemental about working in a brothel. The owner of the establishment correctly calls out Will's attitudes (plus those of the church in general). Male fantasies led to murder and it was clear to Will that he had to break up his fling before someone faced serious consequences. All of these case storylines highlight Will's ability to balance the law with compassionate treatment in a way law enforcement can't.
Not to be Underestimated
Grantchester isn't the only show unfairly painted with the "cozy" brush. Call The Midwife is frequently called cozy when all sorts of issues such as abortion, child poverty, and domestic violence are regularly featured in patient cases. Endeavour is often painted with the same brush, even though its cases are also complex and its characters' stories don't shy away from difficult themes, including domestic abuse and alcoholism. Without spoiling the rest of Grantchester Season 7 here, the remaining episodes show it continuing to defy the genre labels placed on this critically underexplored drama.
Grantchester Season 7 is currently airing on PBS on Sunday nights in the US. Episodes are available to stream on ITV Hub in the UK.