Features
TV Shows to Fill the Happy Valley-Shaped Hole In Your Life
Now that Happy Valley has finished, where can you get your next fix of quick-witted, big-hearted, gripping TV drama?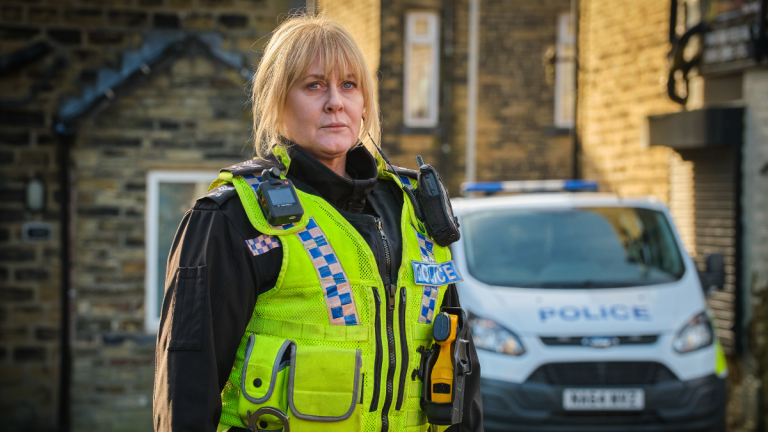 We're bereft. Happy Valley has ended for good. No more Catherine and Clare having mugs of tea on the back step, no more Sgt Cawood dressed like RoboCop, no more Ryan, no more Tommy Lee Royce. It went out with a bang, but still we're bereft. What could possibly fill that gap?
Luckily for fans, creator Sally Wainwright has a healthy back-catalogue including comedy At Home With the Braithwaites, Last Tango in Halifax, Unforgiven, Gentleman Jack and more, plus highwaywoman drama The Ballad of Renegade Nell coming this year to Disney+, so you could start there. And try the below, a hand-picked selection of great dramas – some crime, some not – that carry a flavour of Happy Valley's brilliant writing, real-feeling characters and unforgettable performances.
Last Tango in Halifax
Stream on: BBC iPlayer (UK), Netflix (US)
Wainwright was inspired by her mother's late-in-life love story to write this Bafta-winning 5-series BBC drama. It's about Celia and Alan (Anne Reid and Derek Jacobi, two of the best), a couple separated as teenagers who reunite in their seventies and finally marry. Their grown-up daughters Caroline and Gillian (Sarah Lancashire and Nicola Walker, two more of the best) each have husbands, kids and backstories of their own. If all that doesn't sound like enough drama for you, then trust in Sally Wainwright. There's also a murder plot, shock deaths, affairs, pregnancies and so much more, all rendered in its creator's rhythmic, funny, captivating style.
Scott & Bailey
Stream on: BritBox
What are we going to do without Catherine and Clare's 'cup of tea by the back door' conversations? The next best place to go for them is Wainwright's ITV police series Scott & Bailey starring Lesley Sharp and (Gentleman Jack's) Suranne Jones. It's all the easy, funny, wind-up dialogue and local shorthand of the Happy Valley sisters, plus police cases. Sharp and Jones play Manchester police officers Janet and Rachel, who ring with authenticity in every scene, solving cases while handling their own personal chaos. Five series aired between 2011 and 2016, so there's plenty to be getting stuck into.
The Responder
Stream on: BBC iPlayer (UK), BritBox (US)
If The Responder's PC Chris Carson was on Sgt Cawood's team, he'd be called a numpty, pulled off the job and put on a disciplinary in a heartbeat. Carson (played by Martin Freeman doing a thankfully very good Liverpudlian accent) swaps Cawood's 'apply the law as best you can' philosophy for his 'do what you need to survive' approach. It's Carson's desperate, improvisational, dangerous spirit that makes Tony Schumacher's debut screenwriting series so riveting. That, and his Wainwright-esque talent for fluent dialogue that sounds like people actually speak. In series one, when a bag of drugs goes missing from a local hard nut, it's up to Carson to decide whether to collar or help the thief. Series two is on the way.
Save Me
Stream on: NOW (UK), Peacock (US)
Just as Happy Valley fills its drugs-blighted Halifax with vigour, life and endearing personality, so too does Lennie James-written drama Save Me for its South London estate setting. James' character-led drama moves as quickly between humour and seriousness, devoting time to painting a picture of a somewhere with its own language and history that's not there to be pitied or patronised.
Save Me tells the story of Nellie (played by James), a hapless chancer forced to do something with his life when his estranged daughter goes missing. If it's comedy, character and surprises you like about Happy Valley as a crime drama, this is where to go next.
Prime Suspect
Stream on: BritBox
It isn't just that Helen Mirren's DCI Jane Tennison blazed the trail for female police officers on TV, there's also crossover in the social commentary creators Lynda La Plante and Sally Wainwright make. Watch Tennison wade through sexism and bigotry armed mostly with her quick mind and sharp tongue now and you can't help but feel that it's like watching a proto-Happy Valley. (Though truth be told, what we'd all really like to see is Catherine and Joyce watching a Prime Suspect box-set with a bottle or two of Echo Falls and pointing out everything it gets wrong.)
A Very Peculiar Practice
Stream on: BritBox (UK only)
Not a crime drama, not set in Halifax and much more satirical than realist, this 1980s BBC comedy-drama doesn't share much with Happy Valley on the surface, but they both mould their genres in unexpected ways with the same result: excellent television, fierce writing and memorable performances. If you'd prefer a more concrete Sally Wainwright link, then there's always star Peter Davison (the Fifth Doctor), who also appeared in her lottery-win ITV series At Home With the Braithwaites.
Davison plays Dr Stephen Daker in this campus comedy about a medical centre in a fictional university drowning under Thatcherite capitalism. He's the one sane-ish man surrounded by absurd archetypes and monstrous creations in Andrew Davies' furious satire. Forget the comparison and just watch it.
Unforgotten
Stream on: BritBox, ITVX (UK), Prime Video, PBS Masterpiece (US)
Each series of Chris Lang's Unforgotten revolves around a single cold-case. A long-buried body is dug up and a cast of potential suspects is introduced, the links between the new characters gradually emerging over six episodes that eventually lead to the truth and to closure. It's a great structure, with an excellent cast (Last Tango in Halifax's Nicola Walker plays DCI Cassie Stuart, with Sanjeev Bhaskar as her colleague DI Sunny Khan) and if you're a fan of Happy Valley's police mystery plots and the opportunity for some armchair detective work, you'll be more than satisfied here. A detective show led by compassion.
Mare of Easttown
Stream on: NOW (UK), HBO Max (US)
It would be generous to say that this HBO Kate Winslet-starring series was simply 'inspired by' Happy Valley – in all but name, it's a remake. Winslet plays Pennsylvania cop Mare, a bereaved mother who's single-handedly raising her dead child's child while policing a community ravaged by drugs. From there on, it does stand on its own two feet and develops a plot involving a murder and kidnapped girls. Everything though, is built around the central pillar of Mare, a no-nonsense tough guy characterised by past loss. It's well-written, well-acted and tense, with its own watercooler moments and pleasing moments of absurdity and humour amidst the darkness.
GBH
Stream on: BritBox (UK only)
Venal politicians and a general strike? Channel 4 could have commissioned Alan Bleasdale's 7-part 1991 drama yesterday. This story of a council leader (Robert Lindsay) battling a primary school headteacher (Michael Palin) has bold writing, strong performances and an excellent cast including Julie Walters and Lindsay Duncan. It also shares Happy Valley's talent for embedding broader political comment in a specific locale, and telling a state-of-the-nation tale through unforgettable characters and gripping surprises.
Happy Valley Series 1-3 are available to stream on BBC iPlayer. Series 3 will stream on AMC+ in May 2023 in the US.