Features
Lucy Beaumont is Taskmaster's Glorious Queen of Weird
Wherever Lucy Beaumont's home planet is, we want to live there.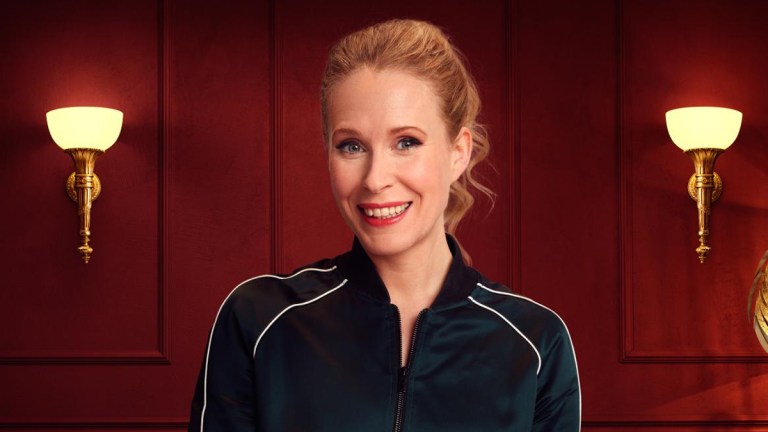 "She does them to the best of her ability but sometimes that means she comes across as quite feral, like she's been brought up by a pack of wolves".
Not our verdict on comedian Lucy Beaumont's performance in the tasks on Taskmaster, but her own in the below series 16 cast interview, where speaking in the third person wasn't an affectation but a requirement.
Nothing about Lucy Beaumont, according to Taskmaster's Alex Horne and Greg Davies, is a put on. "We initially thought it might have been an affectation to a degree, or a character," Davies told Chortle. "But the more it went on, we both started to go, 'No, I think this is how Lucy lives her life'."
How Beaumont lives her life is documented to an extent in Dave sitcom Meet the Richardsons, a heightened version of her day-to-day family existence with comedian husband Jon Richardson and their young daughter Elsie. Beaumont co-writes that show, which is almost five series in, as well as Channel 4 comedy Hullraisers, soon to air its second run. She's also the author of a book and is currently selling out dates on a UK-wide comedy tour.
Parent, author, screenwriter, successful stand-up, and the patron of several charities, Lucy Beaumont is a demonstrably capable and driven adult woman, and yet to judge by her appearance on the current series of Taskmaster, she absolutely was brought up by a pack of wolves. Excellent, baffling wolves*.
*Lucy Beaumont was actually raised in Hull by her playwright mother Gill Adams and what sound like some lovely grandparents.
In any other Taskmaster grouping, Australian comedian Sam Campbell would be the glorious weirdo (contestants on the show generally break down into one of five categories: Elder Statesperson Who's Enjoyably a Bit Above It All, Glorious Weirdo, Enthusiastic Lovely, Wild Card and Evil Genius). Sam Campbell sees the world in a way that's all his own. His speech is peppered with anachronisms, he delivers dark comments with a boyish smile, and is full of surprises – asked if he had any questions for the Taskmaster mid one task, he shot back "Are you a child of divorce?". It's impossible to predict what Campbell will do, say or think next, only that it will be funny.
And then there's Lucy Beaumont.
Lucy Beaumont isn't just consistently funny on Taskmaster, she's also consistently fascinating. Her grasp on what's happening during tasks is perhaps the slightest of any contestant in the show's history, but she still seems to be having a marvellous time, which means the audience is too. Her brow might furrow at a simple instruction, but her imagination is clearly teeming with – well, mostly nightmares by the look of it, but whatever it is, there's no shortage.
There's also no shortage of stories from her childhood that give the impression Beaumont could equally be from Hull or from Narnia. She's both Morwenna Banks' Little Girl character and a dark lord of the underworld, giggling through the unsettling, confused by the mundane, and absolutely, unimprovably comfortable with herself.
On the subject of Sam Campbell, by the way, Beaumont told Beyond the Joke that she felt like he could be her brother: "Two people like us must never be allowed to procreate. It would be like inbreeding, but you'd be passing on weirdness." Wise.
Beaumont's not a typical Taskmaster chaos merchant like say, Joe Wilkinson – too cool for points and rules. Currently fourth at the halfway point of a close-run competition, she's not even always a low-scorer and won episode five by a fair margin, celebrating with a group hug followed by emptying a can of squirty cream on her face while lying on Susan Wokoma's mum's waterbed.
Beaumont simply vibrates on a different frequency, and it is a delight to watch. She seems to lose herself in the whole process, taking on each task with child-like joy and managing to forget that she's being watched, filmed, judged and scored for her performances. It's genuinely aspirational in-the-moment stuff.
That's one of Taskmaster's joys: it's not only kind, but also the only place on television that allows comedians to fully reveal themselves and to be celebrated for whoever they are. It rewards difference and breadth of approach, which is why series 14's Fern Brady, diagnosed as autistic, found such powerful public and self-acceptance during her time on the show.
That's a quality Beaumont celebrates in Taskmaster, telling Beyond the Joke: "There's a lateral side, and there's a surreal, subversive side, and there's a really amazing neurodivergent community online who feel like it's theirs, and it's connected neurodivergent young people from around the world. It's been really amazing to see that from the inside."
Before comedy, Beaumont used her Drama degree to work in teaching, where she saw first-hand the positive impact of creativity and play during her one-to-one sessions with Syrian child refugees. "They had PTSD and the ones who were creative would heal so much quicker because they would heal through play." Whenever she reads about cutting arts subjects in schools she describes it as "like a dagger," she told Metro.
The woman's a natural comedian whose brain veers off in directions the rest of us want to follow. Good-hearted, funny, and frequently inexplicable, it's only thanks to Taskmaster that we've properly got to meet her. What a rare pleasure that's proving.
Taskmaster series 16 is currently airing on Thursday nights on Channel 4, where Hullraisers series two is coming soon.