Features
Taskmaster and The Underrated Comic Genius of Kiell Smith-Bynoe
Thanks to Taskmaster, a whole new audience is finally discovering just how funny Kiell Smith-Bynoe is. Here's where to explore his genius further…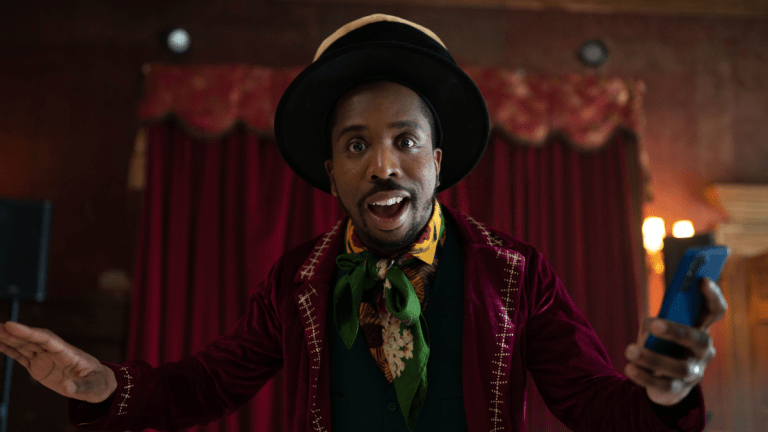 He's Mike in the hit BBC sitcom Ghosts. He's a contestant on the latest series of Taskmaster. But perhaps most importantly, he's the composer of the new hit song 'One On A Barge Pole… For Meeee.'
Okay, so we slightly embellished that last fact (and if you haven't seen the first episode of Taskmaster Series 15, that's your cue to watch it), but Kiell Smith-Bynoe is Having A Bit Of A Moment right now, and fast becoming a household name. And it's about bloody time.
Here's where you can catch up on the wealth of existing KSB goodness, from sitcoms to shorts to the unsung genius of his Channel 4 sketch show:
More Than Just Ghosts: Kiell is a Sitcom King
Yes, he's probably best known for playing Mike – Alison's lovable husband, Christmas Dinner-Maker Extraordinaire and co-owner of Button House – in Ghosts, but Kiell Smith-Bynoe's sitcom chops go far beyond that. In fact, he's had roles in many of the most celebrated, innovative British sitcoms in recent years, from brief-but-memorable appearances in The Witchfinder and Friday Night Dinner:
To more substantial parts, like ditsy-yet-sinister gangster Jovell in Man Like Mobeen (there's a clip here, but be warned, it contains some fairly extreme gore) to laddish estate agent Dean in Stath Lets Flats:
As The Cool Kids Say, Man's Got Bars
It will come as no surprise to anyone who has seen Kiell's Taskmaster performance so far that he's got some serious rhythm and musical skill, from flawlessly (well, almost) executing lifts with little Alex Horne at the silent disco to the aforementioned 'for meeee' bargepole-related earworm.
As his appearance on The Comedy Central Chart Show above shows, he's also hella good at comedy rapping (even though some of the lyrics are just 'gang gang gang gang gang gang gang'). More recently, he put this skill to the test in a unique and brilliant rendition of Row Row Your Boat on The Lateish Show With Mo Gilligan:
Ghosts fans will also enjoy reliving some of Kiell Smith-Bynoe's musical appearances in Horrible Histories, the comedic-but-educational children's show also created by the Ghosts team:
Look Out For Red Flag
Thank God for Channel 4's Comedy Blaps – a series of one-off, bite-size shorts showcasing fresh comedy talent – because without it we would never have seen Red Flag, Kiell Smith-Bynoe's fast-paced, silly and incredibly funny sketch show. In particular, the final sketch – in which he plays a street magician going to increasingly extreme lengths to correctly produce someone's chosen card – is surreal, clever and refreshingly original.
He's Not Short of Shorts
It's also well worth looking up some of Kiell Smith-Bynoe's many film shorts, from the short-but-silly Where's My Supermalt?, about a man on a frustrating hunt for a drink at a party, to the more darkly comedic Insecurity Questions, in which his bank's security questions lead to a very amusing office outburst.
He also recently starred in the four-part digital mini-series The Train, playing the amusingly long-suffering conductor Jason, alongside fellow Taskmaster contestant Tim Key as the depressed train driver and Lucy Pearman as the daft trolley girl.
Next Up: Dreamland
Smith-Bynoe's latest role is in Sky's new comedy-drama Dreamland, a quirky story about four dysfunctional sisters in the seaside town of Margate. Smith-Bynoe plays Spence – husband to one of said sisters, Trish (Doctor Who's Freema Agyeman) – alongside singer Lily Allen, Gabby Best, and Peaky Blinders' Aime-Ffion Edwards.
Taskmaster airs on Channel 4 on Thursdays at 9pm, after which episodes are also available to stream on Channel 4 online