News
Netflix New Releases: July 2023
Here's what's new on Netflix in July 2023 including the conclusion of The Witcher season 3.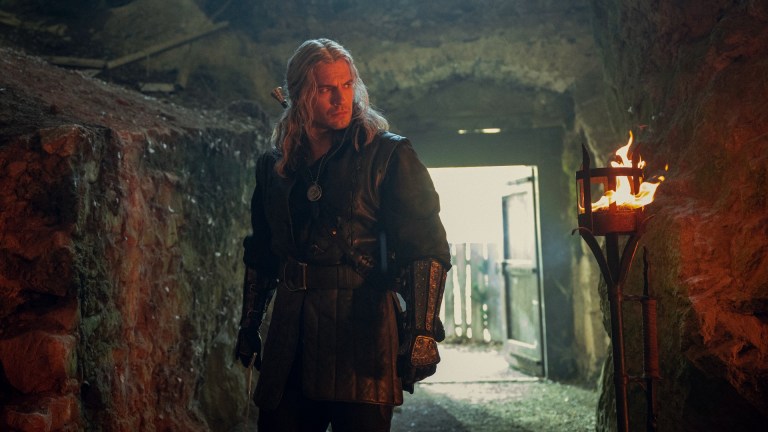 Do not adjust your phone screen. You are not experiencing deja vu. Netflix's list of new releases for July 2023 does indeed look quite a bit like last month's.
That's because the biggest new arrival this month is the conclusion of The Witcher season 3 on July 27. It seems like only 29 days ago that The Witcher season 3 premiered. And that's because it was! Now Henry Cavill's arc as Geralt of Rivia is set to officially end with this batch of three episodes. Get ready for the Liam Hemsworth era, Witcher fans. Other Netflix Original series of note in July 2023 are The Lincoln Lawyer season 2 on July 6, Sonic Prime season 2 on July 13 and the animated comedy Captain Fall on July 28.
Meanwhile it's a big month for Netflix's original movies department. Adam Devine-starring comedy The Out-Laws premieres on July 7. That will be followed by Bird Box sequel Bird Box Barcelona on July 14, and the John Boyega, Teyonah Parris, and Jamie Foxx-starring They Cloned Tyrone on July 21. It's also a good month for documentaries thanks to George Michal doc WHAM! (July 5) and free diving story The Deepest Breath (July 19).
July 1 sees the usual arrival of some exciting library streaming options. These include: Bridesmaids, Titanic, and Karate Kid.
Here is everything else coming to Netflix this month. NOTE: Netflix has marked its international offerings with that respective country's two-letter country code. You can find a list of those abbreviations here.
New on Netflix: July 2023
TBD
The Dragon Prince: Season 5 — NETFLIX FAMILY
Dream (KR) — NETFLIX FILM
Kohrra (IN) — NETFLIX SERIES
The Murderer (TH) — NETFLIX FILM
July 1
THE DAYS (JP) — NETFLIX SERIES
Bridesmaids
The Huntsman: Winter's War
Jumanji (1995)
The Karate Kid (2010)
The Karate Kid (1984)
The Karate Kid Part II
The Karate Kid Part III
Kick-Ass
Liar Liar
ONE PIECE: Thriller Bark
ONE PIECE: TV Original 2
Pride & Prejudice (2005)
Prom Night
Ray
Rush Hour
Rush Hour 2
Rush Hour 3
Snow White & the Huntsman
The Squid and the Whale
Star Trek
Star Trek Into Darkness
The Sweetest Thing
Titanic
Uncle Buck
Warm Bodies
July 3
Little Angel: Volume 3
Unknown: The Lost Pyramid — NETFLIX DOCUMENTARY
July 4
The King Who Never Was (IT) — NETFLIX DOCUMENTARY
Tom Segura: Sledgehammer — NETFLIX COMEDY
July 5
Back to 15: Season 2 (BR) — NETFLIX SERIES
My Happy Marriage (JP) — NETFLIX ANIME
WHAM! (UK) — NETFLIX DOCUMENTARY
July 6
Deep Fake Love (ES) — NETFLIX SERIES
Gold Brick (FR) — NETFLIX FILM
The Lincoln Lawyer: Season 2 Part 1 — NETFLIX SERIES
Wake Up, Carlo! (BR) — NETFLIX FAMILY
July 7
Fatal Seduction (ZA) — NETFLIX SERIES
Hack My Home — NETFLIX SERIES
The Out-Laws — NETFLIX FILM
Seasons (PH) — NETFLIX FILM
July 10
Captain Underpants: The First Epic Movie
StoryBots: Answer Time: Season 2 — NETFLIX FAMILY
Unknown: Killer Robots — NETFLIX DOCUMENTARY
July 11
Nineteen to Twenty (KR) — NETFLIX SERIES
July 12
Mr. Car and the Knights Templar (PL) — NETFLIX FILM
Quarterback — NETFLIX SERIES
Record of Ragnarok: Season 2: Episodes 11-15 (JP) — NETFLIX ANIME
Sugar Rush: The Baking Point (MX) — NETFLIX SERIES
July 13
Burn the House Down (JP) — NETFLIX SERIES
Devil's Advocate (KW) — NETFLIX SERIES
Puss in Boots: The Last Wish
Sonic Prime: Season 2 — NETFLIX FAMILY
Survival of the Thickest — NETFLIX SERIES
July 14
The Beauty Queen of Jerusalem: Season 2 (IL) — NETFLIX SERIES
Bird Box Barcelona (ES) — NETFLIX FILM
Five Star Chef (UK) — NETFLIX SERIES
Love Tactics 2 (TR) — NETFLIX FILM
Too Hot to Handle: Season 5 — NETFLIX SERIES
July 15
Country Queen (KY) — NETFLIX SERIES
Morphle 3D: Season 1
My Little Pony: Tell Your Tale: Season 1
July 16
Ride Along
July 17
Unknown: Cave of Bones — NETFLIX DOCUMENTARY
July 19
The (Almost) Legends (MX) — NETFLIX FILM
The Deepest Breath — NETFLIX DOCUMENTARY
July 20
Supa Team 4 (ZA) — NETFLIX FAMILY
Sweet Magnolias: Season 3 — NETFLIX SERIES
July 21
Extreme Makeover: Home Edition
They Cloned Tyrone — NETFLIX FILM
July 24
Big Eyes
Dew Drop Diaries — NETFLIX FAMILY
Unknown: Cosmic Time Machine — NETFLIX DOCUMENTARY
July 25
Mark Normand: Soup to Nuts — NETFLIX COMEDY
Sintonia: Season 4 — NETFLIX SERIES
July 26
Baki Hanma: Season 2: The Tale of Pickle & The Pickle War Saga (JP) — NETFLIX ANIME
The Great British Baking Show: The Professionals: Season 7 — NETFLIX SERIES
Missing: The Lucie Blackman Case (UK) — NETFLIX DOCUMENTARY
July 27
Happiness For Beginners — NETFLIX FILM
The Lady of Silence: The Mataviejitas Murders (MX) — NETFLIX DOCUMENTARY
Paradise (DE) — NETFLIX FILM
Today We'll Talk About That Day (ID) — NETFLIX FILM
The Witcher: Season 3 Volume 2 — NETFLIX SERIES
July 28
A Perfect Story (ES) — NETFLIX SERIES
Captain Fall — NETFLIX SERIES
D.P.: Season 2 (KR) — NETFLIX SERIES
Hidden Strike
How to Become a Cult Leader — NETFLIX DOCUMENTARY
Love, Sex and 30 Candles (ZA) — NETFLIX FILM
Miraculous: Ladybug & Cat Noir, The Movie (FR) — NETFLIX FAMILY
The Tailor: Season 2 (TR) — NETFLIX SERIES
What If (PH) — NETFLIX FILM
July 29
The Uncanny Counter: Season 2 (KR) — NETFLIX SERIES
July 31
BASTARD‼ -Heavy Metal, Dark Fantasy-: Season 2 (JP) — NETFLIX ANIME
Leaving Netflix: July 2023
July 9
12 Strong
Baby Ballroom: Seasons 1-2
July 12
Tom Segura: Completely Normal
July 14
Married at First Sight: Season 11
July 20
Ip Man
Ip Man 2
Ip Man 3
Ip Man 4: The Finale
July 23
Popples: Seasons 1-3
July 24
Serenity
July 25
August: Osage County
July 31
Five Feet Apart
Flight
G.I. Joe: Retaliation
Hardcore Henry
I, Frankenstein
Julie & Julia
Moesha: Seasons 1-6
Skyfall
Stepmom
The Ottoman Lieutenant
The Pursuit of Happyness
The Wedding Date
Tyler Perry's The Family That Preys
Underworld