Reviews
The Lincoln Lawyer Review: A CBS Series on Netflix
The Lincoln Lawyer is a solid example of why legal procedurals remain one of the most popular genres of show on both network and cable television. Will the format work on streaming?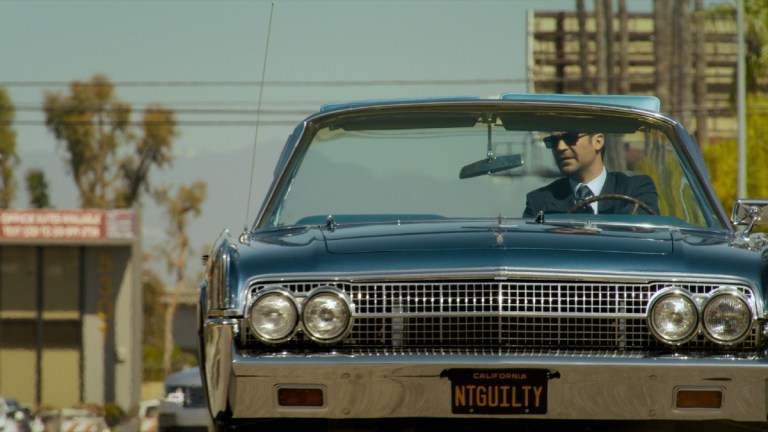 This The Lincoln Lawyer review is spoiler free and is based off of the first full season.
The opening episode of The Lincoln Lawyer sets the tone for the series right away. We see Mickey Haller (Manuel Garcia-Rulfo), fresh out of a stint in rehab, getting hounded by his assistant/ex-wife Lorna (Becki Newton) to get down to the courthouse because he has a big meeting with Mary Holder (LisaGay Hamilton), the senior judge of Los Angeles County. He's not prepared for the meeting, doesn't know what it's about, but he takes it because he has no other choice and Mickey Haller is smart enough and quick enough to land on his feet no matter what gets thrown at him.
Haller is charming, clever, and a brilliant defense attorney. In other words, he's the perfect centerpiece for a David E. Kelley-developed hour-long series. Originally a project a CBS, The Lincoln Lawyer finds a home on Netflix, with Kelley receiving a creator and adaptation credit alongside Ted Humphrey. Kelley has a list of hit shows as long as his arm, starting with his work on the phenomenon that was L.A. Law and carrying forward with hits like Chicago Hope and Ally McBeal, critical darlings like Big Little Lies, and compulsive streamers like Nine Perfect Strangers and Goliath.
Humphrey doesn't have 36 years of wildly successful television writing, creating, and production under his belt, but what he does have is the cache that comes along with being the showrunner on The Good Wife, another hugely successful, twisty legal drama. To put it mildly, the pedigree for The Lincoln Lawyer is good, even before you consider the series has its roots in Michael Connelly's wildly-successful fiction work. He's the creator of both Mickey Haller and Harry Bosch, who you'd recognize from the omnipresent Bosch commercials on Amazon Prime Video.
The Lincoln Lawyer has all the ingredients to be a success behind the camera, and with Manuel Garcia-Rulfo, the most important character in the show, Mickey Haller, is in safe hands. Garcia-Rulfo is a very handsome, charismatic performer. It's easy to see why he's such a successful defense attorney even before he opens his mouth to reveal wisdom. Haller can be brash, and push people hard, but he pushes himself harder, and all of that is balanced by a sharp comic timing that allows Garcia-Rulfo to break tension when called for without sacrificing dramatic prowess in the process. The title character of a show needs to be a strong, compelling argument for why it should be watched, and Manuel Garcia-Rulfo overrules any objections. He can't replace Matthew McConaughy, and he doesn't try to: this Mickey Haller is his own creation, even if he does still surf. It lacks much in the way of grit, but Haller is pleasant enough and winning enough to be a rooting interest, even if his biggest client Trevor Elliott (Christopher Gorham) is the worst kind of Silicon Valley tech bro.
The major complaint in Mark Harrison's review of the 2011 film version of The Lincoln Lawyer was that the movie had a great cast of talented actors who were playing the sorts of recurring characters that you'd see in a legal procedural thriller, but with only a few minutes of screen time during a two hour film. While Netflix's version of The Lincoln Lawyer doesn't have the star power of the big screen version, it has the advantage of time and breathing room, which allows these side characters ample opportunity to grow and develop along the titular Lincoln-loving defense attorney.
Lorna, played as both very bright and very spunky by Becki Newton, is balanced out nicely by the physically imposing, gruff investigator Cisco as played by Angus Sampson of Insidious fame. He's not the type of guy to get his hands dirty, but he knows people and he knows how to get information. It's easy to see why both characters like Haller, and why they're valuable members of his team. LisaGay Hamilton's Judge Holder is a brilliant bit of casting opposite Haller; she's no-nonsense and dry, and seems completely immune to his charms while still hoping for the best out of him. Jazz Racole is a breath of fresh air, despite being saddled with some predictable moments, and she's a nice counterpoint to Garcia-Rulfo. Neve Campbell is always a welcome presence in any series, and while Maggie McPherson plays second fiddle to Haller's story, when she's given something to do other than look disapproving at her ex-husband, she does well with it and anchors the show's secondary plot nicely. Ntare Guma Mbaho Mwine as Detective Griggs is a dependable foil; Maggie gets a different but similar enough tag-along in Jamie McShane's Detective Langford.
The Lincoln Lawyer's roots as a CBS procedural are very much evident, particularly in the first half of the season. Haller bounces around from case to case while digging in where he can on the show's central issue and his very important client. The focus on case-of-the-week fades as the show's main plot starts to gel together, and by the end of the season, the series seems to have found a nice balance between season-long story arc case drama and the solid episodic lawyer shows that bought David Kelley a solid-gold typewriter. The show benefits greatly from the landscape of Los Angeles in those early episodes, and that dramatic landscape only heightens the tension in the latter half of the season.
The Lincoln Lawyer isn't going to break any new ground. It's not going to be an edgy critical darling. It's not trying to be. You don't need to reinvent the wheel to hold up a cart. The Lincoln Lawyer is an easy-to-watch binge-streamer with solid characters inhabiting an interesting world. If it were a CBS show, 5 million people (including your parents) would tune in for it every week and it would run for 5 seasons. There's a reason why legal procedurals tend to draw ratings; The Lincoln Lawyer is an example as to why that model works. Clever enough and compulsively watchable, The Lincoln Lawyer is competent entertainment from one of the kings of the procedural. As long as you don't think too hard about the very improbable law stuff, The Lincoln Lawyer is going to be a pretty fun bit of candy floss TV.