Reviews
Loki Season 2 Episode 6 Finale Review: Yggdrasil
In an emotional season two finale, Loki is burdened with glorious purpose for all time. Always.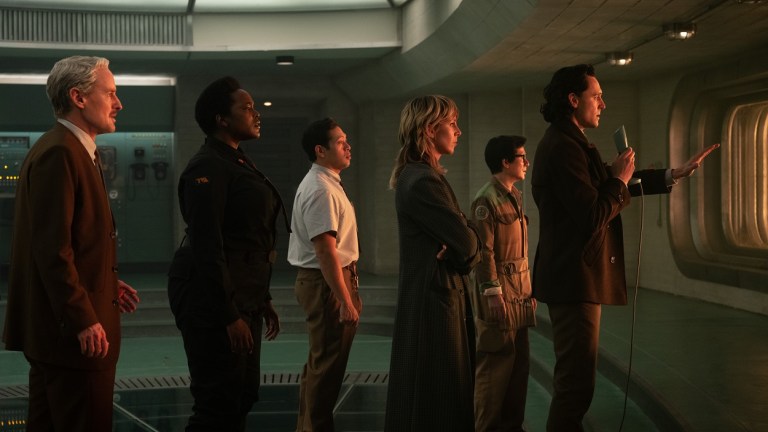 This review contains spoilers
You may recall that the first ever episode of Loki was called "Glorious Purpose", and so is the last, coming full circle as the God of Mischief finally evolves into the God of Stories. For everyone else, the possibilities are now infinite, but for Loki there is now just one life to lead: sat upon a throne, just as he once coveted, alone forever. I am not okay.
For all the predictions we threw around about how this series would end, I doubt many saw all this coming, and it feels both refreshing and heartbreaking. The episode does, however, explore some of the other directions the story could have gone, giving Loki the opportunity to kill Sylvie or somehow succeed in fixing the loom. It also includes a rather expected reveal that He Who Remains has been playing 5D chess with Loki the entire season, but that reveal in itself leads to a really fascinating scene where Loki must choose to ascend.
Not that he gets there easily, of course. It takes centuries for Loki to realize that the only way to save the multiverse is by facing his worst fears and accepting their burden forever. Along the way, he absorbs an incredible amount of knowledge from OB, hears an upsetting tale from Mobius' past, and has one final conversation with Sylvie, all of which helps him to understand the bigger picture.
In the penultimate episode, Loki began to understand that the science of it all didn't matter, but he still tries to utilize science to fix the loom problem in the finale. It doesn't work, and he soon finds out why: the loom was only ever a failsafe, and could never be re-engineered to weave infinite new branches. Instead, Loki must make the ultimate sacrifice and replace the loom as the heart of Yggdrasil, the sacred tree of Norse cosmology that connects the Nine Realms. It's an emotional sequence, and one of the most visually stunning CG pieces the MCU has ever attempted.
Afterwards we wonder what will happen next, because things are never really over over in the MCU, but this season seems to close the book on Loki, and if we don't see Tom Hiddleston don the character's horns again in the future, this will at least make for a fitting goodbye. I can't imagine he ever thought things would stretch this far, especially after Marvel already tried to kill Loki off twice.
Regardless, I can't say enough good things about the show's final season, which has been a thrilling and often head-scratching ride. Major props must go to writer Eric Martin and directors Justin Benson and Aaron Moorhead, who have created a thoughtful and wonderful chapter for the character here. If Marvel were looking for a new "dream team" to steer the MCU into less choppy waters, they have certainly found one. Everyone else who worked on this series should also be incredibly proud, including the phenomenal cast, production designers, the VFX crew, and composer Natalie Holt, who didn't need to go that hard every step of the way – but goddamn I'm glad she did.
Addressing the elephant in the room, the Jonathan Majors of it all remains a conundrum for Marvel now that He Who Remains' variants are free to cause chaos across infinite timelines, and I'm sure there's a lot of pressure on Marvel to address that situation before they embark on any more tales with Kang at the center. I could personally do without any more of them – Kang is such a headache – but if they choose to keep the focus on the character going forwards in whatever form, I hope they put as much energy and creativity into it as they have in Loki.
The end of this finale will stay with me for a while. I have to admit I shed more than one tear when Mobius went to watch over the family he never got to keep (we will surely see Owen Wilson as Mobius again very soon but this series has only served to prove how underrated he is as an actor). Seeing Loki smile at the center of everything, knowing his friend will finally get to choose his own destiny, was such a wonderful and painful moment that connected the two across time and space.
But this is it! The end. And it was never about where, when, how, or why. It was about who. Thanks to everyone who has taken the time to read my Loki reviews this season. Perhaps we will meet again in the grand multiverse. For all time. Always.