Features
Hidden Gem British TV Comedies on Netflix
Fill your Netflix watchlist full of these critically acclaimed British comedies, with LOL-worthy performances from Greg Davies, Phoebe Waller-Bridge, Guz Khan & more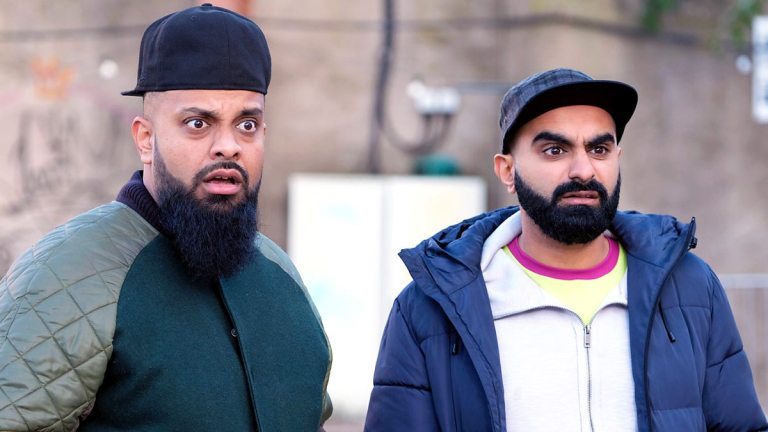 If there's one thing we're not short of on this strange little island, it's funny people. When life is good, we're laughing. When things get weird, we're laughing. And when everything falls apart, somehow we're still laughing.
From top bants to gallows humour, you can always rely on the British to bring the LOLs, and from Charlie Chaplin through to Monty Python and Fleabag, British comedy seems to translate pretty well worldwide too, meaning there's plenty on offer on Netflix.
So if you're sick of rewatching the same old sitcoms and looking for fresh laughs, we recommend these British comedy hidden gems on Netflix:
[All the following are available on both US and UK Netflix, unless stated]
Lovesick
For most of us, an STD probably wouldn't be our first choice for the basis of a sitcom, but that's why Lovesick is so genius: it takes a usually no-laughing-matter concept and stuffs it full of refreshing honesty, warmth and deliciously funny one-liners. We know we're in safe hands from the very first, very funny scene, when twenty-something landscaper Dylan (Johnny Flynn) gets told "You've tested positive for chlamydia" by his sarcastic GP (We Are Not Alone's Vicki Pepperdine), and he replies "That… that doesn't sound positive". Dylan is tasked with informing all his previous sexual partners about the diagnosis, so each episode of Lovesick focusses on a different former conquest, told mainly through flashbacks of the time they were together, with his best friends and flatmates – the feckless but lovable Luke (Daniel Ings, The Gold) and witty Evie (Antonia Thomas, The Good Doctor) – along for the ride. All three series are perfect funny viewing – in fact, probably the only thing Lovesick got wrong was its original name which, as you can see from the Channel 4 trailer above, was the appalling Scrotal Recall.
Crashing
Before Phoebe Waller-Bridge's monumental success with Fleabag, there was Crashing, her 2016 Channel 4 comedy about a group of friends living as property guardians in a disused hospital. Like Fleabag, Crashing works because of its inventive premise and excellent cast of messy characters, with Waller-Bridge starring as Lulu alongside recognisable names like Bridgerton's Jonathan Bailey, Gavin & Stacey's Adrian Scarborough and The Split's Damien Moloney, as well as a riotous appearance from Kathy Burke (Gimme Gimme Gimme). Although there's only one series, the six episodes are packed full of entertaining shenanigans, with some genuinely horrifying moments that will not leave your memory for a long while.
Feel Good
This award-winning comedy drama is a semi-autobiographical work by Mae Martin (a standup and recent Taskmaster contestant), who stars as a fictional version of themself, alongside Charlotte Ritchie (Ghosts) as their girlfriend George. It certainly delivers on the name, with Ritchie and Martin sharing incredible on-screen chemistry, but Feel Good also has real depth and a big heart, tackling complex issues like addiction, childhood trauma and fear of coming out. Like Lovesick above, Feel Good was originally a one-series wonder for Channel 4 in 2020 before Netflix took it on and commissioned another series (or two in Lovesick's case), which was released the following year. It also earns serious comedy bonus points for its supporting cast, including Friends star Lisa Kudrow as Mae's mother and Buffy's Anthony Head as George's father.
Still Game
Originally a stage play about three Glaswegian pensioners, Still Game then featured on sketch show Chewin' The Fat in the late nineties, before becoming a nine-series Scottish sitcom classic for the BBC. The show stars its creators – Ford Kiernan and Greg Hemphill – as the cheeky widowers Jack and Victor, and their daft, amusing and often bawdy high-jinks among the elderly population of Craiglang (a fictional area of Glasgow) is as comforting as it is relatable. Yes, Still Game is packed with more textbook comedy tropes than you can shake a stick at, and it's not exactly high-brow, but it's certainly a lot of fun, although those less familiar with Scottish dialect might need to pay a little more attention to appreciate Still Game's undeniable humour.
Man Like Mobeen
Guz Khan has the rare talent of being naturally, easily funny while also being a performer of substance who demands your attention, and that's also an excellent overall description of his comedy drama Man Like Mobeen. Khan stars as the titular Mobeen, a reformed drug dealer who is raising his younger sister Aqsa (Dúaa Karim) while also taking care of his daft best friends, Nate (Tolu Ogunmefun) and Eight (Tez Ilyas). Over the course of its four series this BBC Three comedy drama moves its emphasis from the former to the latter, dealing with increasingly serious subject matter in amongst the jokes – from knife crime to drug gangs, Islamophobia and other issues facing young, working class families in Birmingham – and continually raising the stakes for these flawed but loveable characters. There's currently three series of this exceptionally made comedy on Netflix, with the fourth and final series released on BBC iPlayer in June 2023.
Crazyhead
This 2016 E4 comedy-horror series arrived just as the career of Susan Wokoma (Year of the Rabbit and series 16 Taskmaster contestant) was on the rise, which means it's often been overlooked in favour of her more prominent roles that came shortly after it, but her performance as self-made demon hunter Raquel in Crazyheads deservedly earned her Best Onscreen Performance at the RTS West Awards. Wokoma stars alongside Downton Abbey's Cara Theobold as a reluctant fellow "seer" (one of the rare people who can see demons) who Raquel mentors as a demon hunter, with Mayflies' Tony Curran as their nemesis, the powerful demon Callum. It's action-packed, foul-mouthed and completely bonkers – sadly there's only one series.
Derry Girls
Easily one of the best comedies of this generation, the multi-award-winning Derry Girls is a masterpiece of the "sitcom with a soul" genre: it tells the story of five gobby, high-spirited, completely loveable nineties teenagers as they finish their school years in Derry, Northern Ireland, during the final years of the Troubles. The deliciously sharp, funny jokes are a true representation of Northern Irish humour, but every so often Derry Girls creator Lisa McGee will pull the rug out from under you mid-laugh, as the true impact of the political climate seeps into these carefree girls' lives. The show's many larger than life characters are played by a talented ensemble cast that have deservedly gone on to earn big roles, such as Nicola Coughlan in Bridgerton, Saoirse-Monica Jackson in The Flash, Dylan Llewellyn in Beyond Paradise and Siobhán McSweeney (who plays the unforgettably sharp-tongued Sister Michael) in Extraordinary. The three perfect series value quality over quantity, leaving you wanting more.
On UK Netflix, mostly available to stream elsewhere in the US
Catastrophe
There's a very simple reason why Catastrophe works so well: the incredible working partnership between Sharon Horgan and Rob Delaney, who created, wrote and starred in this contemporary, funny and often moving comedy. Delaney plays American businessman Rob who accidentally gets Irish schoolteacher Sharon (Horgan) pregnant when they have a brief fling during a London business trip, and the pair end up reluctantly and messily embarking on the journey to parenthood together. Starting in 2015, Catastrophe lasted four heartwarming series, and the supporting cast includes Guilt's Mark Bonnar, After Life's Ashley Jensen and the final on-screen performance for Star Wars legend Carrie Fisher.
Where to stream in the US: Prime Video
Peep Show
There's nine brilliant series of this cult classic, which sees comedy duo David Mitchell and Robert Webb become Mark and Jez, chaotic flatmates and unlikely friends, who stumble haphazardly through life getting themselves into one toe-curlingly awkward situation after another. It's a grownup kind of comedy, not for the faint-hearted, with its innovative format – filmed using point-of-view shots and internal monologues – meaning we experience the characters in their raw, unflinchingly honest, and deeply flawed glory. The impressive supporting cast includes Oscar-winning Olivia Colman and Isy Suttie (Man Down) as two of Mark's longer term love interests, and Paterson Joseph (Vigil) as Mark's hilariously over-confident boss. Peep Show was written by Sam Bain and Jesse Armstrong, with Armstrong going on to create Succession.
Where to stream in the US: Fubo/Roku
Chewing Gum
If watching the powerful, critically acclaimed black comedy I May Destroy You made you fall in love with Michaela Coel's genius, you need to watch her first hit show, the decidedly more light-hearted Chewing Gum, which premiered on Channel 4 back in 2015. It's a lightly autobiographical comedy in which Coel stars as Tracy, a 24-year-old London shop worker from a highly religious Ghanaian household, who wants to lose her virginity and learn more about the world. Coel puts in a quirky, warm and memorable performance across the show's two series, alongside Crazyhead's Susan Wokoma as her uptight sister Cynthia, and Shola Adewusi (Damilola, Our Loved Boy) as their religious mother, Joy.
Where to stream in the US: Max
Motherland
You don't have to be a parent to watch Motherland, but if you are, you'll undoubtedly relate very hard to this thoroughly chaotic and honest portrayal of the frustrations of motherhood. Anna Maxwell Martin (Good Omens) stars as Julia, a frazzled and overworked mother who wishes she was one of the "alpha mums", but sadly has much more in common with the no-filter working-class mum Liz (Diane Morgan, Mandy) and passive stay-at-home Dad Kevin (Paul Ready, The Terror). Together, they try (and often fail) to muddle through to the end of each day, frequently up against the seemingly perfect (but secretly just as messy as the rest of us) Amanda, played in a wonderfully love-to-hate way by Lucy Punch (Bloods). There's currently three series of this BAFTA-winning BBC sitcom, and a fourth hasn't yet been ruled out.
Where to stream in the US: AMC+
Cuckoo
Two absolute comedy behemoths united in this BBC Three comedy: Greg Davies (Man Down) plays dad Ken, who discovers – much to his dismay – that his daughter has secretly married an eccentric hippy Cuckoo – Brooklyn 99's Andy Samberg – while travelling on her gap year, and brought him home to live with them. After the first series, Samberg's busy schedule meant he had to be replaced by Scream Queens' Taylor Lautner, and the show's fifth and final series saw a new unwelcome American visitor arrive in the form of Ken's long-lost, rather sinister half-sister Ivy (Groundhog Day's Andie MacDowell). Both Ken and Cuckoo are as comically awful as each other, making their conflict all the more entertaining, and Cuckoo is pleasingly full of farcical disasters and awkward moments.

Where to stream in the US: Not currently available