Features
Gen V Cast: Meet the Young Supes of The Boys Spinoff
A brand new crew are joining The Boys universe with Gen V!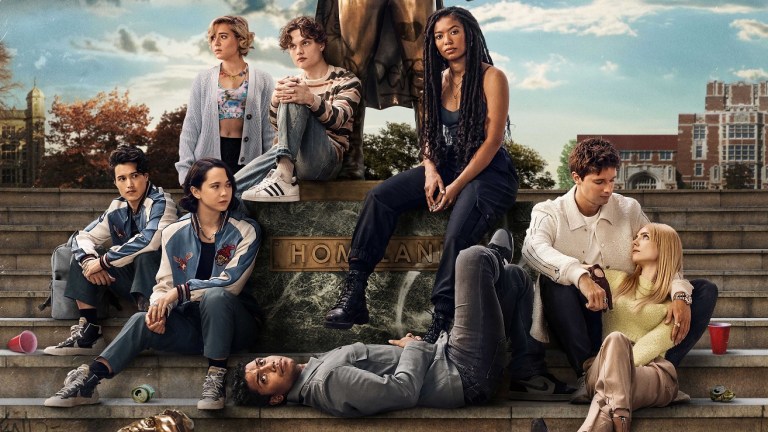 The Boys universe is getting even bigger on Prime Video in 2023 with the launch of brand new spinoff series Gen V! Yep, even more Compound V babies are all grown up and studying crimefighting in college, so there are a lot of new Supes to meet this year. Some of them are nice, and some of them are definitely gonna be a problem for Butcher and the boys down the line. As for the others? Well, the jury's still out.
If you've been watching Gen V and have spotted some people you want to get to know a little better, we can surely bring you up to speed with their characters and their acting background. Let's get to know the cast and characters of Gen V!
Jaz Sinclair as Marie Moreau
Marie Moreau (Jaz Sinclair) is the main character in Gen V, and it's safe to say she may be in way over her head while surrounded by the more privileged and protected students of Godolkin University. She also has a very strange superpower that sets her apart from the rest of the crowd: Marie is a blood bender, with a tragic past. She can be quite insular, but manages to be courteous and friendly with others, like her roommate Emma.
Those who already gobble up tales of the weird and unusual may recognize Jaz Sinclair from her role as Sabrina's witchy best friend Rosalind "Roz" Walker in the hit Netflix series Chilling Adventures of Sabrina. She also played Beatrice Bennett in The Vampire Diaries, and Chloe in the supernatural copypasta horror film Slender Man back in 2018.
Chance Perdomo as Andre Anderson
Another Chilling Adventures of Sabrina vet in Gen V is Chance Perdomo, who played Sabrina's warlock cousin Ambrose Spellman in the Netflix show! In this Boys spinoff, Perdomo is Andre, a popular metal bender and best friend of "Golden Boy" Luke Riordan (yes, that's Arnie's son Patrick Schwarzenegger). Andre has a lot to live up to at Godolkin, as his father is the famous superhero Polarity (Save the Last Dance star Sean Patrick Thomas). Even though he's protected to a certain degree at college, it's important that Andre maintain a level of good behavior – at least in public!
Lizze Broadway as Emma Meyer
Emma Meyer is as cute as a button and almost the same size! Marie's roommate is a half-inch sized Supe with the deceptively-unthreatening name of Little Cricket. She is typically regular size but can shrink down given the right circumstances – and sometimes with distressing results. Emma is played by Lizze Broadway, who is best known for roles in the TV series Splitting Up Together and The Rookie, and her role in the feature film American Pie Presents: Girls' Rules. Gen V has undoubtedly offered up her biggest role yet, but she's so good in the show, we should be seeing a lot more of her in the future.
Maddie Phillips as Cate Dunlap
Golden Boy's girlfriend Cate Dunlap is a mind empath who can convince people to do pretty much anything, which is a very dangerous superpower, and one that makes her a top Supe at Godolkin University. Cate is definitely someone you wouldn't want to cross. Canadian actress Maddie Phillips plays Cate. You may recognize her as Randeen from Ghost Wars, Devon D'Marco from Project Mc2, or Sterling Wesley from the Netflix teen comedy-drama series Teenage Bounty Hunters, which was unfortunately canceled after just one season on the streaming service.
Derek Luh and London Thor as Jordan Li
Gender-shifter Jordan Li is another very powerful Supe at Godolkin. They're also the trusted assistant of renowned professor Richard "Rich Brink" Brinkerhoff, who can be the reason Supes sink or swim at the college. As Jordan switches between male and female throughout the series, the character is played by two different actors – Derek Luh and London Thor. Luh has had a few acting roles in the past, but is mainly known for his music. He has been the artist behind four solo albums to date, and has toured with Machine Gun Kelly. Korean American EDM writer and actress London Thor, meanwhile, has had parts in Never Have I Ever, Shameless, and Netflix's You.
Asa Germann as Sam
Baby-faced Supe Sam has super strength, invulnerability, and a big ol' bag of issues to overcome. He's played by Asa Germann in his first proper Hollywood role. Previously, the most we've seen of Germann is as "Blonde Jogger" in Dahmer – Monster: The Jeffrey Dahmer Story on Netflix!
Other Familiar Faces
Arguably the most famous actor in Gen V is Clancy Brown as Professor Brink. Brown has so many IMDb credits to his name we're not sure where to begin, but his notable roles include The Kurgan in Highlander, Capt. Byron Hadley in The Shawshank Redemption, Sgt. Zim in Starship Troopers, Brother Justin Crowe on Carnivàle, and Waylon Jeffcoat on Billions. Recently, he played Kurt Caldwell on Dexter: New Blood. He's also the voice of Mr. Krabs on SpongeBob SquarePants – you won't be able to unhear it!
Elsewhere, Shelley Conn plays "normie" Indira Shetty on the show. Shetty is superintendent of Godolkin University, and doesn't seem very trustworthy. Conn is best known for playing Lady Mary Sharma in Bridgerton, Dr Elizabeth Shannon in Terra Nova, and Beelzebub in the second season of Good Omens.
You'll also spot a ton of appearances from The Boys alums Jessie T. Usher (A-Train), Colby Minifie (Ashley Barrett), Claudia Doumit (Victoria Neuman), P. J. Byrne (Adam Bourke) Jensen Ackles (Soldier Boy), and Chace Crawford (The Deep).
Gen V is now streaming on Prime Video