Features
Diabolical: How The Boys' Wild Spinoff Was Created with (Almost) No Rules
Invincible showrunner Simon Racioppa takes us behind the scenes of The Boys' cheeky animated spinoff series, Diabolical.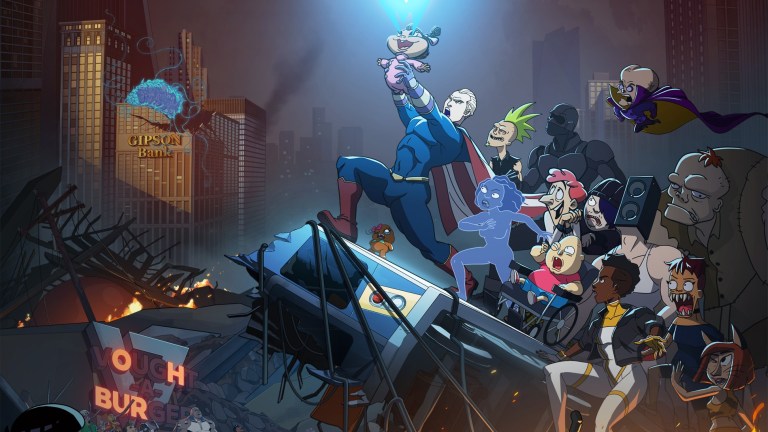 The irreverent world of Amazon's smash-hit superhero series The Boys is getting bigger, as new animated anthology show Diabolical highlights tales of various unsuspecting people affected by Vought's Compound V serum, including everyone's favorite maniacal Supe, Homelander. Invincible showrunner Simon Racioppa spearheaded the ambitious eight-episode series, where every installment boasts its own animation style and eye-popping talent.
"We had a cast of incredibly talented people, who we just let do their thing," Racioppa says. "We trusted them, and they gave that trust back with incredible work. Everybody gave 110%. I can't speak highly enough about the crew, our directors and designers, our cast, animators, and everyone on our post-production team. Everybody just came together to get this done."
Awkwafina, Kumail Nanjiani, Justin Roiland, Andy Samberg, Michael Cera, Don Cheadle, Kieran Culkin, Giancarlo Esposito, Ben Schwartz, Kevin Smith, Simon Pegg, Christian Slater, and Aisha Tyler are just some of the names attached to these unique stories, and Racioppa tells us that The Boys' executive producer Seth Rogen was key to bringing them all onboard, making phone call after phone call to notable creators and celebrities who he already knew were fans of the live action series.
The show unveils a string of wild stories that fans of The Boys will love sinking their teeth into. There's an episode that focuses on a home for kids who have developed underwhelming superpowers, an episode devoted to exploring what happens when a girl discovers she can control turds, an episode that lets the iconic "laser baby" from the live action show have a Looney Tunes-style adventure, and even an episode written by The Boys comic book co-creator Garth Ennis, where the original comics-style versions of Billy Butcher and Hughie Campbell are on a mission to whip up some very public carnage at an event celebrating a murky Supe's "achievements."
With such a broad range of stories to tackle, Racioppa, who grew up reading and watching other anthology fare like The Twilight Zone, 2000 AD, Heavy Metal, and The Animatrix, says that after his team made the decision to choose different animation styles for every episode of Diabolical, there was a lot of hard work involved in realizing their vision.
"We knew we wanted to shoot high," Racoppia says. "And as we started to go out to our writers, who are other creators, other celebrities, they started to pitch us their stories, and we realized that there wasn't a way to do them all in the same style. Could you do a Justin Roiland crazy, wacky episode next to an Andy Samberg episode, which is about the emotional breakdown of an older couple dealing with cancer? What style would work for both of those? We felt like picking one style, or even two styles, wouldn't do the show, the stories, or the scripts, justice."
The project was created on a tight ten-month schedule, and writing each episode always led to pinpointing the appropriate talent for all the other aspects of it. But Racioppa reveals that there were almost no rules set out for Diabolical, with writers simply asked what kind of story they would want to tell in the world of The Boys, and then instructed to "go bananas."
It made for a kinetic environment that presented fresh challenges. Every decision Racioppa and his team usually would make over on Invincible had to be made eight times on Diabolical. "Because we had eight different composers and a whole different cast on every episode, there was no overlap. Every design had different directors."
The Boys showrunner Eric Kripke was also on hand to help build those eight stories, as other characters from the "mothership" series occasionally pop up in Diabolical, like The Deep and Black Noir.
"Nobody knows the world of The Boys better than Eric does," Racioppa says. "Wherever it logically and organically made sense we integrated those characters. Many episodes don't have any characters from the mothership, but they are connected by Compound V to The Boys. It all exists in that world."
But it's Homelander who gets a finale spotlight with an uber violent and disturbing story called "One Plus One Equals Two" that takes us back in time to when the extremely messed up Supe first joined The Seven and was sent on a mission to rescue hostages during a tense standoff. Needless to say, nothing goes to plan, and Homelander shows his truly psychotic side in all the ways we've come to expect.
A second season of Diabolical hasn't been confirmed yet, but Racioppa hopes the fun will continue and we'll get to meet even more new characters caught up in Vought's web in the future.
"The Boys is a well-crafted, linear story, but Diabolical is more of a grab bag, and I think that's what makes it fun."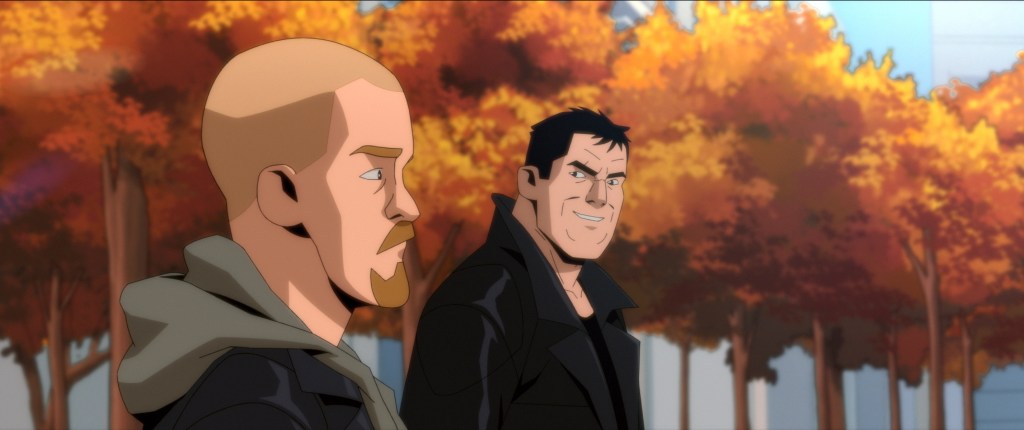 Episode 1: I'm Your Pusher
The first episode of Diabolical looks more like The Boys comics than it does the TV series, and it's written by The Boys co-creator Garth Ennis.
"We told Garth Ennis that we wanted to do a comics version of The Boys [for Diabolical]. He was really into that, [and said] "I was thinking about this thing about a drug dealer story, and he spikes the Supes' drugs." I think we talked to him on a Thursday, and he emailed the script on Sunday, like three days later, and it was great. He just sat down, and did it, and it was awesome."
"We sent him designs and things along the way [and] he would give notes. We love the writers and the creators to be participatory through their episode's completion. He was awesome. He was super responsive and just wrote a great script and was a joy to work with."
Episode 2: An Animated Short Where Pissed Off Supes Kill Their Parents
Some of the weirder Diabolical episodes are tougher to resolve within the context of The Boys live action show.
"Obviously we have episodes going in a lot of different directions. We have comedic episodes like Justin Roiland's, which is obviously super weird and wacky. No one's going to think that's canonical with [The Boys live action series]. It has a guy with a speaker for a head! Maybe there's elements that come across [like it might be canon]. The home for the kids is called Red River, and there are facilities in The Boys that Vought runs that are called Red River. So there is still a connection, even if it's a little weirder, a little more out there."
Episode 4: Laser Baby's Day Out
"Laser Baby's Day Out" not only looks like an authentic, classic cartoon, it sounds like one too.
"One of the highlights for me was 'Laser Baby's Day Out'. We wanted to make sure it felt as authentic to an old school Looney Tunes-style cartoon as possible. So we found these two incredible composers, Steve and Julie Bernstein, who worked on Animaniacs and Tom & Jerry, and they were delighted to come on board. They ended up doing a 29-piece live orchestra recording for that episode. Things like that were some of my favorite things to do. If we're gonna make a Looney Tunes episode, let's really make a Looney Tunes episode, let's get the orchestra, let's do it the way they used to do it. So that was a treat."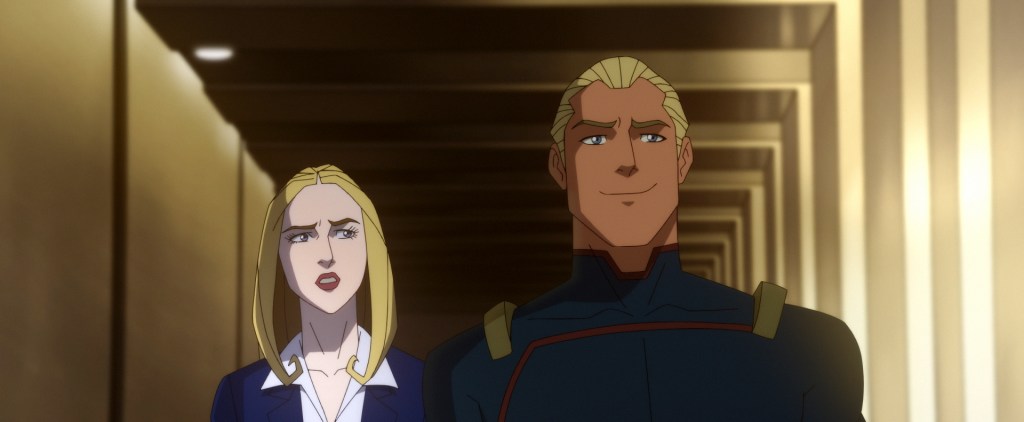 Episode 8: One Plus One Equals Two
Racioppa also tells us about what went into creating that wild Homelander origin story episode.
"It's a story created just for Diabolical. I've read the whole run of the comics, even before I worked on the show. It's more based on Eric Kripke's version of The Boys. I mean, there's some overlap, too, but I worked with Eric on the script just to make sure it matched up with what his version of Homelander was from the television series, just to make sure that it fit with that world. It wasn't adapted from any specific incident in Garth Ennis' scripts. Certainly the idea of a superhero like Homelander who's been raised by a corporation essentially… nobody's gonna come out normal under those circumstances."