Features
Black Mirror Season 6 Easter Eggs Upend the Show's Shared Universe
According to Black Mirror creator Charlie Brooker, season 6's many Easter eggs are more significant to the series' canon than you think.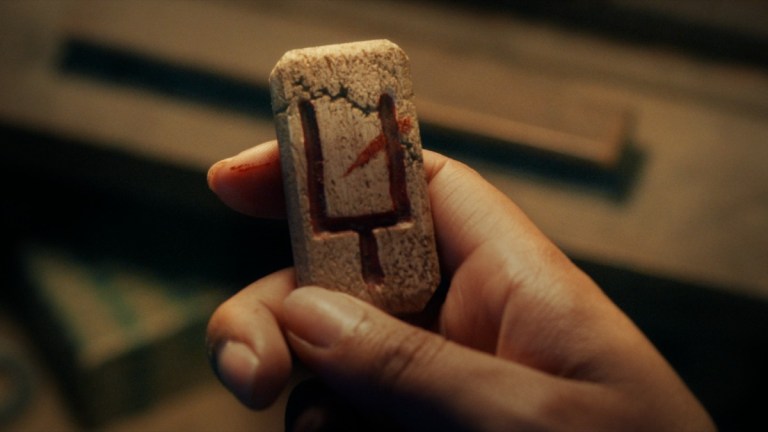 Several times throughout sci-fi anthology Black Mirror's run, creator Charlie Brooker has intimated that the show's seemingly unrelated installments take place in a shared universe. The show itself has continually confirmed Brooker's theory, featuring a series of familiar Easter eggs throughout many episodes.
Speaking to Thrillist in advance of the show's third season (and first on Netflix) in 2016, Brooker said: "We had the Irma Thomas song come back in because it does sort of nest the whole thing together in some kind of artistic universe, to sound wanky for a moment. So it is deliberate, but it's not part of some grand unveiling that this is all set in the year 2030 or something."
Then, in 2017, Brooker told DigitalSpy that season 4 finale "Black Museum" does actually "now seem to imply that it is all a shared universe."
With the launch of Black Mirror season 6, however, the status of that shared universe is more difficult to parse than ever. Brooker deliberately went in a new direction with this batch of five episodes. One of them began as a separate project entirely called Red Mirror. Another introduces unambiguously supernatural elements for the first time in the show's run. And at least three of them take place in the past, spanning from the 1960s through 2006, making the Black Mirror timeline a confusing jumble.
Thankfully, Brooker has some advice for those seeking to maintain the integrity of Black Mirror's shared universe theory.
"If you don't think any of (these episodes) are canon, just imagine it's an episode on Streamberry," Brooker says, referencing the Netflix-like fictional streamer that "Joan Is Awful" introduces. "Now if people ask me 'is it a shared universe?' I'll say 'yeah, of Streamberry shows.'"
Well, there you have it, folks. It's the streaming era of Black Mirror and all bets are off. With that in mind, let's run down all of the Black Mirror Easter eggs we can find from season 6 and then argue among ourselves as to which of the five episodes are canon and which are Streamberry Originals.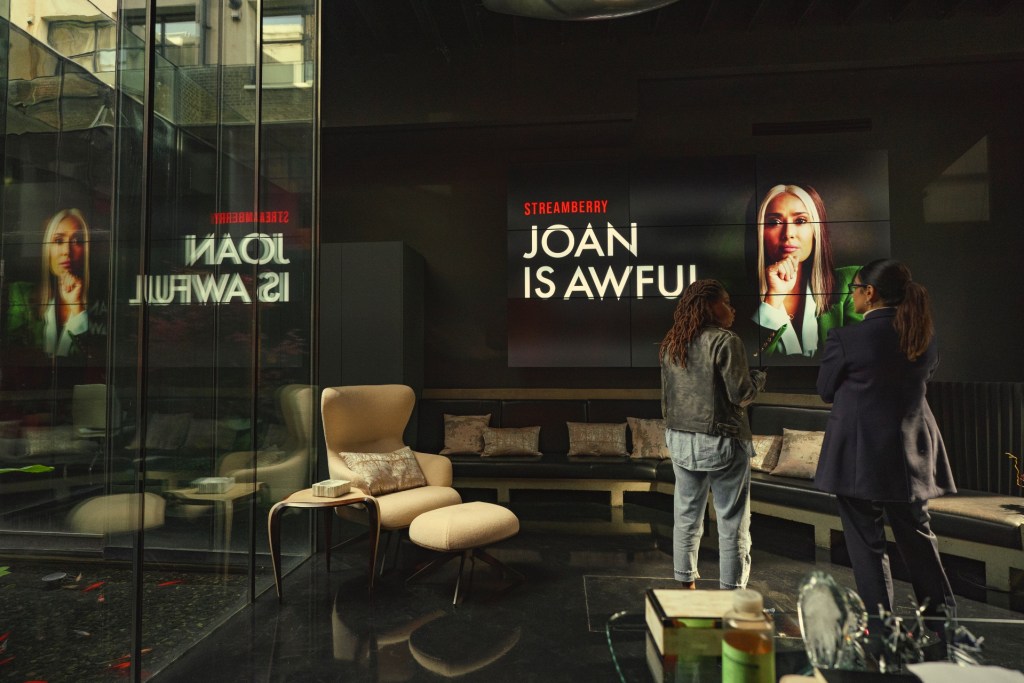 Season 6 Episode 1: Joan Is Awful
Thanks to the introduction of the aforementioned Streamberry, Joan Is Awful is the most Easter egg-heavy episode of season 6. Read our review here.
The first Black Mirror Easter egg this season is an appropriate one. Around the eight-minute mark when Joan enters a restaurant we can hear the song "Anyone Who Knows What Love Is (Will Understand)" by Irma Thomas playing over the speakers. Since it was first featured in season 1's second episode "15 Million Merits" this has become something of an unofficial anthem for the show.
Virtually every single title features on Joan's Streamberry account is a Black Mirror Easter egg. Here is every one we caught:
Loch Henry: Truth Will Out is a documentary that we will see created in episode two of this season.
The Callow Years references the very first episode of Black Mirror, "The National Anthem." If you pause, you even get to read the description of the docuseries: "A fascinating six-part documentary exploration of the prime ministership of Michael Callow – including never-before seen archival footage from some of his most controversial public moments." Of course, "most controversial public moments" is referring to the time he was blackmailed into making love with a pig on national television.
Hot Shots is the name of the dystopian talent competition from "15 Million Merits".
Junipero Dreaming is likely about the digital afterlife technology seen in season 3's "San Junipero." We'll actually learn about the existence of a second Junipero doc later on in episode two.
Sea of Tranquility also dates back to "The National Anthem". Someone within the Callow administration suggests getting a VFX expert to fake the act of man-pig love. That expert previously worked on "Sea of Tranquility." The description for the series on Streamberry mentions that it's an HBO show. Impressive that the Netflix analogue in Black Mirror world has access to the Warner Bros. Discovery library.
We see an unnamed Streamberry title that clearly features the pop artist Ashley O, previously portrayed by Miley Cyrus in the season 5 episode "Rachel, Jack and Ashley Too."
The cartoon Rowdy and Peanut comes from a second interactive special that Brooker and fellow Black Mirror producer Annabel Jones created for Netflix called Cat Burglar.
The employee that Joan has to fire, played by Ayo Edibiri (The Bear), gets a Smithereen notification on her phone. Smithereen was the social media company featured in season 5's "Smithereens."
Season 6 Episode 2: Loch Henry
Loch Henry contains not only many Black Mirror Easter eggs but one of them happens to be Charlie Brooker's favorite of the season. Read our review here.
First, let's let Brooker explain his favorite. "There's a bit where you see some newspaper headlines at one point and if you pause it you find out exactly what the Prime Minister from episode one of Black Mirror is up to now. He runs a zoo. Do you think that man should be in charge of a zoo?" No. No we do not.
The old newspaper clippings in this episode really are a treasure trove. Around the 21-minute mark you can see some of the following:
The News of the World from 1997 has a "Smart in Trouble" headline and mentions an MP who's been kicked out of his party. This references the conservative politician we will meet in "Demon 79."
Another headline references the same former MP and reads: "Michael Smart to launch new party."
On the back of Davis's laptop, stickers for cartoon politician Waldo (from season 2's "The Waldo Moment") and Tuckersoft (the company from Bandersnatch) can be seen.
Later on, around the 49-minute mark, the bottom ticker on the Sky News broadcast about the Loch Henry murders reveals some major tidbits as well.
Michael Smart unveils Met Police 'robot dog.' We'll see that later in Demon 79's flashforward and season 4's survival epic "Metalhead."
U.S. tourist found dead at SaitoGamu HQ references the events of season 3's "Playtest."
'Cartoon politician' Waldo romps to victory in Italy comes from "The Waldo Moment".
Hot Shots auditions open in Sydney is another nod to the TV talent show in "15 Million Merits".
There are two documentaries of note competing with Davis's Loch Henry production for a Bafta at the end. They are Suffer the Children: The Tipley Paedophile Ring and Euthanasia: Inside Project Junipero. Tipley is the fictional town from "Demon 79" and Project Junipero is undoubtedly what led to the events of "San Junipero". Like we said, Project Junipero was a big enough deal to get two separate documentaries in the world of Black Mirror.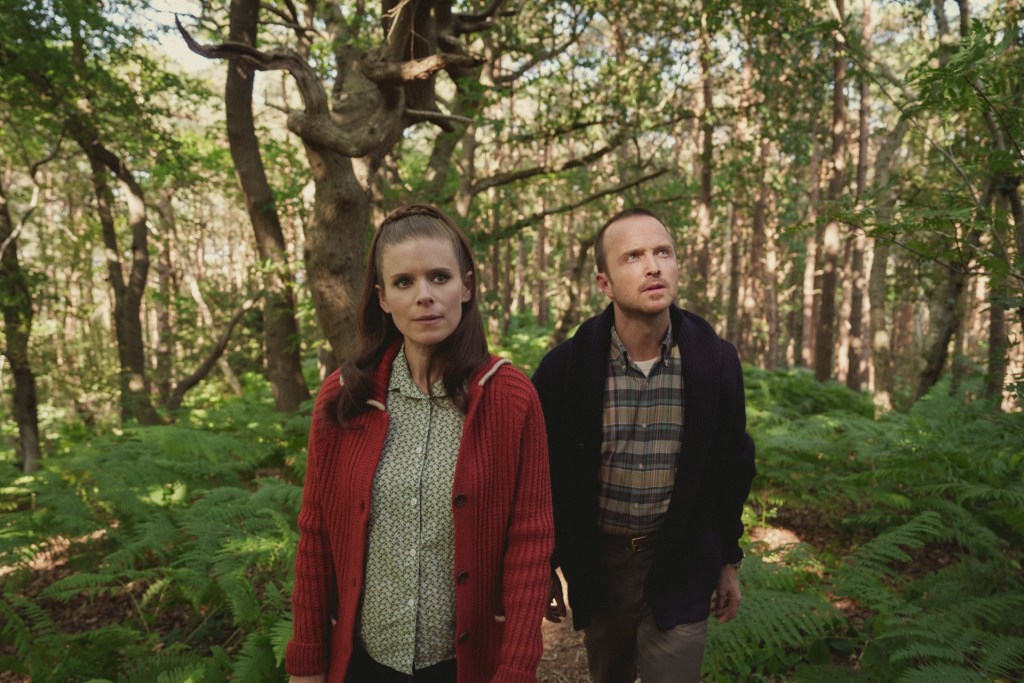 Season 6 Episode 3: Beyond the Sea
The Easter eggs in Beyond the Sea are subtle but we found at least one. Read our review here.
In the back of the cinema that David and his family visits, a "Now Showing" poster features Space Fleet, the Star Trek analogue from "USS Callister."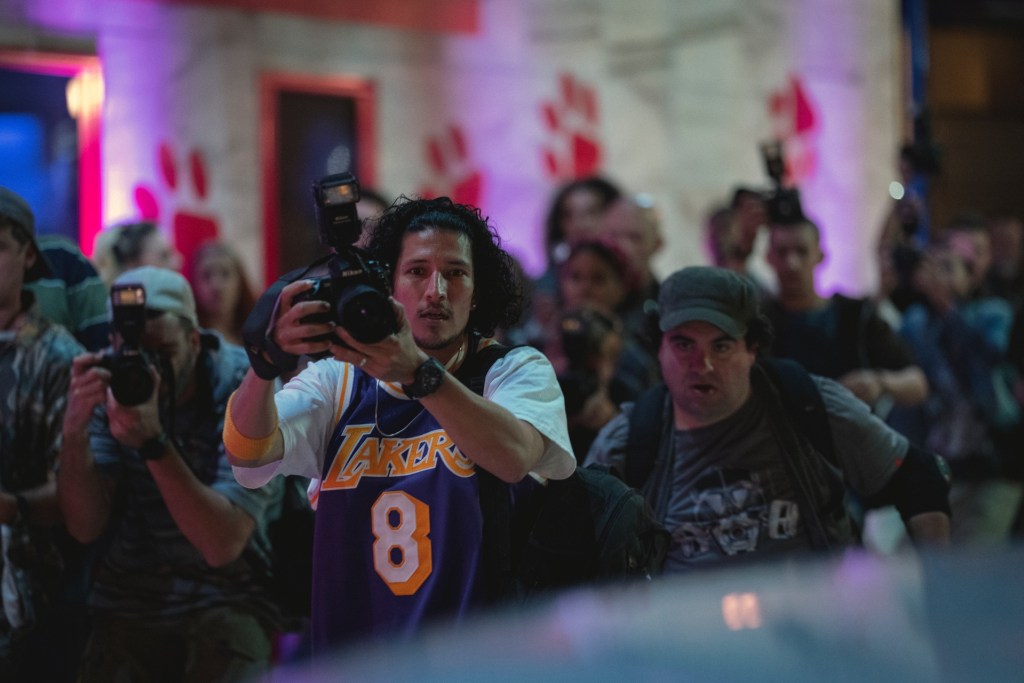 Season 6 Episode 4: Mazey Day
Mazey Day contains more real life references than Black Mirror Easter eggs. Read our review here.
In fact, we were unable to find any Black Mirror Easter eggs of note here. So we might as well mention that the announced birth of Suri Cruise in this episode pegs its events to on or around April 18, 2006.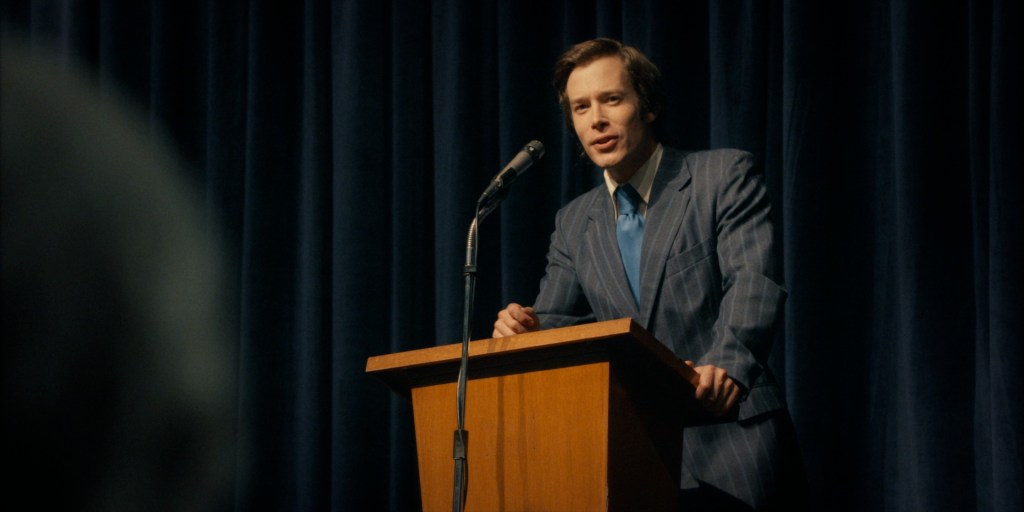 Season 6 Episode 5: Demon 79
Per Brooker, most of the Easter eggs from Demon 79 actually pop up in other episodes from this season. That's due to it being the first installment written. Read our review here.
One of the shoe brands in Possett's department store is Stanfield's – the surname of Aaron Paul's character in "Beyond the Sea".
Around 11:27, when Nida is looking at the newspaper clippings in the basement, it's revealed that the store was opened by Tipley's Mayor Walton and the publican who died in a blaze was named Robert Daly – the names of the protagonist and antagonist from "USS Callister". The article itself is said to be written by Nicholas Murray, the same name as someone in Black Mirror's art department.
Of course, the biggest Easter eggs in this episode come in the dystopian flash-forward that Gaap allows Nida to see when she wants to know what life under a Michael Smart regime looks like. That glimpse includes Metalhead's robotic police dogs but it also includes another symbol familiar to Black Mirror fans. Smart has adopted the "upside-down y" as previously seen in episodes like "White Bear" and Bandersnatch as the icon of his new Britannia Party. Bandersnatch suggested that the inverted pitchfork represents all the potential diverting timelines in the world. "Demon 79", however, intimates that the symbol might actually have demonic origins as it appears to adorn the talisman that Nida finds.
All five episodes of Black Mirror season 6 are available to stream on Netflix now.