Reviews
Black Mirror season 5: Rachel, Jack And Ashley Too review – a tour-de-force from Miley Cyrus
Miley Cyrus delivers proper pathos with an impressive performance in Black Mirror season 5's Rachel, Jack And Ashley Too. Spoilers ahead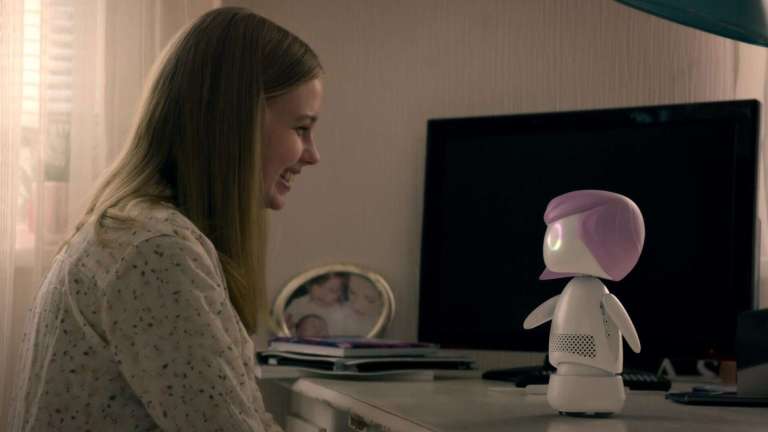 This review contains spoilers.
5.3 Rachel, Jack And Ashley Too
Closing out Black Mirror season five is the instalment of Charlie Brooker and Annabel Jones' sci-fi anthology series that will probably be referred to in future as 'the Miley Cyrus episode.' Its actual title is Rachel, Jack And Ashley Too, but that's a bit of a mouthful, isn't it? And really, it's the real-life pop star who fully owns the episode. The role wasn't specifically written for her, but Cyrus had her own notes on the script and brought some proper pathos to her performance.
Cyrus, of course, lived something of a double (if not triple) life when she first came to public attention irl: as well as having her own public persona, she also played the dual roles of normal youngster Miley Stewart and famous recording artist Hannah Montana in a hit Disney Channel series. It's easy to see the parallels in Cyrus' Black Mirror episode, which portrays the private, the public and the digital versions of its protagonist Ashley O. Not only is she a troubled woman and beloved pop star, both sides of which Cyrus explores emotionally with aplomb, but she's also lent her brainwaves to a new must-have product that feels like a mix between a Furbie, an Alexa and a collectable doll.
The brilliantly designed Ashely Too device brings a lot of laughs, both before and after its limiter comes off, providing visual gags (like its stilted dance moves) and dialogue-driven chuckles (once Ashley Too becomes sweary, sentient and aware of the cable in its butt, the laughs come thick and fast). But again, although the device is very well realised as a concept and a visual, it's Cyrus' voice work that sells the concept and keeps you entertained. It really is a tour-de-force performance from the singer/actor, with numerous prongs delivering different treats at regular intervals.
While the A-plot of Ashley O's struggle with stardom maintains a high level of enjoyability throughout, the B-plot falls a little bit flat by comparison at times. A recurring gag about mouse traps feels like filler, for example, even though its eventual payoff (the electrocuted security guard at Ashely's home) is quite funny. There's also a sense of minor letdown in the household dynamics between Rachel, Jack and their mouse-obsessed father, which never quite packs a fully-fledged emotional punch.
On the upside: the core characters all get their chance to shine in a musical number, with Angourie Rice showing impressive emotional range during Rachel's talent show Ashely O tribute and Madison Davenport delivering charisma and attitude in spades during Jack's bass-strumming final gig of the episode. And, clearly, Cyrus has talent in abundance, more than enough to pull off the music videos and holographic performances that are demanded of her.
And speaking of the musical performances, hats must come off in tribute to the composition at work here. Charlie Brooker rewrote Nine Inch Nails lyrics to make them more positive and fill out Ashley O's discography, which is why Trent Reznor gets thanked in the credits. And the task of actually putting these new tracks together fell to Isobel Waller-Bridge (yes, she's the sister of Phoebe), who gets the 'Music by' credit on the episode. The result of all this work is an array of toe-tapping tunes, which really assist the episode in making this pop icon feel real. We'd happily put these bangers on a playlist and listen to them again.
Doing an episode that focuses so centrally on music was a brave move from Brooker and Jones, but it was even braver to end this episode the way they did. A cynical Black Mirror playbook might dictate that the episode should end at its lowest ebb, where the dark machinations of Susan Pourfar's agent/aunt put Ashley in a coma and replace her with a giant performing hologram, to really sell the show's themes about over-reliance on technology and its negative repercussions. The ending of The Waldo Moment, for example, comes when Waldo has been instated as the mascot for a grim dystopian dictatorship.
Black Mirror does some of its best work when it bucks its own conventions, though, and the decision to end with a romp-like rescue, a tense car chase and a nice spot of gun-toting revenge for Ashley results in a really triumphant payoff. This sequence of events also gives director Anne Sewitsky to show her skills, and remind us that Black Mirror can do action and elation as well as doom and gloom. Technology may have a dark side, but human goodness can still win the day. And so can banging tunes.