Features
Love Mr Inbetween and Deadloch? Stream the Best New Australian TV Series
If The Newsreader, Colin From Accounts and Black Snow gave you a taste for Australian TV, try these other Aussie treats available in the US and UK.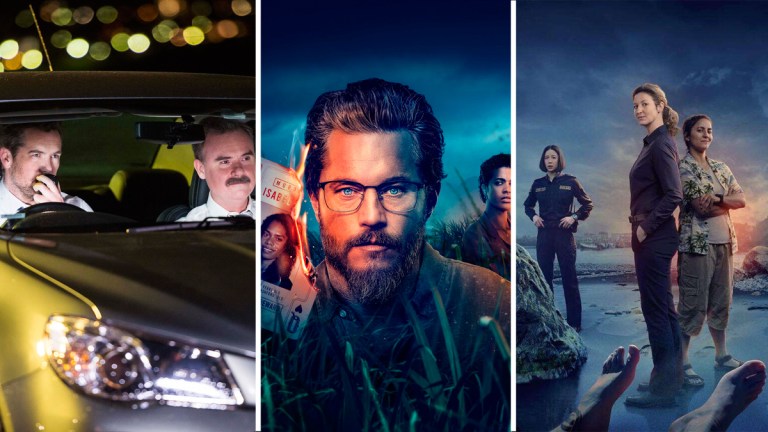 Not so long ago, the only Australian TV shows imported by the UK and US were soaps and the odd kids' series. Neighbours, Home & Away, Prisoner: Cell Block H (it needed the subhead in the UK and US so people didn't confuse it with the 1960s sci-fi show and wonder why Patrick McGoohan had been replaced by a bunch of tough-talking, shiv-wielding broads in dungarees), Heartbreak High, and child trauma factory Round the Twist went overseas, but not much else.
It didn't make for a very complete picture. 30 years ago, if you'd asked a British person to conjure up Australia based solely on its available TV output, they'd have pictured a land of bait shops, haunted lighthouses, prison wings, and cul de sacs where good neighbours become good friends. Ask one now, and thanks to streaming, it'd be a much broader church, based on viewing comedies, thrillers, dramas, detective shows and more.
Here are some of the best Australian TV series currently available to stream in the UK and US. We'll update this selection as new series arrive.
Mr Inbetween
Stream on: Disney+ (UK); Hulu (US)
In contention for Australia's finest export since the grapes of the McLaren Vale vineyards, Mr Inbetween is a multiple-award-winning black comedy. Drily funny, gripping and violent, it's the story of Ray, a Sydney-based hitman who's striving to be the best dad, ex-husband and boyfriend he can despite trying circumstances (often of his own creation).
Expanded from creator and lead actor Scott Ryan's 2005 feature film, The Magician, the show ran for three seasons between 2018 and 2021, kept up the quality throughout, and concluded after 26 episodes with a stellar finale. Comparisons to Barry, Ray Donovan, In Bruges and Tarantino are all valid, but don't quite capture the full picture. Told in half-hour episodes, this is lean storytelling with zero fat that also manages to provide its characters and story beats enough room to breathe. A pretty unbeatable binge-watch.
No Activity
Stream on: BBC iPlayer (UK); purchase-only (US)
For anybody new to Australian comedy, a useful rule of thumb might be that if the name of director-writer-producer Trent O'Donnell is involved – often in collaboration with Patrick Brammall – then give it a watch. Since 2012's A Moody Christmas (streaming on Amazon Freevee in the UK), those two have been responsible for some of Australia's funniest series, No Activity being just one example of many.
No Activity is a police comedy that follows two cops played by Brammall and fellow 'Moody' Darren Gilshenan (whom you might also recognise as Ashley's mother's boyfriend Professor Lee in Colin From Accounts). They're on stakeout in a long-running sting operation, with the dubious support of two radio dispatch officers back at the station, played by Genevieve Morris and Harriet Dyer, and a bunch of extremely fun cameos including comedian Tim Minchin and the brilliant Rose Byrne.
Deadloch
Stream on: Prime Video (UK & US)
Another black comedy must-watch, Deadloch is the best new buddy cop series for an age. It's a foul-mouthed whodunnit serialised over eight episodes that combine very funny performances with a genuinely addictive story for crime drama fans.
Set in a coastal Tasmanian town whose winter festival is threatened by the discovery of a corpse on the beach, it's the story of two police officers cut from very different cloth – Dulcie Collins is logical, sensible and fastidious, while Eddie Redcliffe is the unconventional loose cannon whose leftfield methods get the job done… sometimes. Along with excitable Abby, station dogsbody Sven and the rest of them, it's a great ensemble led by Rake and Wentworth's Kate Box, and The Breaker Uppers' and Taskmaster New Zealand's Madeleine Sami.
Colin From Accounts
Stream on: BBC iPlayer (UK); Paramount+ from Nov 9 (US)
This is the series that rekindled Brits' current love affair with Australian TV. Since arriving on BBC iPlayer in April 2023, this delight of a series grew by word of mouth until it was all comedy fans in the UK were watching, and rightly so. Created by and starring real-life couple Patrick Brammall (see above) and Harriet Dyer, it's a classic romantic comedy with zero cringe-factor. Funny, rude, sweet and generally a good time, news that it had been renewed for a second series this August was greeted with a collective sigh of relief.
The titular Colin isn't a human character, but the name given by Gordon and Ashley (Brammall and Dyer) to the dog they accidentally run over on the day they meet. Don't fear though, the dog survives, and what follows is a witty rom-com about age-gaps, exes, families, secrets and making it work. Think Sharon Horgan and Rob Delaney's brilliant Catastrophe and you're roughly in the right area.
Stateless
Stream on: Netflix (UK & US)
This six-part ABC drama from Nowhere Boys and Glitch's Tony Ayres uses an excellent cast (co-creator Cate Blanchett, The Handmaid's Tale's Yvonne Strahovski, the terrific Dominic West, Asher Keddie and Jai Courtney…) to tell a weighty but accessible story about a flawed system.
Strahovski plays Sofie, an Australian citizen unlawfully held in an immigrant detainee centre while suffering the traumatic aftershocks of being expelled from a cult. Around Sofie are other immigration stories about fellow detainees and centre guards, told in non-linear flashbacks that build into a compelling human story about real-life injustices. (Strahovski's character was inspired by the experiences of Cornelia Rau, who was unlawfully detained by the Australian government's Mandatory Detention Programme in 2004.) A sometimes challenging but rewarding watch, it was showered with awards nominations on release in 2020, and deservedly so.
The Letdown
Stream on: Netflix (UK & US)
One to add to the growing list of non-patronising, painfully honest and genuinely funny depictions of parenting on TV (see also: Motherhood, Catastrophe, Breeders), ABC's 2017 – 2019 comedy The Letdown is the story of struggling new mum Audrey, whose mothers' group is equal parts weird, competitive and supportive.
Co-created by Alison Bell – who plays Audrey – and writer Sarah Scheller, the first series portrays the sleep-deprived early months of being a new parent with wryly honest humour, while the second expands the focus to other characters as Audrey's daughter enters the toddler years. Relatable, endearing, and cathartically honest, both series hit home and provide a sense of hand-holding companionship for anybody feeling isolated by that stage of life. Trent O'Donnell (mentioned above) directs, with a role for Aussie comedy everyman Patrick Brammall, but this one's really all about the women.
Upright
Stream on: Sky, NOW (UK); AMC+ (US)
This Foxtel series is a little cracker. Co-created by and starring stand-up comedian Tim Minchin (more of a sit-down comedian in truth, seeing as his shows are largely piano-based) alongside House of the Dragon's Milly Alcock, it's an Aussie road trip that ticks all kinds of boxes.
Upright's story of faded musician Lucky Flynn and foul-mouthed tearaway teen Meg driving across Australia is funny, involving and packed with incident. The first series sets up two mysteries: why Lucky is driving the breadth of the country with an upright piano, and what young Meg is running away from, and answers both in emotionally satisfying ways. Season two, which aired in late 2022, jumped ahead a few years to set them both off on another life-changing journey.
Bluey
Stream on: Disney+ (US & UK)
Pre-school cartoon Bluey is such a phenomenon that it will have passed by very few people and absolutely zero parents of young children. This thing is a behemoth. Even if you haven't seen it, you'll likely have seen kids with foil balloons, backpacks and t-shirts featuring the little blue dog at every turn. What makes it remarkable is that unlike say, Paw Patrol, it's not just watchable as an adult, but enjoyable. These little seven-minute cartoons about Australian puppy Bluey, her little sister Bingo and their parents are sweet and funny and often, meaningful. That's why it's had roughly a gazillion downloads on ABC's streaming platform, and new episode releases are awaited on Disney+ around the world with the eagerness of a kid counting down to Christmas.
Birthdays, imaginative play, bedtime rituals, friendships and school all feature in the day-to-day lives of Bluey and co., making the episodes relatable and recognisable – despite the characters all being cartoon dogs. The character of Bandit too, is a #parentinggoals legend and fan-favourite who has the rare privilege of being a dad in children's TV and not being a total buffoon. The show doesn't guilt mums either, which got it the stamp of approval from famous fans including Natalie Portman, Lin-Manuel Miranda and Rose Byrne, all of whom have made cameo appearances.
Fisk
Stream on: Netflix, ITVX (UK); Netflix (US)
This half-hour, understated ABC comedy is another very likeable recent entry. It's about Helen Tudor-Fisk, a contract lawyer who, after the end of her marriage, moves back home from Sydney to Melbourne. Fisk's brusque manner, lack of people skills and general refusal to play along with niceties gets her into hot water with clients and colleagues at the low-rent probate law firm in which she lands a job, and where she's surrounded by a solid comedy ensemble.
Co-written by stand-up Kitty Flanagan and her sister Penny, there's a hint of The Office and Parks and Rec about this legal workplace comedy, which revolves around Fisk's abrasive bluntness in a world marked by sensitivity, trigger warnings and microaggressions. Tune in to its gentle, underplayed tone and you'll have a good time. Two series are currently available to stream.
Black Snow
Stream on: BBC iPlayer (UK); Prime Video (US)
The US had Twin Peaks' Laura Palmer, Denmark had Forbrydelsen's Nanna Birk Larsen, and now thanks to new crime drama Black Snow, Australia has Isabel Baker – a teenage murder victim whose killer is hiding among the townsfolk in her small community. Unlike Laura and Nanna's though, Isabel's killer has been hiding for 25 years.
Told across two time periods, one in 2019 and one in 1994, Black Snow sees detective James Cormack (Vikings' Travis Fimmel) reopen the investigation into the cold-case murder when a high school time capsule is dug up and discovered to contain new evidence. So begins a familiar crime mystery story of potential suspects and webs of lies that may feel superficially familiar, but under the surface contains multitudes. Race, evangelical Christianity, Australia's treatment of its South Sea Islander communities… there's much more here than just a whodunit.
Vikings fans will enjoy seeing the actor behind Ragnar Lothbrok giving an altogether more languid but no less powerful performance as Cormack, the cop committed to shaking the town of Ashford until its secrets come tumbling out.
The Newsreader
Stream on: BBC iPlayer (UK); not currently available to stream in the US
This 1980s-set newsroom is currently airing its second season on ABC in Australia, and – thank goodness – has already been renewed for a third. It's a terrific period drama with a strong ensemble that goes behind the scenes on an Australian news and current affairs team both in front of and behind the camera. Anna Torv (Fringe, The Last of Us) and Sam Reid (Interview With the Vampire, Lambs of God) lead the cast as co-anchors Helen and Dale, who vie to break the big stories of the day, looking after their own careers while doing battle with a disruptive new CEO.
With authentic, nuanced performances, gripping storytelling and a healthy hit of nostalgia, this makes an easy and rewarding binge.
Glitch
Stream on: Netflix (UK & US)
Another one co-created by Stateless' Tony Ayres and starring Patrick Brammall (doesn't that man have a home to go to?), Glitch is a supernatural drama that ran for three seasons between 2015 and 2019. Despite sharing a very similar premise with French series Les Revenants (remade in the US as The Returned), it's an original drama that imagines what happens in a small town when a select group of residents from the local graveyard just… come back.
Beautifully filmed, with a great sense of atmosphere, this one is well worth seeking out.
Also Try…
Aunty Donna's Big Ol House of Fun – anarchic and acclaimed comedy sketch show from the group behind Don't Hug the Sun, available to stream on Netflix in the US and UK.
Frayed – Sarah Kendall of Taskmaster fame's acclaimed riches-to-rags comedy set in Newcastle, New South Wales.
Please Like Me – Josh Thomas' charming comedy-drama about coming out in his twenties, available to purchase in the US and not currently available to stream or buy in the UK.
Wellmania – half-hour comedy drama about a thirty-something woman forced to improve her hedonistic lifestyle, starring stand-up and The Letdown's Celeste Barber.
Danger 5 – spoof spy comedy about a group of oddball agents tasked with taking down Hitler in WWII, it's streaming on Fubo in the US but not currently available in the UK.