Features
Aunty Donna: Meet Your New Sketch Comedy Obsession
Aunty Donna made the leap from YouTube to Netflix by moving into a Big Ol' House of Fun. Hear from the Aussie comedians behind the year's best sketch series.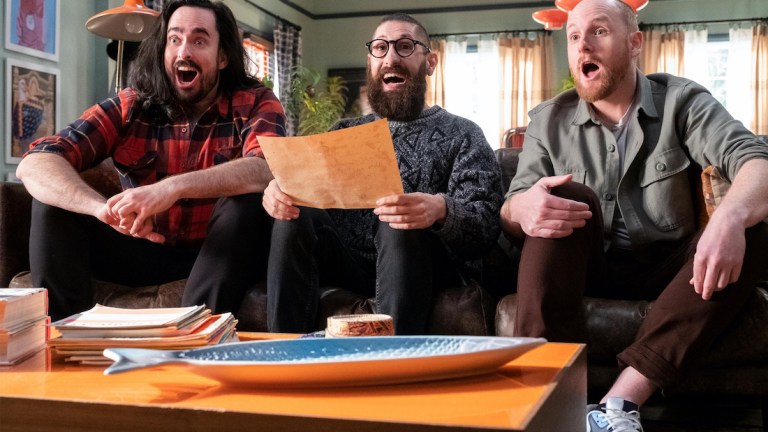 It's morning in Australia which means Aunty Donna's Big Ol' House of Fun, Netflix's new sketch comedy series, has been out for more than a day when we meet the show's stars over Zoom. The Aussie comedians who comprise the troupe Aunty Donna—Broden Kelly, Mark Samual Bonanno, and Zachary Ruane—are already fielding scathing reviews.
"My mum didn't care for the 'Morning Brown' song," says Ruane, referring to a rousing musical number—about morning coffee that unfurls into a string of raunchy sexcapades—that kicks off episode two. "I called her on the night of release. I was so proud, so excited. I was like, 'What'd you think?' And she was like, 'That coffee song was a bit much.'"
Although "Morning Brown" is one of the more memorable (good luck not humming it when you make your coffee after watching it) and delightfully unhinged sketches in season one, Aunty Donna was actually holding back. "I remember the first initial improv was much more offensive," says Kelly. "It was very detailed sexually. We wrote a nine minute version of the song, which we should release."
Their performances are unapologetically big, hence the Big Ol' House needed to fit it under. The first season features sketches that take the comedians on a treasure hunt, sees them train for the 2000 Sydney Olympics with pro wrestler Awesome Kong, and host a dinner party for the Queen of England. The series' opening sketch, a song called "Everything's a Drum," is a pitch perfect appetizer for what's about to come next: each sketch premise descends into absurdist chaos in a near instant. Broden, Mark, and Zach have boundless and infectious energy that fuels an unexpected ride that at times feels almost improvisational. But their brand of humor isn't for everyone, including, apparently, Zach Ruane's mom.
"The whole thing about [our] comedy is: we're very Maximalist," says Ruane. "We pantomime for film. We go to this extreme level."
Those who decide to stay for a while tend to evangelize for Aunty Donna. That includes us here at Den of Geek; the series landed at No. 10 overall on our Best Comedies of 2020 list, and was our highest ranked sketch comedy series of the year. Social media accounts that celebrate the troupe's work have been active for years, meming new and older, more obscure characters from their sketches. Since the show's release on Netflix, the Aunty Donna YouTube channel hit the 400,000 subscriber milestone with over 70 million views of their videos to date. Their TV series was amongst the top 10 most streamed shows in Australia upon release. That kind of success manifested in profound ways for the comedians: after months of lobbying, they eventually landed their own meal from Domino's in Australia.
They might be big time now with their fancy Domino's endorsements and big viewership numbers, but Aunty Donna started modestly. The comedians first met at Australia's University of Ballarat and began putting on local comedy shows.
"Our whole shtick was we'd get on stage and perform bad writing really confidently and convince people that we were brilliant," Kelly says.
Aunty Donna found an audience through performing live shows and festivals. Eventually they reached a much wider audience for their comedy on YouTube. For many people, Big Ol' House has been their introduction to Aunty Donna. They've built a YouTube playlist for new fans who want to check out more of their comedy.
"Zach works very hard on that kind of stuff. So like there's a playlist called 'Aunty Donna, An Introduction,'" says Bonanno. "And the thing is, it's always so hard because if you would ask about our best stuff, it's the weird shit. It's the stuff that like you maybe don't want to show straight away."
Amongst their long-distance admirers from the YouTube days: Ed Helms, who executive produces Big Ol' House of Fun under his production company banner, and guest stars in the series.
"They wouldn't leave us alone basically," Kelly says of Helms and his producing partners. "We went to America and met with about 15 different production companies and they just stuck to us like a bad smell. And then introduced us to Netflix."
Another guest star and producer on the series is Comedy Bang! Bang! creator and host Scott Aukerman, who the troupe credits for helping identify comics who would fit the show. 
"We always struggled to find good supporting comedic actors," says Bonnaro. "And we were so lucky Scott Aukerman helped us find some great comics that could match our energy. That's what we want. We want people to come in and match us."
Kia Stevens, a.k.a. Awesome Kong, filled that role and then some. "With Kia we realized that what we're looking for nine times out of 10 is wrestlers to come in, be inappropriately physical and like say 'yes' to everything," says Bonanno. "She was amazing. I just want to exclusively work with wrestlers from here on."
Whether it's finding the right fit for co-stars or hooking in viewers, Aunty Donna knows they're an acquired taste.
"My favorite thing that I have read was a tweet that was a comment on the Netflix sharing "Everything is a Drum." And one man wrote in response: "Everything's not funny." And I really liked that. It made me laugh a lot. I thought that was really clever," says Kelly.
The odd Twitter comment wasn't enough to sour the overwhelmingly positive response to the first season of Big Ol' House of Fun. Hell, by now they might have gotten Zach's mom back on board.
"When you're watching it either you love it or you're like 'this is a little much,'" says Bonanno. "People that love over the top stuff are really responding to it, which is just a really good feeling."