Reviews
Stateless Review (Spoiler Free): Classy Australian Immigration Drama With a Stellar Cast
Netflix latest series Stateless is a six part drama set in a detention centre, created by Cate Blanchett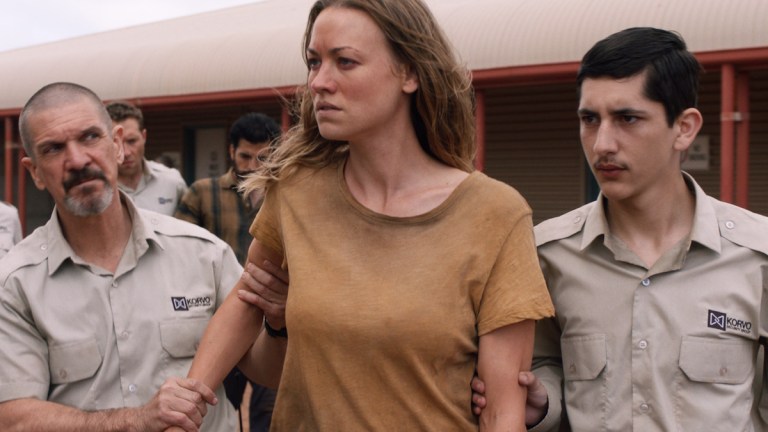 "The title of the series refers to statelessness in a more poetic sense," explains Cate Blanchett, creator of six part Australian drama Stateless, the latest acquisition for Netflix, which originally aired on ABC, Australia's national broadcaster.  It also, of course, refers to some of the inhabitants of the immigrant detainee center at the heart of the show – many of whom are refugees who can't be returned to country where they held citizenship (not necessarily stateless then, but as Blanchett also points out, the title is metaphoric rather than strictly legal).
It's a weighty but accessible drama that would have felt at home on Channel 4 in the UK – HBO in the States – with a distinct Aussie flavor, elevated by excellent performances from the high quality and high profile cast.
The show focuses on four main characters. Sofie Werner (The Hand Maid's Tale star Yvonne Strahovski) is an Australian citizen suffering severe mental health issues triggered by trauma experienced while she was part of a cult. Ameer (Fayssal Bazzi) is an Afghan refugee hoping for a protection visa for him and his family. Cameron (Jai Courtney) is a soft hearted blue collar worker who takes a job at the detention center to earn a bit of money. While Clare (Asher Keddie) is the new director of the center promoted out of her comfort zone and faced with politics and media every way she turns. Additional supporting characters in and outside the centre paint a picture of a flawed system that imprisons people who have committed no crimes often for excessively long periods of time while policy, publicity and red tape prevent asylum seekers from being given the support they need.
Not a bundle of laughs then, Stateless isn't a didactic diatribe either. A non-linear narrative weaving flashbacks together to tell the backstories of the main characters adds colour and context while the linear elements follow the decline of the prisoners and staff stuck at the detention centre.
Strahovski is terrific as Sofie, a young flight attendant who becomes embroiled in a self-actualisation group run by charismatic leaders played by Blanchett and Dominic West. There she is encouraged to explore her difficult relationship with her family and becomes increasingly dependent on the group until a traumatic incident sees her expelled, rejected and losing her grip on reality. Strahovski's performance is fearless and Sofie's mental health issues are handled with sensitivity. Her journey is our introduction to the detainment camp and her story is compelling and unusual – she's based on a real person, Cornelia Rau, who was detained for ten months in 2004 and 2005. It's Ameer's case that is the more tragic and the more typical, though, with political loopholes hampering his request for the protection visa that has personally cost him and his family so much. 
Jai Courtney's Cameron is highly sympathetic here too – and Courtney is fantastic. A gentle family man who takes a role as an officer to make a bit of cash, he's a good bloke who tries to do the right thing but struggles to maintain his sense of self within a deeply flawed system. 
As the title suggests, these characters are displaced, untethered in the never-ending no man's land of the detainment center. The Australian setting and the heat and monotony of the yard the detainees traipse around even brings to mind Ted Kotcheff's nightmarish outback horror Wake In Fright. Stateless is nowhere near as traumatic as that masterpiece but the sense of these people – detainees and staff alike – being drawn into a shared madness in a dusty liminal space is haunting enough. Stateless is a grown up and highly cinematic drama, innovatively told, with a great script, and powerhouse performances all round. Running at just under six hours in total, with (we hope) no plans for further series it's an important, but never preachy, look at some of the problems with immigration law as well as a strange self-contained tale inspired by the truth, which may resonant even harder at a time where we're all confined to small spaces in a world we hardly recognise.
Stateless is streaming on Netflix now.