Features
If You're Not Watching Colin From Accounts, Why Not?
We need series two of Harriet Dyer and Patrick Brammall's funny, warm-hearted Australian rom-com.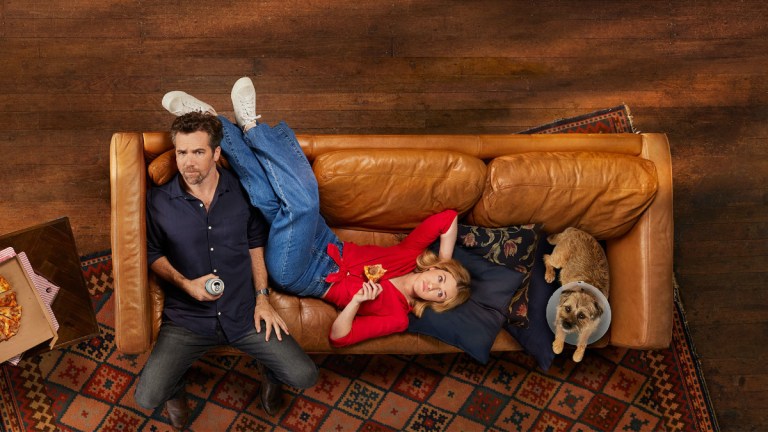 The best rom-com couples make it look easy; the absolute best convince you that none of it stops when the cameras do. The laughs, back-and-forth, and buzzy attraction feel so undisputable that of course they carry on without an audience, are you kidding? Those guys?! They're the real deal.
Harriet Dyer and Patrick Brammall, the co-writers and stars of Australian comedy series Colin From Accounts, are the real deal. Not just because they're a married couple with a child, but because their show is one of the best rom-coms around. It's the story of medical student Ashley and craft brewer Gordon, a pair who meet when he – distracted by an act of…titillation on her part – accidentally runs over a dog. It's a classic meet-cute, just one that results in a $12k vet bill and an ongoing shared custody dispute.
The dog lives, of course. He has to live because the show's named after him, and only a psychopath could fall in love after killing a dog. Ash and Gordon are not psychopaths, but they have their issues. He's not entirely honest about his past, and she does something while sleepwalking that requires her to replace an item of his furniture, but on the whole they're good people.
Surrounding these two good, funny, attractive people are a solid collection of comedy weirdos. Michael Logo and Genevieve Hegney play Gordon's brewery colleagues and are natural comedians. Hegney in particular is great as scary business partner Ciara, and thankfully gets more to do in later episodes than keep the boys in line. Emma Harvie is effortlessly funny as Ash's laidback (read: high) best friend Megan. Annie Maynard does a great turn as Yvette the intense vet… there's really not a weak link in the guest cast.
The queen of that is Helen Thomson (seen recently playing Elvis' ma Gladys in the Baz Luhrmann movie) as Lynelle, Ash's terrible but very funny mother. Lynelle is an empath and death doula – except she absolutely isn't, but absolutely is a massive attention seeker. Her boyfriend creepy Lee, played by Darren Gilshenan, is an excellent creation. He's creepy alright, but in ways so specific and strange that they have to be inspired by real life because who could make them up?
Dyer and Brammall, who previously co-starred on Brammall's other excellent sitcom, police stake-out comedy No Activity (unfortunately no longer available on BBC iPlayer in the UK), did take some inspiration from their real lives for Colin From Accounts. The couple mined their 12-year age gap for material, nicking an awkwardly funny airport encounter when a passer-by mistook Dyer for Brammell's daughter, and going deep on the Millennials v Gen X differences in the episode where Ashley turns 30. 
Ashley's birthday episodes are a turning point in series one that really solidify this show's perspective as entertainingly mean, but ultimately warm-hearted. That's also the point at which you feel the peril that despite their obvious chemistry and beautiful ease together, these two characters might not actually make it, which would be a crime against romance. That's because Dyer and Brammall are top performers whose writing is the perfect vehicle for their uncontrived style. 
The writing takes Ash and Gordon's romance to places you don't expect, injecting much-needed novelty into a genre that it's easy to feel we all know inside-out by now. Dyer and Brammall's comedic voice, with its thrown away understatement and fond piss-taking, feels real in the best way – like being in the warm company of funny, slightly chaotic friends, not sassy US network comedy quippers.
Watching from the UK, where Colin From Accounts is currently airing on BBC Two and iPlayer, the discovery of this already-famous-in-the-Southern-Hemisphere cast also feels a bit like comedy Christmas. (If you're reading from the US by the way, keep your eye out for a broadcaster announcement and release date, and in the meantime, enjoy these great British shows coming your way).
What do you mean, Australia, you've had this glorious lot tucked away for all this time? Well, at least you're sharing now. To make it up to us, how about ordering a couple more series. Whenever you're ready. We'll be waiting.
Colin From Accounts is available to stream now on BBC iPlayer. A US broadcaster is yet to be announced.