Features
Taskmaster New Zealand is Finally Streaming in the UK! But Who's Who?
Here's the rundown on TM NZ hosts Jeremy Wells and Paul Williams, plus contestants Brynley Stent, Leigh Hart, Angella Dravid, Guy Williams and Madeleine Sami.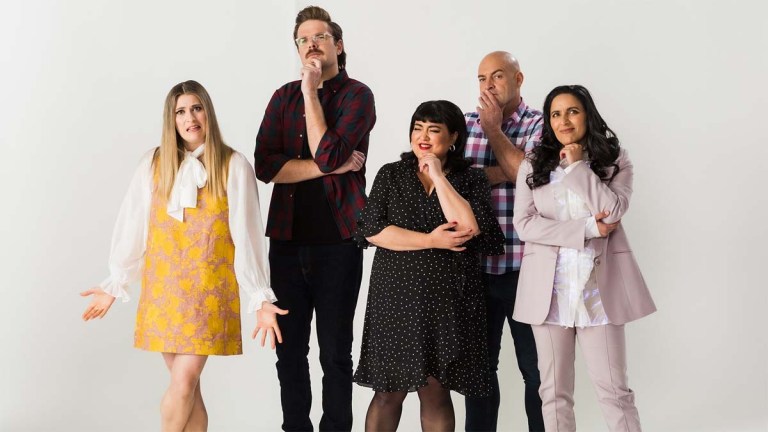 Watching an international version of Taskmaster has the uncanny quality of trying to explain a dream. The sets are the same, but also not. The theme music's a match, but it's playing over people and tasks you don't recognise. The Taskmaster was there, but it wasn't the Taskmaster, just some other tall man in a suit. And instead of the familiar comedian configuration of 'two off telly, two off Twitter and one you've never heard of', you (probably) haven't heard of anybody.
Once you have your bearings though, free Taskmaster! Multiple new-to-you episodes to fill the gap while we wait for series 16. And it's good stuff. The New Zealand version is particularly strong, with an excellent choice of Taskmaster's Assistant and consistently funny comedians. Also, thanks to (the show's own) joke that New Zealand has a population of just eight people, two of the first series cast-members are brothers, and they've all co-starred multiple times with our own Rose Matafeo.
Here's what you need to know about the comedy cast.
The Taskmaster: Jeremy Wells
As well as filling Greg Davies' sizeable shoes in the role of the Taskmaster, 46-year-old Jeremy Wells is a current affairs radio and TV host who first came to fame on New Zealand's MTV channel in the late 90s/early 00s as "Newsboy", a sidekick to New Zealand media personality Mikey Havoc. A satirist known for his deadpan delivery, Wells dropped out of a journalism course at university to start his TV comedy career. He's the son of sports businesspeople Sir John Wells and Lady Sheryl Wells, is privately educated, a fan of classical music, and in 2020 was voted one of New Zealand's best dressed men on television. Wells currently co-hosts the Radio Hauraki breakfast show and weekday TV news programme Seven Sharp (see clip above). Here's a link to him discussing his life and career on the Between Two Beers podcast.
The Taskmaster's Assistant: Paul Williams
31-year-old comedian, writer and musician Paul Williams is the Taskmaster's Assistant, and a writer on the New Zealand branch of the show. Comedy-wise, Williams was nominated for NZ's prestigious Billy T award for up-and-coming stand-ups in 2017, losing out to TM NZ series one contestant Angella Dravid (past winners also include Brynley Stent and Guy Williams, see below). He has a characteristically low-key style and performs in his TM white tux outfit.
A singer and musician, Williams studied musical theatre and wrote and performed a series of comedy raps before pivoting to pop and releasing a full-length album in 2018 titled "Surf Music" (spot Junior Taskmaster host Rose Matafeo and TM NZ contestant Brynley Stent as backing dancers in this music video). He plays Ollie in Simone Nathan's Auckland-set comedy Kid Sister, and is the younger brother of Taskmaster New Zealand series one contestant Guy Williams.
Angella Dravid
A bit of genius Taskmaster casting here, 36-year-old Angella Dravid is an award-winning New Zealand comedian, actor, TV presenter and podcaster who turned a traumatic period in her past into unforgettable 2017 stand-up show Down the Rabbit Hole, for which she won the prestigious Billy T award (see Paul Williams, above). In it, Dravid told the true story of running away from home to London in her teens to marry a much older man she'd been groomed by online, her subsequent arrest, imprisonment and years spent in a UK bail hostel before being deported back to New Zealand.
That show was transformed into podcast series Love, Rock Bottom and Other Triumphs, produced by Taikia Waititi's Piki Films company. Known for her funny, wide-eyed, breathy, nervous delivery, she's a familiar face on New Zealand TV, from roving reporter spots on the satirical nightly prank and magazine show Jono and Ben, to parts in comedy series Golden Boy, Kid Sister, Under the Vines and many more.
Brynley Stent
Actor, writer and sketch comedian Brynley Stent is another Billy T award winner, having taken home the prize for her 2021 show Soft Carnage. The 33-year-old is a TV regular in New Zealand, both behind and in front of the camera. She was a long-time writer on weekly current affairs comedy show 7 Days, on which her Taskmaster comrade Madeleine Sami was a team member. Stent has also appeared in over 40 episodes of Kiwi soap Shortland Street in the role of Damo's sister Kelly-Anne Johnson. Like some of her fellow TM NZ contestants, she's been in comedy series Golden Boy, Creamerie, Funny Girls and Jono and Ben, as well as feature film Baby Done starring Rose Matafeo.
Guy Williams
The older brother of Paul 'Kiwi Alex Horne' Williams, 35-year-old Guy Williams is a stand-up and TV and podcast host who – fun fact – also does the voiceover for Come Dine With Me in New Zealand. Like several of his series one Taskmaster fellows, he's a Billy T award winner from back in 2012, for his stand-up comedy show On the Verge of Nothing. Williams is another Jono and Ben alumnus, and worked as a co-host on the satire-meets-prank nightly show until it ended in 2018. He's currently the presenter of satirical TV news show New Zealand Today and is a former co-host of The X Factor companion show The Xtra Factor.
Leigh Hart
The most established comic in series one, and a bit of a national treasure, 53-year-old Leigh Hart's TV career started in the 1990s when he became a contributor to New Zealand sports show SportsCafe, and then made his own late-night satirical comedy show Moon TV. Prior to comedy, Hart was the lead singer in band Wild Turkey (see them in their 90s heyday here), which led to him being the second member of the Taskmaster New Zealand series one cast to have once been deported from Europe (see Angella Dravid, above). Hart is a longtime collaborator with the Taskmaster Jeremy Wells, but is best known for pairing up with comedian Jason Hoyte, with whom he worked on several parody TV shows that involved deliberately awkward interviews with celebrities, Late Night Big Breakfast, and a Radio Haruki drivetime slot. He's promoted bacon, his own brand of beer, and you can read more about his life and career here.
Madeleine Sami
Another big name with a long and healthy career, actor-writer-director-musician-TV presenter Madeleine Sami has done… everything? She co-wrote, co-directed and starred in one of New Zealand's highest grossing films The Breaker-Uppers. She's a host on The Great Kiwi Bake-Off. She was on The Masked Singer NZ as a butterfly. Her TV series Super City, was directed by Taika Waititi. The 43-year-old has appeared in a range of film, TV, theatre and stage musicals, and has a daughter with her ex-wife singer-songwriter Pip Brown aka Ladyhawke. She directed two series of celebrated NZ comedy Funny Girls and is currently in the much-loved Australian crime comedy series Deadloch.
Taskmaster New Zealand series one to three are available to stream now on Channel 4.com.